Copa Airlines expects tough conditions in Latin America will continue to depress yields
Analysis
Pressure from having to pull capacity from Venezuela and overall economic weakness in many regions within Latin America pressured Copa Airlines' financial results for 2014; but the airline still delivered a respectable 19.8% operating margin for the year and posted a decrease in unit costs.

Many of the elements that dragged down Copa's financial results in CY2014 remain intact – continued pressure on yields by moving a significant amount of capacity from Venezuela and weakened economies in Latin America. The airline has not made any adjustments to its projected 7% capacity growth for CY2015, but its expansion of supply is at a lower rate than 2014, and most of the growth stems from network changes Copa undertook in CY2014.

Although Copa's yield and unit revenue challenges will persist in the near future, overall the company remains in good financial shape to withstand the macroeconomic pressures weakening its results.
Copa retains strong margins despite unit revenue and yield pressure
Copa posted net income of USD35.9 million in 4Q2014 compared with profits of USD113.2 million the year prior. Factoring out special items that include USD89 million non-cash hedge losses, Copa posted an adjusted net income of USD125.3 million compared with an adjusted net income of USD141.8 million the year prior.

For CY2014 Copa recorded net income of USD317.1 million and USD116.6 million excluding special items compared with adjusted profits of USD467.4 million the year prior.

Copa's top-line revenue fell 3.8% in 4Q2014 to USD671 million, but increased 4.3% for CY2014 to USD2.7 billion. The company's operating expense fell 2.8% in 4Q2014 to USD552 million and increased 4.4% for CY2014 to USD2.2 billion.

A 12.8% decline in unit revenues year-on-year during 4Q2014 helped drive Copa's operating income down 26% year-on-year to USD118 million. Its operating revenue for CY2014 fell by 1.9% to USD538 million. Even though Copa's operating margin fell 1.3ppt for CY2014 to 19.8% it is still a strong result, and in line with other airlines that post strong margins, including US ULCC Spirit, which posted a roughly 18% operating margin for CY2014.
Copa Airlines yield, unit revenue and unit cost performance: 4Q2014 vs 4Q2013 and CY2014 vs CY2013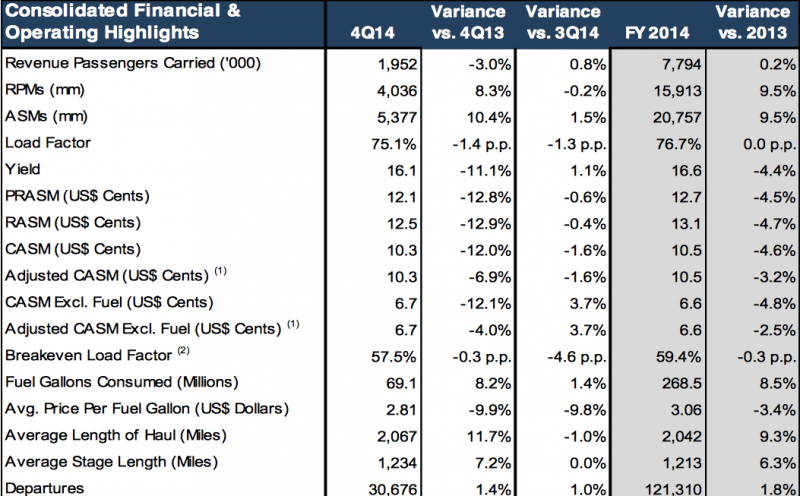 Venezuela cuts depress Copa's yields as it works to maintain proper market presence
Copa's yields decreased 11% and 4%, respectively, in 4Q2014 and CY2014, some of which was driven by an increased length of haul. But the main driver of the decline in yields and unit revenues was capacity reductions by Copa on routes to Venezuela initiated in mid-2014 to combat the effects of Venezuela's weak currency and monies held by the Venezuelan government for repatriation.
As of 4-Feb-2015, Copa had USD478 million trapped in Venezuela compared with USD528 million in Jun-2014. At the end of 2014 Copa had USD484.7 million trapped in Venezuela, which was roughly 42% of its USD1.16 billion of cash and short-term investments.
Copa began cutting its seats on offer to Venezuela in May-2014 and by YE2014 had reduced its seats available by roughly 50%.
See related report: Fallout from frozen Venezuela funds dampens Copa Airlines' favourable 2Q2014 performance
Data from CAPA and OAG show that for the week of 9-Feb-2015 to 15-Feb-2015 Venezuela is Copa's 11th largest international market measured by seat deployment, and does not feature in the airline's top countries by deployed ASMs.
Copa Airlines international capacity by country (number of seats): 9-Feb-2015 to 15-Feb-2015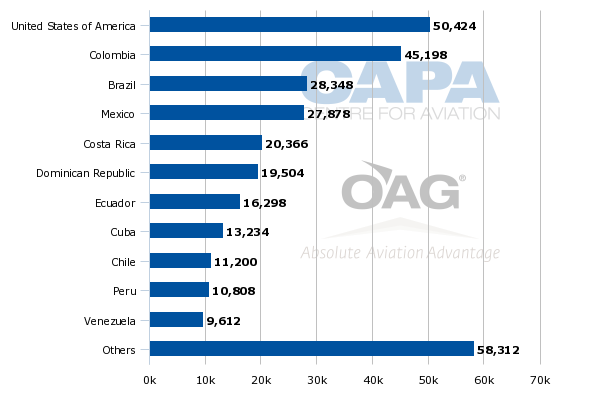 Copa Airlines International capacity by country (ASMs): 9-Feb-2015 to 15-Feb-2015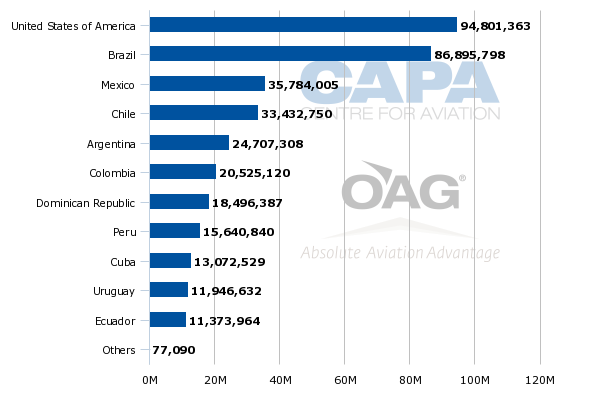 Copa estimates that Venezuela represented about 9% of its revenues in 4Q2014, and that level has fallen to 6% in the beginning of 2015. The company has been essentially targeting point of sale outside Venezuela.
Despite the cutbacks, Copa still represents approximately 4.5% of both Venezuela's seats and ASMs for the week of 9-Feb-2015 to 15-Feb-2015. Offering some perspective on Copa's operations to Venezuela, company CEO Pedro Heilbron recently told analysts and investors, "we reduced capacity. We shifted sales to US dollar fares.
However, our flights have very good load factors, which allow us to do an effective revenue management job". He added the profitability of those flights, "still tops for us, obviously a lot less than what it used to be".
Venezuela capacity by airline (% of seats): 9-Feb-2015 to 15-Feb-2015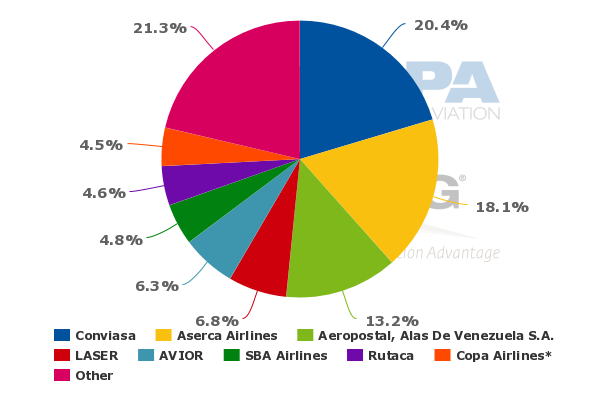 Venezuela capacity by airline (% of ASMs): 9-Feb-2015 to 15-Feb-2015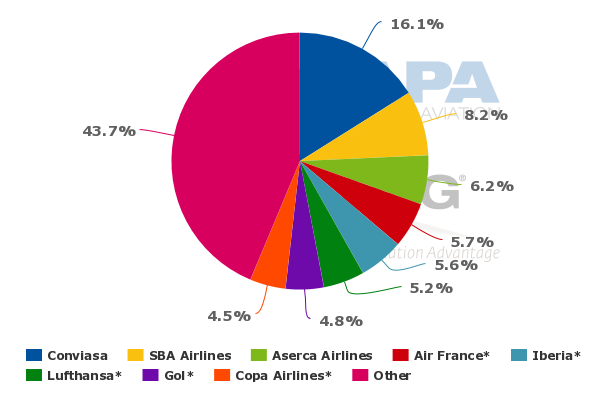 Panama is Venezuela's second largest destination country measured by both seat deployment and frequencies, and Copa stresses that a viable market remains between the two countries. "There's a strong Venezuelan community living in Panama," said Mr Heilbron. "And there's a lot of people going back and forth. So that remains a very healthy business, even thought we have less capacity.
Venezuela international capacity by country (number of seats): 9-Feb-2015 to 15-Feb-2015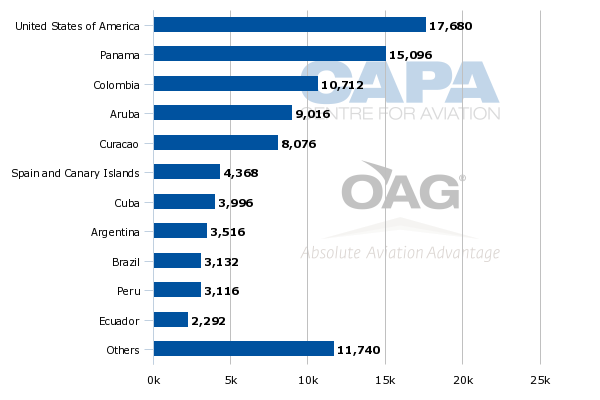 Venezuela international capacity by country (frequency to/from): 9-Feb-2015 to 15-Feb-2015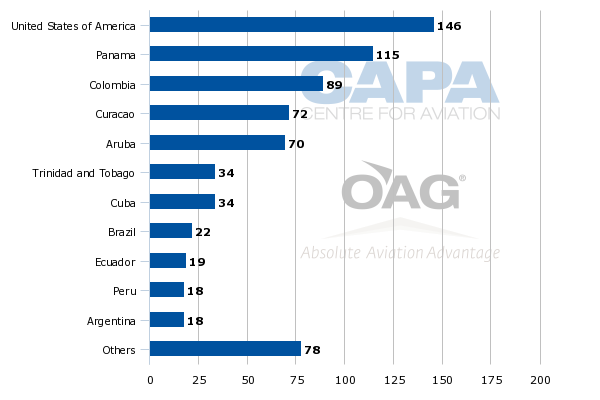 Copa refines unit revenue estimates downward for CY2015
Copa faced weakness in other markets during 2014 including Argentina and Brazil, each of which have their own economic challenges - and that pressure is continuing into 2015. Mr Heilbron stated in 1Q2105 Copa's load factors are trending flat to slightly up, but at the expense of lower yields.
Aside from Venezuela, Copa's yields are being affected by the general economic outlook for Latin America, said Mr Heilbron. "This has led us to reduce our expectations for unit revenues for the year. Economic prospects for the region remain weak compared to prior years."
At the end of 3Q2014, Copa projected CY2015 unit revenues of approximately USD12.2 cents, but now has refined that guidance to roughly USD11.8 cents. But the company is raising its guidance for operating margins from 15%-17% to 16%-18%, driven by lower fuel costs. Its planned 7% capacity growth for CY2015 is 2.5ppt lower than the 9.5% growth recorded in CY2014.
Copa Airlines capacity, unit revenue and unit costs outlook: CY2015

Copa works to adjust its fleet but keeps capacity projections intact
As Copa begins to lap some of the changes it made to its Venezuelan operations in mid-2014, the airline could see some unit revenue improvement. Mr Heilbron stated that while Copa does not offer specific yield guidance, "I can tell you, directionally, is that our 2015 unit revenue or RASM guidance, we are expecting a slightly better second half of the year."
The airline is also studying options to bring its net fleet growth to zero to two shells for CY2015. Originally, Copa was scheduled to receive eight Boeing 737-800s in CY2015 and three -800s through operating leases. It aimed to return five Boeing narrowbodies with expiring leases for net growth of six aircraft. The CAPA Fleet Database shows that as of 14-Feb-2015 Copa operates 15 737-700s, 53 -800s and 12 Embraer 190s flown by Copa Colombia. Taking the net aircraft additions down to zero to two does not affect Copa's CY2015 capacity projections.
Copa Airlines Fleet Summary as of 14-Feb-2015

Copa is making all the right moves, but still faces tough conditions in 2015
Copa will continue to face some lingering challenges from pulling capacity from Venezuela at least through 1H2015. But the airline will continue to leverage its hub at Panama City Tocumen Airport as a prime connection point, and likely focus on markets outside of Latin America, evidenced by its planned new service to New Orleans beginning in Jun-2015 after introducing new service in CY2014 to Montreal and Fort Lauderdale.
The carrier is making the right moves by adjusting its fleet and attempting to keep loads high so it can quickly recapture unit revenues when conditions improve; but with tepid economic growth forecast for Latin America in CY2015, Copa could find itself facing continued pressure on yields for the foreseeable future.