Continental, US Airways lead upwards. Air Canada rises on pension news - Share Wrap
Analysis
Continental (shares +18.4% yesterday) and US Airways (+14.2%) were the biggest gainers in a bullish day on Wall Street on Monday. Air Canada (+8.8%), dodging bankruptcy, rode the wave as it announced discussions with unions over stabilising the carrier's "financial certainty" by doing a deal on pension funding.
Gains in Latin America were generally more modest, but still strong, with TAM, COPA and LAN all up more than 6%.

Brokers and analysts in New York cheerfully talked the market up yesterday, as the Dow climbed 2.6% on the day, with joyous suggestions even of a V-curve recovery and talk of the recession being over.

In this there was sweet and sour for the airlines. As conditions improve, so does the price of fuel, but no-one had time for that nicety - or even that yields and demand are still very ugly.

Continental's "good news" for example was that yields were (only) down 12.5% in Apr-2009 - cause for catastrophe in the past, but good news these days.

There are some signs of the market's steep fall flattening-out however. Whether that signals an end to the recession, or merely the level at which it will hurt is something for time to tell.

Good financial results are unlikely for many months yet, but the levels to which stocks have fallen make them highly attractive to traders looking for a short term profit.
For daily updates on American aviation stock prices and a complete wrap of the day's breaking news, sign up now for a complimentary subscription to America Airline Daily.
North & South America selected airlines daily share price movements (% change): 04-May-09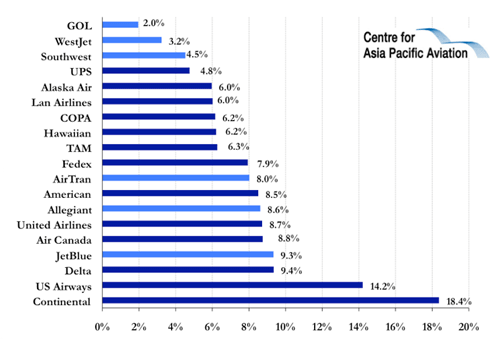 Air Canada's respite on the upside may be short lived, if the Canadian Auto Workers Union (which represents 4,500 of the airline's check-in and call centre staff) has anything to do with it. At a media conference yesterday, reported by Canadian Press, the union's President, Ken Lewenza, said, "It's a safe bet that our pensions are going to be the first target of the company. Forget it ... our pensions will not be held hostage by the financial meltdown and by corporate greed."