Continental, United Airlines, Southwest and American drop, Allegiant and Gol higher
US carriers had a tough day on Wall Street yesterday, as investors shrugged off lower oil prices to focus on traffic reports, which were generally below expectations.
Continental Airlines slipped 4.1%, while AirTran and US Airways dropped 5.8% and 6.3%, respectively. United Airlines eased 2.4%, while Southwest fell 1.8%, even though its Jun-2009 PRASM fell less than JetBlue's (shares down 1%).
American Airlines eased 1.9%, despite announcing a frequent flyer link-up with Gol (see below), that aims to evolve into a codeshare deal that could provide significantly improved connectivity for American in Brazil. Gol's shares advanced 3.7%.
Air Canada's B shares fell 0.7% as investors contemplate a possible bankruptcy filing by the carrier as progress on union deals remains elusive. WestJet's shares rose 2.5% yesterday.
North & South America selected airlines daily share price movements (% change): 07-Jul-09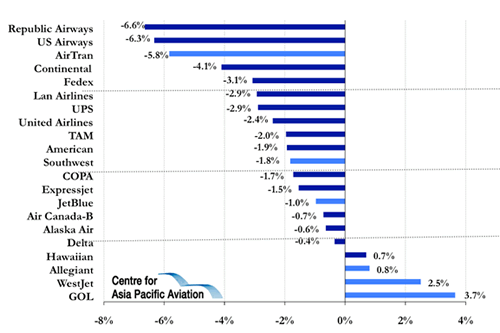 GOL and American Airlines announce codeshare plans – edited press release
GOL has entered into a reciprocal frequent flyer agreement with American Airlines, which will allow members of each frequent flyer program to earn and redeem miles on each other's airline and lays the groundwork for a future codeshare agreement.
From 4Q2009, American will codeshare on GOL services from Sao Paulo, Rio de Janeiro, Belo Horizonte, Salvador and Recife offering passengers seamless connections.