Clouds loom over Cross-Strait airline market as Taiwan faces political change. Hong Kong may benefit
Analysis
The ruling, and pro-Beijing, KMT party is expected to lose the Jan-2016 elections in Taiwan. Under the KMT's leadership Beijing and Taipei have forged closer ties, including the launch of charter and then scheduled Cross-Strait flights between mainland China and Taiwan, which had been prohibited for decades. There has been growth, with increase in overall frequency as well as destinations available to be served in the still tightly-regulated market.
An outstanding gripe from the Taiwanese side was that, for complex reasons, their airlines were not permitted to carry transfer traffic from mainland China to Taiwan and beyond to other markets – such as Australia and North America, two popular long haul markets from mainland China and for which Taiwan is well positioned to be a hub. Earlier in 2015 when relations were warmer, Taiwanese carriers were expected to receive transfer traffic rights by the end of the year. But as the Taiwanese political situation has turned unfavourable to Beijing, an Oct-2015 meeting did not grant transfer traffic rights. The bigger risk is that cooling relations would slow Cross-Strait liberalisation – or at an extreme, recede. One outcome could be that visitor growth would instead funnel through the Hong Kong hub.
Political party change in Taiwan could impact the Cross-Strait airline market
The Cross-Strait market between mainland China and Taiwan is heavily regulated, and Taiwanese carriers are unable to sell tickets from mainland China to points beyond Taiwan due to mainland restrictions. This is effectively a form of protectionism, but the bigger drive for the policy is to retain negotiating leverage. Mainland Chinese carriers can meanwhile carry transfer traffic out of the comparatively smaller Taiwanese market.
There is no prohibition on Taiwanese carriers bringing transfer traffic into mainland China, but this is largely not a commercially viable strategy. Yields between Taiwan and mainland China are so high – with surplus demand – that the yield for the connecting market (Taiwan-North America, for example) would be exceptionally low. Transfer passengers into mainland China for EVA Air are a low single digit share.
Earlier in 2015 mainland China was expected finally to grant Taiwanese carriers the right to carry transfer traffic from mainland China - probably in secondary but definitely tertiary cities; primary cities like Beijing and Shanghai were to be off limits. This would have helped sustain thinner Cross-Strait routes where point-to-point demand is too thin; connecting traffic would help make the routes viable.
Beijing was seen as offering the start of transfer traffic as part of sweeteners to Taiwan in the lead-up to a Jan-2016 election (current president Ma Ying-jeou must step down owing to term limits). The Taiwanese populace is growing frustrated with Cross-Strait policies, believing gains are mostly to large corporations rather than the general public. Taiwan's pro-Beijing party, the KMT, is in office but was losing support throughout the year. Favourable policies to Taiwan could have added credibility to the KMT. But the KMT's popularity has further weakened and in Oct-2015 it replaced its presidential candidate.
The concern is not just that the pro-Beijing KMT will lose the presidency but will also fail to secure a majority of legislative seats.
That could cause the legislative assembly to distance itself from Beijing, removing the incentive for Beijing to support Taiwan through policies such as Cross-Strait flights, which are more important to Taiwanese the mainland Chinese airlines. It is also more important to the Taiwanese economy, which has seen mainland Chinese visitors increase from 1m in 2009 to 4m in 2014.
Taiwan annual tourist arrivals from mainland China: 2009-2014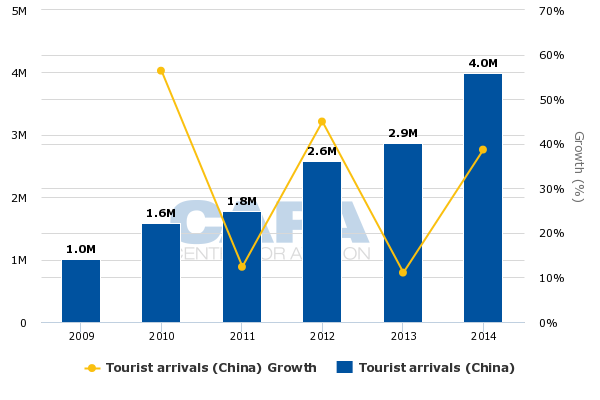 In comparison, Taiwanese visiting mainland China have grown from 4.5m in 2009 to 5.4m in 2014. The biggest growth jump was between 2009 and 2010, with limited change since 2010.
Mainland China annual tourist arrivals from Taiwan: 2009-2014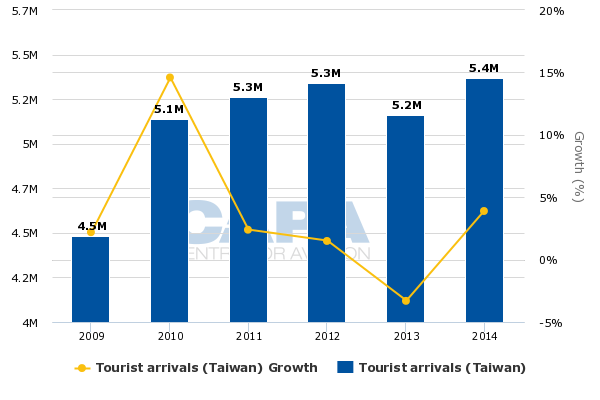 The KMT's competing party, the DPP, may seek to distance ties with Beijing. It was under this gloomy outlook for Beijing that a meeting between mainland China and Taiwan on 14-Oct-2015 did not agree to transfer traffic rights for Taiwanese carriers. The negotiating items (including sectors other than aviation) were complex. Taiwan for its part made only very minor improvements to the indirect route into Taipei that airlines (from both sides) must use in the Cross-Strait market.
The improvements Taiwan offered are expected to reduce flying time by a few minutes, but the route is so indirect there are larger savings to be made. The inefficiency of this flight routing has been a sticking point for the mainland Chinese side, but was not the sole factor in deciding not to grant transfer traffic.
Typical Beijing-Taipei flight route (dotted red line theoretical most direct path, blue/purple actual path flown): Air China flight 185 on 12-Oct-2015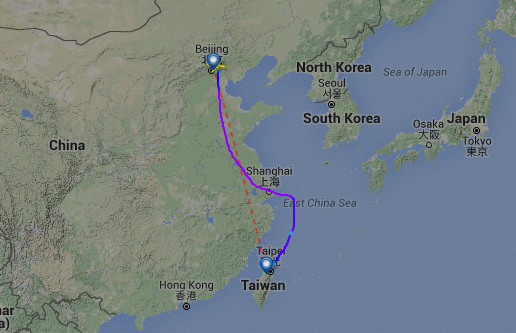 China Airlines reconsidering narrowbody aircraft order
China Airlines Chairman Sun Huang-Hsiang told the China Times in Sep-2015 that it is re-evaluating its plans to order 50 narrowbody aircraft, including the number of aircraft (China Airlines was deciding between the A320 and the 737, which it already operates). Mr Sun cited changes in the air passenger market, which could be an allusion to the Cross-Strait segment. The 50 aircraft order may have been too optimistic before clouds emerged over the Cross-Strait market.
For the week of 18-Oct-2015, Japan is the largest market for China Airlines' narrowbody fleet with 49 weekly scheduled flights compared to 24 to mainland China. But combined with its Mandarin Airlines unit, weekly narrowbody flights to mainland China are 44 (Mandarin Airlines does not fly to Japan). For all Taiwanese carriers, mainland China is the largest market with 118 weekly flights compared to 106 to Japan.
The Taiwan-Japan market should be considered robust and not a major reason to decrease aircraft. The yen's depreciation is boosting the Taiwanese outbound market, which expanded fast after the open skies agreement was concluded a few years ago. Although Japanese LCCs are adding service to Taiwan, they are mostly focussing on the markets of Osaka and Tokyo, whereas China Airlines' narrowbody strategy is to reach smaller Japanese cities – which Japanese LCCs do not serve.
Taiwanese carriers' narrowbody aircraft flights by market: 18-Oct-2015 to 24-Oct-2015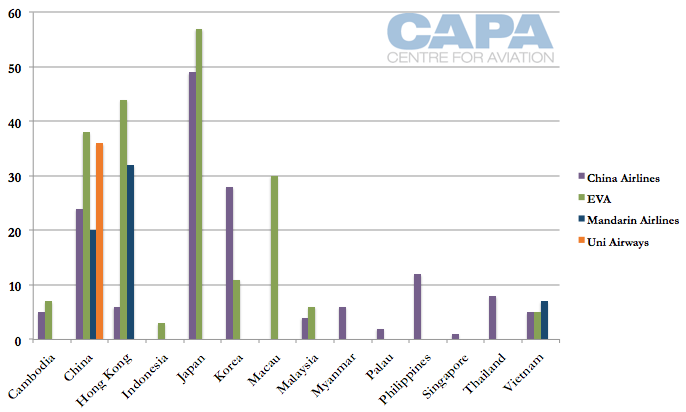 Cross-Strait flights are growing, but not to Beijing and Shanghai
The Cross-Strait market continues to expand, but growth is tapering off. Scheduled Cross-Strait flights in 2014 grew about 20% for mainland Chinese and Taiwanese carriers, but in 2015 show growth around 5%. In Oct-2015, Beijing and Taipei agreed to open six more mainland Chinese destinations to Cross-Strait flights, but these rights, like those previous, are to very small cities.
Profitability can be a challenge but airlines mostly persist in opening service to these points out of fear that if they do not (when the flight is unprofitable) another carrier will and will hold the market once it becomes profitable.
Weekly Cross-Strait flights from mainland Chinese and Taiwanese carriers: 2007-2015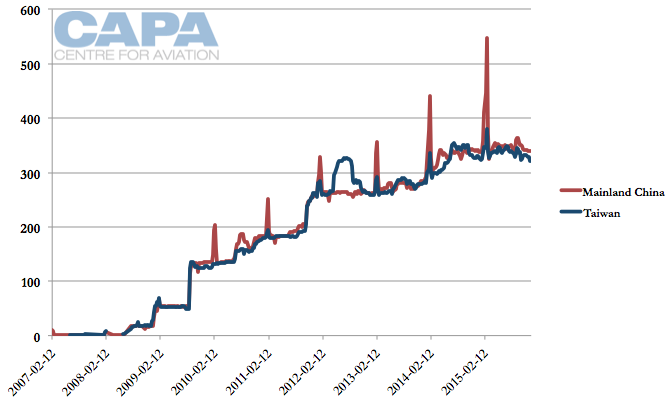 A sticking point for the Taiwanese side is that its airlines mostly want additional rights to serve the main Chinese cities, not tertiary or lower. With the exception of limited frequency increases, Taiwanese carriers have operated 14 weekly flights to Beijing since 2010.
Shanghai received a welcome increase in 2013/2014, with weekly Taiwanese flights growing from 38 to 55, but there has been no change since then. Although Chinese airport slots are tight, to the right airline – a Chinese airline partner – they are dispensed.
Weekly Cross-Strait flights to Beijing and Shanghai (Hongqiao and Pudong) for Taiwanese carriers: 2007-2015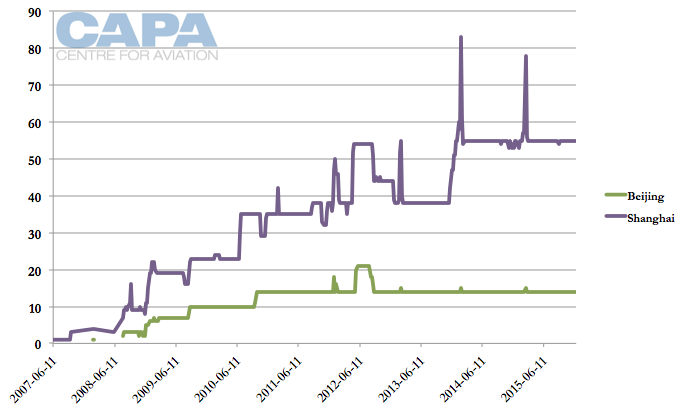 Cross-Strait market more important to Taiwanese airlines
Cross-Strait flights are more important (proportionally) to Taiwanese carriers than those from mainland China. Cross-Strait scheduled flights account for approximately 8% of ASKs at China Airlines and EVA Air, and 23% at TransAsia. But at Air China, China Eastern and China Southern, Cross-Strait flights are approximately 1% of total ASKs.
Cross-Strait services share of total ASKs at select carriers: 2015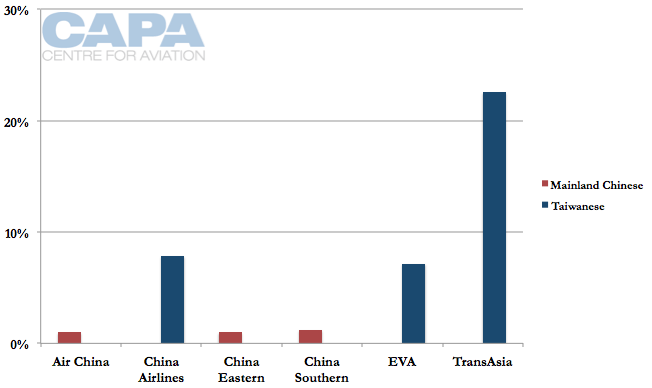 The share of total ASKs that Cross-Strait flights comprise at Taiwanese carriers grew around the turn of the decade. But since 2012 China Airlines and EVA Air have stabilised Cross-Strait flights at about 7% of ASKs. TransAsia's Cross-Strait flights peaked in 2011, comprising 27% of ASKs, before dipping to 16% in 2013 and gradually recovering since then.
This fluctuation has occurred as TransAsia has sought to diversify its network. China Airlines and EVA Air meanwhile add Cross-Strait flights at the same time as they grow elsewhere, such as to Japan (or North America for EVA).
Cross-Strait services share of total ASKs at select Taiwanese carrier: 2009-2015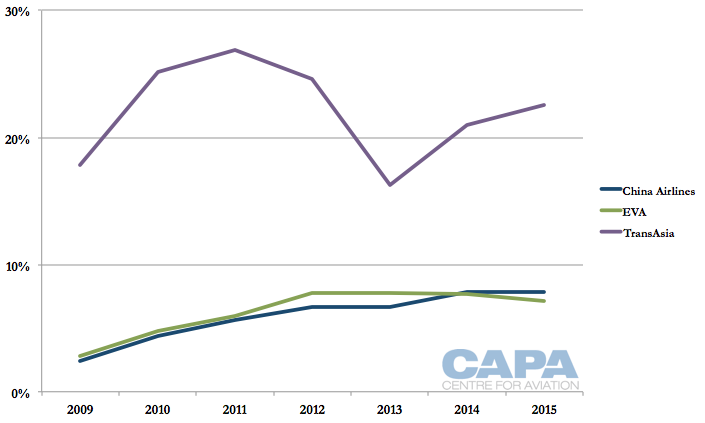 The low capacity share belies the financial importance of Cross-Strait services. Overall, they are handsomely profitable.
Some indication can be gleaned from mainland Chinese carriers' yield information, which is broken down into domestic, international and regional. "Regional" includes Hong Kong, Macau and Taiwan services, but it is Taiwanese yields that drive this average up.
Yields (RMB per ASK) for Air China, China Eastern and China Southern by region: 1H2015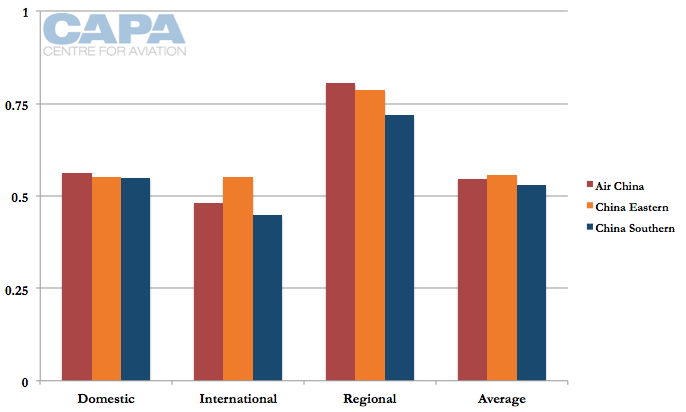 It would be premature to predict a change in Cross-Strait dynamics, but the ingredients appear to be there. Reducing the pace of liberalisation, especially a reluctance to add services at main airports, could mean that intermediary carriers pick up the slack. This would be Cathay Pacific/Dragonair and then Hong Kong Airlines. Both are full service carriers with large networks in mainland China and access to Taiwan. HK Express has a limited network (it does not serve Taipei) built around point-to-point services, not connecting over the Hong Kong hub, but there could be some gain in specific markets.
A spot check on fares for a Shanghai-Taipei return in Nov-2015 show non-stop flights offered for USD300 for the two hour (scheduled) service. One-stop through Hong Kong on Cathay/Dragonair is available for USD220 and takes over five hours.
Air Macau has heavily reduced its Taiwan services. Prior to the opening and expansion of Cross-Strait flights, mainland China-Taiwan passengers transitted in Hong Kong and to a lesser extent in Macau. Cathay and Dragonair decreased Taiwanese capacity following Cross-Strait opening and expansion but added back.
The two are approximately the same size as in 2005 (but below their 2008 peak) although capacity has partially shifted from Cathay to Dragonair, which has a lower operating cost. The two have benefitted from growth out of Hong Kong to Taiwan; Taiwanese visitors to Hong Kong have seen limited change.
Hong Kong and Taiwan visitor development: 2009-2015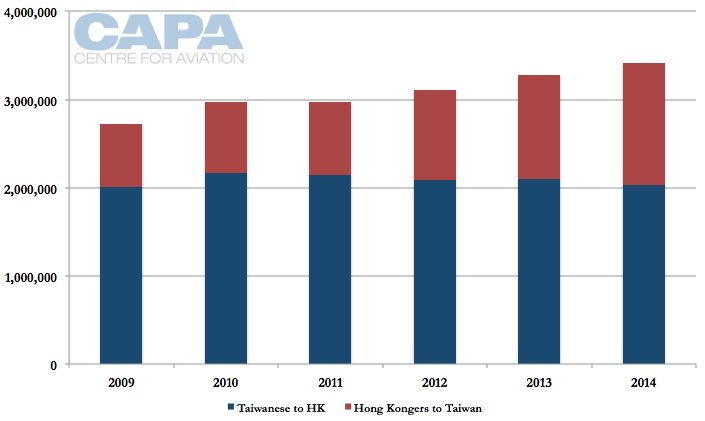 Hong Kong Airlines entered the Taiwan market in 2011 and its capacity has been relatively unchanged since 2013 (there are bilateral and slot constraints at play).
Annual seat capacity to Taiwan offered by Air Macau (from Macau airport) and Cathay, Dragonair, Hong Kong Airlines and HK Express (from Hong Kong airport): 2005-2015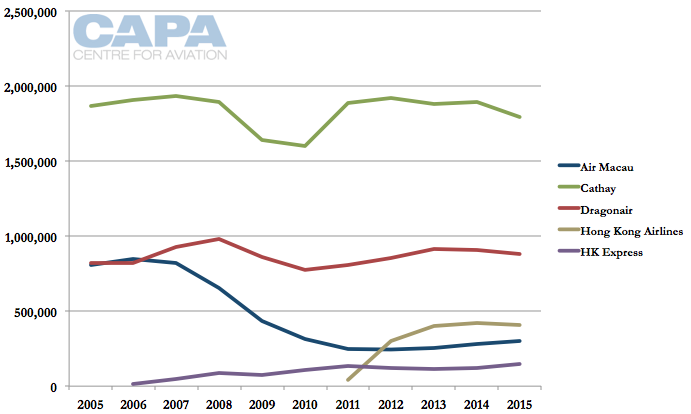 The more extreme scenario – and one promising greater opportunities to intermediary carriers – is of a decrease in allocated flights between the two sides. This would be a bold step and will not be taken lightly. There would need to be a major weakening in the Cross-Strait relationship for flight allocations to be reduced.
Air China would indirectly benefit from gains at Air Macau and Cathay Pacific owing to its investment in those two carriers. Air China would prefer direct organic growth; benefitting from its investments in Air Macau and Cathay Pacific would be only the silver lining on the situation.
It is difficult to manage the risk of a profitable yet potentially volatile market
Taiwan's airlines have not taken for granted their Cross-Strait market access. It is a volatile relationship.
Managing the risk of the Cross-Strait market is arguably more complex than the fluctuations in oil and foreign exchange. Taiwan's airlines have been hesitant about financially relying on the Cross-Strait market. But the reality of plush yields has made their dependence on Cross-Strait flights inescapable.
If Taiwanese carriers must find new markets to compensate for limited Cross-Strait access, there is thankfully low fuel prices – for now. Mainland Chinese carriers in comparison have far wider exposure to other markets; Cross-Strait flying is a much-appreciated but small market. Taiwan has more to gain from Cross-Strait liberalisation, and also has more to lose if relations go south.
Even if transfer traffic was immediately granted to Taiwanese carriers, volumes would have been low because point-to-point demand is so high. To truly realise the benefits of transfer traffic, Taiwanese carriers would need more access to major cities. That would require an expansion in the Cross-Strait agreement but also the furnishing of slots at congested mainland airports.
The start of transfer traffic from mainland China would begin the process of one day having wider access. This is now on hold. The bigger worry is that a DPP victory could stop Cross-Strait growth or even cut back on the number of flights. Intermediate carriers, like Cathay Pacific and Hong Kong Airlines, could benefit if Cross-Strait route allocation stops liberalising.
Although potential impacts could be expensive they would probably be isolated. The Cross-Strait market has developed on its own without beyond connections, meaning Taiwanese carriers' networks are not intertwined with the Cross-Strait market. Unravelling one source market in a hub operation would be more operationally complex.
But financially, changes in the Cross-Strait market would be of concern. Downward performance would place pressure elsewhere on the network to compensate for profitability.