Chinese conglomerate Alibaba looks to invest in Brazilian airport
Analysis
Several very large companies worldwide have logistics requirements that are such that investment into airports of their own or into strategically located ones might be a shrewd move. One of them is Amazon, which has investigated that potential in the past.
Now along comes Alibaba, which is so big in China that it has managed to outsize the activities of Amazon and E-Bay, with designs on a significant passenger/cargo airport in Brazil in conjunction with a large logistics company, also Chinese.
One potential problem is that the airport in question has failed to live up to the expectations of those companies which invested in its concession; so much so that they have signified their desire to exit it altogether. It is a passenger as much as cargo airport. Could Alibaba run it any better?
Summary
Alibaba Group may collaborate with Global Logistics Properties to acquire concession rights at Campinas Viracopos airport
But taking on a concession, especially in Brazil, is not the same as building cargo and logistics buildings at airports
The Chinese Alibaba Group has expressed interested in acquiring concession rights to operate Brazil's Campinas Viracopos Airport.
The mainland China-based (Hangzhou) conglomerate is expected to collaborate with Global Logistics Properties (GLP) (Singapore) to bid for concession rights at Viracopos and aims to develop the airport as its logistics and cargo handling hub in Brazil, which is Alibaba's fourth largest market. GLP is already active in Brazil.
Other investors are waiting on the sidelines
Separately, Flughafen Zurich, Brazilian private equity enterprise IG4 and conglomerate Camargo Correa have also expressed interest in operating Viracopos.
Campinas Viracopos Airport was privatised by concession in the first tranche in 2012 to what is known in English as Aeroportos Brasil Viracopos or ABV (Triunfo/ Engenharia e Participações /Aeroports Egis Avia). It has been the most controversial transaction.
The concessionaires became embroiled in a dispute over the concession, with Brazilian regulator ANAC sending the operators the final notification for annual payment of the concession fee during Jun-2017. In Jul-2017 ABV made a decision to return the concession to the government after passenger traffic and revenue failed to meet expectations. This attracted the attention of several investors, mainly in Europe, despite the problems.
The chart below details traffic growth, which picked up a little in 2017 but fell again in 1H2018.
Campinas Viracopos Airport passenger traffic figures and growth from 2012 (the year the concession was granted) to 1H2018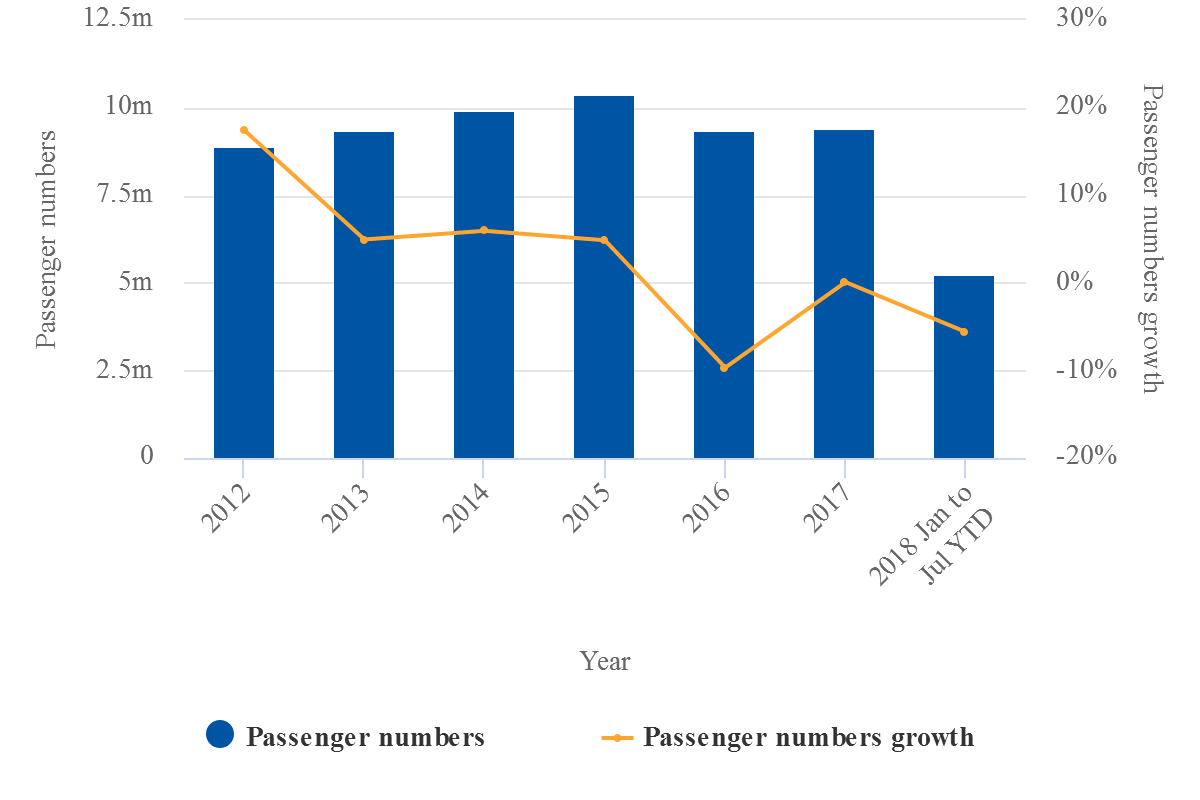 Note the sudden and severe (9.7%) drop in traffic in 2016
But it never did that, possibly because the Brazilian economy started to improve. It set out instead to find an alternative investor to sell to but was unsuccessful.
Then, late in Feb-2018, the government announced that it planned to re-tender the concession in Mar-2018. The concessionaire ABV would continue running the airport while the tender process is underway. But that was not before ANAC said it had launched a probe to investigate ABV over non-compliance with obligations under the concession agreement for Campinas Viracopos Airport and that the probe could result in termination of the concession agreement by a declaration of forfeiture.
About that time the other investors mentioned began to show an interest with Flughafen Zurich and IG4 talking of a partnership to acquire Triunfo's and UTC's equity. Flughafen Zurich has since stated that it expects to move forward on the deal by the end of the year or it will rethink its commitment.
ABV presented a belated recovery plan
In Jul-2018, ABV presented a judicial recovery plan, proposing to direct all cash flow from the airport concession towards debt repayment.
Enter Alibaba, the Chinese e-commerce giant and Asia's largest firm with a market capitalisation of USD420 billion.
Alibaba Group Holding Limited, through various subsidiaries, operates as an online and mobile commerce company in the People's Republic of China and internationally. It operates in four segments: Core Commerce; Cloud Computing; Digital Media and Entertainment; and Innovation Initiatives and Others. It has seen off E-Bay from China while keeping Amazon in a junior position there.
Alibaba is a new entrant to airport investment though with only one known foray into the business, a tentative investment proposal for Russia's Irkutsk Airport to build a cargo terminal there. The Irkutsk Region plans to make Irkutsk Airport the centre for logistics in the east of Russia.
Smaller, under-utilised airports fit Alibaba's brief
That fits Alibaba's brief perfectly. Under-utilised smaller airports, preferably with good surface transport links (road, rail), and preferably within striking distance of major centres of population, where large logistics sites can be constructed, benefitting employment opportunities and thus currying favour with local authorities . Chinese investors have been seeking them out for decades, often in Eastern Europe, though they have tended to limit themselves to very small airports until fairly recently.
In Aug-2017 China's HNA Group acquired an 82.5% equity interest in Frankfurt Hahn Airport from the state of Rhineland-Palatinate, describing it as "a strategic investment…in an airport which can become a leading hub of commerce between China and Europe…"
Since then, HNA has acquired a 35-year concession to operate Plovdiv International Airport in Bulgaria and put forward a tentative bid for Belgrade Airport. It was also the preferred bidder for Odebrecht's share of RIOgaleao, the concessionaire responsible for Rio de Janeiro Galeão International Airport, but was unable to make the payment on time.
Where HNA prefers Europe, Alibaba's selection of Viracopos fits its intentions better. That airport serves the southeast Brazilian city of Campinas, located 100km north of São Paulo, Latin America's second biggest city.
Location of Campinas Viracopos Airport relative to São Paulo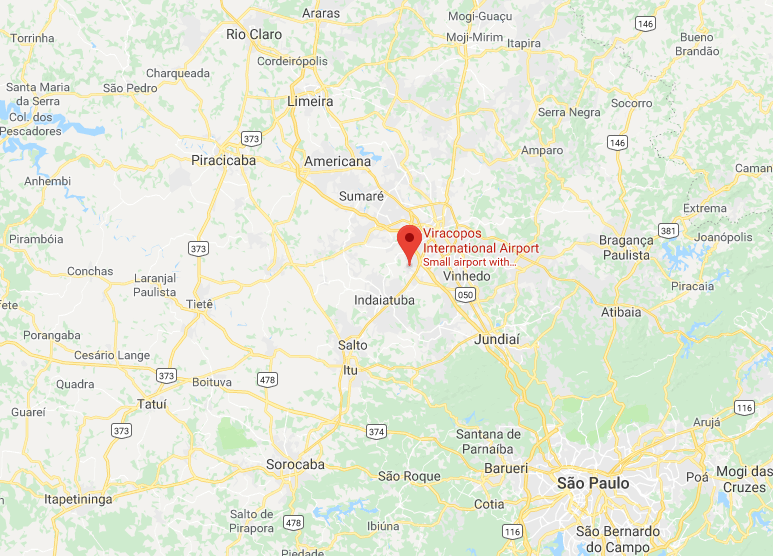 Viracopos is Brazil's second biggest cargo airport
It is the second biggest cargo airport in Brazil with over 500 million kilos of cargo payload capacity in 2018. It is served by cargo airlines such as Atlas Air, ABSA, Cargolux, Martinair and Avianca Cargo as well as freight-oriented cargo airlines such as Korean. It has express facilities for courier traffic that are un-bureaucratic by Brazilian standards.
Campinas Viracopos Airport annual cargo payload capacity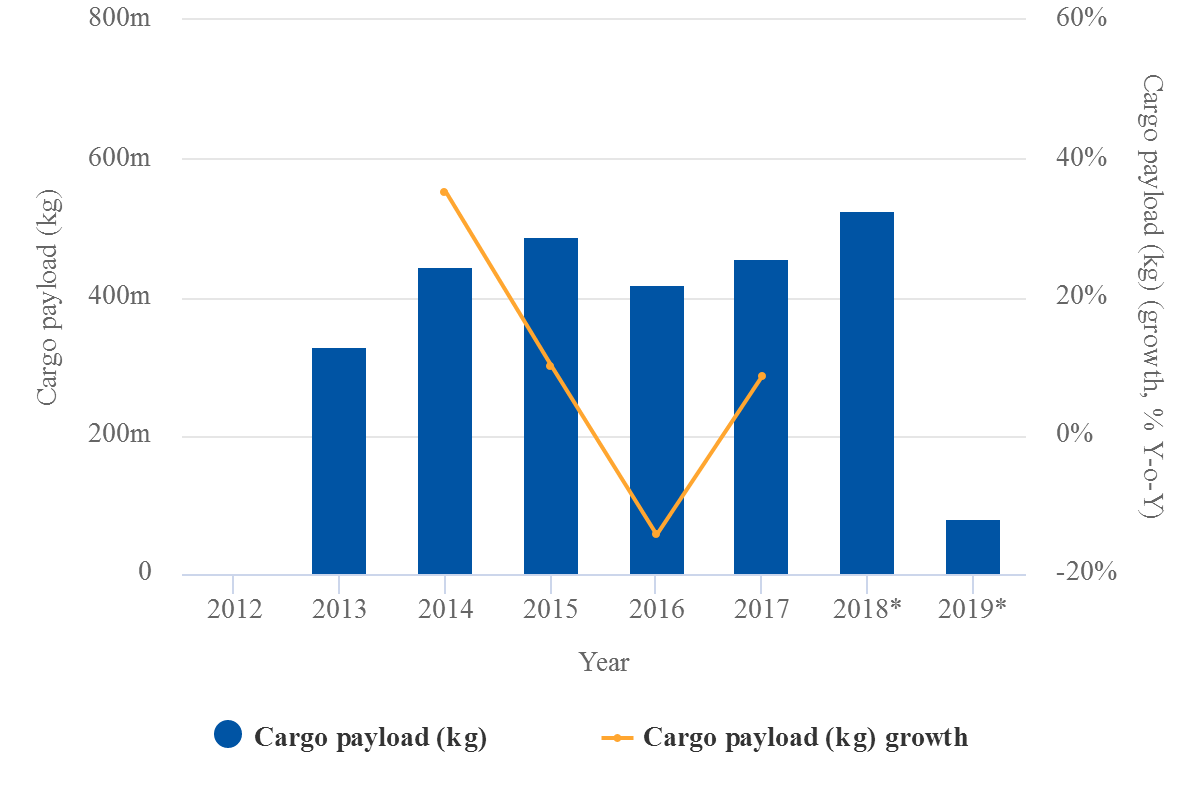 Campinas Viracopos Airport – main cargo airlines, market share by payload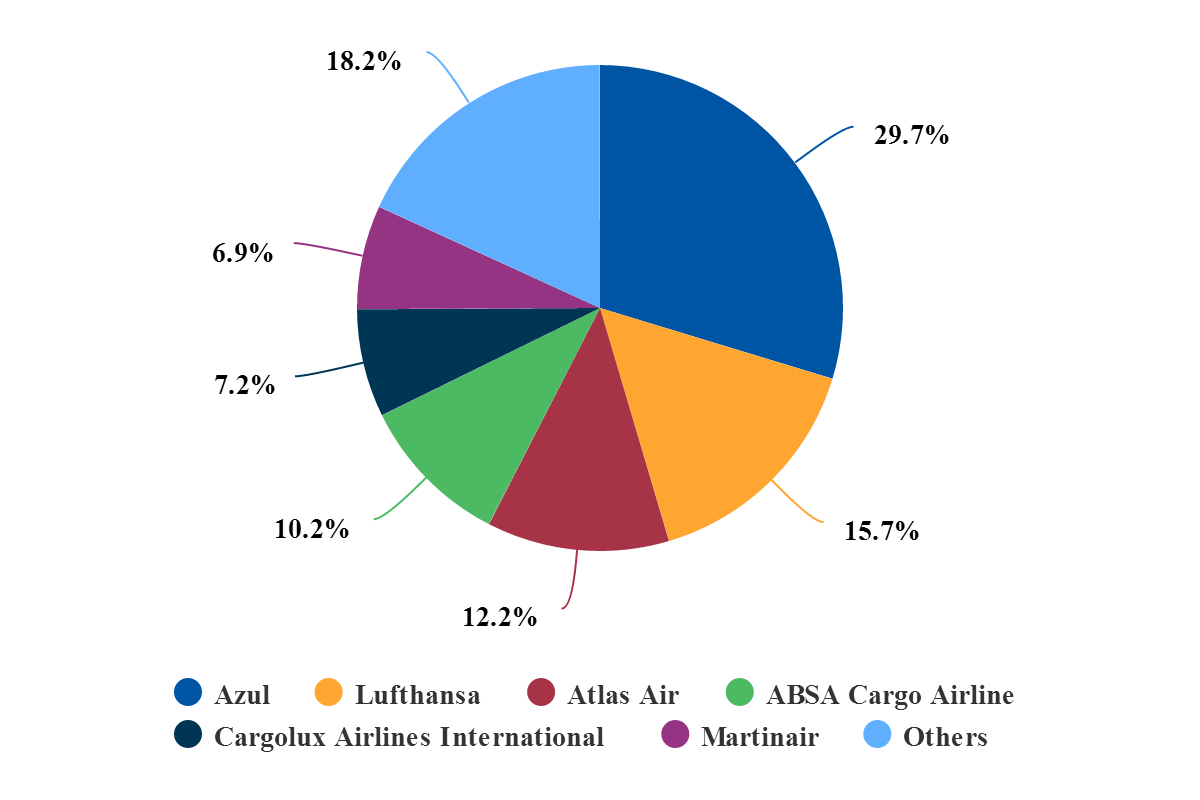 Alibaba's partner Global Logistics Properties (GLP) provides modern logistics facilities and technology-led solutions worldwide. It has USD50 billion in assets under management across real estate and private equity segments, owns and operates a 62 million sq m property portfolio and 2,838 completed properties in 1,163 logistics parks globally.
Alibaba's founder about to step down – will it make a difference?
Alibaba's interest in Viracopos comes just as its founder, Jack Ma, announces he will step down as Executive Chairman of Alibaba Group Holding in 2019, handing the reins to Daniel Zhang, who became Chief Executive officer barely three years ago.
Zhang, previously a long-serving CFO, is regarded as more of a financial mind than a technology visionary in Ma's mould and it is yet unclear what he will make of this recent interest in the airport sector. A quick glance at the figures and at some of the issues that have arisen since the concessions began in Brazil might prompt him to exercise caution.
A shorter version of this report was first published as an article in The Blue Swan Daily.