Chinese airlines have high-speed rail as a friend and foe despite early dire survival questions
Analysis
To borrow from Mark Twain, reports of Chinese domestic airlines' death by high-speed rail have been greatly exaggerated. With the opening of new high-speed railway lines – and China will have some 16,000km of HSR track by 2020 – come inevitable reports asking if HSR will cannibalise and decimate domestic Chinese air routes, or telling of how flights are empty or being cut by airlines. It is true HSR has resulted in notable traffic declines on a handful of routes and caused one route to be suspended.
But there were approximately 1,600 domestic city-pairs operated by Chinese carriers in 2012 and the routes notably affected by HSR number in the single digits; these were never big to begin to with. Services between Zhengzhou and Xian were suspended after HSR's introduction, but previously the sole daily service was on a regional jet; multiple carriers ply the Beijing-Shanghai route with A330s, while the HSR operates below.
Zhengzhou-Xian services resumed after public confidence in HSR declined following a crash and maximum speeds decreased, highlighting that many unknown developments may improve what is already a moderate worst-case scenario. HSR can be a friend to airlines by having the two partner, as well as a galvanising force for Chinese air transport to become more efficient and competitive, if the right levels of government can be persuaded. Overcoming inertia in that area is one of the biggest challenges.
The concern over high-speed rail is fuelled given the significance of China's domestic air network: the second-largest in the world, it is where China's airlines make the bulk of their profits (and many Chinese carriers only fly domestically while others have a small international network). For many carriers, international flights can be loss-making. 61% of Air China's ASKs are within its domestic network while for China Eastern the figure is 66%, and 74% for China Southern.
China's HSR ambitions have moved quickly: its first line opened in 2008 and the country now has about 9,000 km of track. It was due to increase to 15,000km by 2015 but after a deadly crash the deadline was pushed back to 2020 without official explanation. Some state-owned media outlets still refer to the 2015 projection.
Planned are four major east-west routes and four north-south routes, conjoining an image of China crisscrossed with HSR tracks. But the four vertical routes are closer to being two wavy paths, giving more thorough HSR coverage on the coastal area than inland. HSR networks to be developed late in the decade, including Guangzhou-Kunming, Guangzhou-Guiyang and Chengdu-Xian, could fill some gaps.
Completion of Beijing-Guangzhou HSR sees decreases on intermediary points
China on 26-Dec-2012 opened the Beijing-Guangzhou HSR corridor, the world's longest HSR track at 2,298km and taking as few as eight hours to complete. The line had been completed in segments since 2009 and by 2015 is planned to be extended to Shenzhen and Hong Kong, by which time journeys will take about ten hours.
The final section completed was from Beijing to Zhengzhou in north-central China, about a quarter of the way down to Guangzhou. Local newspaper China Business reported preliminary figures that traffic between Beijing and Zhengzhou from 01-Jan-2013 to 06-Jan-2013 fell 39% and fares 33% year-on-year.
China Southern accounts for about 60% of capacity on the duopoly route while Air China holds the remaining 40%. There are typically eight daily round-trip flights operated by 737-800s.
Such impacts should be unsurprising. Beijing-Zhengzhou are 663km apart and flying takes about 1h25m. Adding in time for arrival and departure formalities, the route is ripe for cannibalisation from HSR. Airlines have been aware of this. There is a typical airline behavioural pattern for when an air route nears competition with a completed segment of HSR. (The pattern and response intuition is not unique to China: it has been seen in Europe.)
In the months leading up to HSR's introduction, capacity is boosted to increase frequency and make air services a greater proposition. Fares, less measurably, are discounted to further incentivise travellers. But once the route opens, capacity noticeably falls. This quick reaction is a result of HSR's exact opening date not always being confirmed until weeks prior. Unlike in other markets, a significant proportion of domestic tickets in China are sold a mere week before departure, creating a sudden shift in rail vs air demand.
The Beijing-Zhengzhou route holds true to this pattern. In the two years to the lead-up of the 26-Dec-2012 HSR opening, capacity between Beijing and Zhengzhou averaged to about 41,000 monthly seats. Capacity in Nov-2012 and Dec-2012 climbed to about 50,000 seats, a level not seen since 2008.
Jan-2013 capacity falls to 38,000 monthly seats, rises to 42,000 seats in Mar-2013 but in Apr-2013 starts a decline to about 22,000 seats a month, a 45% decrease.
Monthly capacity between Beijing and Zhengzhou: Jan-2003 to Dec-2013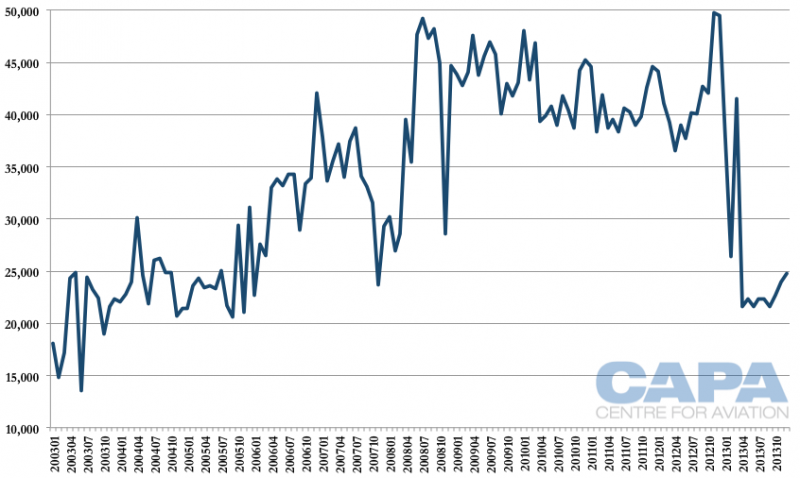 The Beijing-Zhengzhou route rankes in the top 9% of all domestic routes based on ASKs, but the capacity profile is heavily weighted to trunk routes. The 15 largest routes based on ASKs in 2012 comprised 18% of system capacity.
15 largest domestic routes ranked on ASKs: 2012
The larger concern is capacity between Beijing and Guangzhou, the terminus of the HSR line. Beijing-Guangzhou in 2012 was the country's largest single air route with 2.15% of all ASKs. It has also been in the media limelight as China Southern flies between the two cities with its A380s twice a day.
The same report indicating declining passenger volumes on Beijing-Zhengzhou cited a 4% fall in demand on Beijing-Guangzhou in early Jan-2013 from a year earlier. But this figure should only be considered very preliminarily. The Beijing-Guangzhou market peaked in Jan-2012 with a record 212,000 seats that month. The average for the rest of 2012 was 200,000 seats.
The average capacity if Jan-2013 applied for the duration of 2013 is 194,000 seats, indicating about a 3% drop in capacity in 2013 compared to 2012. Those 194,000 average monthly seats in 2013 are still well above the 2011 average of 173,000 monthly seats and the 2010 average of 168,000 monthly seats.
Impacts on the air demand-supply balance may also be the result of adding too much capacity
HSR may be having an effect, but airlines could also have been bullish in 2012 capacity, expecting stronger economic growth – and also impacted by China Southern's deployment of the A380.
Beijing-Guangzhou monthly capacity: Jan-2003 to Dec-2013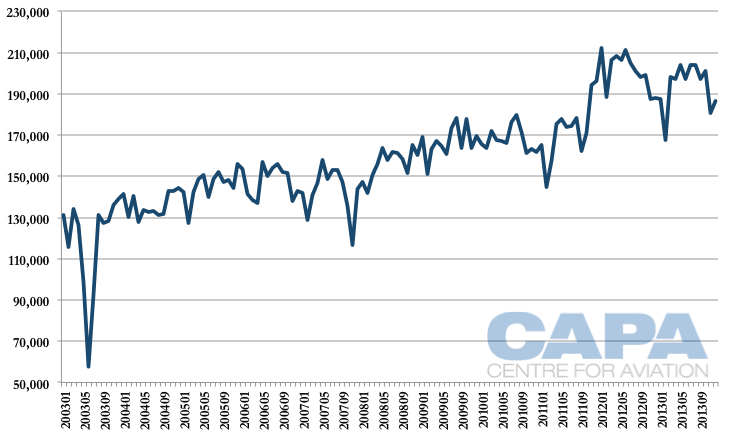 China Southern's deployment of the A380 on domestic routes has been unprofitable. The company has only stated 1H2012 losses were under RMB100 million (USD15.85 million).
See related article: China Southern to finally commence long-haul A380 services, but operation still faces challenges
Correction of over-capacity would be welcome and healthy for the industry. The Beijing-Guangzhou route has seen wide fluctuations in growth. In addition to normal demand factors like the economy, slots have gotten tighter at both airports. What is clear is the capacity growth in 2012 was the largest in a decade and 2013 capacity, as of Jan-2013, will be the second-highest year for the route.
Beijing-Guangzhou annual capacity and year-on-year growth: 2003 to 2013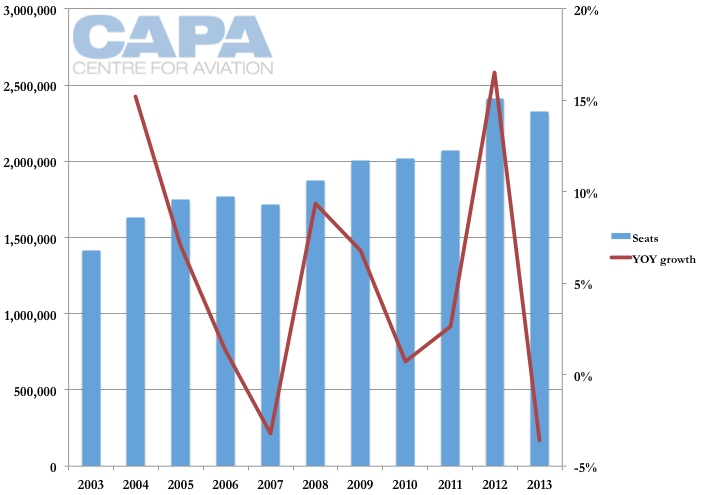 A complete assessment on this small change in capacity would include an airline's detailed yield and load factor information; the slowing of China's growth in 2012, and expected to continue in 2013, is shifting air patterns. Guangzhou is the heartland of manufacturing and any slowdown in that sector could be correlated to air demand, the slightest hint of which could spur airlines to re-assign their valuable slots at Beijing, which as the nation's capital sees a different demand profile.
If the 3% drop in capacity is entirely correlated to HSR, the one-year drop would be made up for in coming years with higher growth. With the Chinese government tightly controlling aircraft imports, demand generally exceeds supply, which would allow any excess capacity on a route to be re-deployed.
HSR faces frequency ramp-up, fare differences and service challenges
Given the difference of a three hour flight versus eight hour train ride, the passengers that airlines might lose on the Beijing-Guangzhou sector would be some of the most price-sensitive and low-yielding compared to the high-yielding, and very profitable, passengers who account for a sizeable portion of trunk routes.
While official news agency Xinhua spruiked the Beijing-Guangzhou route as having 155 daily pairs of trains on the route, that is the long-term objective (and perhaps a distant one at that).
For now, there are three high-speed trains a day between Beijing and Guangzhou, and only one operates at the speed to make the journey in eight hours; the other two are slower and take about 10 hours. There are no early morning, late afternoon or evening services yet. Unlike in Europe, HSR terminuses are often significantly out of the city centre, but less so than airports, helping eliminate the elapsed time advantage of HSR.
Guangzhou-Beijing HSR services and fares: Jan-2013
Train No.
Departs
Arrives
Duration
2nd Class Seat Fare
1st Class Seat Fare
Super Class Seat Fare
Business Class Seat Fare
G72
Guangzhou South
Beijing West
9h 51m

RMB865 (USD139)

RMB1383 (USD223)
RMB1645 (USD265)
RMB2727 (USD439)
8:30am
6:21pm
G80
Guangzhou South
Beijing West
7h 59m
RMB865 (USD139)
RMB1383 (USD223)
RMB1645 (USD265)
RMB2727 (USD439)
10:00am
5:59pm
G82
Guangzhou South
Beijing West
9h 40m
RMB865 (USD139)
RMB1383 (USD223)
RMB1645 (USD265)
RMB2727 (USD439)
12:43pm
10:23pm
Prices on the HSR line start from RMB865 (USD139) for a one-way ticket, about 28% below one-way air fares (return fares frequently have little to no discount). Discounts are larger for premium seats: about 60% for a super first class train seat (comparable to business) and 38% discount for the train's business class seat, which can become a 180-degrees lie-flat bed. But the added journey time for the full Guangzhou-Beijing sector, combined with limited frequency, offsets the fare price reduction. On average, there are 24 round-trip flights a day between Guangzhou and Beijing.
Guangzhou-Beijing one-way air fares: Mar-2013
| Economy | Business | First |
| --- | --- | --- |
| RMB1200 (USD193) | RMB4090 (USD658) | RMB4430 (USD713) |
The HSR trains will reportedly have wi-fi Internet, but China's airlines are looking to have their own air-to-ground networks to facilitate in-flight wi-fi Internet (some have wi-fi Intranet for viewing of in-flight entertainment and other functions that do not communicate to the ground). HSR will likely have a wi-fi advantage over air travel for some years, but its presence will spur the airlines to act faster and push Chinese regulators to more quickly approve the service for aircraft.
Meals are not included on the HSR, and while these are cheap at RMB15-45 (USD2-7), an initial report from The South China Morning Post says the train has only one dining carriage seating 38 (capacity is over 1,000) and there are only four microwave ovens to heat the meals. Some passengers reportedly queued for over 2.5 hours.
HSR's greatest impact will be shifting passengers from slower trains to the faster ones; journey times are more than halved while prices are less than double. When HSR impacts air travel noticeably, it will be on short routes that see less demand than trunk routes.
HSR's advantage on sectors under 800km, where major airlines put only 20% of ASKs
It is generally agreed HSR holds an advantage over air travel on sectors under 800km. Between 800-1200km there could be a tradeoff depending on factors including how direct the train tracks are and what the fare difference is. Above 1200km air travel will almost always hold an advantage.
China's main carriers have under 20% of their domestic ASKs on routes under 800km, about 30% under 1000km and 40-60% under 1200km.
Air China, China Eastern, China Southern, Hainan Airlines and Shanghai Airlines domestic ASK distribution: Nov-2012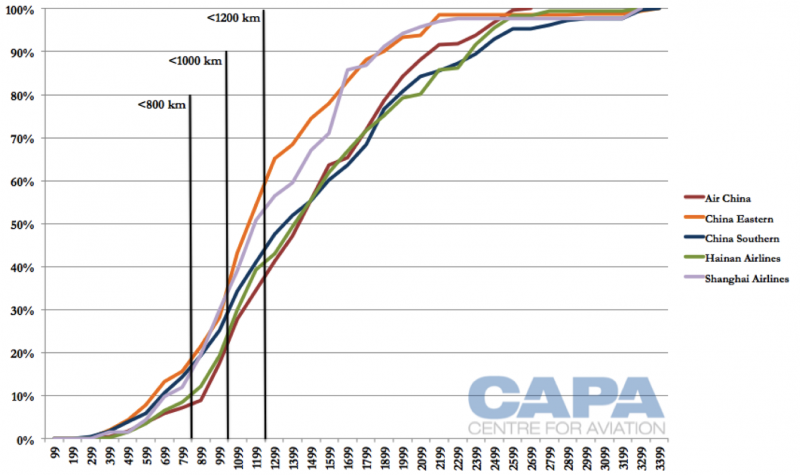 China's smaller – but still sizeable – carriers have a higher proportion of ASKs on shorter routes.
Shandong, Shenzhen and Xiamen Airlines domestic ASK distribution: Nov-2012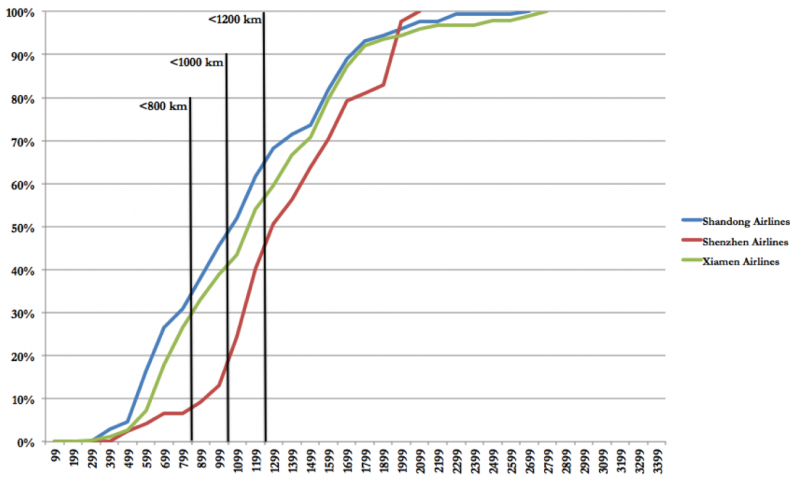 This is not to suggest HSR will eliminate 20% of carriers' ASKs. When HSR does have an impact, service is reduced but not eliminated. Many routes that are under 800km will have limited competitive overlap with high-speed rail. Many city-pairs are out in China's west and far west (Urumqi-Korla), where there are not yet HSR plans.
Other cities will have convoluted overlaps with HSR: Beijing-Xian is 934km but via HSR will involve a transfer at Zhengzhou, increasing trip distance by 21%, and elapsed duration possibly even longer, depending on the frequency and connection times between trains. Dalian-Beijing is a mere 444km, but separated by the Bohai Sea. A rail journey between the two cities would be more than twice as long.
Of the 15 routes that comprise 18% of China's domestic ASKs, only one (Beijing-Xian) is under 1000km.
Outlook for China's HSR network is not entirely bullish
Challenges for China's HSR network like frequency and service are minor compared to much larger fundamental questions about the system. In terms of price, HSR has been funded by debt. As that debt needs to be repaid, ticket prices could go up, as occurred in Japan and Taiwan. There are hints long-term strategy is not complete: China Railways has yet to charge freight shippers for the HSR lines, which they benefit from since older and slower passenger trains are being taken off the tracks freight trains use, allowing an increase in freight shipment.
The public's response to HSR, and take-up rates of the service, remain to be seen. While reports from official state agencies quote passengers giving nothing but praise for HSR, suspicion remains high after a Jul-2011 collision that killed 40 – and which the government tried to cover up by burying the train, only to have to excavate it. That incident is consistent with many Chinese feeling local companies and products are inferior to international versions.
Japan, however, charges the Chinese copied certain elements of their HSR trains, the shinkansen. However one crucial detail was not copied over: the maximum operating speed. Current shinkansen trains run no faster than 300km/h while China's maximum projected speed had been 350 km/h, although since the Jul-2011 accident reduced to no more than 300 km/h. Slower speeds return an advantage to air travel. There are no indications if or when HSR trains in China will be able to operate up to 350 km/h. Since the accident, some capacity levels have gone back up as air travel regains favour, both in speed and as it catches some public concerns of HSR.
Some Chinese airlines are partnering with HSR
Just as European airlines eventually realised, Chinese carriers are seeing considerable benefits can be gained by partnering with railways. Hainan Airlines was the first, allowing international passengers into Hainan Island to have a Haikou-Sanya (or vice-versa) segment included on their air ticket. Far broader was the 2012 effort from China Eastern that initially saw rail connections from Shanghai to domestic and international services.
While the airline wishes to expand the service, negotiations with each bureau of the railway hampers the process. For the six months since combined services started in May-2012, China Eastern has seen 24,000 combined air-rail tickets. In comparison, Lufthansa in 2012 saw 290,000 "AiRail" tickets. China Eastern's performance is notable given it is early days, both in awareness and spread of network.
China Eastern intends to expand the concept to Taiwan, where an extensive HSR network there has all but obliterated a domestic network. Air-trail tickets will be available to passenges on China Eastern or its subsidiary Shanghai Airlines. Taiwan's first HSR-airline cooperation was with China Airlines in 2009.
China Southern has justified large intercontinental expansion on the grounds it needs to become less reliant on domestic services, that could compete with HSR, and more on intercontinental service (although some industry watchers think it is one of the least exposed to HSR; China Southern previously had the smallest international network of China's major carriers). China Southern has recently given inklings it will partner with HSR, too. That broadly leaves Air China out of the picture – for now.
See related article: Chinese airlines start developing mutually beneficial solution through air-rail codeshare agreements
HSR could be great motivator for aviation efficiency
The growth of high-speed rail, even where it does not directly compete with airlines, could be a great motivator for Chinese air transportation to undergo much-needed reforms and become more efficient.
Airlines are aware of this, and while they must undertake their own efficiency reforms, some of the biggest are outside of their control. The largest reform needed by far is of airspace, which is congested and heavily cordoned off by the Chinese military that controls it. Asking for additional airspace for civilian purposes or better coordinating when airspace will be closed for frequent military exercises would not be seen as a move to benefit China as a whole but rather as a loss of power for the military and the political factions aligned to it. While airports like Beijing, Guangzhou and Shanghai's Hongqiao and Pudong are slot-restricted, comparatively smaller airports like Kunming are also facing volume challenges, not because of terminals or runways but lack of airspace.
As is unfortunately too often the case in aviation, airlines are painfully aware of the tremendous benefits that await themselves and their country's economy if they had an airline-aligned government - for example like the UAE, or Singapore. Convincing government officials to take action, even if it means some loss of personal gain or status, is the challenge.