China's aviation reforms match frugality with low-cost airline innovation as a new script unfolds
Analysis
What is exciting about the next act of Chinese aviation is that a new script is now emerging.
China's ascent from a single national airline in the 1980s to dozens of airlines in what is today the world's second-largest market has occurred over many acts, but to date they have largely been highly choreographed.
There were surprises as some characters assumed roles larger than they were written and as some unscripted characters appeared, but mostly the state has applied a rubric of growing the market while ensuring a predominant role for the three protagonists: Air China, China Eastern and China Southern.
This is changing now as China looks to generate higher growth rates: home grown LCCs are to be permitted formally for the first time. Highly successful models like Spring Airlines have led the way; now others will have the opportunity to follow the precedent.
Now a trifecta of events necessitates a change in direction for the plot
First is the government changeover in Mar-2013 that instilled leaders with a reform agenda. The result is to be a substantial redirection of China's economic leadership. For aviation this was not merely a technicality; it has become badly needed. The second event has been that China's large carriers have grown big – but they have done so with limited acknowledgement of the need for efficiency.
As they have become bigger – two are in the world's top 10 by size – these inefficiencies have become more evident. Correcting them yesterday would have been better, but adjusting to the extent needed now will require fundamental re-engineering of the airlines' culture and practices.
The third element of the change imperative is China's slowing GDP to levels from double digit to the mid- to high single-digits – still impressive for other countries, but unthinkable in China a few years ago. China has interwoven airline growth with GDP forecasts in a rigid format that does not allow for timely adjustments in capacity. Weakening performance has further manifested inefficiencies.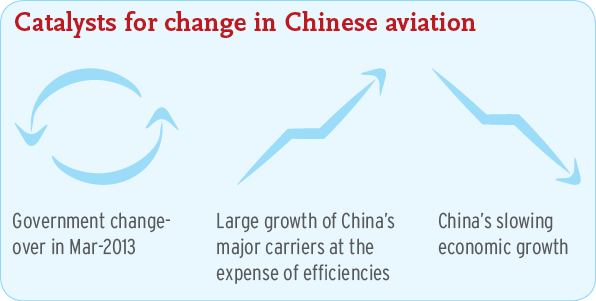 The response from regulator CAAC is to allow the market to have greater influence within the parameters set out by the state
There is to be no full "opening" of the country's market, but the changes planned will be some of the most far-reaching to date. New carriers will once again be allowed in, but unlike the last experiment in 2005 (which for example saw highly successful Spring Airlines enter), policies will better support them – or at least not disadvantage them. Low-cost carriers will especially be supported, either through new entrants (Jiu Yuan Airlines) or transformation of existing full-service airlines into LCCs (China United Airlines).
This is relatively uncharted territory for China. The needs of tomorrow's dynamic players in a highly regulated environment cannot necessarily be forecast today. Central planning might be the preference in Beijing, but the answer has to permit experimentation and evolution. There is no opportunity for pause, not even an intermission, to set the foundation for what will likely influence the next decade, when China is due to eclipse the United States as the largest aviation market. The show must go on.
In the past China neither welcomed nor explicitly prohibited privately owned carriers and LCCs, such as Hainan Airlines and Spring Airlines. But there was no specific script for them to follow. So when CAAC vice administrator Xia Xinghua proclaimed in Nov-2013 that "we urgently need to develop LCCs", it became clear that fundamental changes were on the way for low-cost carriers; and, in turn, for the overall aviation market in China.
Spring is largely the inspiration for Beijing's enthusiastic adoption of the LCC model, with something of a turning point occurring when the CAAC in 2013 issued a glowing report about the Shanghai-based carrier, the country's only fully-fledged LCC.
The report found Spring's net margin was 41% compared to an industry average of 12%; Spring had a load factor of 94% compared to an industry average of 76%; a selling expense of RMB0.08 per ASK versus an industry average of RMB0.41; a maintenance expense of RMB0.13 versus an industry average of RMB0.25; management cost per ASK of RMB0.11 versus the industry average RMB0.25; utilisation rate of 11.4 hours compared to China's average A320 utilisation rate of 9.2 hours; and 95 employees per aircraft compared to the industry average of 122.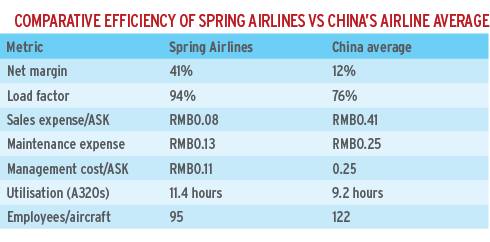 In short, China's all-powerful regulator was proclaiming fledgling Spring as a model for efficiency on nearly every metric. Even competitor airlines have acknowledged – with a tinge of jealousy – Spring's efficiency and the impact of it on the CAAC's thinking.
It is one thing that the CAAC is encouraging LCCs. But, like most matters in China, the details take a while to be firmed up, meanwhile leaving a high degree of interpretation to the country's provinces, which have some level of independence. The CAAC's vision is for LCCs to play a large role in the country's "Go West" strategy to develop inland areas. The wealth on China's coast has not spread inland, so the thinking goes that LCCs with their lower costs – and fares – can help stimulate the market. Thus a decision by Chongqing-based West Air to turn into an LCC has been welcomed.
Perhaps less in the frame of this thinking is the LCC subsidiary of Shanghai's privately owned full-service carrier Juneyao Airlines. Jiu Yuan Airlines is planning to be based in Guangzhou, China's second-largest airport.
But LCC subsidiaries from China's main carriers are being encouraged (following a model which is near-ubiquitous across the Asia Pacific region), and China Eastern is likely to transform Beijing-based subsidiary China United Airlines into an LCC.
The concept of LCCs – with their efficiency – complies fully with the Government's new mood of frugalism
Mr Xia said LCCs are "fighting against waste" and mesh with central government objectives of being "frugal … and saving resources". China's central government, concerned about public impressions of high-spending officials, has clamped down on expenditures. The party is investigating officials for corruption, while the opulence of official dinners has diminished. The impacts have already flowed through to air transport, with premium revenues dipping upwards of 20% due to travel restrictions. A long-term continuation of this will provide further justification for LCCs. Regardless, a re-think is in order: premium fares are already proportionally lower in China than comparable markets.
With this new script, a dozen or so new airlines are now being planned in China, and for most the business model is thus far unclear; gaining approval to operate will be the bigger hurdle.
To have a clear approval process requires policies to ensure an environment in which the new carriers can flourish. This contrasts with the scenario so far, exemplified by Spring Airlines' previous ambitions to have 100 aircraft by 2015; it ended 2013 with about 40.
The regulatory reins need to be loosened but Beijing remains concerned at the prospect of disorder that may compromise safety – and could ultimately result in accidents. Operational and financial disorder is also a concern, and this is not without good reason; it has only to look to another fast-growing market: India.
The first policy formula is to ensure availability of the aircraft that make growth possible. Aircraft orders and imports in China have to be approved by the state. There are orders made as the market dictates, such as recent long-haul jet purchases by China Eastern and China Southern, but often aircraft are planned along with the broader economy in five-year cycles.
The CAAC has said it will "try" to limit exercising its influence, while also encouraging airlines to make bulk orders. In theory at least, China's carriers could soon join the AirAsias and Lions of the world in eye-popping order figures. Airframe and engine manufacturers will be watching with great interest – as will pan-Asian competitors from Southeast Asia.
Aircraft need routes, the allocation and approval of which has been an opaque process, more so than foreign carriers have experienced. Reform here too is planned: China will shift from a model of airlines needing approval to airlines merely notifying regulators where they will fly.
When China has embarked on reforms, it has – logically – applied trials in certain areas and increments
Shenzhen years ago was the first special economic zone; Hainan Island became an "open skies" destination; more recently Beijing and Shanghai were the first to have a 72-hour transit without a visa, and that has now been expanded to other cities. In line with this, the route liberalisation will first occur only in inner Mongolia. But this is nonetheless a start.
Routes go to and from airports; here China is open to and is exploring the construction of low-cost terminals. The CAAC, with Spring Airlines and economy planning unit National Development and Reform Commission, are examining how and where to introduce LCC terminal/facilities in China. For now the country lacks a single LCCT.
For LCCTs, the CAAC is considering renovations of old buildings, as well as greenfield sites. Shanghai, which hopes to have an LCC penetration rate of 19% by 2020 (up from 2013's figure of about 8%), will renovate Terminal 1 at Hongqiao Airport for Spring Airlines, the first major move to have airport development in collaboration with LCCs.
Beijing and Guangzhou could also develop LCC facilities, but Beijing is unlikely to until its new airport opens later this decade. A low-cost facility may not be at the new airport but rather the current one, Beijing Capital.
Beyond this, the CAAC is open to bringing LCCTs into its master planning for renovating airports, building new airports and feasibility studies.
The possibility of LCCTs shows how policy is confronting reality. While there are top-level plans, the details and execution are left to regional bodies – be it CAAC bureaus, governments or airports. So while the CAAC is making encouraging but noncommittal remarks towards LCCTs, individual airports are pressing ahead, as evidenced by Hongqiao's lead with Spring. Xi'an airport has also flagged local support for LCCs.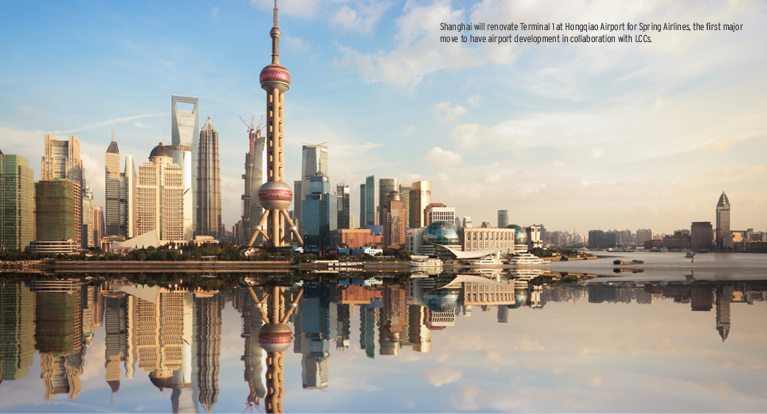 A Shanghai Airport representative has said his management was of the opinion lower-cost facilities should mean lower charges for airlines; one issue will be that this may clash with charges set by the Government, which will not want airports to incur reduced revenues.
The high profits of major airports are a source of frustration for Chinese airlines, as is the case with airlines elsewhere in the world. However, the CAAC says that while it has set an unspecified maximum threshold airports can charge, there is no minimum and airports have the power to discount landing fees.
Domestic pricing mechanisms for airlines is another area of change, partially reformed by the CAAC in late 2013
Whereas previously there was a set minimum and maximum fare that could be charged based on distance, the new minimum fare is just one yuan (USD 16 cents). The proposition of eye-catchingly low fares is encapsulated in the name of the new LCC, Jiu Yuan; it means "nine yuan".
The hybridisation and evolution of LCCs around the world has meant airlines now offer various service levels. The lines are increasingly blurred. The hope is China will allow flexibility of definition in this regard too. CAAC's Mr Xia noted airlines should not have to include complimentary checked luggage, but warned – perfectly fairly – they must clearly communicate their service offering.
A fear is that there will be over-regulation. China would not be the first to fall into this trap. Airlines rankle at the imposition of excessive (and often counter-productive) rules in the EU and the US, but there are extremes; Indonesia for example categorises its domestic airlines and requires each category to offer certain services – no more, no less.
There is one area though where China is genuinely more enlightened than many of its present and future competitors. Major markets such as the US and UK complain their governments do not appreciate the economic impact of airlines and the exponential contribution their passengers make.
The opposite is the case in China's position, as CAAC vice administrator Zhou Laizhen clearly stated: "LCC is not a goal. It's a means to an end. It's not just a business model." Mr Zhou was equally clear on the implication for LCCs of that view: "The government should guide it, facilitate it."
This view of LCCs will in due course become contentious, just as it is already with state-owned full-service airlines. What is best for the country may not always be the best for an airline.
As is often the case in aviation, the biggest challenge is to change mindsets
There are many entrenched positions, but perhaps not as many – or deeply embedded – as the pessimists see. Some of the biggest carriers have been pursuing their own reform: slowing growth, trimming staff and reforming airspace.
While the latest reforms have largely originated at the top, at government level, there will be pushes from the airlines, airports and suppliers to move to a new level. Ultimately there will be gives and takes amongst this new, and inevitably leaner, growth. There is much improvement to be made in Chinese carriers' cost bases, especially from the state-owned airlines.
International services are a minority from Chinese carriers, but their impact will become greater, as they expand, entering new markets and offering confrontational fare levels. Airlines are beginning to shed their full-service costume for a low-cost one while the spotlights are being directed in new areas: fare and route deregulation and intensified competition. The set is changing as LCCTs adopt new forms and the market becomes more crowded. What remains is the cast.
For some – including regulators – there will be apprehension about the new unfamiliarity as improvisation takes hold. But there is only one way in a globalised world and that is to press ahead.
With aviation recognised as a valuable tool to grow the economy and to forge links with foreign countries, the beneficiaries in the audience are very, very numerous. They will want many tickets to the show.
This report is a slightly amended version of one which appeared in the Jan/Feb 2014 edition of CAPA's Airline Leader journal