China-Taiwan aviation transit policy would allow progressive increases for Taiwan's airlines
Analysis
Beijing has finally released a proposal allowing Taiwanese airlines to carry transfer traffic from mainland China, bolstering the burgeoning Taipei Taoyuan hub. This comes as a possible sweetener with a Taiwanese general election to be held in in Jan-2016. The election so far looks likely to deliver a victory to a party that is not in favour of closer ties with mainland China, amid Taiwanese sentiment that cooperation has not delivered benefits – hence the offer of transfer traffic rights to Taiwanese carriers.
Whatever impact this has on the public, the granting of increased transfer traffic rights was expected to occur at some point, although in late 2015 it was postponed. Unsurprisingly, the proposed programme is starting small, with Taiwanese carriers able to transfer traffic out of three cities: Chongqing, Kunming and Nanchang. These are not primary points - the biggest, Chongqing, is Taiwanese airlines' 22nd most served mainland point - but transfer traffic could help Taiwanese carriers sustain service to smaller cities, where point-to-point demand is thin and there is room to boost load factors - unlike the situation on Beijing and Shanghai. Gradual expansion of the programme is expected, as seen with the recent growth of China's transit without visa policy. Significant impacts are some time away, but finally there is movement.
China passenger transfer traffic over Taiwan to be allowed from three Chinese cities initially
The State Council Taiwan Affairs Office on 05-Jan-2016 announced it was considering allowing Taiwanese airlines to carry transfer traffic from an initial three mainland Chinese cities to points beyond Taiwan.
No timeframe on the programme was given. Official reports noted how this development would further "normalise" relations between mainland China and Taiwan. Earlier in 2015 it had been expected that transit without visa would be introduced by the end of 2015, but later in the year the two sides did not proceed on the matter.
See related report: Clouds loom over Cross-Strait airline market as Taiwan faces political change. Hong Kong may benefit
Taiwanese airlines were permitted inbound China transfer traffic, but had been barred from outbound transfer traffic due to complex reasons that effectively amounted to protectionism. Mainland Chinese carriers, however, have been able to take connecting traffic from Taiwan, and have done so; their fares are competitive between Taiwan and Europe, for example.
Starting the transfer programme in a limited fashion had been expected. A confined trial is the general modus operandi of the mainland Chinese authorities, going back to the special economic zones of past decades. More recently, and aviation-related, China launched transit without visa in 2013, and has since expanded it to most airports with any international traffic of note. The latest development expands the transit offering from three days to six days, a very generous "transit" period: by flying into China from country A and departing to country B with a connecting flight back to country A, visitors can sidestep having to apply for a visa – one of the unofficial reasons that airlines pushed for the "transit" programme.
Initial destinations for transit programme are not major ports for Taiwanese carriers
Under the proposal, Taiwanese carriers will initially be able to carry transfer traffic from three mainland Chinese cities: Chongqing, Kunming and Nanchang.
These are not major destinations. There are approximately 2,200 weekly one-way seats between Chongqing and Taiwan (most capacity goes to Taipei Taoyuan), making it the 13th largest mainland point, but the greatest capacity is held by Chinese carriers. Taiwanese carriers in the week commencing 04-Jan-2016 have approximately 900 one-way seats, making it their 22nd largest point. About one third of Taiwanese carriers' Chongqing capacity is from TransAsia, which does not have as extensive a network to connect to. Nanchang is their 27th largest point and Kunming 39th.
Top mainland Chinese cities served from Taiwan for all airlines and also only Taiwanese carriers: 04-Jan-2016 to 10-Jan-2016
| | | | | | |
| --- | --- | --- | --- | --- | --- |
| Rank for All | City | Weekly One-Way Seats All Carriers | Rank for Taiwanese Carriers | City | Weekly One-Way Seats Taiwanese Carriers |
| 1 | Shanghai | 35,136 | 1 | Shanghai | 19,713 |
| 2 | Beijing | 8,452 | 2 | Beijing | 5,099 |
| 3 | Shenzhen | 7,293 | 3 | Shenzhen | 4,306 |
| 4 | Xiamen | 6,494 | 4 | Xiamen | 3,959 |
| 5 | Guangzhou | 6,200 | 5 | Guangzhou | 3,156 |
| … | … | … | … | … | … |
| 13 | Chongqing | 2,214 | 22 | Chongqing | 890 |
| … | … | … | … | … | … |
| 20 | Kunming | 1,672 | 27 | Nanchang | 614 |
| … | … | … | … | … | … |
| 24 | Nanchang | 1,410 | 39 | Kunming | 310 |
Connecting markets will depend (partially) on geography. Sometimes Japan will be a relatively direct connection, and Taiwanese carriers have Japan as their main market. Korea is constrained for Taiwanese carriers (there is large direct capacity) and is an unlikely major transfer market. North America is a growing focus for Taiwanese carriers, EVA especially, and will also be direct from many points.
Australia is a small market for Taiwanese airlines, but EVA has flagged the possibility of expanding in Australia if it can have mainland Chinese transfer traffic. Australia will be relatively direct, but there is a growing number of non-stop flights to Australia, including from Chongqing and Kunming.
Map of Chongqing, Kunming and Nanchang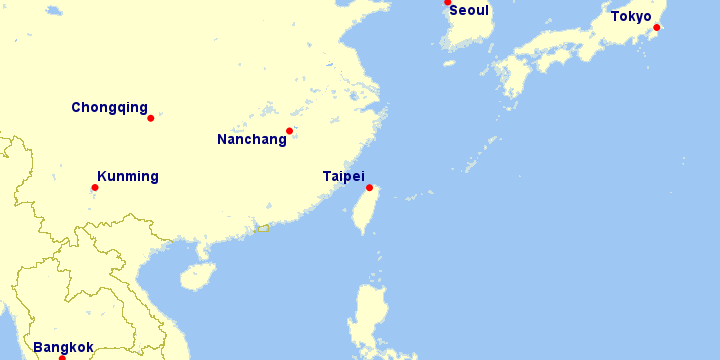 Japan is the largest market for both China Airlines and EVA Air, while the US also ranks high. Most of their other top markets based on seat capacity are to Southeast Asia, where connections from mainland China may be too circuitous, depending on the city pair.
China Airlines seat capacity by carrier: 4-Jan-2016 to 10-Jan-2016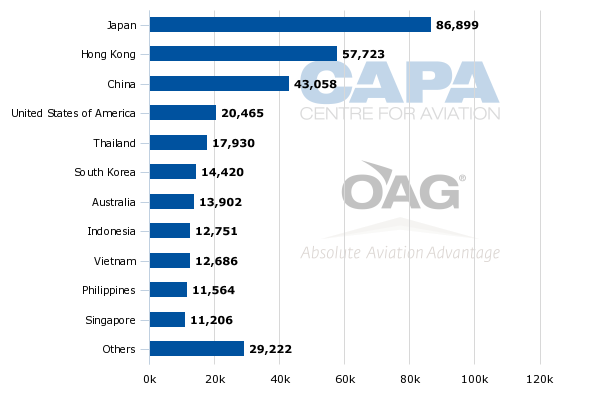 EVA seat capacity by carrier: 4-Jan-2016 to 10-Jan-2016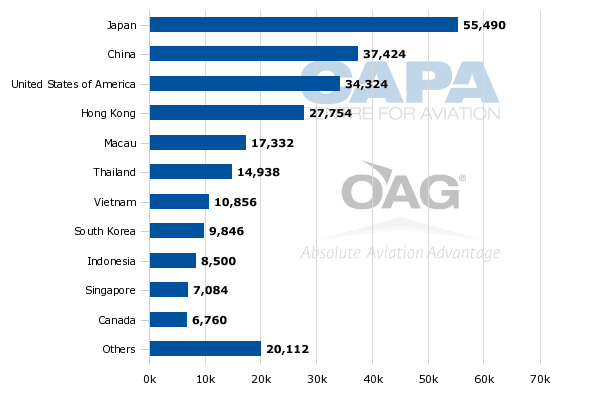 Passenger transit offering is a start for Taiwan's airlines; more to come
The low level of capacity offered by Taiwanese carriers in these markets means that they are operating only one or two weekly flights, with capacity largely sold by travel agencies, and typically for group travel. This makes it a challenge to sell connections, or to target the individual traveller market, which Taiwan increasingly wants to do in order to diversify away from group travel.
The possibility of having connecting traffic is unlikely to lead to significant capacity growth for Taiwan's airlines, who regard connecting traffic from mainland China as supplementing, not dominating, point-to-point traffic.
Still, this is a start. Taiwanese airlines will be eager to promote the transit programme and to demonstrate some traffic under the programme in order to have it expanded. Expansion can occur to other, larger, cities and can also enable passengers to make a stopover in Taiwan. Under the proposed initial phase, transit passengers will be unable to leave the airport.
Given the high interest from mainland passengers in Taiwan as a destination, the combination of Taiwanese carriers offering a local Taiwan stopover and an onward flight is a compelling combination. It would easily have more appeal than the lure of Hong Kong, and other transit points.
Taiwanese carriers would mostly like to carry transfer traffic from major cities like Beijing and Shanghai. The populations are large, have more business travellers, and the markets are typically higher yielding than secondary points; but the attraction to transfer traffic out of the main cities is not as strong as it might seem. Capacity controls and slot limitations require a cap on the number of flights to Beijing and Shanghai. (Airlines from both sides would like to expand the traffic rights, but Taiwanese carriers would need Beijing and Shanghai slots given to them. Mainland Chinese carriers could simply redirect an existing slot to a Taiwan service.)
As CAPA has previously noted, yields on major cross-strait routes are very high. Offering a connecting flight at a competitive price would result in overall dilution of yields, or the connecting flight would have to be priced very low. It is likely that carriers could sell the connecting seat from elsewhere on their network for a higher price.
Significant benefit from the transit programme will require expansion to major markets, stopover approval, and growth to major markets, which in turn will require slot growth. Shanghai Pudong is gradually increasing slots over the next few years, while Beijing is unlikely to have significant slots available until its new airport opens, towards the end of the decade.
Mainland tourism to Taiwan is stabilising after a rocky start in 2015
Mainland Chinese visitors to Taiwan are up 6% in 11M2015. It seems likely that 2015 in total will have a growth rate of mainland Chinese tourists that was about half that of the next slowest year: 11% in 2013. Tourism had a rocky start in 2015, with significant year-on-year decreases in visitors in Mar-2015 and Apr-2015 as Taiwan changed the tourism programme for mainland China, in order to shift from group travellers to independent travellers.
Group travel were considered unsustainable, given the sudden and heavy pressures that they place on infrastructure because of their concentrated size. However, it took some time for the revised policy to gain traction, and since Jul-2015 Taiwan has achieved year-on-year increases in mainland visitors in every month.
Taiwan monthly tourist arrivals from mainland China: 2009-2015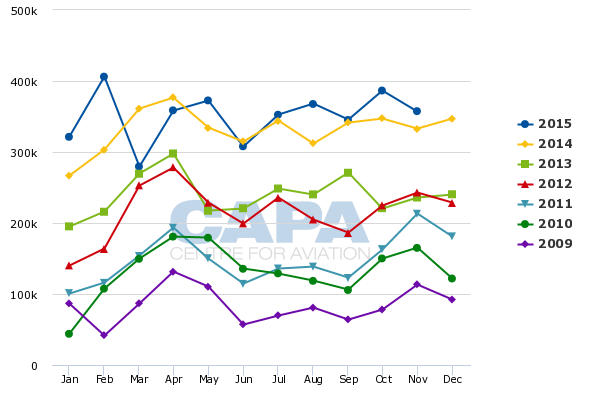 Overall visitors from mainland China have grown, from one million in 2009 to four million in 2014. 11M2015 visitors numbered 3.9m, compared with 3.6m in 11M2014. Mainland Chinese visitors were 23% of Taiwan's total visitor market in 2009, and were the second largest behind Japan.
China overtook Japan in 2010 as Taiwan's largest source market, and in 2014 mainland visitors accounted for 40% of all visitors to Taiwan.
Taiwan annual tourist arrivals from mainland China: 2009-2014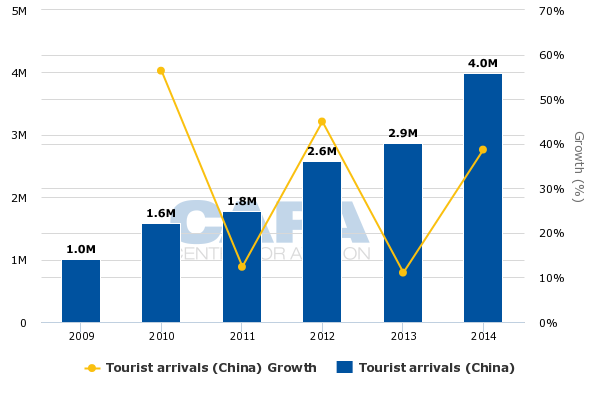 The passenger transit proposal is yet to be finalised as Taiwan heads to the polls
There was little doubt that cross-strait transfer traffic would one day start, even if in a modest fashion. The question was always what the spool-up speed would be, and when it would start. The reversals on this matter over the past year highlight the potential volatility of the cross-strait market, which is a tidy profit centre for mainland Chinese and Taiwanese airlines alike.
Taiwanese carriers are not rushing to make mainland transfer traffic a staple. They are content with a low single digit boost in traffic from transfer passengers, partially because that is what is realistic in the near term, but also because it helps to manage the risk of overexposure in a segment that is far from free of political influence. (TransAsia, eyeing continental North America flights in the future, may be placing a bigger bet on transfer traffic.)
The mix of political and commercial ingredients in this policy evolution will soon determine whether mainland China's proposal is contingent on a favourable attitude from the next Taiwanese government.
What is certain is the inevitable long term outcome of Taiwan and its airlines developing a strong hub. Taipei Taoyuan was the fastest-growing major Asian airport outside mainland China in 2014.
To the credit of the parties, their success has been built without the transfer traffic, or long haul Chinese demand, that most other airlines and airports have been relying on.
See related reports: