China Southern to add 20 787-9s in first phase of refleeting as it prepares long-term hub strategy
Analysis
China Southern intends to take delivery of 20 787-9s. This delivery is made up of 12 on order from Boeing and as confirmed by China Southern, and then a further eight from lessors: three from AerCap and five from Air Lease. The 12 units direct from Boeing have delivery dates in these lots: five in 2018, four in 2019 and three in 2020.
The leased aircraft do not have publicly confirmed delivery dates, but seven are projected to be delivered in 2018 and then one in 2020. That would bring total deliveries to 12 in 2018, four in 2019 and four in 2020. China Southern's order consists of medium-term lift direct from Boeing while lessors provide more immediate capacity additions.
China Southern Airlines projected delivery dates for aircraft purchased from OEMs and leased from lessors, new aircraft order pipelines as at 21-Oct-2016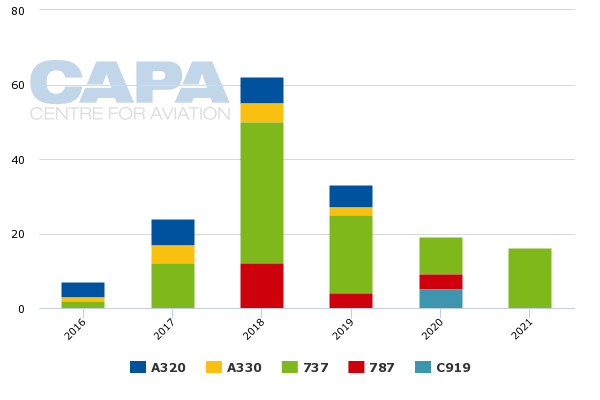 The 20 -9 variants join China Southern's existing 10x -8 variants. Xiamen Airlines, majority-owned by China Southern, has 6x 787-8s (its first widebody aircraft) and is expected to take 6x 787-9s. China Southern and Xiamen can pool resources to support the 787. The 787-9 is in service in mainland China with Air China and Hainan Airlines. China Eastern has ordered the aircraft and Lucky Air, part of HNA, has stated that it intends to receive the 787-9.
Air China and China Eastern have both had to split long haul aircraft needs – they will each take A350-900s and 787-9s. China Southern, however, has so far been able to rely on the 777 and 787. A330s (of which China Southern has 37) are in use at all three state-owned airlines, while China Southern's A380 (the only one operated by a Chinese airline) is a flagship but significantly underutilised.
Additional 787s into China come as Boeing furthers its share of Chinese airlines' intercontinental operations. Growing numbers of A330s at Chinese airlines meant that Boeing's share of the intercontinental market (dotted tan line in the graph below) declined to broadly 30% earlier this decade – that is, 30% of intercontinental flights by Chinese airlines were on Boeing aircraft.
The growth of long haul and ultra-long haul flights has been carried out almost exclusively by Boeing aircraft (mainly 777s and 787s). Chinese airlines' accelerated long haul growth this decade has helped Boeing's share of the intercontinental market reach 42% in 2016. In the long haul/ultra-long haul segment Boeing accounts for 63% of flights. For flights under 9,000km Boeing accounts for only 25%, mainly due to the domination of the A330 in this category.
Boeing aircraft share of Chinese airlines' intercontinental flights: 2006-2016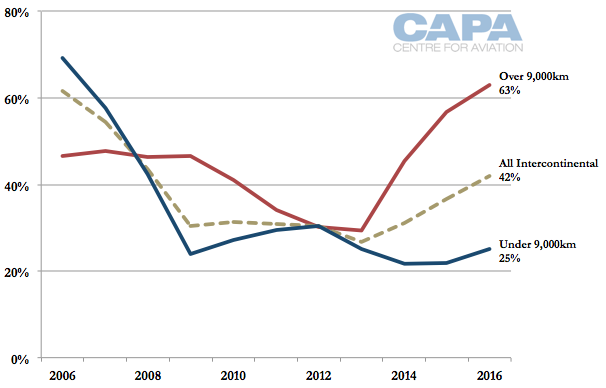 Flights under 9,000km still comprise the majority of Chinese airlines' intercontinental markets, although the above-9,000km segment has grown from 28% in 2009 to 45% in 2016, with most of the gains made in recent years.
Airbus may argue its A330 market is larger in size while Boeing might counter-argue the large widebody/very large widebody market is more profitable.
Average daily intercontinental flights operated by Chinese airlines (left axis) and share of intercontinental flights over 9,000km (right axis): 2006-2016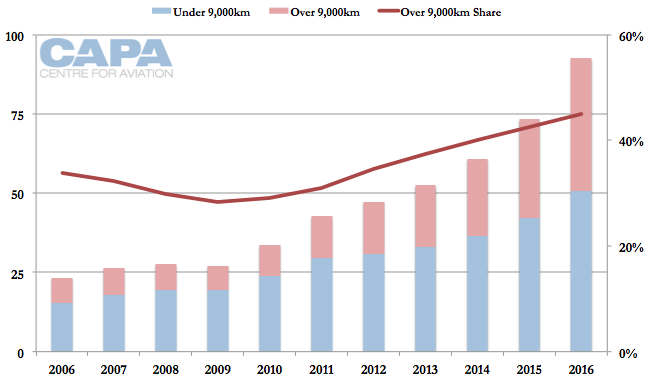 Guangzhou opportunities strengthen with second terminal opening in 2018
A leaning towards 2018 delivery dates coincides with the estimated Feb-2018 opening of Guangzhou's second terminal. Guangzhou is China Southern's hub, and the new terminal provides not just more capacity but also enhanced hub capability as China Southern looks to improve and grow connecting traffic.
Despite Guangzhou opening its third runway in early 2015, movement growth did not occur until 2016. Guangzhou movements actually contracted 0.6% in 2015 compared with 2014 – nearly unheard of in Chinese aviation.
Guangzhou Baiyun Airport monthly aircraft movements: 2008-2016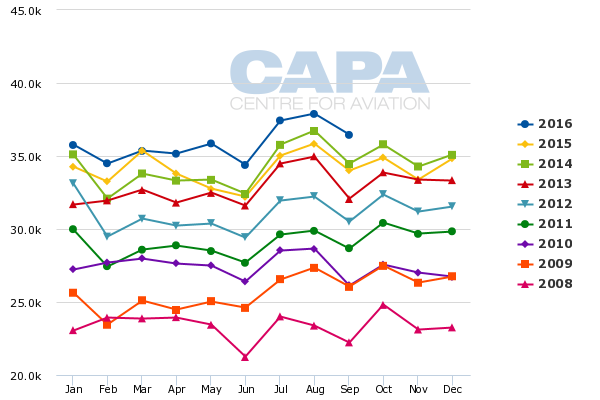 Guangzhou has been China Southern's primary intercontinental hub. In 2016 China Southern is typically operating seven weekly intercontinental flights from Beijing and 12 from Wuhan. In late 2016 China Southern for the first time will operate 20 daily intercontinental flights from Guangzhou, which will account for 85% of its intercontinental network. China Southern also operates three weekly flights from each Changsha and Shenzhen.
China Southern weekly intercontinental flights from departing Chinese airport: 2012-2017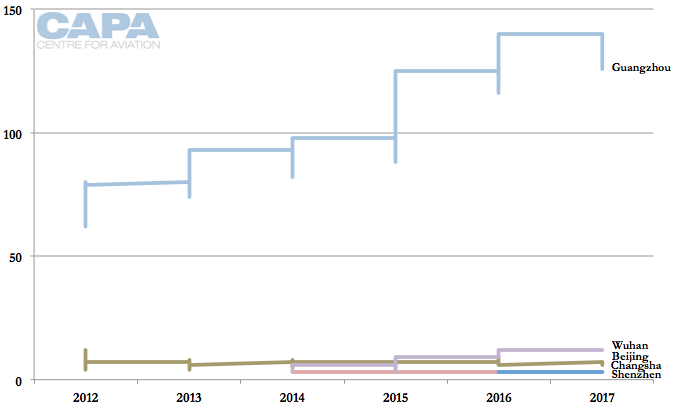 China Southern 787-9 order puts long haul aircraft back on order; normality returns
The preference towards 2018 deliveries also reflects how China Southern fell behind on refleeting. In 2016 China Southern took delivery of its 10th 777-300ER, thereby depleting its long haul widebody orders. China Southern has kept a low profile since chairman Si Xianmin was investigated for corruption and removed from office. In a politically sensitive environment that was not the time to be bold and order more aircraft. China Southern's 787-9 order indicates normality is returning.
China Southern has 13 A330-300Es on order, some of which will be used domestically. Internationally they can serve Australia or shorter European routes, such as Beijing-Amsterdam, but European services from Guangzhou would be pushing range. (Thus they are considered internally more medium haul, not long haul, aircraft.)
Theoretically incoming A330s could replace the few 787/777 services to Oceania, but in some instances China Southern needs heavier lift than A330s. China Southern's plans will mean maturing itself in Australia/NZ, and the airline wants to turn its growth focus to other long haul markets – namely North America.
See related report: China Southern Airlines deflects yield pressure concerns. Long haul focus shifts to North America
Despite being China's sixth largest airport, Shenzhen did not have any regularly scheduled long haul flights until Jan-2016, when China Southern started Shenzhen-Sydney.
There are several reasons for the absence: Shenzhen is just over the border from Hong Kong, which has a prolific range of international links. There was also pressure from Hong Kong's Cathay Pacific on its equity partner Air China, which is the majority owner of local airline Shenzhen Airlines. Airlines smaller than Shenzhen Airlines began to have, or stated their intent to have, widebody and long haul operations, yet Shenzhen Airlines sat out.
Hong Kong has successfully developed its airport as an intermodal transit hub for the region around the Pearl River Delta, which includes the area from which Shenzhen and Guangzhou airport receive passengers. A network of ferries and coaches brings passengers from around the Pearl River Delta to Hong Kong airport.
These cross-boundary passengers amounted to 4.8 million passengers in 2015 – approximately 7% of Hong Kong airport's total passenger throughput. This figure comprised 2.8 million using the SkyPier ferries and approximately 2 million using coaches.
Hong Kong International Airport Local/Transfer and cross-boundary passengers (left axis, millions), and cross-boundary share (right axis): 2006-2015 (financial year ending 31-Mar of stated year)
See related report: Shenzhen Airport adds six long haul flights in a bid to win back traffic from Hong Kong
As is often the case in China – when there is change, it happens fast. Shenzhen has joined a dozen-plus airports in offering handsome incentives and subsidies for long haul flights. Air China, wanting to protect its territory, will have Shenzhen Airlines take A330s. Like other secondary airlines given widebodies by their airline or government owner, Shenzhen Airlines is wary: international and long haul is usually where Chinese airlines lose money.
But Air China's method is long-term. Initial aircraft could come from Air China and Shenzhen Airlines could take over Air China's existing few Shenzhen long haul services. As the local airline of Shenzhen, Shenzhen Airlines will have preferences for where it flies, slots, etc.
In early 2016 Shenzhen airport was due to receive six intercontinental flights over the year, having had no flights previously. Three have been launched (Sydney, Frankfurt, Seattle), while a fourth (Auckland) is due to be launched. Of the last two proposed services – schedules have been issued for Melbourne but not put on sale, while a Los Angeles service appears unlikely in the near future.
Still, four or five intercontinental routes in a single year is a large change for Shenzhen, even if the services are subsidised.
Summary of long haul route development at Shenzhen: proposed as of Mar-2016, current schedules week of 28-Mar-2016
Chinese airlines race to look for opportunities, grasping almost whatever routes (and incentives) are available in the hope that the services will be profitable in the future.
China Southern, Air China, Xiamen Airlines and Hainan Airlines are all due to operate long haul from Shenzhen.
The frantic pace has produced fragmentation. Hainan Airlines, for example, is due to fly to Auckland, which its sister airline Hong Kong Airlines launches in Nov-2016. Hong Kong Airlines relies on Shenzhen as part of its catchment area. Although the two may overlap, it may be better for the group to own the market rather than split it with another group. Still, with no direct coordination between the two, they promise to be competitors.
China Southern must decide if it wants to play in this fragmented market, and one that will probably tilt away from its favour once Shenzhen Airlines asserts its role as the local operator. China Southern and Shenzhen Airlines are close to each other in market presence, with Shenzhen Airlines accounting for 29% of Shenzhen's available seats compared with China Southern's 24%.
Still, as the home airline, Shenzhen Airlines has the upper hand. China Southern will need to invest in hub-building, from feeder flights to ground infrastructure, and it may be wise to concentrate on its nearby main hub of Guangzhou.
In the peak season, China Southern's three weekly Shenzhen-Sydney service is in addition to three daily Guangzhou-Sydney flights, including one on the A380; Shenzhen-Sydney may become irrelevant. It is unclear how Xiamen Airlines fits in: China Southern is the owner of Xiamen Airlines, which flies Shenzhen-Seattle.
Shenzhen airport seat capacity by airline: 24-Oct-2016 to 30-Oct-2016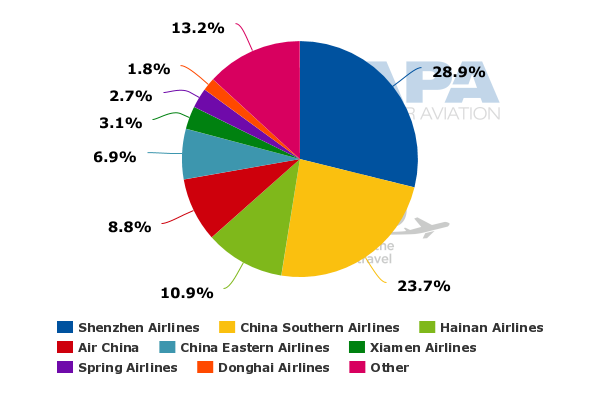 China Southern has made the largest pivot to international flying
China Southern's 20 787-9s will continue its international expansion. Of China's major three airlines, China Southern has made the largest pivot to the international (including short haul) market.
China Southern's share of its capacity flown in international markets has increased from 26% in 2013 to a forecast 34% in 2016. This 8ppt gain since 2013 is the same as Air China's, which has increased from 42% to 50%. However, historically Air China's was approximately 40%, whereas China Southern's was approximately 20%.
Air China, China Eastern and China Southern share of international (including regional) ASKs: 2006-2016
See related report: China's airlines accelerate international growth
China Southern has indicated its major hub-building in Guangzhou is settling, but projections of its future international-domestic split are unclear. The biggest factor is what opportunities China Southern will have to fly from Beijing's second airport.
China Southern, along with China Eastern, will be base airlines. They assume, with having absolute final permission, that from Beijing Daxing they will be able to fly long haul, even to destinations Air China serves from Beijing Capital. This may finally mean that China Southern's underutilised A380 fleet will be put to use. It will also require a further aircraft order.
In a time of where there is a drought of widebody aircraft acquisitions, China Southern's plan to take 20 787-9s may stand out. Yet the aircraft bring China Southern only to the start of the next decade.
China Eastern's A350/787 order earlier in 2016 takes it through the early part of the next decade. As is increasingly the case in China, there is always more to come.