China Southern Airlines and HNA's Yangtze Express attack China Eastern's market share at Shanghai
Analysis
The merger last decade between China Eastern Airlines and Shanghai Airlines significantly boosted China Eastern's position in its home market.
The merger gave China Eastern an approximately 16ppt increase in market share in its home market of Shanghai between 2009 and 2010. This brought it just above the level of China Southern in Guangzhou, and gave it an advantage over Air China, where between 2006 and 2008 its home domestic market share at Beijing Capital surpassed China Eastern's in Shanghai.
Air China, China Eastern and China Southern domestic home market share (frequency): 2004-2013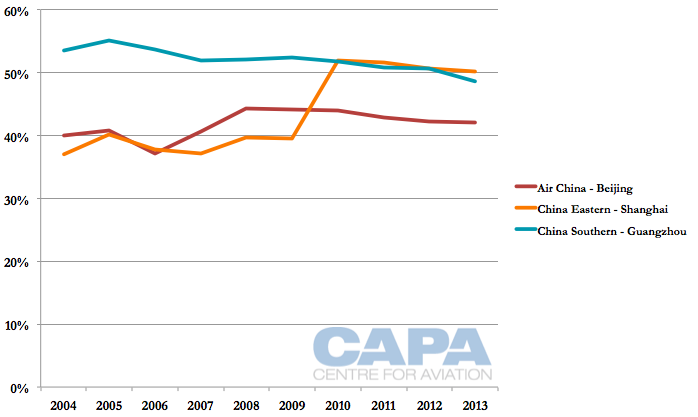 Chinese carriers have pursued the hub strategy of American counterparts. To be successful in a market, the major airlines consider it necessary to defend market share - almost at any cost. This held true in the US for a lengthy period, but carriers have broadly relaxed on this (a possible exception is the Alaska-Delta spat in Seattle) although the logic holds fast in China. But under the force of financial pressures this is changing.
The Big 3 – Air China, China Eastern and China Southern – are each losing home domestic market shares. China Eastern in Shanghai (Hongqiao and Pudong airports combined) has seen the largest fall, with a 3ppt drop in frequency between 2010 and 2013, according to OAG data.
Air China at Beijing Capital has had a 2ppt decrease and China Southern in Guangzhou less than 1ppt. However, China Eastern starts from a high base – indeed, its home market share in 2010 was the highest of the Big 3.
Domestic seat capacity shows a similar trend but with the notable difference of China Southern seeing a slightly steeper decline.
Air China, China Eastern and China Southern domestic home market share (seats): 2004-2013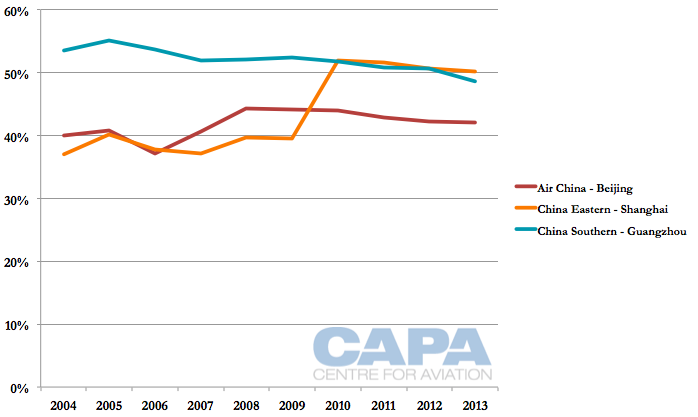 The concern over likely further fragmentation is obviously from competition but there are other causes: China Southern introduces the tricky matter of competing with an alliance partner. Further, China Southern is likely to attempt long-haul and A380 operations from Shanghai (it is the only Chinese airline with the A380). While long-haul is mostly unprofitable for China's airlines, in the long term it can be profitable and in the short term is a huge source of pride.
These developments come as China Eastern is seeking to strengthen itself after passing through a difficult period from which it has not entirely recovered. A more distant thought for those carriers growing in Shanghai is if China Eastern were again involved in consolidation activity, it could potentially gain market share if it acts quickly. In the short term, China Eastern will potentially be able to grow its position with the upcoming slot expansion at Shanghai Pudong airport.
See related report: China Eastern Airlines seeks to revitalise its position with 777 long-haul growth and new brand
The expansive and privately-owned HNA Group is likely to gain a stronger foothold in the Shanghai passenger market via Yangtze River Express. HNA's existing presence in Shanghai is largely limited to Hainan Airlines flights to/from Beijing and a more limited schedule to smaller points like Taiyuan and Urumqi.
Locally based Yangtze River Express will have an easier time to secure new destinations, many of them first tier destinations, due to its inherent Shanghai connection. Allocation of traffic rights remains a highly localised and opaque process.
Hainan Airlines' largest base is Beijing, where subsidiary Beijing Capital Airlines is also stationed. However, Beijing is actually a smaller hub for Beijing Capital Airlines (its largest are in Hainan: Haikou and Sanya). HNA Group has other smaller existing and proposed carriers but none in Shanghai. Beijing Capital Airlines has a focus city in Hangzhou, near Shanghai. Hainan Airlines has a notable presence in southern cities of Guangzhou and Shenzhen, meaning Yangtze River Express in Shanghai will give it a firm presence in China's four main cities.
Hainan Airlines top 10 hubs/destinations/focus cities ranked on domestic seat capacity: 21-Jul-2014 to 27-Jul-2014
Beijing Capital Airlines top 10 hubs/destinations/focus cities ranked on domestic seat capacity: 21-Jul-2014 to 27-Jul-2014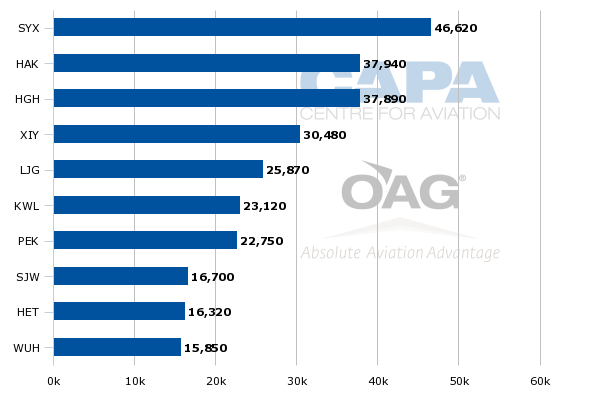 Yangtze River Express is an existing subsidiary of HNA, having been founded in 2002 as a freight carrier, which it remains today with a fleet of 21 freighter aircraft, including 18 737Fs and three 747Fs, according to the CAPA Fleet Database.
It was reported in Apr-2014 that Yangtze River Express applied to expand its business to include passenger as well as freight. It will likely follow a full-service model. If approved, this would be the second such conversion from a sole freight operation to passenger as well. In Dec-2013 Shenzhen-based cargo carrier Donghai Airlines applied to operate passenger services, commencing flights in Mar-2014.
See related report: China's new airlines – Donghai, Loong & Qingdao – preferring to follow rather than innovate
There are two thoughts likely guiding HNA:
The opportunity to enter the Shanghai passenger market, especially with Shanghai Pudong (where Yangtze River Express is based) to receive new slots over the next year. A minimal launch schedule of passenger flights will demonstrate Yangtze River's interest and position it to likely secure slots once available. (It could secure new slots before the main expansion.)
Cargo remains depressed with limited improvement in sight. Yangtze River could release some existing freight slots at Chinese airports for its passenger business, rather than needing to apply from scratch. Shanghai Pudong stands out in this respect. Yangtze River's slot pool is not tremendous but this gives it a headstart. For example, Yangtze River has filed with OAG a slot pool including a five weekly 07:30 peak departure slot at Pudong, a three weekly 12:00 departure slot, a daily 08:50 arrival slot at Pudong, six weekly 08:30 arrival, daily 11:30 arrival, six weekly 12:30 arrival and daily 15:20 arrival slots.
Freight services could be re-timed to use late night/early morning slots that are unpopular for passenger flights. Alternatively, freight services could be reduced. So, re-allocating resources (slots, business licence) to a more prosperous business is logical. Yangtze River had operated an A330F but in Feb-2014, according to CAPA's Fleet Database, transferred it to Hong Kong Airlines, although this could be for other reasons (such as better pool of traffic rights).
Established by HNA as China Cargo Airlines, China Airlines became an investor then sold its 25% stake back to HNA in 2010. In Jul-2013 the complex HNA reported its stake as 51%, but intended to wholly own the renamed Yangtze River Express. In Mar-2014 Hainan Airlines (part of HNA as well) said it had leased a 737-800 to Yangtze River Express.
China Southern Airlines to grow in Shanghai, possibly use it as long-haul base
Guangzhou-based China Southern has had a presence in Shanghai, dating back to a sales department in 1997, base company in 2007 and from Jun-2014 a branch. These terms reflect the level of local commitment (with impacts on taxation, for example) which in turn can make for an easier process to secure traffic rights.
From Beijing, China Southern serves 38 domestic destinations and five international destinations: Amsterdam, Hong Kong, Seoul Gimpo, Seoul Incheon and Tashkent. From Shanghai's airports China Southern serves 29 domestic destinations and three international destinations (all short-haul: Nagoya, Seoul Incheon and Taipei). This in comparison to Hainan Airlines serving only nine cities from Shanghai, so China Southern is more entrenched, with an airline and political network from which to grow. China Southern already has a large presence in Beijing, including a long-haul service to Amsterdam.
A Shanghai branch and enlarged position will give China Southern a bigger network across the country, turning it even more into a pan-China carrier rather than one limited to where its bases (branches) are. China Southern is the largest domestic carrier.
China Southern top 10 domestic hubs/bases/focus cities ranked on seat capacity: 21-Jul-2014 to 27-Jul-2014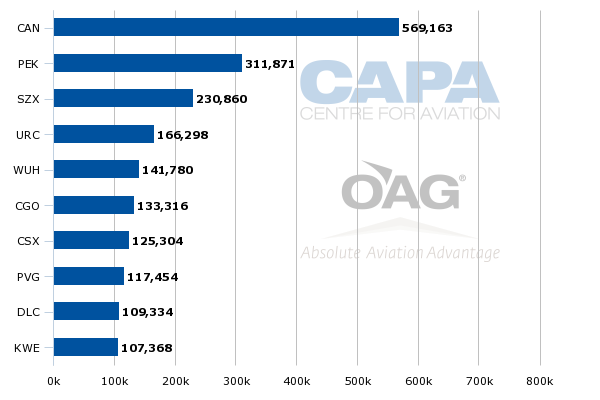 China Southern stated it operates 38 aircraft at Shanghai, with three 737-800s to join in 2014. China Southern already uses Shanghai as a cargo base with cargo services in Jul-2014 to/from Amsterdam, Anchorage (continuing to Chicago), Frankfurt, Los Angeles, Osaka Kansai, Vancouver and Vienna. China Southern has put particular focus on cargo developments, with plans to base another 777F at Shanghai and develop cargo facilities and a larger cargo infrastructure network across the region.
China Eastern's cargo unit, China Cargo Airlines, operates 12 freighters (mostly 747s and 777s) while China Southern operates eight 777Fs with a further four on order. China Cargo Airlines has no freighters on order.
Growing in Shanghai would also mean bringing more competition to locally based Juneyao Airlines. Juneyao's low-cost subsidiary Jiu Yuan/9 Air will be based in Guangzhou, China Southern's home. (China Southern is already larger than Juneyao in Shanghai.)
The domestic market is where Chinese carriers earn the bulk of their profits, and this is not expected to change in the medium term. But nonetheless long-haul services are important for their branding and to fulfil government wishes for Chinese carriers to have a robust presence in international markets rather than let foreign carriers take and/or divert traffic. For China Southern, a new long-haul base is especially important. From Beijing most major international cities have service from Air China, ruling out the opportunity for a second carrier. China Southern has a firm grasp on Guangzhou, but it lacks the high-yielding traffic of Beijing or Shanghai.
In Shanghai meanwhile China Eastern has grown its long-haul only modestly, potentially creating an opportunity for China Southern to exploit. Shanghai is a far better base than Guangzhou for its A380s, which operate to Los Angeles (generally unprofitably) and then seasonal services to Sydney (also unprofitably) and domestic services that put high cycle counts on airframes and where premium cabins are seldom full.
China Eastern and China Southern cooperate with domestic codeshares but China Eastern will try to repel long-haul advancements by China Southern in Shanghai. China Eastern is looking to accelerate its own long-haul growth, potentially giving it some leverage but in a tight time frame.
See related report: China Southern's A380 problems may not be solved by possible Air China partnership
Shanghai is unlikely to protect China Eastern the way Beijing did for Air China when China Southern wanted to operate its A380 from Beijing. The looser relationship with China Eastern is evidenced by Yangtze River's application (which is expected, as it could not proceed to application without substantial support) and China Southern's successful expansion.
Shanghai may be intentionally throwing a challenge to China Eastern in order to force it to strengthen itself. But China Eastern, should it deliver results with its 777 and a forthcoming re-branding, is unlikely to be left out to dry. And a China Southern long-haul passenger base may be a step too far for the airline to take in this dynamic and changing time.
Outlook: Shanghai's fragmentation to continue
China Southern, and to a smaller extent HNA, are likely to benefit the most while China Eastern loses ground.
This latter outcome is expected by China Eastern, and the carrier already expects to receive proportionally fewer additional Pudong slots, further decreasing its market share. The question is by exactly how much – and if China Eastern can make advances in other hubs the way other carriers have in Shanghai.
Then again, there is still low-hanging fruit for China Eastern to exploit in Shanghai. Greater realisation of local opportunities could lead to support for initiatives elsewhere.
As far as international services are concerned, the challenge is to balance the respective interests of Chinese airlines while ensuring some combination of them is able to be competitive in fast changing international markets.
These two objectives often conflict; a solution to international carrier competition (ie allowing another Chinese carrier to enter) may not bode well for their development prospects (ie allowing Chinese airlines to strengthen before competing with each other internationally).
The process of nursing large airlines to robust health by central regulatory means has a doubtful history. In a competitive environment there is an ever-present risk of supporting an airline to the stage where it cannot stand alone. Yet, understandably, China strongly supports the need for a powerful international aviation force.
This dilemma will continue to play out over the next couple of years; for now, the Shanghai scenario will be an interesting display of how Beijing (and Shanghai) are able to navigate this difficult process.