China Eastern Airlines once again seeks a strategic investor to welcome it onto the world stage
Analysis
There is no shortage of statistics to convey how big China Eastern is. It is the sixth largest airline group by available seats, 11th by ASKs and eighth by fleet.
China Eastern Airlines annual passenger numbers: 2010-2013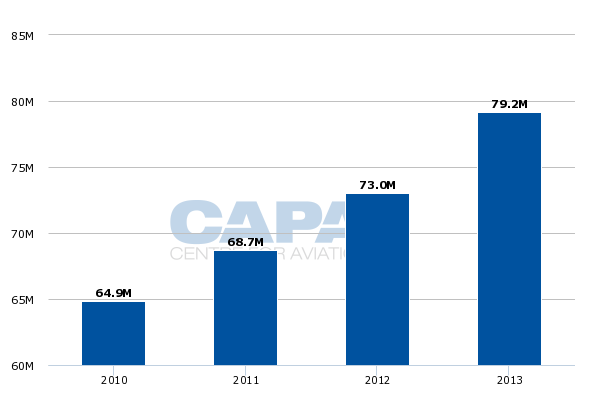 But China Eastern recognises size does not always equate to quality. It will be one of the first to admit it needs to make improvements, both in passenger-facing matters and those that are more back office. Air France-KLM and especially Delta help on this matter, but China Eastern sees a strategic investor will have a more vested interest in helping China Eastern. The guide is the Air China-Cathay Pacific partnership. Traffic benefits have been minuscule; Air China has benefitted from learning from Cathay.
Cathay has undoubtedly lost traffic to Air China because of the improvements it has taught Air China, but through an equity stake Cathay has captured some of that profit back.
China Eastern is often criticised for being blessed with a hub in Shanghai but not exploiting it, although this is an opinion China Eastern will seek to change with long-haul growth and a new brand. What China Eastern could learn from a strategic partner extends more deeply and widely across the company.
See related report: China Eastern Airlines seeks to revitalise its position with 777 long-haul growth and new brand
Government reforms are encouraging private investment
Since the failed bid, China Eastern has at various times been looking at investment options, with some considerations more public than others. Likewise foreign airlines including SIA have been looking at China Eastern and other airlines. Some advances are indirect: On 06-Jul-2014 the Singapore Government, through its investment arm GIC Private, increased its stake in China Southern Airlines to 5.04%, purchasing 2.03 million shares (0.07%) at HKD2.413 (USD0.3) per share. Singapore Airlines is the flag carrier while a sister government-affiliated company made the investment.
China Eastern is once again being public about seeking a strategic investor. Aviation and national reforms are changing the atmosphere. At an aviation level, greater competition is being allowed with the approval of start-ups as well as more carriers entering China Eastern's hub in Shanghai. These advancements give China Eastern leverage to ask for something in return.
See related report: China Southern Airlines and HNA's Yangtze Express attack China Eastern's market share at Shanghai
China is beginning to encourage private investment in state-owned enterprises, of which China Eastern is, along with Air China and China Southern. After discussion in recent months, China in Jun-2014 announced a pilot programme to introduce "mixed ownership" at six SOEs, none of which are transportation companies. China Eastern prior to the announcement had set the groundwork for possible investment, or at least preparing for the idea of it.
China Eastern GM Ma Xulun implied to the China Times that mixed ownership at the airline would allow it to distance itself (albeit slowly) from the regulator and start acting on a commercial basis. A private investor would bring cash, which the government is reluctant to again inject into China Eastern, but more importantly experience. "Money is an issue, but it is not a core issue," Mr Ma said. "Our first consideration is the cooperation we can get from a partner and how the partner can boost our business. That is the pre-condition."
An airline would bring China Eastern the most experience, but it acknowledges airlines are not sitting on piles of cash. The likely companies lack the necessary insights into aviation as well as partnership opportunities, but they are understood not to be excluded from consideration.
It has looked at all partnership opportunities since the failed 2006 bid, but the recent initiative seems to have greater push as the government begins to support limited private ownership in state-owned enterprises.
China Eastern's size and potential allows it comfort and brething space; it is in no rush to secure an investor (the government may not be in a rush either). It has the luxury of contemplating perhaps the most important question from a potential suitor: why does the company want to invest in China Eastern? It is a question learned from history.
China Eastern no longer sees the 2007 Singapore solution as favourably as it did last decade. There are a few factors for China Eastern's reckoning. First is financial performance. In 2007 China Eastern's financial performance had weakened every year since 2002. An 8% operating margin fell to a negative 7% in 2006. SIA in comparison improved from a 7% operating margin in 2002 to 9% in 2006.
In the years after the failed bid, China Eastern's performance deteriorated, including its disastrous 2008 loss of USD2.4 billion. In comparison, SIA in 2007 posted a positive 13% operating margin. This cemented the view of SIA being strong and China Eastern weak, adding to the insult of China Eastern losing SIA's bid due to domestic meddling from Air China. Singapore was to take 24% of China Eastern for USD920 million.
China Eastern and Singapore Airlines (group) operating margin: 2000-2013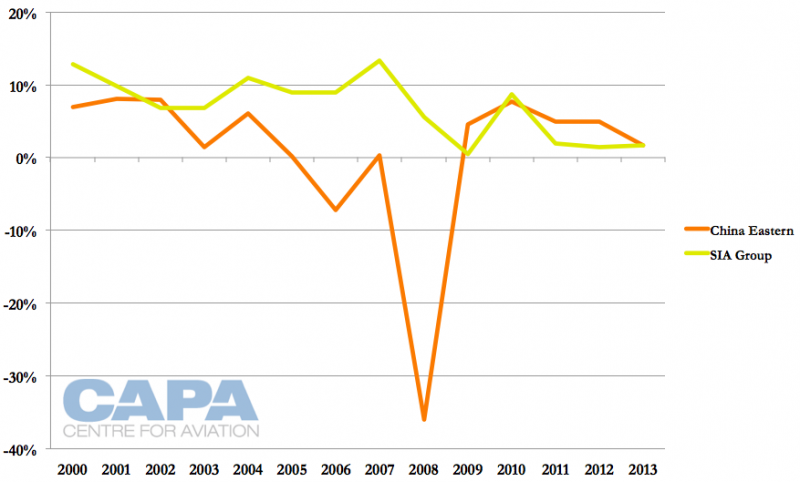 But its fortunes would soon change. The immediate post-GFC period saw China Eastern and SIA dovetail on performance, but after 2011 the new landscape emerged. China Eastern, fresh from a merger with Shanghai Airlines and joining SkyTeam, had higher margins than SIA, although both were sub-5%, while potential had also changed: low-cost carriers ravaged SIA's short-haul markets while Gulf carriers were hurting SIA long-haul. China's growth opportunity, as well as the protection afforded to its airlines, was unequivocal.
China Eastern may have needed to get into shape (and still does) but it was sitting on a mountain of potential. SIA in contrast was efficient but in a competitive market where growth was uncertain. In recent years SIA Group's growth has come from full-service regional airline SilkAir and the low-cost segment (Tigerair and Scoot) while flagship brand Singapore Airlines has not experienced growth.
China Eastern's present worry is similar to that of SIA a number of years ago: the low-cost segment is growing while sixth freedom carriers continue to pick at the Chinese market. China Eastern does not have an armoury of responses to these measures, and sees that its one-time suitor ended up being unable to manage the challenges in its own market. (However it should be noted SIA is embarking on a long-term strategy to address these issues and there could be a reversal of fortune, although SIA's glory days are certainly behind it.)
Now that China Eastern has had the benefit of this perspective and was not rushed to create a solution to its weak performance, it has become worried that the SIA deal would have given SIA more benefits than China Eastern would have received in return. This is only speculation, but broadly China Eastern sees that SIA would have gained access to the China market including possibly services from China to North America, which SIA cannot do from Singapore profitably. The SIA investment, China Eastern fears, would have made SIA alone – and not the collective SIA-China Eastern partnership – stronger.
Finally, China Eastern has grown worried about SIA's questionable investment history, notably in Ansett Australia and Virgin Atlantic. The failed Ansett stake was known at the time of the SIA-China Eastern proposal, but it was only in Dec-2012 SIA announced it was selling its stake in Virgin Atlantic at a loss. China Eastern fears the unsuccessful investment pattern could have been continued further.
Prospective investor must match with culture but paradoxically Asian airline not preferred
A long-running theme at Chinese airlines and their regulator is fear of more developed and experienced foreign carriers taking traffic from Chinese airlines. A foreign airline investing in a Chinese one could bring the experience to allow the Chinese airline to better compete. However, this also introduces the possibility of the investing airline becoming even stronger – which China Eastern thinks would have been the case in the SIA deal.
By virtue of its size, growth and potential, China becomes the star market for almost any major Asian airline. A number of carriers – Korean Air, Cathay Pacific, Hong Kong Airlines – could not be anywhere near the size they are today without large access to the Chinese market. These airlines are competitive with each other and a significant partnership with a Chinese airline would propel their fortunes above others (as seen with Cathay-Air China).
This creates potential risk for a Chinese airline that a suitor is looking to advance its own cause rather than form a partnership. For this reason, China Eastern does not favour an Asian airline as a strategic investor; the risk is inherent and cannot be taken out, the view goes.
However, this view could be revised as it is perhaps an over-generalisation. Safeguards could ensure a partnership has balance, and indeed the investing airline would want provisions too. The risk of the investing airline gaining more than it would put in varies by airline.
Pragmatism may also drive a change of thought. China Eastern would want an investor to mesh with its culture.
China Eastern now wonders if the unique Singaporean – and even more unique SIA – culture could have led to a productive relationship. Partnerships can be driven by what each airline brings to the table, but also depends on the two management sides being able to work together. For example, Etihad and Qantas did not see eye to eye and the partnership never consummated. In contrast, the Emirates-Qantas chemistry was more powerful. Some suggest ANA and United work better (and see greater successes) than JAL and American Airlines.

China Eastern would be unlikely to ever find an international partner with a similar culture. So to look at who would come the closest to China Eastern's culture, Asia is naturally the easy answer. But that is not to say a non-Asian airline, with lower risk, could not provide enough of a connection with China Eastern. China Eastern's international seat capacity is almost entirely focused on Asia with over 75% of international seats to North and Southeast Asia. North America and Europe will grow in importance, but Asia will always be China Eastern's staple.
China Eastern international seat capacity by region: 4-Aug-2014 to 10-Aug-2014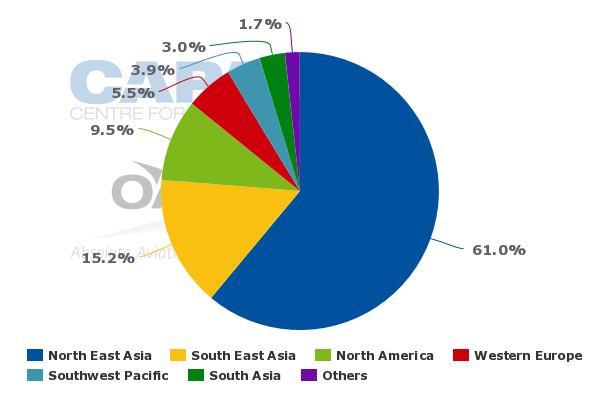 China Eastern's potential non-Asian suitors are only a matter of speculation. Etihad these days finds itself popularly associated with any potential airline for sale. China Eastern and Etihad have a very basic relationship, albeit one China Eastern is inclined to grow when it has time and management to do so. Two of China Eastern's close partners – Air France and Delta – are already investors in other airlines. Delta has a wider portfolio covering Aeromexico, Gol and Virgin Atlantic, while Air France has invested in Gol.
See related reports:
China Eastern and Delta already partner in areas other than passenger flows, such as management exchanges. Delta however is mindful that China Eastern in the long term could become a larger player than itself, and Delta has already managed the relationship to ensure it is balanced – or even in Delta's favour. Air France (and KLM) meanwhile are more sceptical of Chinese carrier growth and are pushing back against advances, such as fellow SkyTeam carrier Xiamen Airlines wanting to launch into Europe.
Outlook: Asian airlines are seeking investment. China Eastern – and other Chinese airlines – could be biggest catch
Asia is beginning to look like Europe was a few years ago with more would-be brides than suitors, although the urgency is less in Asia and even lower at China Eastern. Philippine Airlines and Malaysia Airlines are the two biggest Asian carriers known to be seeking an investor while Garuda's low-cost subsidiary Citilink may be looking as well.
See related reports:
Any potential deal involving China Eastern, or another big carrier, will have long term implications globally. Markets and global alliances may be re-written. One deal may pave the way for others, such as foreign carrier investment in smaller airlines. Alternatively, China may prefer the reverse, testing the waters with investments in smaller airlines before allowing one of the prized three to leave the family home and start to grow up on its own, likely with some wise sages guiding matriculation.
The process will be complicated and there will be scepticism. A suitor will likely be smaller in size but larger in experience and quality. China Eastern's ultimate objective would be to surpass the investor. So the investing airline must consider the potential time frame and if short term gains could be erased in the long term. Likewise China Eastern, or another Chinese carrier, will need to offer access in the short term to the suitor while hoping that is not a long term mistake.
Either way, the initial balance of benefits equation will be different from the longer term outcome. This would not be a partnership of equals, although it would ideally be a meshing of complementary strengths. Ensuring continued mutual benefits will then be crucial to an enduring relationship.