China and India struggle in tandem. Traffic outlook improves, but will come at a cost
Both nations have witnessed deep downturns in air traffic this year as state-controlled fuel prices have increased, forcing up the cost of travel. For price sensitive travellers who had just started to embrace air travel as a viable alternative to arduous ground transport modes, they were effectively priced out of the market.
Indian airports' passenger numbers growth (% change year-on-year): Jan-07 to Jul-08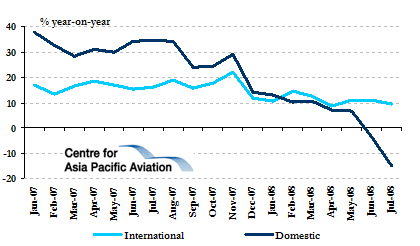 Chinese mainland carriers' passenger numbers growth
(% change year-on-year): Sep-07 to Aug-08
China had the Olympics and associated security clamp-downs, which, like India's infrastructure bottlenecks, placed an additional burden on air travel.
Travel agent commissions are also being wound down to zero (from 01-Oct-08 in China and 01-Nov-08 in India), which is creating serious disruptions to traditional distribution channels in both countries.
Airlines in both countries have struggled financially this year, although China's carriers had bigger currency gains than their Indian counterparts that helped cushioned the traffic downturn. But for airlines in both countries, the last two to three months have seen currency markets change course, which will exert even greater pressure on earnings in the latter part of the year.
Offsetting that will be fuel price reductions, though carriers could be excused for feeling short-changed in recent movements by state-controlled suppliers. China cut its 4Q08 fuel price by 6.9%, following a 39% hike on 08-Jul-08. Indian Oil cut domestic jet fuel prices by 5.4% on 01-Oct-08, following a 16% reduction on 01-Sep-08. World oil markets have fallen by considerable greater amounts.
Overall, further pressure on airline earnings is expected in China and India over the short term, even though the traffic outlook for both countries looks set to improve as the holiday and festival seasons commence. Competitive tension in both countries should ensure pricing remains keen, as fresh capacity enters the market.
Air India, for example, has failed to match Kingfisher and Jet Airways in hiking its fares this month - a sign it is seeking to improve its flagging market share and raise more revenue. India's LCCs are also standing on the sidelines. But all Indian carriers are holding onto their fuel surcharges - for now.
Chinese airlines are concerned about the outlook. China Eastern's Board Secretary, Luo Zhuping, stated recently the biggest problem the airline is facing is the "continuous decline of domestic demand". He added, "the winter is coming and uncertain economic prospects make it difficult for domestic demand to rebound in the short term". Air China's Chairman, Kong Dong, also stated last month that although oil prices have fallen below USD100 per barrel, "uncertainty grows on demand for air travel", while China Southern's Chairman, Liu Shaoyong warned in Aug-08 the airline was entering a "long period of hardship".
"Consolidation" is not a silver bullet in either market as the experience of recent mergers in China and India have shown.