Cathay Pacific's incoming CEO Ivan Chu faces important strategic decisions, some urgent
Analysis
After nearly three years of undistinguished growth, Cathay Pacific's incoming CEO Ivan Chu will have an opportunity – and probably be forced – to plan the carrier's future in an environment that is becoming more competitive than ever. Cathay has lagged on major strategic decisions, adopting a style that was very effective in the past, but less appropriate to a dynamically changing environment. This challenge must now be faced by Mr Chu.
Greater and more clearly defined partnerships, a low-cost strategy, and the future of freight and fleet planning are some of the topics facing Mr Chu, whose appointment was announced on the evening of Friday 16-Aug-2013. This was part of a shuffle that sees current CEO John Slosar moving to the chairman position at Cathay and other Swire companies.
Mr Slosar will have held the reins at Cathay for only three years. Mr Chu, after working his way up through a distinguished career in the airline meanwhile becomes only the carrier's second Chinese CEO in its nearly 70-year history. He is currently COO of the airline, which has become a standard stepping stone to the top job in Cathay's structured succession process.
Cathay aims to project continuity and calmness amidst change
Cathay Pacific aims to be a stately and solid institution in an industry characterised by volatility – and not just in fuel prices but also the whims of individuals. Its last senior level handover announcement was carefully staged managed: then CEO-Tony Tyler's leaving the Swire Group to become IATA Director General came at a large staff celebration that followed the high notes of record profitability and the unveiling of a new business class product.
Continuity was offered as Mr Tyler's replacement was a very familiar face, then COO-John Slosar. Mr Tyler too had been Cathay COO prior to his appointment. That sequence continued with the announcement Mr Chu would replace Mr Slosar, who in turn moves up to replace Chairman Christopher Pratt who is retiring (like Mr Slosar he is 57).
The changes do not take affect until after Cathay announces its 2013 annual results in Mar-2014, a long lead time that also helps preserve stability and portray that all is well. Making the announcement on a Friday evening after the market closes also cools discussion. Mr Slosar will have been in the role for only three years; Mr Tyler had been CEO for about four years while his predecessor, Philip Chen, was also CEO for about four years.
Appointment of Mr Chu marks Cathay's only second Chinese executive
The Union Jack no longer flies over Hong Kong, and despite Cathay being intrinsically linked to Hong Kong and mainland China (it has cross-ownership with flag carrier Air China), Cathay has largely retained its non-Chinese leadership profile with Britons and Americans most recently occupying the executive role.
Mr Chu will only be Cathay's second Chinese executive in its history; the first was Philip Chen, who assumed the Cathay CEO role in 2004 after being the CEO of Dragonair. Mr Chen served until 2007 and his tenure was marked by the landmark cross-ownership and strategic partnership with Air China as well as acquiring Dragonair.
Mr Chu rose through the ranks of Swire's selected few who, early on, are identified and put on a management career track. This approach, while not unique, differs from most carriers where managers must rise to the top on their own. Etihad CEO James Hogan was a check-in agent at Melbourne Airport, coincidentally at the same time Virgin Australia CEO John Borghetti worked in the mailroom. Qantas CEO Alan Joyce was a number cruncher, IAG CEO Willie Walsh a pilot and Emirates President Tim Clark a network planner.
Mr Chu's appointment comes as Hong Kong grows closer than ever to mainland China and Cathay to Air China. While Cathay managers often speak and are even fluent in Chinese and have called Hong Kong home for decades, there is still an element of being a foreigner; Mr Chu will instead be very much at home.
Cathay Pacific CEO-elect Ivan Chu talks to CAPA at the recent Australia Pacific Summit
Few significant developments at Cathay since the 2011 Tyler/Slosar handover
Cathay's changes since its last CEO handover in 2011 are few. Working against Mr Slosar has been the depressed economy as well as taking over just after a landmark premium cabin re-vamping. While Cathay under Mr Slosar did in 2011 announce the addition of a premium economy class, this would have been well in the pipeline prior to Mr Slosar taking over.
Cathay has made capital investments under Mr Slosar, with purchases of 777-300ERs and A350s. The 777-300ERs have proven to be badly needed to replace 747-400s, which are fuel inefficient and increasingly require heavy maintenance. Cathay was notably late in embracing the 777-300ER. SIA in contrast has favoured the aircraft as its replacement for passenger 747-400s, the last of which left its fleet in Mar-2012. In comparison, Cathay in early 2014 will have 12 passenger 747-400s remaining.
Cathay's wholly-owned regional unit Dragonair, of which Mr Slosar is the chairman of, announced in Jan-2013 a re-positioning that sees the carrier move distinctly upmarket as a premium carrier after years of being neglected; it had been the ugly sister. Were it not for increasing regional competition – including from local carrier Hong Kong Airlines – it is unlikely Dragonair would have elected to move as up-market as it did.
See related report: Quiet achiever Dragonair aligns with owner Cathay Pacific in recognition of its growing stature
It was always going to be difficult to top the record 2010 performance, but the profit nosedive in 1H2012 to unprofitability was particularly unwelcome. While Mr Slosar carefully brought the carrier back into very, very modest profitability in 1H2013, it was only through cutting capacity. He really had few options as the worst of the GFC began to subside. Mr Slosar in Nov-2012 remarked that premium levels had rebounded (although capacity was greater) but ex-China was slowing due to the leadership handover. Subsequent pressures on China – slowing growth and greater attention to spending – have translated to further challenges for Cathay; China is Cathay's key market. Mr Chu will have to navigate through this, balancing premium seat and revenue ratios. First class may very well get axed or sharply reduced under Mr Chu's tenure; Mr Slosar has been indifferent while waiting for greater clarity. The global evidence is that first class as a sizeable cabin has numbered days.
As CAPA previously wrote:
Between 2006-2012 premium traffic accounted for approximately one-third of passenger revenue, but during the 2009 slowdown tipped to 20% (it has since returned). On certain routes, such as to the US and Australia, premium traffic can account for 40-50% of passenger revenue. (Cathay excludes premium economy from its "premium" calculations.)

Premium traffic ex-China saw a slowdown in 2H2012 as China prepared for a leadership changeover, which slowed down nearly all aspects of China's economy (its airlines saw their own traffic slow). But premium traffic outbound from China in CY2012 still doubled compared to 2008. During this period Cathay and Dragonair increased frequency between mainland China and Hong Kong by about 17% while premium seats saw a similar increase. While Cathay may be growing outbound traffic ahead of supply, yields are lower from China, as noted in the above example from Xiamen.

The market is also different: while the financial industry typically has the largest uptake of premium seats in global markets, in China Cathay has found it to be manufacturing, IT, property, communications, with the financial industry well down the list. That partially reflects the internationalisation of China's economy.

A challenge to Cathay will be how much competitive connecting traffic it can rely on, versus pulling down some parts of its network to focus more heavily on O&D traffic, as British Airways did last decade.
See related report: Cathay Pacific and Dragonair experiment with fare offerings, but is structural change in the wings?
GDP Growth of China (Percent change): 2008-2012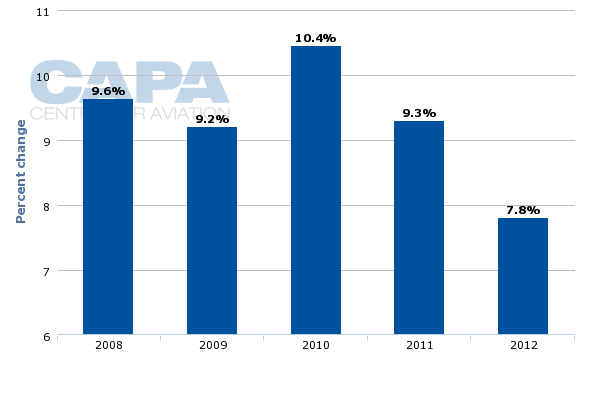 Cathay is meanwhile hoarding Hong Kong slots that are quickly depreciating; and services, especially around North Asia, are operating below satisfactory returns. But holding on to these slots is a long-term decision – and one Mr Chu is all but guaranteed not to reverse so Cathay can maintain dominance in Hong Kong, where it accounts for 40% of frequencies and 48% of seat capacity.
Hong Kong International Airport frequency share per week by carrier: 19-Aug-2013 to 25-Aug-2013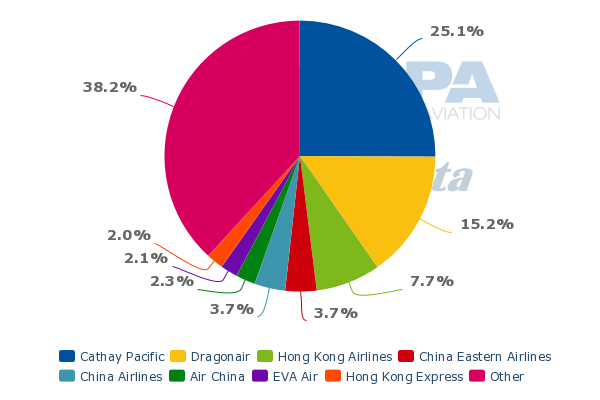 Hong Kong International Airport seat capacity share per week by carrier: 19-Aug-2013 to 25-Aug-2013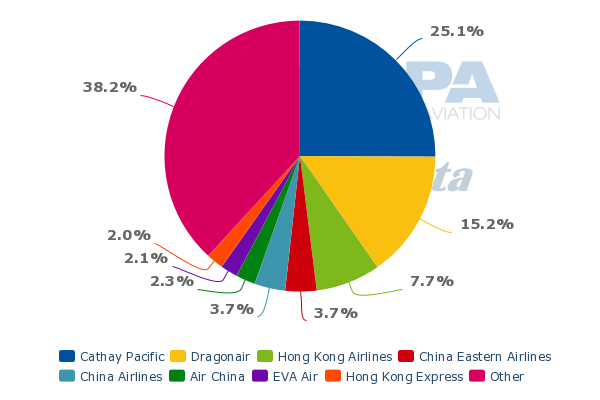 Cathay also needs to quicken its pace and become more agile. Its overdue launch of a service to the Maldives, a market SIA had been cleaning up, is just one example.
See related reports:
Cathay needs more partnerships – it's a big world to be alone in
Cathay in recent times has developed strategic partnerships with Air New Zealand and British Airways, but these are highly focused and, even then, limited. This is commensurate with Cathay's highly independent strategy but against the status quo of airlines forging deeper strategic partnerships; Qantas-Emirates is the biggest of many examples.
See related reports:
Cathay is particularly weak in Europe, serving only seven destinations with its own metal. Only one point – London – is a oneworld hub that opens numerous connections (albeit with high circuitry). SIA in comparison reaches 13 and Emirates over 30; all three compete for relatively similar one-stop passengers. While European weakness might be overlooked at present given Europe's financial situation, the market will inevitably rebound.
Paying passengers are increasingly realising the convenience, high quality – and lower fares – of Middle Eastern network carriers, which are growing: Etihad entered Hong Kong in 2013 via partially-owned Air Seychelles' Abu Dhabi-Hong Kong service and Emirates in Oct-2013 will increase capacity to Hong Kong, giving it up to four daily flights. And Cathay's powerful loyalty programme is losing traction as passengers looking to redeem frequent flyer miles are growing frustrated with lack of options to Europe.
A partnership with Air Seychelles, and maybe later Etihad, could materialise once Cathay upgrades some IT systems. Some existing partners would like a deeper relationship with Cathay while others no doubt are interested but have been turned away.
Cathay's stance varies from SIA, which had also been highly independent but in recent years has loosened up a little and formed more partnerships, of which its Virgin Australia equity acquisition is the most significantly strategic. SIA in particular looks to defend its home market: it would partner with Ethiopian Airlines only via their common point of Dubai rather than support Ethiopian at SIA's Singapore Changi hub. A joint-venture exists with fellow Star carrier SAS – but SAS does not fly to Singapore.
And then there is Air China. Since the relationship was cemented a decade ago, cooperation has existed largely on Hong Kong-mainland China routes, but not in full force elsewhere: it is not possible to book, say, a combined Air China or Cathay ticket flying Air China from London to Beijing, Air China or Cathay/Dragonair to Hong Kong and then Cathay back to London.
In the absence of network achievements, the partnership has looked elsewhere: airport services in Shanghai, a cargo venture and – perhaps most significantly to Air China – management rotation that sees Air China learn from Cathay.
Low-cost represents growth and Cathay is still a high value brand

Mr Chu will needs a low-cost strategy during his tenure. While Cathay has said it can competitively price economy class tickets, this is an old world argument, and one that even Mr Slosar in recent months seems to have grown tired of repeating. Mr Chu's public remarks to the press have been brief, but have curried him considerable admiration.
He has been analytical in his explanations whereas Mr Slosar at times has appeared abrupt. On the topic of LCCs Mr Chu has been comparatively more open, not so strongly against LCCs as Mr Slosar was, but nor did he specifically embrace them. Once Mr Chu has the reins we will find out what he really thinks.

An LCC business is structurally different from that of a full-service carrier, and allows growth – in destinations, frequencies or passenger numbers – a full-service carrier cannot realise. In shunning a LCC, Cathay is closing the door on a major growth opportunity.
Cathay is also one of the few major carriers in Asia not to have a low-cost brand. Some LCCs are finding their way to profitability and open it will take some years while others deliver profits; AirAsia stands out with exceptionally high margins.
See related report: Cathay Pacific must seize the moment and launch a low-cost carrier
Brands of Asia's major carriers: Aug-2013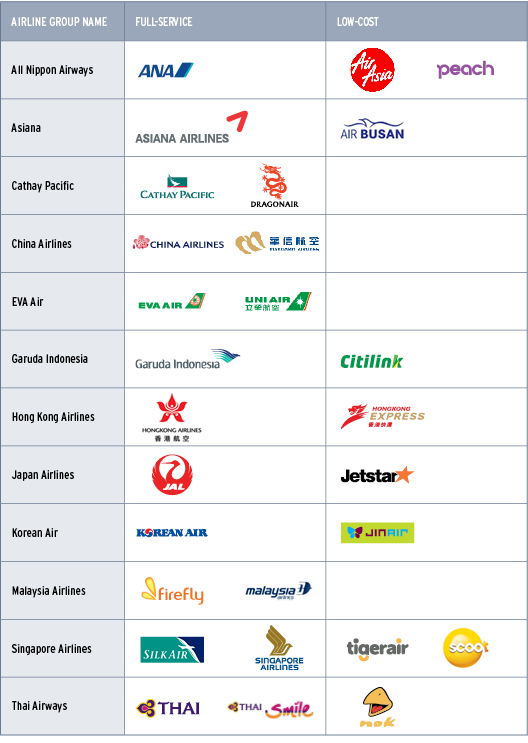 As a new freight terminal is about to open – does cargo have a strong future?
Mr Chu will need to lead Cathay's future into cargo, once a strong contributor to revenue and profit. Looking past the current downturn, structural changes have occurred. There is greater belly capacity on passenger flights as airlines – like Cathay – replace 747-400s with 777-300ERs and as they grow long-haul networks: every long-haul North Asian airline is growing in the key North American market.
Cathay is looking to move more into delicate cargo (perishables, medical supplied) that requires temperature control not every carrier offers. To this extent later in 2013 Cathay will fully use a new cargo terminal in Hong Kong – will this be freight's last hurrah?
Cathay Pacific (Group) annual cargo volume (tonnes): 2008-2012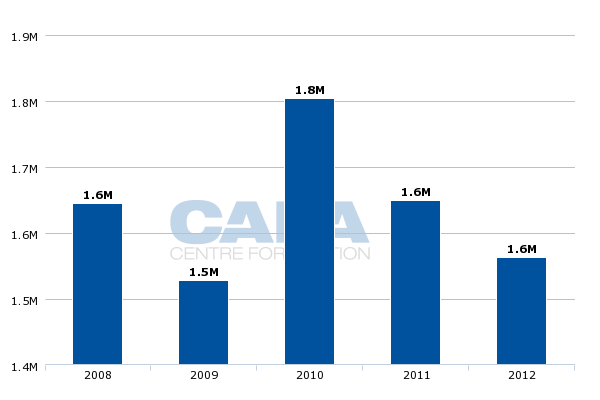 Cathay Pacific (Group) annual operating revenue (Cargo) (HKD)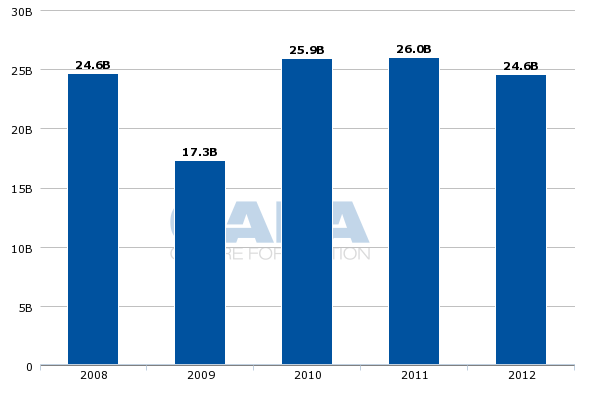 Cathay Pacific (Group) annual cargo load factor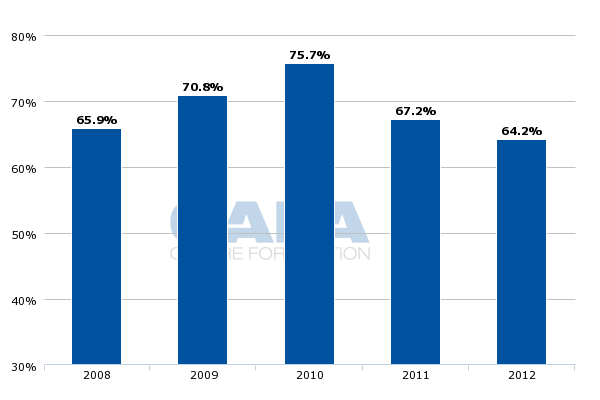 A350s arrive mid-decade, providing varying opportunities
Cathay as of 30-Jun-2013 has 18 777-300ERs remaining for delivery, but from about the middle of the decade onwards its long-haul passenger fleet deliveries will largely be A350s. They offer versatility and can accomplish a few needs: replacing A340-300s used on long-haul routes, replacing regional 777-200/300s and opening new long-haul routes to thinner points. But although there are 79 passenger aircraft on order at Cathay and Dragonair, substantial numbers are expected to be for replacement, leaving only a modest amount for growth.
As Mr Chu will likely oversee the introduction of the A350, he is in a good position to improve finances by replacing older aircraft and deliver long-haul growth, especially in secondary cities where competitors are increasingly serving.
See related report: Astride its volcano, Cathay Pacific's A350-1000 order is one more important long term measure
Cathay will also need a large-capacity long-haul strategy as its workhorse 777-300ERs begin to age.
Large opportunities, and challenges, await Cathay and Mr Chu - mostly around partners and feeding the low priced market

Cathay's strategy of recent times has been consistency of what is has done rather than embark on a bold new strategy suitable for the times. Cathay has a strong foundation from brand to premium positioning but there are holes to fill, especially as at least short term doubts surround the strength of the premium market. Mr Chu has seen some of the lowest lows of the industry, but now has the opportunity to create new peaks.
Although there are organic changes that Cathay will be obliged to make, it is in the very complex area of airline partnerships that Mr Chu has a pressing need to deliver. Cathay's currently opaque partnership profile will not make this easy. A half-pregnant relationship with Star Alliance's Air China should be able to deliver much more for Cathay; a similarly ambiguous relationship with most of its oneworld partners leaves it wanting there too.

The Air China partnership in particular is an obstacle to the high quality Hong Kong operator cementing suitable airline deals that will secure it into the rest of this decade. That largely one-sided deal must obviously be managed with restraint, but unless it pays dividends greater it is more net hindrance than help.

Cathay will remain a very attractive potential partner and, despite the number of dance partners reducing almost daily it is unlikely to become a wallflower. But options must inevitably diminish – and it is far from clear that Cathay is actively seeking friends with future clout.

Then Mr Chu will at an early stage have to bite the bullet on an LCC strategy, as Jetstar seemingly inevitably enters its territory later this year and Hong Kong Express already on its way. Cathay's long abstinence from this market will now unfortunately make any step it takes more controversial than it would have been in the past – now, because of that delay, a limited move will be seen as inadequate and a more substantial one as high risk.
Welcome to the role of CEO, Mr Chu.