Cathay Pacific ends 747 flights, its future defined not by 777s/A350s but by diversifying
Analysis
For 37 years the Boeing 747 brought Cathay Pacific to the world. As it did for so many operators, the 747 transformed Cathay into a global airline. Cathay's final passenger 747 flight was on 01-Oct-2016. The occasion is filled with sentiment and the usual remarks of being the end of an era; the aircraft of course is iconic, and Cathay, which turned 70 in Sep-2016, has known the 747 for longer than it has not.
Yet the 747 era at Cathay ended long ago. The 747 gave Cathay a global footprint, but this is true for most current and former 747 operators. Cathay's position today against competitors is defined not by network reach but rather – depth. Mainland Chinese airlines, some of Cathay's closest competitors, know they have the local market and lower costs but acknowledge the one-stop challenge Cathay brings with hyperfrequency and a stronger product/brand.
That depth and domination, especially in the key North American market, was achieved with the 777-300ER. Cathay operates 53 777-300ERs – more than twice the 24 747-400s the airline had at its peak. Although A350s are arriving, Cathay's next evolution is defined not by aircraft and flying but rather by bringing new non-flying businesses into the group. For aviation this is seen as a partial surrender to competition. For the company it is a graduation to consistent and higher profits. As with the 747, it is time to move on and pursue a more productive future.
The 747 overstayed its welcome with Cathay
Cathay Pacific was caught on its re-fleeting strategy and the 747-400 overstayed its welcome. Cathay ended 2011 with 21 747-400s, whereas Singapore Airlines retired its 747-400 passenger fleet in early 2012, and Air China – Cathay's equity partner – started retiring 747-400s faster (but still has -400s).
In 2012 Cathay decided to accelerate 747 and A340-300 retirement as fuel prices increased and premium demand weakened. Cathay operated its last regular long haul 747-400 passenger flight in Aug-2014, and ended the year with only seven passenger 747-400s. The type has since been used on regional flying, where fuel efficiency is not as pronounced as on long haul and ultra-long haul. Accelerating 747-400 retirement resulted in Cathay cutting frequencies so it could spread newer aircraft over a wider part of the network.
Cathay is now regaining the initiative by being an early customer for the A350-1000 and 777X.
The 777-300ER has a bigger legacy than the 747 at Cathay
As to be expected given the 747's iconic status and ever-decreasing numbers, retirement of the type is filled with unavoidable sentiment. Yet the Cathay Pacific of today is of a very different era from when its 747 reigned.
See related report: 747-400 fleet dwindles to 204 as Cathay Pacific the latest airline to retire Queen of the Skies
Cathay was hardly unique in benefitting from the 747 expanding its footprint around the world. In fact, its footprint in terms of number of destinations arguably lags its peers – Korean Air and Emirates in North America, Air China in Europe, Singapore Airlines in Australia and New Zealand. This more conservative footprint is due to Cathay's own online destinations and Cathay not having strong and deep partnerships to leverage offline points. This is slowly changing with additional online cities in Europe.
With only the 747, Cathay would not be the airline it is today. Nor would it wield as much power, or be as big a threat. It is only in the last decade that Cathay has accelerated growth and become a dominant force. To use one set of data: between 1996 and 2006 Cathay's long haul fleet size (excluding what it considers as the medium-haul A330) was relatively constant, with 39 aircraft in 2006 and 40 in 2006. In the subsequent decade the long haul fleet grew to 60 aircraft. The fleet peaked at 65, but that figure includes 747s and A340s no longer used for long haul flying.
A Jun-2015 CAPA analysis surveyed Cathay's growth and market share gains and resulting impacts – such as forcing Northeast Asian and Southeast Asian airlines to explore end-game merger scenarios.
This growth since the mid-2000s has been achieved with the
777
-300ER.
The twin jet's ability to serve
North America
efficiently and operationally cannot be overstated. Being able to serve
North America
nonstop under regular conditions is a fundamental strength of
Cathay
, and in recent years has supported the airline's overall health far more than its other key non-Asian markets of
Australia
and
Europe
.
Cathay Pacific long haul fleet by type: 1996-1H2016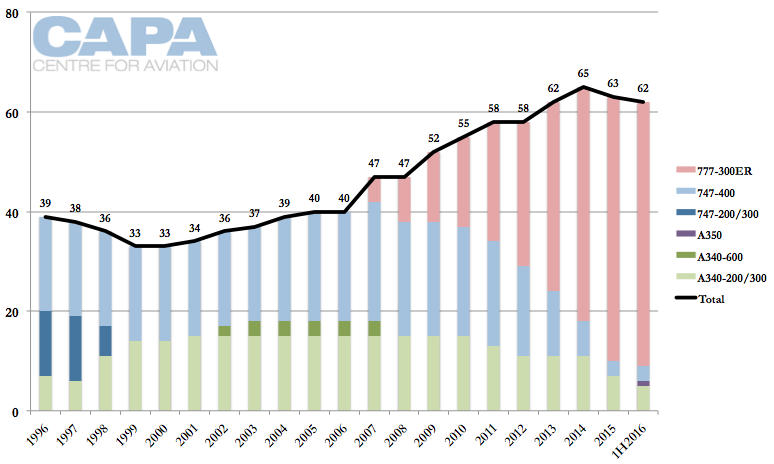 Whatever the aircraft, Cathay is under too much competition. It's time to find new businesses
If the 747 represents the era of Cathay's footprint growing, and then the 777 represents the era of bulking the network, it might be asked if the A350 and later 777X represent the next era. Yet the next era for Cathay is unlikely to be defined by either aircraft or any flying at all.
This may sound contradictory to Cathay's forthcoming capital costs – at list prices it has an aircraft order book around USD20 billion.
Cathay considers itself very good at what it does and undoubtedly its product is a world leader. Yet its financial performance has been underwhelming as profits from the core airline business fall, despite increased production.
This era has coincided – and continues to coincide – with Cathay's markets in Hong Kong and neighbours becoming more competitive. Once-sleepy markets, which Cathay had nearly to itself, have a range of options increasing by the year.
Cathay Pacific and Dragonair - airlines' profit after taxation (HKD millions): 2009-1H2016
Cathay's core airline business has lost relevance for the group: airline contribution to group profit has declined from constituting 88% of group profit in 2009 to 48% in 1H2015.
In 1H2016 the airlines were unprofitable, and the group remained in the black – barely – due to profit share from subsidiaries and associates.
Cathay Pacific profit contribution from airlines after taxation, share of subsidiaries and associates (HKD millions, left axis) and airline share of profit (right axis, only where contribution was positive): 2008-1H2016
Even excluding fuel hedging losses, the margin would be unimpressive and not sustainable. There is an ever-growing number of airlines that are willing to carry passengers for far lower profits than Cathay is; or, indeed, for any profit. In Hong Kong, Cathay faces a high cost base and a government that has lost the initiative to produce timely and sufficient investment to grow a very well respected aviation hub.
So it is time for Cathay to look more broadly for business other than flying passengers and goods.
Opportunities arise from the strong growth of aviation demand in Cathay's hinterland, combined with opportunities from increased web businesses and change in processes (IATA's NDC, for example). This requires sophistication, and for the airline to have a strong enough brand and power to tie the pieces together. Competitors may be cheaper, but they are not necessarily as strategically oriented.
In this framework the time-intensive and unrewarding task of flying is carried out by young companies jockeying for a space in the travel industry, which will continue to attract new entrants.
Airlines including Cathay will graduate - usually with difficulty and reluctance - from the staple of flying to using travel as an entrée to customer bases that can be leveraged for far more profitable and counter-cyclical businesses.
The 747 represents not just an era of golden times and inhibitive expansion, but also an era when flying was the core business of all airlines. Just as the 747 has changed – and become irrelevant for most – airlines face the same future.