Cathay Pacific annual results: after a lost year, Cathay sees itself back on track - but to where?
Analysis
Cathay Pacific's 2013 annual results show the carrier has emerged from its lost year, a period from mid-2012 to mid-2013 when it took sudden action to combat high fuel prices and aircraft maintenance by replacing 747-400s with 777-300ERs, making loss-making long-haul routes profitable almost overnight. During this time there was also large growth in short-haul sectors, which took time to mature. This was fuelled partially by strong regional demand as well as the strategic imperative to increase flights so as to maximise slots at its Hong Kong hub, thereby preventing competitors from using the precious few peak slots left. Any substantial peak hour slot increase is not likely to occur until a third runway is built, sometime after 2020.
The full year profit of HKD2.62 billion (USD338 million) shows a marked improvement over the HKD24 million (USD3 million) profit in 1H2013, when network adjustments were still under way. 2013's profit has been lauded, albeit an improvement from a low base: 2012's profit was only HKD862 million (USD111 million), representing a 0.9% margin. Cathay's 2013 margin of 2.6% is the third-lowest margin in recent times, even lower than 2003 during SARS, when the airline almost grounded its fleet.
This is not an encouraging growth platform, and the mood is considerably dampened by an increasingly competitive environment. Other airlines with stronger hubs are growing traffic, short-haul and long-haul, and this will only increase, further impacting Cathay – irrespective of a possible Jetstar Hong Kong launch. A new cargo terminal has arrived as Cathay concedes cargo is undergoing a structural, not cyclical, change. A CEO change from John Slosar to Ivan Chu occurs as Cathay seems to prefer to reminisce about the past rather than offer brave new strategies. Certainly other full service airlines are experiencing rocky times, but that is small comfort.
Cathay: 'we are still falling some way short'; margins move from anaemic to weak
Cathay's 2013 full-year profit has made headlines for a 204% improvement, but this was off an exceptionally weak 2012 – indeed, Cathay's worst year since a large loss in 2008 during the global financial crisis.
Cathay Pacific historical profit and debt ratio: 2002-2013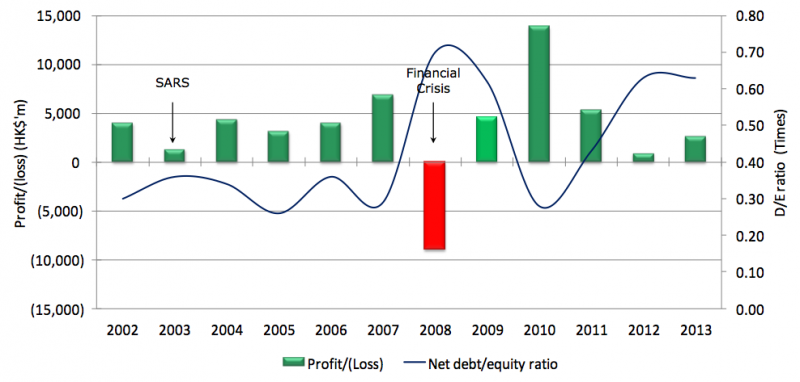 Cathay's profit margin was a 1.7ppt improvement over 2012's break-even point. Still, Cathay performed better – with a 4.0% margin – in 2003 when SARS severely impacted Hong Kong and nearly grounded the airline.
This weak performance prompted chairman Christopher Pratt to remark: "The fact remains that we are still some way short of where we would like our business to be."
Cathay Pacific Group Profit Margin: 2002 - 2013
The short story of 2013's results was an improvement in passenger revenue driven by long-haul routes, particularly to North America and London; yield gains from the introduction of premium economy, a largely one-off event; and increased load factors, which Cathay wants to continue building. Passenger revenue gains were largely offset by reduced cargo revenue; total turnover was up only 1.1%.
The cost side was greatly helped by a 5.8% decrease in fuel, a combination of lower fuel prices as well as having more fuel-efficient aircraft. Maintenance costs were down due to the retirement of older aircraft, but conversely depreciation and amortisation costs went up.
Cathay Pacific reconciliation of airlines' operating profit before tax: 2012-2013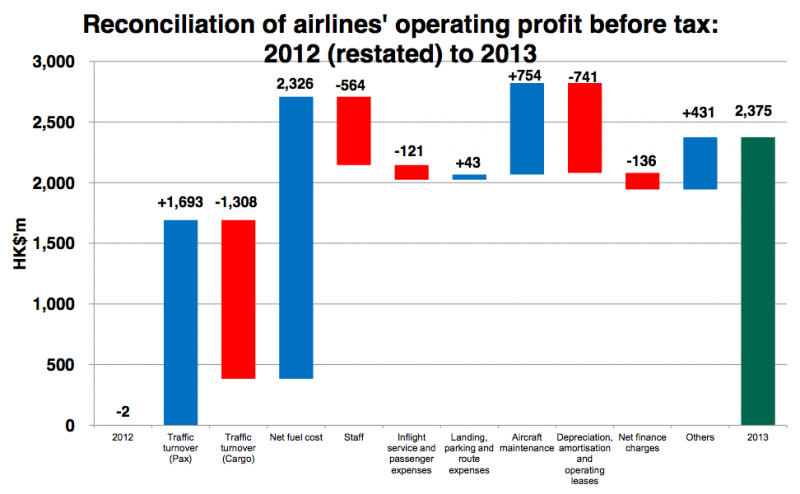 Staff and in-flight/passenger expenses increase due to greater sectors, enhanced service and staff wages in Hong Kong, which is not an inexpensive place for labour.
Cathay Pacific operating expenses: 2012-2013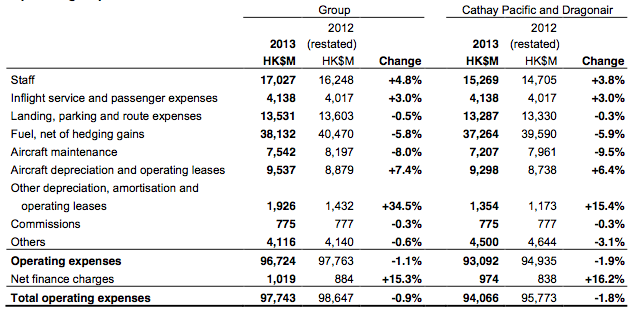 Long-haul was strong while regional traffic under pressure
Long-haul flights and connections to short-haul were strong, but Cathay conceded it is finally being impacted by increased competition, which Mr Pratt characterised as "the intense competition we are now facing throughout the region".
Cathay Pacific turnover by point of sale: 2012-2013

Revenue by point of sale was either flat or down in every market except Hong Kong and mainland China, which Cathay attributed to strong leisure demand (but this was outpaced by capacity increases) and demand out of China (inbound to China was weak).
For the rest of Cathay's regions the results were mixed, as currency and competition complicated the performance, with Europe and North America more successful:
Cathay Pacific seat capacity by country: 10-Mar-2014 to 16-Mar-2014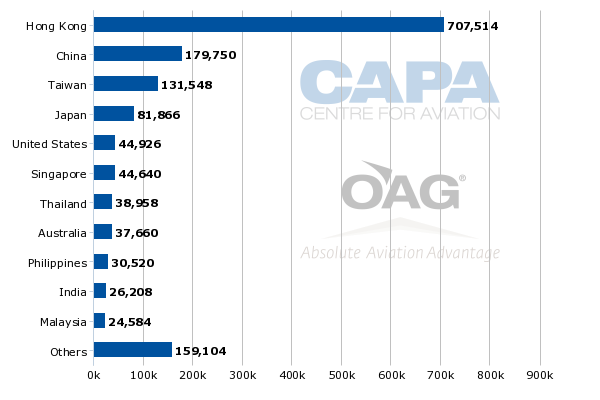 Much short-haul capacity (12 new regional destinations since 2012) has been added largely ahead of demand in order to effectively utilise slots at Hong Kong, which are rapidly decreasing. Converting these to profitable services is a long-term project.
16 new regional destinations since 2012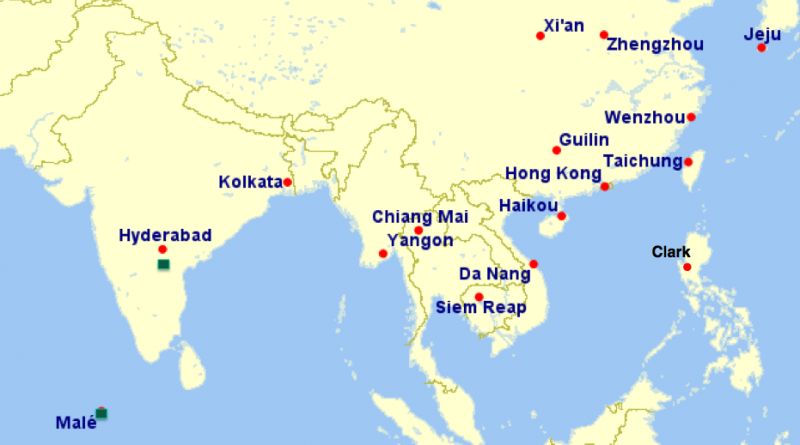 2013's large increase in profit was driven by a change of flying – not large increase in flying – is evidenced by traffic statistics, where ASK/ATKs were down 1.8% in 2013, largely due to replacing large capacity but inefficient 747-400s with slightly smaller but more efficient 777-300ERs.
Cathay Pacific traffic summary: 2012-2013

North America and London can't be Cathay's one-trick ponies
The strength of long-haul is seen in 2014's early traffic reports, showing double digit year-on-year increases to North America. However, this is largely due to 2013 being low. 2014 North American RPKs so far are matching 2012, with RPKs to increase as Newark and additional frequencies to existing destinations are added.
Cathay Pacific (Group) monthly revenue seat kilometres (North America): 2012-2014*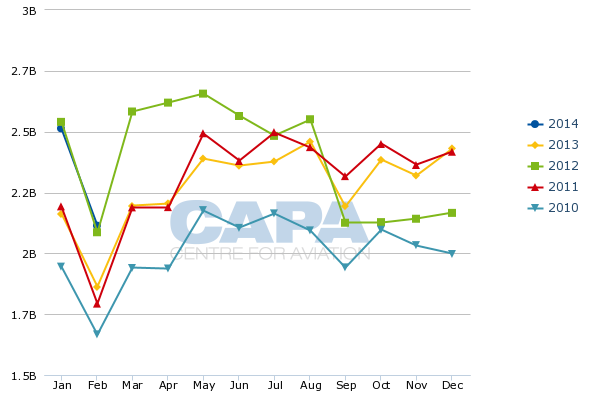 While 2014 RPKs are mirroring 2012's RPKs, 2014 ASKs are below 2012's, indicating a sharp increase in efficiency. Where the combined Jan-2012 and Feb-2012 North American load factor was an already strong 83.1%, the combined Jan-2014 and Feb-2014 load factor was an exceptional 88.5%, helping to drive scale and pricing ability.
However, further room for improvement is limited and this field will become more competitive, meaning Cathay cannot rely on North America and London as its one trick ponies.
Cathay Pacific (Group) monthly available seat kilometres (North America): 2012-2014*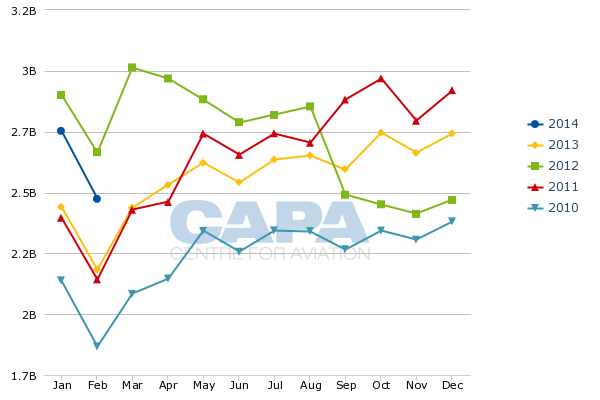 More long-haul growth is to come as Cathay looks to balance its short-haul network with more long-haul services to feed short-haul. Long-haul services will also enable Cathay to generate more revenue per slot, a scarce resource. A top-up order in Dec-2013 for 777-300ERs should see ultra-long-haul growth continue well into 2015, after which point A350-900s dominate deliveries in 2016 and 2017 and then A350-1000s in the latter part of the decade.
There is considerable movement opportunities as fleets are replaced, but growth, especially to secondary long-haul markets, should be expected with the A350s.
Cathay Pacific aircraft delivery plan: 12-Mar-2014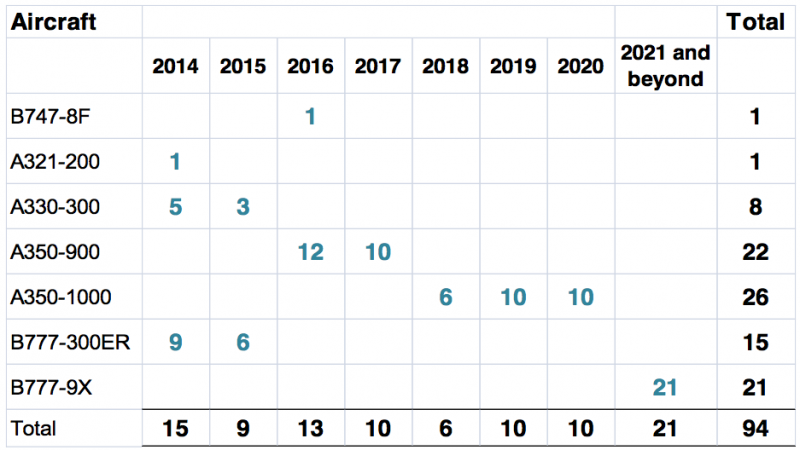 12 of 13 Asian long-haul airlines serve North America: they are growing and have better geography
Cathay is one of 12 North Asian airlines serving North America. Indeed, all of North Asia's long-haul airlines – except MIAT – serve North America. At the end of 2014 this is expected to rise to 13 out of 14 carriers, and 2015 could see 14 out of 15 carriers if Xiamen Airlines serves North America. But the more immediate concern is capacity increases from existing competitors, namely those in mainland China (with far wider domestic networks) and Japan and Korea.
Beijing, Seoul and Tokyo have better geographic positions to hub from around Asia, and their shorter distance to North America than Hong Kong means they can tap secondary cities with the 787 and even use A330s on other routes.
Aug-2014 United States-North Asia capacity is up around 5% compared to Aug-2013, with additional services to come.
United States to North East Asia (seats per week, one way): 19-Sep-2011 to 31-Aug-2014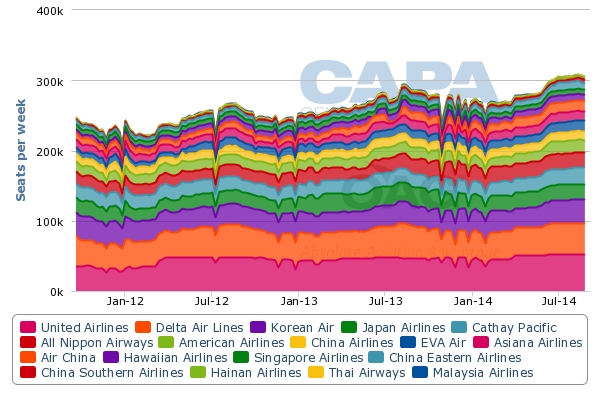 Much growth is led by China's airlines, where capacity to North America in Aug-2014 will be up by about 18% year-over-year. Cathay may offer more circuitous routings, but - for now at least - it has the advantage of scale and of a premium service product.
China to North America (seats per week, one way): 19-Sep-2011 to 31-Aug-2014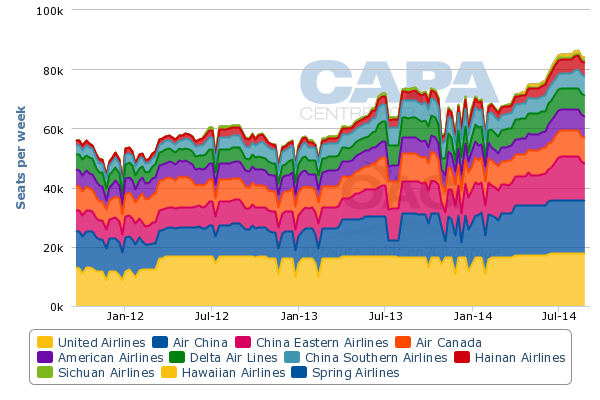 Cathay sees a "structural, not cyclical", change in cargo; dedicated freighters will be de-emphasised
As the cargo industry enters its fourth year of downturn, Mr Pratt observed that "the changes in the airfreight industry may be structural rather than simply cyclical". This is a surprisingly late admission, given other airlines have already scaled down their freight operations or stated they were moving away from a reliance on freight.
FTKs and freight load factors are falling, with the pre-Christmas spikes being shorter and less voluminous than in the past. Consumer electronics are becoming a smaller item, while manufacturing is shifting to other hubs, and indeed there is ongoing discussion about the ability to manufacture closer to home; Apple for one intends to conduct some local manufacturing in the US in future.
Some shift in manufacturing hubs (from Shanghai to Chengdu) Cathay can still cater for although Chinese carriers will increasingly compete, but shifts to other markets like Dhaka and Vietnam can be more difficult to respond to as they introduce competition with the mighty Gulf carriers.
Cathay Pacific (Group) monthly revenue freight tonne kilometres: 2012-2014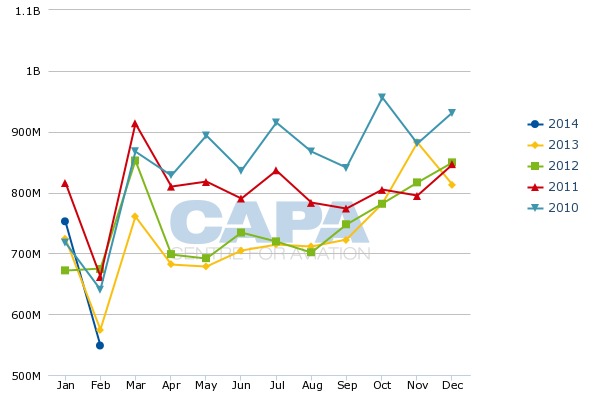 Cathay Pacific (Group) monthly cargo load factor: 2012-2014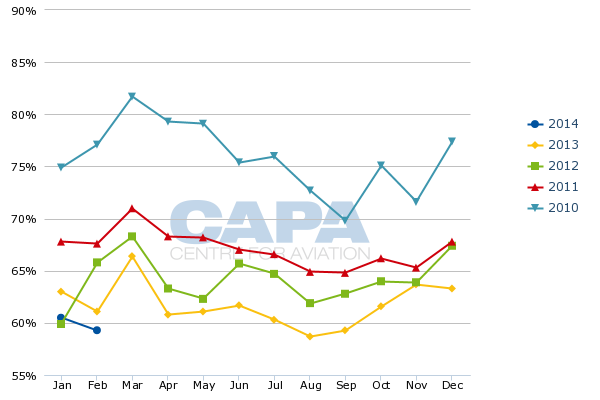 The increased number of passenger flights increases cost-effective belly capacity, and Cathay now carries more freight in passenger bellies than on freighter aircraft, a trend it expects to increase.
Its freighter fleet is seeing downward revision while passenger aircraft orders (even accounting for replacements) far outnumber new freighters.
See related report: As trans-Pacific passenger flights increase, hold capacity drives structural changes in air cargo
Cathay Pacific freight fleet composition: as at 31-Dec-2013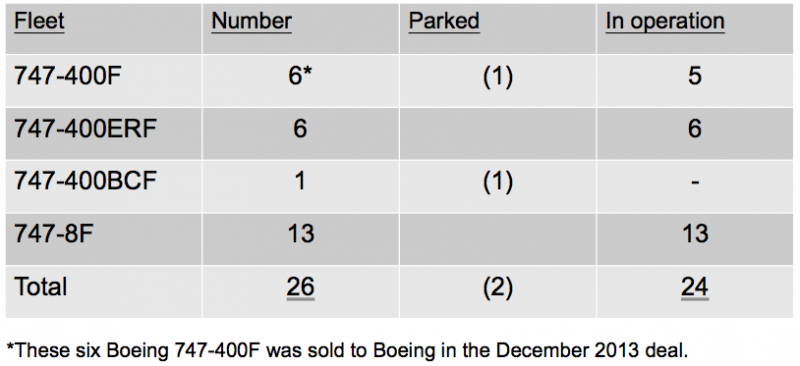 Cathay Pacific fleet profile: as at 31-Dec-2013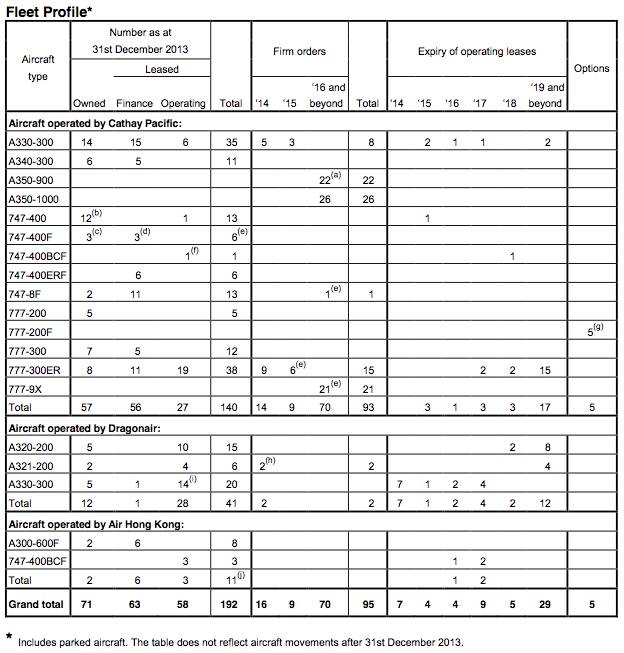 Cathay has yet to identify a solution, but this may fall to incoming COO Rupert Hogg to find; he has a background in freight.
Cathay also now sees more transit cargo than Hong Kong local cargo, which dilutes yields as revenue is split over a longer distance. Adding to woes is the timing of the introduction of Cathay's new cargo terminal, which management is upbeat about as it can focus on faster shipment times and higher-value products like pharmaceuticals. However, this is a plan others are following too.
Hong Kong was in need of expanded cargo facilities, but the risk is the freighter terminal, planned in different times, has created too much.
Outlook: without change, what is good will weaken and what is weak will get worse
Cathay's outlook for 2014 is a stronger performance than 2013 as it sees a full-year impact of enhanced long-haul operations. Passenger capacity will grow 7% with long-haul growth higher. Cargo capacity will expand 9%.
Cathay joins other Asian long-haul airlines in growing long-haul to better balance the more competitive short-haul, while focusing on load factor improvements, which could dilute yields.
In some regards, Cathay seems a bit lost. It has put in considerable effort and infrastructure but is not being met with sizeable rewards. Without significant strategic changes in direction, the long term outlook becomes increasingly cloudy.
North America is broadly propping Cathay up, but growth from airlines with stronger geographies is coming, weakening the airline's previous positions of strength. And what are now weak areas (notably highly competitive and yield-challenged short-haul) will get worse: other hubs and airlines will divert traffic while HK Express and Hong Kong Airlines will continue to impact Cathay's key short-haul markets. It is little wonder Cathay is working so hard to prevent the entry of what would be another disruption, Jetstar Hong Kong.
Cathay has been noted for years for stand-out quality and efficiency in a region filled with inertia. But now the region is waking up and even overtaking Cathay; Air China replaced its 747-400 fleet faster than Cathay.
Cathay has an early lead but others will catch up, looking not only to take back what they see as their markets but also to go for a little more. It is in this discomfiting and unfamiliar environment that Cathay's new management finds itself. Outgoing CEO Mr Slosar hands over an airline that is considerably more premium and has the infrastructure in place for the future, having secured favourable A350 and 777X delivery slots, as well as disposing of many 747-400s (although well after benchmark competitor Singapore Airlines did so).
But still lacking is a necessarily sharper definition of where Cathay's future lies. The very basis of its hub role is being challenged, on short and, increasingly, on longhaul; flying more efficient aircraft is an important step, but can only go so far in forging new strategic directions.
By the end of this decade, Chinese airlines will be a much more powerful force in longhaul direct operations; meanwhile short haul network spokes are suffering a similar fate to those of the major hub carriers in Europe. They have finally adopted the approach of using lower cost subsidiaries or partners to feed their hubs, while still being able to participate in point to point carriage. Cathay has a short haul dual brand with Dragonair, but it falls short of being a low cost operation.
In this increasingly competitive environment, resisting change is a short term and potentially useful option - but there must be a viable long term plan beyond that. What has worked in the past can no longer be valid as a solution for the future.
For now Cathay can look forward to short term profitability in an otherwise relatively benign surrounding. It is making a pragmatic transition in the vital air freight area, as that market makes its irreversible reorientation, but passenger operations five years hence will need to be based on very different strategies from those in place at present.