Cathay Pacific adds Newark service as North America sees strongest premium rebound - DFW next?
Analysis
Cathay Pacific will become the fifth-largest foreign airline in New York City in Mar-2014 when it adds daily Hong Kong-Newark service, complementing its existing four daily services to New York JFK, three served non-stop and one via Vancouver. Newark has a different catchment area than JFK, and the new flight is ideally timed for connecting traffic around Asia, and Cathay will be targeting that broad market as well as residual premium demand after Singapore Airlines exits the Newark-Singapore non-stop market in Oct-2013.
Premium traffic is rebounding the strongest out of North America for Cathay. That rebound combined with lower capacity as 777-300ERs replaced 747-400s lead to 14% yield growth in North America in 1H2013. Yet Cathay's decision to add capacity to familiar markets reflects its risk-averse approach. This contrasts to Cathay's North Asian peers becoming more dynamic, opening secondary cities and turning their attention to the under-served Asia-Latin America market. Cathay is showing some signs of breaking through inertia as it considers a passenger service to Dallas/Fort Worth, an under-served area and the key hub for strategic partner American Airlines.
Premium rebound is strongest in North America
North American yields grew 13.6% in 1H2013 for Cathay, the strongest by far of any region (base figures are not disclosed). The increase was driven by yield mix rather than higher ticket prices, although reduced capacity also helped. In addition to a premium rebound, US routes in 1H2013 benefitted from having premium economy, which was introduced in the market in 2H2012. No US route regularly had premium economy in 1H2012, according to US DOT data.
Cathay defines its premium market as business and first only; premium economy is grouped with economy. Cathay says it has seen the strongest premium rebound in the outbound North America, and the US specifically, market. After North America London is seeing the next strongest rebound followed by continental Europe. Cathay's overall position is being helped as it replaces 747-400s with 777-300ERs, which have an approximately 16% lower seat cost, turning an unprofitable 747-400 flight into a very profitable 777-300ER flight.
Cathay Pacific capacity, load factor and yield by region: 1H2013
Newark flight makes five daily services and Cathay the fifth largest in NYC
Cathay Pacific will overtake Air France and Emirates in international capacity from New York City to become the fifth-largest foreign carrier once it adds a daily Hong Kong-Newark service on 01-Mar-2014 operated by a 777-300ER with business, premium economy and economy (but no first class), according to the carrier and subject to government approval. Only British Airways, Air Canada, Virgin Atlantic and Lufthansa will be larger foreign carriers in NYC than Cathay. Cathay will be the largest non-European/Canadian carrier, reflecting a changed market as other continents grow in prominence. Cathay will be the largest, by some measure, Asian carrier in New York City.
Top 10 carriers in New York City area airports ranked on international seat capacity: 03-Mar-2014 to 09-Mar-2014
| | | |
| --- | --- | --- |
| Rank | Carrier | Seats |
| 1 | | 90,913 |
| 2 | | 57,571 |
| 3 | | 50,168 |
| 4 | | 44,450 |
| 5 | | 25,318 |
| 6 | | 17,908 |
| 7 | | 15,046 |
| 8 | Lufthansa German Airlines | 12,138 |
| 9 | | 10,080 |
| 10 | | 9,324 |
| 10 | | 8,433 |
Newark flight ideally timed for Asian connections – and poaching SIA's traffic
The Newark service is Cathay's fifth to New York City. Its existing four services go to New York JFK, three non-stop from Hong Kong and one via Vancouver. The non-stop services are relatively recent additions opened last decade and made possible by long-range aircraft crossing the North Pole (A340-600s briefly served New York non-stop before 777-300ERs came online at Cathay).
Cathay Pacific New York City schedule: 01-Mar-2014
The Newark flight's evening departure from Hong Kong and return arrival into Hong Kong in the early morning facilitates connections across Cathay's network and reaches almost every destination, with convenient connections to key Asian cities. North American connections are challenging as the midnight hour departure from Newark facilitates connections but the return to Newark in the late evening stymies connections. Even then, Cathay's key North American partner, American Airlines, has a significantly smaller presence at Newark than JFK. So this makes the flight less focused on connecting US traffic and more geared towards local traffic around the greater New York City area, including regions south of New York City that prefer closer Newark than JFK. Newark is also a large transport hub, ideal given Cathay's cargo emphasis.
Carriers at Newark airport ranked on system seat capacity: 12-Aug-2013 to 18-Aug-2013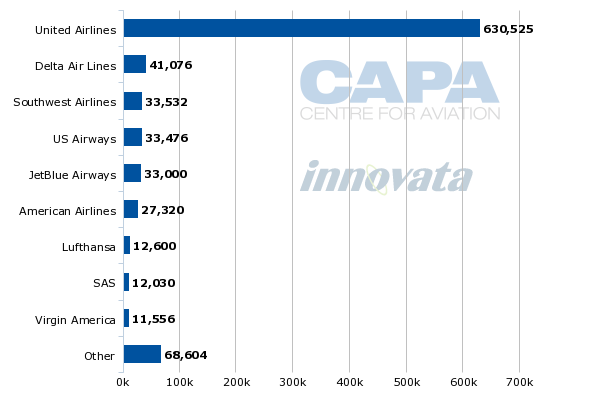 Carriers at New York JFK airport ranked on system seat capacity: 12-Aug-2013 to 18-Aug-2013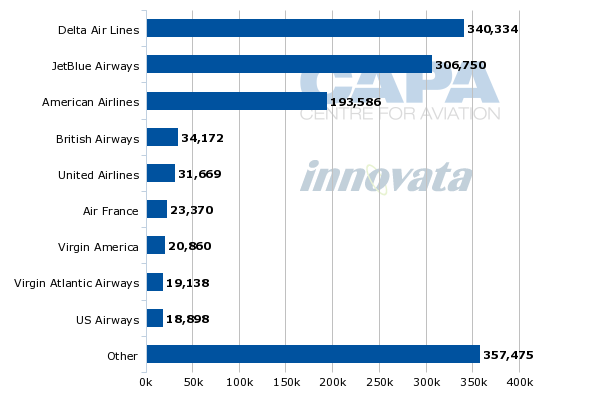 Cathay may pick-up some traffic currently on United Airlines out of Newark, although most premium traffic on US carriers is tied to corporate contracts. United has a daily 777-200ER service, the only flight besides Cathay's, from New York City to Hong Kong. In addition to boasting a far superior product, Cathay's Newark flight will allow for almost a full day's work in Hong Kong whereas United departs Hong Kong for Newark in the late morning. On the return, Cathay's flight permits a full day's work in New York or Hong Kong whereas United's mid-afternoon departure from Newark and evening arrival into Hong Kong permits neither a full day's work in New York or Hong Kong.
Potentially more lucrative is targeting the traffic on Singapore Airlines' six-weekly non-stop A340-500 flight from Singapore to Newark, the world's longest flight. The all-premium service has 100 business class seats. Singapore has found the route uneconomical given a combination of the A340-500's fuel inefficiency, high fuel prices and the structural challenges of operating all-premium services as well as such long-distance flights. Cathay's Newark flight will be operated by its 777-300ER that has 40 business class seats, allowing it to pick up any residual traffic that does not elect to fly instead on SIA's one-stop service from New York JFK to Singapore via Frankfurt on the A380. (Once SIA withdraws from Newark, Cathay will be the only Asian carrier with passenger service to two New York City area airports.) SIA is taking a cautious view to New York City capacity, seeing the withdrawal of its A340-500 service occurring shortly after a significant premium seat increase as it up-gauged its New York JFK service from a 777-300ER with 42 business class seats to an A380 with about 80 business class seats.
While Cathay will not offer a non-stop service from New York to Singapore, that point-to-point market was fairly niche and SIA saw connecting traffic from across parts of Asia, which Cathay can also provide one-stop service to. Cathay's frequent service to Singapore – about eight daily flights – means it can target the Singapore market with very convenient connections.
Newark addition is significant given Cathay's speedy 747-400 retirement
Cathay's addition of a new long-haul route (without pull-down of another) is significant given the rapid re-fleeting programme it launched in 2012. Cathay had planned a gradual replacement of 747-400s with 777-300ERs, but rising maintenance and fuel costs combined with premium weakness saw that plan accelerated in mid-2012 as Cathay looked to rapidly dispose of 747-400s. Cathay pulled-down long-haul capacity (especially in weak markets, like New York JFK) in order to re-deploy 777-300ERs on former 747-400 routes. In mid-2012 Cathay had 21 747-400s and by Jan-2014 it plans to have 12. As of 14-Aug-2013 Cathay has 32 777-300ERs and a further 18 on direct order, according to CAPA's Fleet Database.
In 2012 North America was the strongest market with an average load factor of 87.6%; Cathay's system average was 80.1%. In the first half of 2013, North America achieved an 89.2% load factor against a system average of 81.2%.
US route by route load factors show different performances. Cathay's US network performed worse than its Canadian (Vancouver and Toronto services) network with US routes only delivering a 76.9% load factor in 2012, according to data the carrier reported to the US BTS. New York JFK services were weak in 1H2012 when Cathay flagged sagging performance due to the weak financial sector. The carrier reported strong economy class performance throughout the year while sales from North America to Hong Kong and beyond were described as "encouraging" although Canada was "affected by strong competition" (i.e. Air Canada). With reductions in capacity, load factors improved. But New York JFK non-stop services only achieved a 63% load factor in 2012 according to BTS. 2013 data is, as of Aug-2013, only available through Jan-2013.
Cathay Pacific Load Factor from Hong Kong International Airport (HKG) to New York John F Kennedy International Airport (JFK): 2011-2013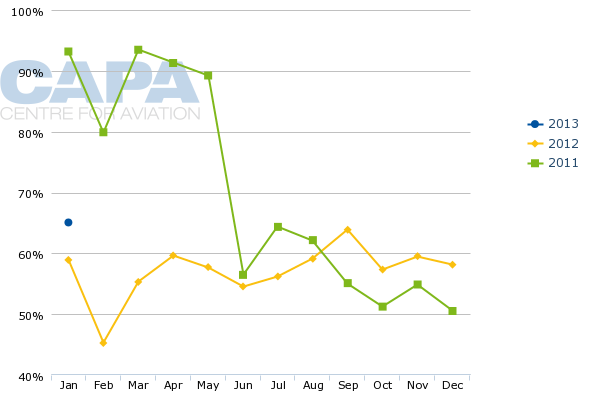 Cathay Pacific Load Factor from New York John F Kennedy International Airport (JFK) to Hong Kong International Airport (HKG): 2011-2013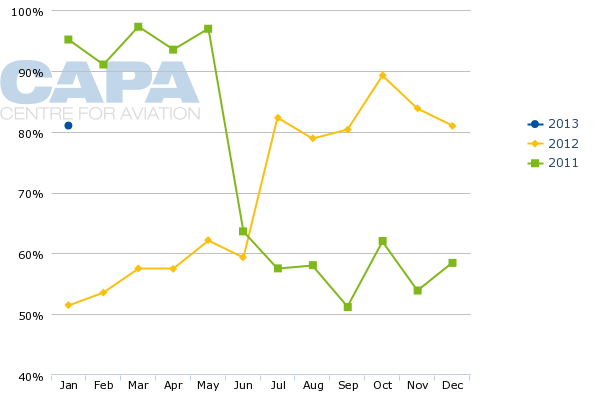 United in comparison has achieved almost consistently high load factors on its Newark-Hong Kong service.
United Airlines Load Factor from Hong Kong International Airport (HKG) to New York Newark Liberty International Airport (EWR): 2012-2013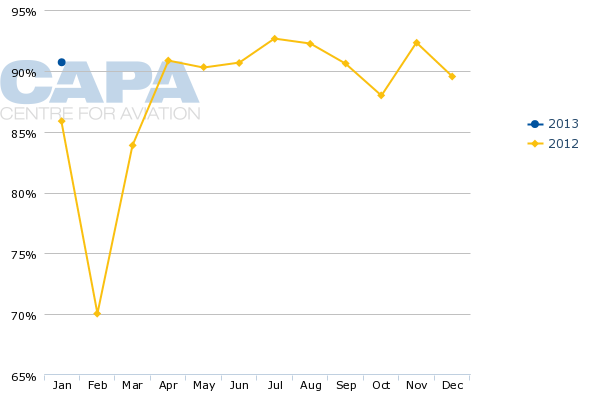 United Airlines Load Factor fromNew York Newark Liberty International Airport (EWR) to Hong Kong International Airport (HKG): 2012-2013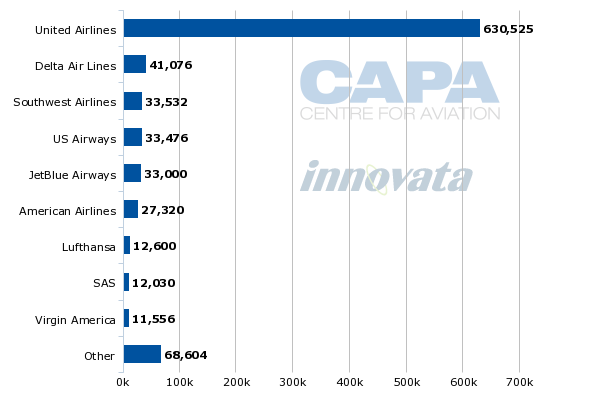 Next Cathay moves in North America expected to be capacity additions to West Coast
Cathay Pacific CEO-elect Ivan Chu, speaking on the sidelines of CAPA's recent Australia Pacific conference in Sydney, remarked that the carrier was interested in boosting its presence in its existing West Coast US destinations of Los Angeles and San Francisco. San Francisco has seen relatively consistent capacity over the last two years but Los Angeles capacity was pulled down in mid-2012 as Cathay re-deployed 777-300ERs to replace 747-400s. Los Angeles capacity has since been restored. Direct New York-Hong Kong capacity was likewise decreased but in Sep-2013 is due to be restored.
Cathay Pacific weekly non-stop flights from the US to Hong Kong: 2011-2013
The US West Coast is far more competitive for Asian traffic than the East Coast. A number of carriers like China Airlines and EVA Air heavily target connecting traffic as the primary source of passengers for some of their flights. But the West Coast is due to be even more competitive as foreign carriers eye additions: China Eastern intends to increase capacity in Los Angeles by up-gauging from an A340-600 to 777-300ER and then doubling capacity. EVA Air will move Los Angeles from 18 to 21 weekly and San Francisco from 12 to 14 weekly, to name but a few forthcoming additions. So moving before others do is understandable.
Yet Cathay will be depending on its tried-and-trusted services, which are increasing with competition. It is not considering secondary points that have become a staple for Korean Air (the largest Asian carrier across the Pacific) and are becoming increasingly common for All Nippon Airways and Japan Airlines as they seek to offer one-stop Asian service from multiple US points. Cathay's shyness is driven by inertia but also lack of medium-sized widebodies to access thinner routes. With Cathay's long-haul fleet pegged on the A330-300 (for more medium-haul routes) and 777-300ER (long-haul and ultra-long-haul), it is limited in options. But there are other long-haul points Cathay could serve with its 777-300ERs, and one such point Mr Chu said Cathay was evaluating was Dallas/Forth Worth.
Dallas has a large local area for business traffic (Emirates has been wooed) and is also the mega hub of key North American partner American Airlines, the reason Qantas launched service to Dallas from Sydney in 2011. A Dallas service from Hong Kong would be barely longer than Hong Kong-New York, but would provide far more efficient connections to the region and Latin America. Asia-Latin America is an under-served market but a few carriers are making small moves: Korean Air is growing its fifth-freedom services from the US to Latin America while American Airlines launched a Dallas-Seoul service with convenient across to Latin America. American Airlines is the strongest North American carrier in Latin America, a strong advantage if Cathay wanted to tap Asia-Latin America traffic connecting in Dallas between Cathay and American flights. (One hinderance is the requirement of a transit visa in the US due to lack of transit facilities.)
Cathay is strong in North America but has not yet shown itself to be innovative
Cathay's addition of Newark is reflective of its general mood to seek more of the old staple rather than embark on opportunities presented by changing world markets that may be more lucrative. ANA and JAL are meanwhile betting a large portion of their future on more secondary North American points, which Korean Air has already done and Asiana also looks to do. Even Air China is in the mix, having launched in 2013 a service to Houston – this from the carrier that has partnered with Cathay, financially and strategically, to learn from it.
The Newark service may do well, as North America lately has, but Cathay is foregoing a number of opportunities - some it can catch-up on (especially once it has A350s), but others may be secured by more agile peers.
The ultra-long-haul North American service is relatively new, having been launched mid last decade with long-range aircraft that could serve places like New York and Toronto without a stop. But now it is time for the training wheels to come off.