Capacity discipline remains in play – European traffic review
Analysis
May-2009 was a very difficult month for member carriers of the Association of European Airlines. While they have managed to cut capacity at unprecedented rates, and increase load factors compared to 2008, passenger traffic is still dropping, and the rate of decline shows little indication of softening.
Demand falls still worrying
For the week ended 31-May-2009 (Week 22), total scheduled traffic (RPKs) for AEA members was down 7.1% year-on-year - an improvement over the rest of the month, but still a worryingly sharp decline. For the previous three weeks, RPKs had dropped by 9-10%.
Association of European Airlines' weekly passenger traffic (RPKs) growth (% change year-on-year) by region: First 22 weeks of 2009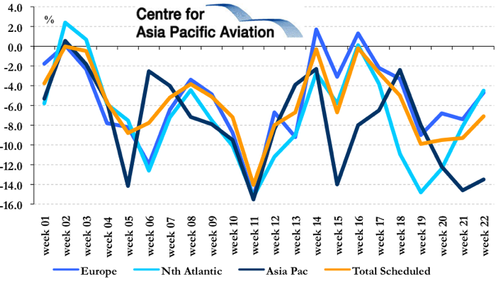 Long-haul traffic to the Asia Pacific traffic was again the worst performer, declining 13.5%, with double-digit declines stretching into their third consecutive week. Asia Pacific traffic has been notably weaker over the past few months. Traffic on the North Atlantic also continues to drop, although not nearly at the rates to Asia Pacific destinations. North Atlantic traffic declined 4.5% in Week 22, compared to the 8.1% decline in the previous week.
Cross-border European traffic continues to equal or better the performance of longer haul operations, with traffic declining 4.7%.
Capacity gap narrowing
Europe's full service carriers have continued to strip capacity by approximately 5% through May-09, with ASKs for Week 22 declining 5.4% year-on-year.
Association of European Airlines' weekly passenger traffic (ASKs) growth (% change year-on-year) by region: First 22 weeks of 2009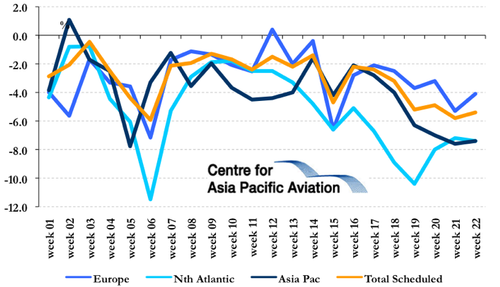 Capacity on Asia Pacific routes and across the North Atlantic was down 7.4%, after AEA members had severely reduced capacity in the North Atlantic over the earlier parts of the month. European capacity cuts were again somewhat smaller, down 4.1%, reflecting the slightly better demand situation in the region.
The gap between capacity reduction and the drop off in demand has continued to narrow over the past few weeks as carriers' capacity reductions efforts move more inline with demand levels.
Association of European Airlines' weekly RPKs & ASKs (% change year-on-year) by region: First 22 weeks of 2009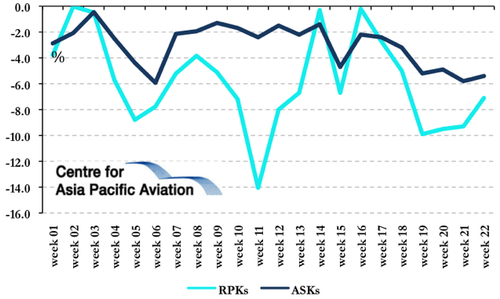 Load factors to hit year highs soon?
Passenger load factors are coming back towards the levels seen at the start of the year, and in some cases even exceeding them. Total scheduled passenger load factors were 76.3% in Week 22.
Association of European Airlines' weekly passenger load factor by region:
First 22 weeks of 2009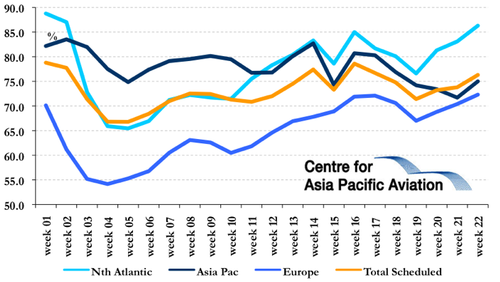 North Atlantic load factors are now firmly the strongest, hitting 86.3% in the final week of May. Asia Pacific load factors picked up to 75.0%, after six weeks of decline (the longest consecutive load factor decline recorded for the year to date, for any region).
Load factors for cross-border European traffic showed more improvement, up to 72.3%, although the region still lags the long-haul sectors. However, this is the highest passenger load factor reported for European traffic for the year to date.
But further improvement in load factors is needed.
Poor May, but can we expect anything better ahead for Europe's airlines?
British Airways CEO, Willie Walsh, commented that the market is unresponsive to demand stimulus, particularly the premium segment (where prices have plummeted up to 40%), and he saw no hope of a quick recovery.
This is a major concern, as European airlines have already cut yields to the quick to fill up their aircraft in the hope of regaining control over pricing. Excess capacity is prevalent in many markets and a broad based economic recovery remains distant.
To top it all off, the spectre of higher fuel prices continues to loom, with oil prices closing above USD70 per barrel on 09-Jun-09, after climbing 15% the previous week.
IATA Director General & CEO, Giovanni Bisignani, addressed worldwide airline CEO's at IATA's AGM in Kuala Lumpur with a strong message: the ground has shifted for airlines and losses are going to continue. No recovery is yet in sight and there is no modern precedent to forecast when it could begin. Any prediction of a "V shaped" recovery is unsupported by the facts. The estimate for European airline net losses has risen from USD1 billion (predicted in March) to USD1.8 billion.