CAPA Profiles: What's driving the world's busiest airports? #2, Beijing Capital Airport
Analysis
In the second in our series on the world's leading airports, we review Beijing's remarkable rise up the world rankings. Ten years ago, the world's busiest airport was Atlanta. In 2010, it still held that position, but the next 29 slots have seen stunning rearrangements. For instance 2010's second place winner, Beijing, was not even in the top 30 in 2000. It just barely made the top 50, ranking in the 49th position with 18.2 million passengers and a growth rate of 7.9%. The only airport in China that had a noteworthy position was Hong Kong, at number 23.
Beijing's rise is yet another indication of China's rapid ascent in global importance. And with Beijing growing at 13% as opposed to Atlanta's 1.5%, the accession of Beijing to the top position probably less than three years away.
See related report: CAPA Profiles: What's driving the world's busiest airports? #1, Atlanta Hartsfield-Jackson
Big to bigger
The terminal that was opened for the 2008 Olympic Games remains the planet's largest in terms of area and there is already discussion of the need for another airport to serve the city's needs.
See related report: Beijing prepares for future growth: Second city airport as Beijing Capital becomes world's Number 2
The first chart shows that the growth is being driven by an ever-expanding cadre of Chinese airlines, led by Air China, fresh from a record USD1.85 billion profit in 2010. Unlike many of the airports that we will examine in this series, there is not a single foreign carrier identified by name in the top 10 operators. Even in Atlanta, so dominated by Delta Air Lines, its SkyTeam partners Korean Air and Air France made the Top 10 carrier list there.
Beijing Airport's leading carriers (seats per week): 28-Mar-2011 to 03-Apr-2011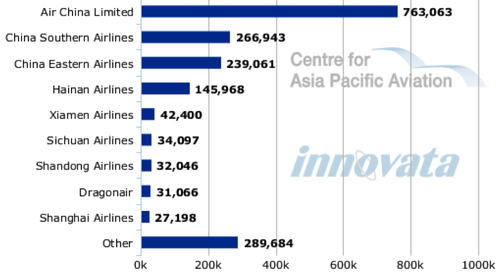 An alliance for everyone
With so many Chinese airlines, it is possible for each of the alliances to have a presence in the market, and with over 35% of the seats supplied by unaligned airlines, there are link-ups likely to be formed in the future. Hainan Airlines, with a base in Beijing, is one such opportunity.
Star's dominance is due to the presence of Air China, the oldest and largest of China's international airlines, but others are expanding and the future market may be tilted in favour of China's other flag carriers. One thing is for certain, given the influence of the government on aviation policy, expansion will not be random.
Beijing Capital Airport capacity share by alliance (28-Mar-2011 to 03-Apr-2011)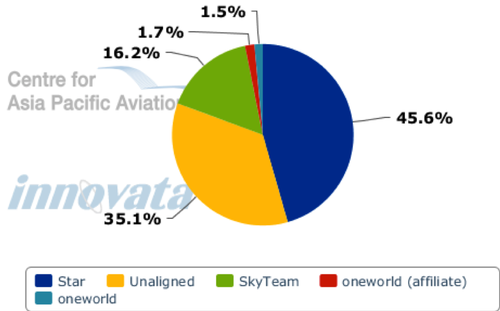 Intra-Asia on top
As might be expected, the largest chunk of seat capacity is within the near neighbourhood. Carriers in both Korea and Japan boast significant networks to cities in China and are often the ports through which incoming travelers transit.
Next comes Western Europe, primarily due to the fact that virtually every major European legacy carrier operates service to China as opposed to the US, where only three of the majors have a presence and some of the routes already granted still await actual operation.
And, like the Europeans, most airlines in Southeast Asia operate to Beijing, though their locations make travel from Europe or the US considerably longer and more indirect so European transit traffic via Bangkok or Singapore is limited.
Beijing Capital Airport international capacity by region (28-Mar-2011 to 03-Apr-2011)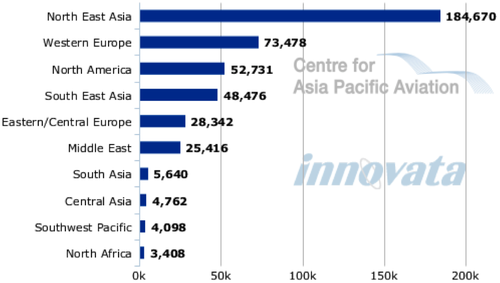 Most travel at the majority of the world's major airports is domestic. And with China's huge, and newly-affluent population, there is every expectation that domestic travel will continue to claim the lion's share.
Nonetheless, the international share is considerably larger than that seen at Atlanta, a more established hub.
Beijing Capital Airport international vs domestic capacity share (28-Mar-2011 to 03-Apr-2011)
Absent any real low cost competition in the Chinese aviation marketplace, the legacy model rules at Beijing, and that is unlikely to change in the near term.
Beijing Capital Airport capacity share by carrier type (28-Mar-2011 to 03-Apr-2011)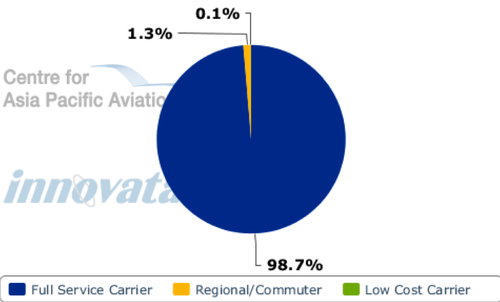 While busy throughout most of the day and evening hours, Beijing Airport operations peak between 1100-1159 and 1300-1359 at around 90 movements per hour—far below Atlanta's 201.
Click here for more operational, schedule, traffic and other information on Beijing Airport
Soon #1?
As Asia Pacific surpasses both Europe and the US to become the dominant aviation geography, it is only a matter of a few years until Beijing takes the top ACI spot. And it is likely that other airports in China will also begin to populate the top spots of the ACI rankings.