CAPA Airport Investor Database: 800 profiles, 54 major global investors. Renewed investment interest
Analysis
The CAPA Airport Investors Database is now comprehensively updated. It reveals the relatively ephemeral nature of airport investment.
The reclassification of profiles reveals that of the 788 profiles of investors into airports that exist, 54 are of 'Major Global Investors.' Within that category is a hardcore of companies, a dozen or so, which have been involved in the sector for several decades, while at the same time some of the big names that inhabited the sector during the 2000s have since departed it.
Of the rest, there is a fascinating mix: organisations that occasionally speculate in the sector, those that enter from another transport sector, existing airport operators, construction companies that decide to dabble financially, real estate developers, industrial conglomerates, along with a surprising number of airlines, and entrepreneurs.
And of course, there are the funds – infrastructure, asset, pension, investment, hedge, private equity, sovereign wealth – which have increasingly been dominating the space at the high end: primary and global hub airports.
Airport investor numbers growing constantly

The CAPA Database includes every organisation known to have made - or considered - an airport investment

Companies and consortia come and go, and occasionally some seem to leave the business altogether only to reappear years later. It is for that reason that there are so many entries in the Global Airport Investors Database; every organisation known to CAPA that has made or even considered an airport investment will be found there.
The ranks of the airport investment fraternity continue to grow, even if some have exited altogether, including several that were once an integral part of the airport financing universe. The CAPA Global Airport Investors Database currently numbers nearly 800 individual entries (10-Jul-2017) and may even reach the 1000 mark within a year.
The latest investor to be included – as a 'Potential Investor' - is Arora, the UK-based conglomerate that has proposed a cheaper third runway at London Heathrow Airport along with a (cheaper) sixth terminal, to be constructed and operated privately, within what is already a privately owned and operated airport. Examination of Arora's proposal has been supported by IAG CEO Willie Walsh and others.
This proposal potentially brings back into play the San Francisco-based construction giant Bechtel, with which Arora has co-operated. It is not yet clear to what extent Bechtel, which has its own private equity fund, Fremont, would be involved financially (as an investor). It has been regarded as a lapsed (dormant) investor for some time, having previously been active in Costa Rica and Peru.
Artist's image of the envisaged third runway prior to Arora's proposal, which would eliminate the need for construction over the M25 motorway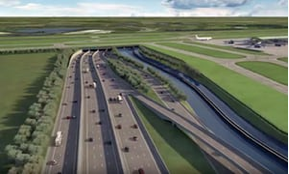 Flybondi an intriguing investor
Another potential investor that became evident very recently is Flybondi, the start-up Argentinean low-cost carrier, which presented a 15-year concession proposal for El Palomar Airport, a military facility in the Buenos Aires suburbs and connected to the downtown area by a rail connection. Flybondi would invest USD30 million in the facility.
In its own way, this is as intriguing a development as the Arora proposal for Heathrow Airport because:
It is one of the growing number of airlines opting to invest in, and operate airports
It is doing so even before its first flight takes off
The development proposal is for a military airport, which were much in demand in Europe, and to a lesser degree in Asia Pacific, a decade ago, which have fallen out of fashion there, but of which there are many other examples, worldwide
It suggests the 'low-cost airport' still has a future in some regions
It seeks to connect air and rail travel optimally
These proposals are appearing because air transport infrastructure became fashionable again three or four years ago, with a spurt of new deal opportunities, many of them in emerging markets such as Brazil.
This occurred as opportunities in other sectors diminished and with positive financial results from airlines, improved results from airports, and a raft of statistical data that promised consistent growth in air transport over the next 25 years. This is music to the ears both of institutional investors and those seeking out the main chance.
The nature of the airport investment community continues to evolve
Over the years the nature of the airport investor has changed, and continues to do so. In the late 1990s and early 2000s the investment scene was dominated by large airport operators, most of them from Europe (Aéroports de Paris, BAA, Flughafen Zürich, AENA, Fraport, Copenhagen Airports etc.), though some Asian and US airports were early adopters too, along with surface transport and real estate companies.
Some of the former are still seeking investments (though not the American ones) and have been joined by a raft of new ones. Many of the latter group were speculators and most of them have since been acquired by other companies, or have exited the business altogether.
In 2017 the picture is somewhat different. Many of the entities listed in the Global Airport Investor Database are investment funds of one kind or another: general investment, asset, pension, hedge, private equity, sovereign wealth and similar (even though hedge funds more typically chase more liquid assets than airports). They have constituted the fastest growing segment for several years and continue to do so.
113 funds included in the database
At the time of writing, taking all these funds, and fund managers into account, there are 113 of them known to CAPA (14.4% of the total, but a much greater percentage of the investment) and in many cases they are competing head-on with the investment banks, whose modus operandi is to invest in a project and then issue the related project bonds in the secondary capital markets.
(One competitive advantage for the banks does still remain, in the form of the prevailing low interest rate).
Funds tend to focus on long term investment and look for consistency
Interestingly, that ratio is marginally down on this time last year, when 14.9% of profiles were of this particular fund category. But that is not because they are exiting the business.
Their investments are for the long term, and are predicated on factors such as consistent passenger and cargo growth rates, the easing of regulatory environments, and long term infrastructural improvements such as the addition of more runways, terminal buildings, car parking, retail facilities and 'airport cities', as well as the surrounding surface access infrastructure that they don't provide themselves.
Typically, they don't leave the sector rapidly once they are in it, and while there is ambiguity as to the future prospects of the aviation industry in the UK post-'Brexit' – when the regulatory environment could become challenging – the heavy hitters who have invested in airports such as London's Heathrow, Gatwick, Stansted and City, and in Manchester Airport show little sign at this stage of wanting to move on (with the exception of Global Infrastructure Partners, whose funds owned London City Airport [which was sold to other funds!] and Edinburgh Airport, rumoured to be about to be put on sale).
More private sector entities involved in airport financing, worldwide
Rather, the funds ratio decline is because of the emergence or re-emergence of less well capitalised private investors into the sector. They include the likes of Acciona, the Spanish construction company which has bid in the public-private-partnership tender for the Norman Manley International Airport in Kingston, Jamaica; the Al-Rajhi real estate group in Saudi Arabia which is working with Turkey's established TAV Airports on airport concession contracts in the Kingdom; Bermuda Skyport, which will build and manage the new airport on the North Atlantic island; and Burns & McDonnell, an American company that wants to build and operate a private terminal building at Kansas City International Airport.
PPPs continue to gain favour in the US
Indeed, much potential privatisation activity is latent in the US just now - and not because city and council officials have experienced a revelation over the value of the lease deals rendered possible by the 1996 Airport Privatisation Pilot Programme, which has largely failed.
It is rather because they perceive the value of the less ownership-threatening public-private-partnership, which is gaining favour rapidly in cash-strapped cities and counties across the nation and has the stamp of approval of the President.
And those examples above come just from the first two alphabetical letters. Add to them the proliferation of the many organisations in China and the many organisations and individuals in Russia seeking to engage in the privatisation of airports, either domestically or internationally, and the scope of the domain becomes evident.
'Major Global Investors' – many are well established; others are there by their association with the established investors
The Major Global Investors (MGIs) are most likely to be of immediate interest.
For that reason we undertook a subdivision of the investors in Jan/Feb-2017, followed by a further one that was completed in Jul-2017. The database had reached such a size that those large, global investors that are important to most subscribers were in danger of being overwhelmed by a sea of smaller companies which might have interests in only one airport, or may have been an actual or prospective bidder in only one case and have no airport assets at all.
The criteria for MGIs are that they must be entities that have investments in at least five airports (which can include the operator itself if it is one), and at least one foreign airport must be included, i.e. an airport outside the territorial boundaries of the investor's home state.
The criteria have been rigorously applied. There were a small number of anomalies arising; for example, some organisations are classified as MGIs only because they themselves are minority investors in other organisations which are MGIs in their own right.
An example of this is African Harvest Strategic Investments of South Africa, a 'black empowerment equity partner' in Airports Company South Africa (ACSA) since 1998. ACSA has since gone on to be classified as an MGI on the basis of its investments in ten South Africa airports and in airports in Mumbai, India and São Paulo, Brazil.
Also Lufthansa, through its small stake in Fraport and the Government of Monaco through its recent investment into Aéroports De La Cote D'Azur, which has five airport investments that include a small stake in two Cypriot Airports.
Of great interest to subscribers are those dozen or so hardcore investors who have been in the business of financing airports for many years, in some cases since the mid-1990s, when the concept of taking an airport out of public ownership and into the private sector – whether by a trade sale, a lease, a BOT or PPP transaction or an IPO – became popular.
The core investors often own interests in many more than five airports
Included among these organisations are Spain's AENA, which is back on the acquisition trail again through its subsidiary AENA Aeropuertos Internacional since its own part-privatisation in 2015. Also Aéroports de Paris (now Groupe ADP, and with a brand new division, ADP International), which has investments (either individually or in association with partners) in 36 airports.
Then there is Corporación América, including Aeropuertos Argentina 2000, which accounts for 28 airports in Latin America and Europe, Flughafen Zürich (13, most of them in Latin America), and Fraport (31, recently expanded by acquisitions in Greece in conjunction with its partner Copelouzos, which is also an MGI).
In contrast, Royal Schiphol Group, with seven airports, remains an MGI mainly on the basis of what are now historical investments in New York, Brisbane and Aruba.
RSG cut back severely on its foreign investments in the wake of pressure from the City of Amsterdam, which is a 20% owner of the Schiphol Group and of Schiphol Airport. In fact, it is one of those organisations which 'exited' for a while, before returning at least to a state of inquisitiveness several years ago.
The two largest/most active investors at this point are TAV Airports (16 airports) and Vinci Concessions (33 airports) - the latter another entity that disappeared from the airport sector for a few years – both of which can be considered as a potential investor/operator of airports anywhere in the world right now.
Europe has most Major Global Investors, but Latin American MGIs are very active
Of the smaller MGIs, it is surprising how many come out of Latin America.
They include Agunsa (Chile); A-Port (Brazil, and partly owned by Flughafen Zürich); ASUR and GAP (Mexico); Grupo Mexico; Cedicor (Uruguay); and Gestión e Ingeniería IDC-Concesiones SA (Chile).
On the other hand, there is no greater number of MGIs in North America – only eight in fact: Airports Worldwide, Citigroup, and Morgan Stanley (US) and Caisse de Dépôt, OTPP, PSP and Vantage Airports in Canada. Also, one that is registered in Bermuda, which is counted as North America.
At the same time the UK, with all its aviation history, can offer only one – the Children's Investment Fund, which is a small core investor in AENA and hence in its airport portfolio.
Europe is the location of the greatest number of MGIs by far, 25 of them.
Location of MGIs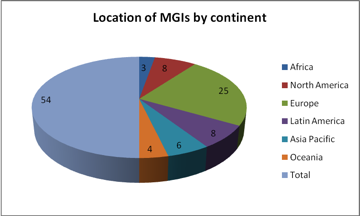 A new subdivision for three other categories
In the second subdivision of the database there was the introduction of three other categories: Active Investor; Potential Investor; and Lapsed Investor.
An Active Investor is one that has airport investments but not at the level necessary to be classed as an MGI.
A Potential Investor is one which has expressed interest in airport investment but has not yet taken any action on it. The interest may be recent or historical.
A Lapsed Investor is one that has been active but has sold its assets or gone out of business, or which has been a Potential Investor but sufficient time has passed to suggest that it will not see its interest through in the immediate future.
The airport investor profiles are accessible at https://centreforaviation.com/data/profiles/investor to those with the appropriate level of CAPA membership.
Their re-classification by type as described above will be accessible shortly.
The most recent CAPA report on airport privatisation – Airport Finance and Privatisation Review 2015/16 – was published in Sep-2016 and can be located at: https://centreforaviation.com/analysis/research-publications