Cambodia aviation market grows rapidly as Cambodia Angkor Air and foreign carriers expand
Analysis
Cambodia has emerged as one of the fastest growing markets in Southeast Asia, recording 18% passenger growth for the second consecutive year in 2013. Both of the country's main airports, at the capital Phnom Penh and the popular tourist destination of Siem Reap, saw high double-digit growth.
Continued expansion at flag carrier Cambodia Angkor Air, which has tripled the size of its still relatively small international network over the past 18 months, should lead to more rapid growth in 2014. There will also be continued growth from foreign carriers, including from six carriers which entered the market in 4Q2013. But there is a threat of political instability potentially dampening demand.
The Cambodian market has almost doubled in size since 2009. But the growth comes from a relatively small base and after declines in 2008 and 2009, when Cambodia was significantly impacted by the global financial crisis.
Cambodia records double-digit passenger growth for fourth consecutive year
Cambodia's three commercial airports handled 5.1 million passengers in 2013, representing an 18% increase in the 4.3 million passengers handled in 2012, based on figures from Cambodia Airports. The Cambodian market also recorded 18% growth in 2012, which followed 13% growth in 2011 and 14% growth in 2010.
See related reports:
The growth in 2010 returned Cambodia to pre-economic crisis levels. The market has since shot up by over 50%, reaching new highs in 2011, 2012 and 2013.
Cambodia Airports total passenger figures: 2005 to 2013
Cambodia.png" alt="" width="500" height="329" />
Since 2009 Siem Reap has consistently been the fastest growing Cambodian airport and one of the fastest growing in Asia as it has cashed in on the booming popularity of its Buddhist temples, including the famous UNESCO heritage site Angkor Wat. But Siem Reap was also more impacted than Phnom Penh during the global financial crisis as tourist traffic, particularly from its traditional largest source market of Europe, dropped significantly.
Passenger traffic at Siem Reap decreased by 11% in 2008 and by another 18% in 2009. But the recovery was fast with 26% growth in 2010 and 15% growth in 2011, when the airport was back at pre-crisis levels.
In 2012 Siem Reap traffic was up 22% compared to 13% at Phnom Penh as Siem Reap regained the distinction of Cambodia's largest airport. In 2013 Siem Reap traffic was up 20% to 2.7 million passengers while Phnom Penh traffic was up 15% to 2.2 million passengers. (Cambodia's only other airport with scheduled services, Sihanoukville, reported 41% growth to only 20,000 passengers as its lone route, Siem Reap, was upgraded by Cambodia Angkor Air to a daily service.)
Siem Reap annual passenger traffic: 2008 to 2013
Phnom Penh annual passenger traffic: 2008 to 2013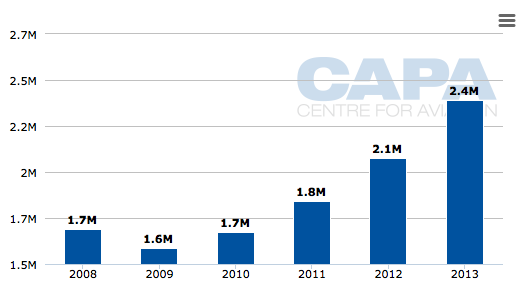 China emerges as biggest growth driver for Cambodia's aviation market
European traffic, which mainly reaches Cambodia via Bangkok or Ho Chi Minh, has recovered. But the biggest drive of the growth over the past two years has been Asian markets, particularly China and Vietnam.
Based on Cambodia Ministry of Tourism data for the first 11 months of 2013, visitor arrivals from China were up 40% to 417,000. China now accounts for 11% of total visitor arrivals in Cambodia.
China visitor arrivals have quadrupled since 2009. In 2009 Cambodia recorded only 128,000 Chinese visitors for the full year, accounting for 6% of the total.
Europe back in 2009 accounted for 37% of all visitors to Cambodia. In the first 11 months of 2013 Europe accounted for 16% of total visitor arrivals.
Although China will almost certainly overtake Europe within the next couple of years as a larger source market, arrivals from Europe are again increasing. In the first 11 months of 2013 European arrivals increased by 15% to 617,000. France, the UK and Germany are the main European source markets.
Vietnam continues to be the largest source of visitors to Cambodia, accounting for 21% of all visitors and growing 12% in the first 11 months of 2013 to 782,000. But while a large number of Vietnamese enter Cambodia at the airports, more enter via land crossings, particularly residents of southern Vietnam which is a lot closer to Cambodia than northern Vietnam.
Cambodia Ministry of Tourism figures show that 51% of all visitors enter by land and 47% by air with the remaining 2% by waterway. A majority Laotians and Thais, which are the fourth and fifth largest source markets and account for 15% of all visitors, would also enter Cambodia by land.
Other source markets in the top 10 include Korea, Japan, the US, France, Malaysia and Australia. Japan, Malaysia and Australia all saw double digit growth in 2013. (For the full list of visitor arrivals by country see background information.)
Cambodia international visitor arrivals by country of residence (top 10 only): 11M2013 vs 11M2012
Malaysia and Korea also have direct flights to Cambodia while foreigners from Europe, Japan, Australia and North America most commonly enter via Thailand and to a lesser extent via Vietnam – primarily by air but some by land, particularly backpackers who combine a trip to Cambodia with Thailand, Vietnam or Laos.
Vietnam currently accounts for a leading 23% of total international scheduled seat capacity in Cambodia while Thailand accounts for 21%, according to CAPA and OAG data. While Thailand is the most popular transit point, Vietnam also has increased in popularity with the launch of services from Ho Chi Minh by Qatar Airways as part of a flight that originates in Doha.
China is the third biggest international destination from Cambodian airports, accounting for 15% of total international seat capacity. But this figure is slightly deceiving as a large portion of passengers in the fast-growing China-Cambodia market arrive on charter flights. These figures also do not include flights operated by Spring Airlines, which is one of five Chinese airlines operating scheduled services to Cambodia and is the only LCC in the China-Cambodia market.
Cambodia international scheduled seat capacity (% of seats) by country: 27-Jan-2014 to 2-Feb-2014
Almost all the China capacity is taken up by passengers in the local China-Cambodia market. But a large portion of the Vietnam, and particularly the Thailand, capacity would be used by passengers transiting or stopping over in Bangkok, Ho Chi Minh and Hanoi.
The two largest foreign carriers in the Cambodian market are from these two countries – Vietnam Airlines and Bangkok Airways. Vietnam Airlines currently accounts for about 15% of total international capacity in Cambodia while Bangkok Airways accounts for about 11%, according to CAPA and OAG data.
Cambodia international capacity share (% of seats) by carrier: 27-Jan-2014 to 2-Feb-2014
The AirAsia Group also has a strong presence in Cambodia, currently accounting for about 9% of international seat capacity (includes Malaysia AirAsia and Thai AirAsia). Five Chinese carriers (China Eastern, China Southern, Tianjin Airlines, Spring Airlines and Air China) combined account for about 14% of total international capacity.
Of the 27 foreign carriers currently operating scheduled services in Cambodia, there are also three from Taiwan and five from South Korea.
Cambodia international capacity (weekly seats) by carrier: 27-Jan-2014 to 2-Feb-2014
Rank
Airline
Total Seats
1
VN
Vietnam Airlines*
24,830
2
K6
Cambodia Angkor Air
21,454
3
PG
Bangkok Airways*
18,410
4
MU
China Eastern Airlines*
10,212
5
KE
Korean Air*
8,904
6
CZ
China Southern Airlines*
8,812
7
FD
Thai AirAsia*
7,560
8
AK
AirAsia*
7,560
9
KA
Dragonair*
6,727
10
MI
SilkAir*
6,688
11
OZ
Asiana Airlines*
6,444
12
MH
Malaysia Airlines*
5,904
13
ZA
SkyWings Asia Airlines
5,760
14
TG
Thai Airways*
4,616
15
3K
Jetstar Asia*
3,600
16
QR
Qatar Airways*
3,096
17
TR
Tigerair*
2,880
18
ZE
Eastar Jet*
2,604
19
BR
EVA Air*
2,192
20
CI
China Airlines*
2,184
21
BX
Air Busan*
1,560
22
QV
Lao Airlines*
1,540
23
LJ
Jin Air*
1,504
24
9C
Spring Airlines*
1,440
25
5J
Cebu Pacific Air*
1,432
26
GS
Tianjin Airlines*
1,376
27
CA
Air China*
1,280
28
8M
Myanmar Airways International*
972
29
GE
TransAsia Airways*
728
A majority of Bangkok Airways passengers to Cambodia originate in Europe and transfer to Bangkok Airways from European and Gulf carriers. Vietnam Airlines carries a much larger share of local passengers, primarily Vietnamese tourists, but also offers connections.
Vietnam Airlines also has a large stake and has a very close partnership including management ties with Cambodia Angkor Air. Cambodia Angkor Air was established in 2009 as a joint venture with Vietnam Airlines and has been one of the fastest growing flag carriers in Asia over the past 18 months, albeit from a very small base.
Cambodia Angkor Air's international capacity has increased by more than 70% over the last year, from about 12,500 weekly seats in Jan-2013 to about 21,500 weekly seats in Jan-2014. At the beginning of 2013 the carrier only served four international routes – Phnom Penh to Ho Chi Minh and Siem Reap to Ho Chi Minh, Hanoi and Bangkok (the latter of which was only launched in Nov-2012). Over the last 13 months seven routes have since been launched, including Phnom Penh-Hanoi (Jan-2013), Phnom Penh-Bangkok (Feb-2013), Siem Reap-Guangzhou (Sep-2013), Siem Reap-Hangzhou (Dec-2013), Siem Reap-Shanghai (Dec-2013), Phnom Penh-Shanghai (Dec-2013) and Siem Reap-Wenzhou (Jan-2014).
Cambodia Angkor Air plans to add a sixth China route, Siem Reap to Fuzhou, on 1-Feb-2014. Siem Reap-Fuzhou will initially be served with three weekly flights. All five of Cambodia Angkor Air's other China routes are also currently served with three weekly flights except Guangzhou-Siem Reap, which is served daily according to OAG data. Cambodia Angkor Air also has launched some charter routes to China over the last year, including to Xiamen.
A second smaller Cambodian carrier, SkyWings Asia Airlines, also operates some charters to China but focuses primarily on the Cambodia-Korea market with scheduled A320 flights from Siem Reap to Seoul and Busan. SkyWings, which is registered in Cambodia but based in Seoul, also serves the Siem Reap-Hanoi route.
Total scheduled capacity from Cambodia to China has increased by more than 50% over the last year, according to CAPA and OAG data. Total one-way capacity between the two countries in 1H2014 will fluctuate between about 10,000 and 13,000 weekly one-way seats (the market is highly seasonal). Cambodia Angkor Air will capture an estimated 19% share of the scheduled Cambodia-China market in Apr-2014, up from about 14% currently and zero just a few months ago.
Cambodia to China total capacity (one-way seats per week): 19-Sep-2011 to 3-Aug-2014
Vietnam is still Cambodia Angkor Air's largest market, accounting for 61% of the carrier's current international seat capacity. But its capacity to Vietnam in 2013 was relatively flat year-over-year (with normal seasonal fluctuations) while it has focused on expanding in Thailand and China.
Thailand, which Cambodia Angkor Air currently serves with four daily flights (three on Siem Reap-Bangkok and one on Phnom Penh-Bangkok) account for 22% of the carrier's current seat capacity. China accounts for the remaining 17%, according to OAG and CAPA data.
Cambodia Angkor Air international capacity (seats) by country: 27-Jan-2014 to 2-Feb-2014
Cambodia Angkor Air is expected to pursue further expansion with a focus on the China market as it looks to further expand its A321 fleet. It also has been evaluating other potential North Asian routes, including Busan and Seoul in South Korea.
See related report: Cambodia Angkor Air plans network and fleet expansion ahead of PAL-backed Cambodia Airlines launch
Cambodia Angkor Air originally aimed to launch services to South Korea in 2013. But the carrier likely re-considered these plans as the Cambodia-South Korea market has become extremely competitive, with service from SkyWings and five Korean carriers (Asiana, Korean Air, Eastar Jet, Air Busan and Jin Air). While the Cambodia-Korea market is big, Korean visitor numbers also have not been rising nearly as rapidly as other Asian markets, increasing by a modest 4% in the first 11 months of 2013.
Cambodia Angkor Air currently operates three A321s and two ATR 72 turboprops, according to the CAPA Fleet Database. The carrier's fleet plan had envisioned five A321s and five ATR 72s by the end of 2014 and six A321s and six ATR 72s by the end of 2015. While some expansion is still expected in 2014 it is unlikely so many aircraft will be added.
In 2013 the carrier was planning to add a third ATR 72 but this acquisition never materialised, providing little confidence that the rest of its fleet plan will be implemented. The carrier so far has been focusing on expanding capacity by improving utilisation rates.
Cambodia Angkor Air also allocates 20% to 25% of its seat capacity to the domestic market, where it currently operates six daily ATR 72 flights between Phnom Penh and Siem Reap and one daily flight between Phnom Penh and Sihanoukville, according to OAG data. Cambodia Angkor Air is currently the only scheduled domestic carrier in Cambodia. It carried about 180,000 domestic passengers in 2013, according to Cambodia Airports data.
Vietnam Airlines Group accounts for nearly half of all passengers at Siem Reap
According to Cambodia Airports data, Cambodia Angkor Air accounted for 23% of passenger traffic at Siem Reap in 2013. Vietnam Airlines also accounted for 23% of passenger traffic at Siem Reap in 2013, giving the Vietnam Airlines Group a powerful 46% share of traffic at one of Asia's fastest growing airports.
Siem Reap traffic share (% of passengers) by carrier: 2013
Phnom Penh is a more fragmented market with Cambodia Angkor Air accounting for just a 12% share of passengers in 2013. Eight carriers, including Vietnam Airlines, accounted for shares ranging between 6% and 8%.
Phnom Penh traffic share (% of passengers) by carrier: 2013
Phnom Penh is currently served by 19 foreign carriers, according to OAG data. According to Cambodia Airports, two carriers launched services to Phnom Penh in 2013 – Qatar Airways in Feb-2013 and Tianjin Airlines in Oct-2013.
Qatar Airways currently serves Phnom Penh from Doha via Ho Chi Minh six times per week and is the only carrier from outside Asia in the Cambodian market, according to OAG data. Qatar and Thai Airways are the only carriers currently operating widebody aircraft in Cambodia (but most of Thai's flights are operated with 737s). Tianjin operates four weekly flights to Phnom Penh from Tianjin.
Siem Reap is currently served by 22 foreign carriers. According to Cambodia Airports, six carriers launched services to Siem Reap in 2013: Spring Airlines (Feb-2013), Thai AirAsia (Oct-2013), Cathay Pacific subsidiary Dragonair (Oct-2013), Air Busan (Nov-2013), Air China (Dec-2013) and Jin Air (Dec-2013).
Spring currently operates four weekly flights from Shanghai; Thai AirAsia two daily flights from Bangkok Don Mueang; Dragonair four weekly flights from Hong Kong; Air Busan four weekly flights from Busan; Air China four weekly flights from Beijing; and Jin Air four weekly flights from Seoul.
More rapid growth expected in 2014, especially for Siem Reap
Siem Reap is well positioned for more rapid growth in 2014, partly driven by the new capacity which was added at the end of 2013. Five new carriers entered the market in 4Q2013 while Cambodia Angkor Air has launched or will launch five routes from Siem Reap to China in late 2013 or early 2014.
Phnom Penh will again see slower growth than Siem Reap. Potentially the growth at Phnom Penh could be much slower if the recent labour protests at the Cambodian capital return.
So far carriers serving Phnom Penh, including Tigerair, say the protests have not significantly impacted demand. Arrivals traffic figures at Cambodia Airports were reportedly up 25% year-over-year the first three weeks of January. This indicates that tourism has not been impacted by the at times violent protests in early Jan-2014 and the Cambodian aviation market is on track to have another high growth year in 2014.
But if the situation becomes more violent or less stable there would likely be an impact. As in the case of neighbouring Thailand, demand will likely only impact the capital while other tourist destinations (such as Phuket in the case of Thailand and Siem Reap in the case of Cambodia) are not impacted or even see faster than normal growth as leisure travellers adjust their plans.
Tourist arrivals dominate the traffic at Siem Reap and also account for an overwhelming majority of traffic at Phnom Penh, which is a much bigger city with a population of over two million compared to less than one million at Siem Reap. In the first 11 months of 2013 visitors accounted for 96% or 1.041 million of the 1.089 million international arrivals at Siem Reap. At Phnom Penh visitors accounted for 77% or 750,000 of the 973,000 international arrivals. Of the visitor arrivals, an overwhelming 95% were tourists.
With such a high concentration of tourists – more than four out of every five air passengers in Cambodia is a foreign tourist – it is imperative for the Cambodian government to offer a stable environment. Under the right environment the rapid growth Cambodia's airports have seen in recent years will continue, driven in particular by the inbound China market.
This is the first of a two-part series of analysis reports on the Cambodian market. The second report, to be published later this week, will look at the prospects for a new Cambodian carrier, including the potential Cambodian joint venture project from the Philippine Airlines Group.
Background information
Cambodia international visitor tourist arrivals by country (all countries): 11M2013 vs 11M2012