British Airways provokes North Atlantic business war. Air France-KLM loses, Turkish gains
Analysis
British Airways (-3.8%) has targeted the business class market on US routes after reporting a particularly weak first quarter result (see below). Air France-KLM (-3.3%) also lost ground, but SkyEurope (+9.3%) and Aer Lingus (+6.1%) also continued a brief revival. Turkish Airlines (+6.8%) gained strongly on announcement of a cash dividend payment (See below). The rapidly growing carrier's Kevin Costner TV commercials have been a big hit too.
SkyEurope last week announced it was postponing announcement of its annual results (see below).
For daily updates on American aviation stock prices and a complete wrap of the day's breaking news, sign up now for a complimentary subscription to America Airline Daily.
Europe selected airlines daily share price movements (% change): 22-May-09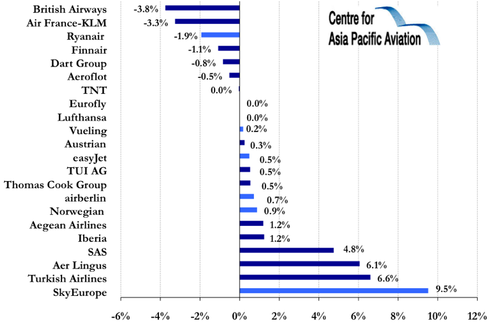 BA loses GBP331 million in 1Q09, yields down 16%; new business class war and online for business.
British Airways again highlighted its lost premium traffic in explaining its large loss in the past quarter. So it was not surprising that a campaign to recapture some of it was announced immediately afterwards.
Sparking a premium fare war for the summer
In order to bolster the flagging premium market, British Airways has announced an offer of two business class seats for the price of one. These are available from all of BA's 18 US gateways to London, thereby protecting the carrier's better yielding home market. Bookable before Tuesday 26th May (Monday is a public holiday in the US), the fares are available through the summer season, beginning 1-Jun-09. 40% reductions were last week offered across BA's Americas' services for travel originating in the UK, but available only until 30-Jun-09.

Summer is typically a lower business-usage period. But it does suggest that forward bookings remain even worse than usual – and that even demand for BA's frequent flyer redemptions is not able to match these yield levels during the period.

While these two-for-one offers generally involve paying more than the cheapest "one" price, the effect will inevitably be to reduce average yields, as the carrier seeks to improve gross revenue.

How successful the offer will be depends to some extent on the reaction of its competitors on US routes. Would-be partner, American Airlines, has already announced that it will match the offer. SkyTeam and Star alliances have not responded in kind. Nor has Virgin Atlantic – although the carrier has very aggressive pricing on its trans-Atlantic premium products. (For more information, see related article: Happy birthday, old man Star Alliance! Star, oneworld and SkyTeam getting younger by the day).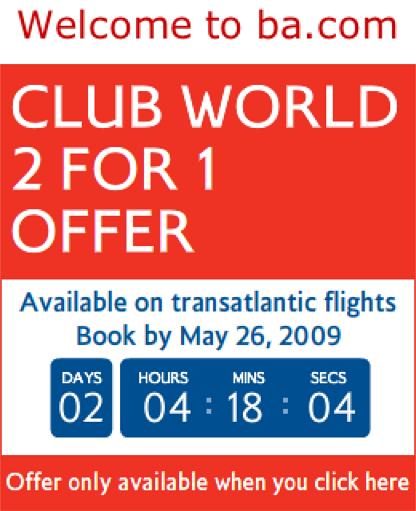 BA Results for the full year to 31-Mar-09 were:
Operating loss of GBP220 million, including restructuring costs of GBP78 million (2008: GBP878 million profit - restated)
Loss before tax of GBP401 million (2008: GBP922 million profit - restated)
Revenue GBP8,992 million (2008: GBP8,758 million - restated)
But what has happened most recently is more important in a year of two halves – one of high fuel prices, the other of low demand.

In the most recent quarter, to 31-Mar-09, BA's Group revenue was down 8.4%, to GBP1.9 billion, on operating costs up 13.3%, resulting in an operating loss of GBP309 million.

Excluding fuel costs and the impact of exchange, operating costs were down 5.5% in the quarter. For the quarter, the loss before tax was GBP331 million. Passenger revenue for the quarter was down 8.0%.
Yields were down 2.5%, but down 16.0% excluding exchange - so that the GB pound's weakness has come to the airline's rescue during the quarter.

And there is a bleak outlook: British Airways' chairman Martin Broughton said: "In the last twelve months we have gone from a record profit to a record loss due to the current tough economic environment. That only serves to underline the extremely difficult trading conditions that we are facing, despite our best ever operational performance, and any recovery is likely to take longer than initially envisaged. The revenue outlook continues to be weak during the current financial year but we expect lower fuel prices to reduce our fuel costs by approximately GBP400 million."
Capacity – to be reduced again in summer
In response to trading conditions, capacity was reduced by 3.1% in winter 2008 and 2.5% in summer 2009 compared to the previous year. BA will continue to reduce capacity by taking out around a further 4.0%in winter 2009. This will involve parking up to 16 aircraft.
Turkish Airlines shares have been boosted by the announcement early in the week of a cash dividend.

The airline's statement noted it would "be distributing cash dividend from the net income of 2008 in the amount of 99.213.754,21 TL. Thus, starting as of May 21st 2009, for each 1 TL par value; 0,56694 TL (%56,694) gross, 0,48190 TL (%48,190) net dividend will be paid.

According to the Capital Market Rules cash dividend will be paid by Central Registry Agency Inc (Merkezi Kayıt Kuruluşu A.Ş) to the shares which are registered at the Central Registry Agency Inc (Merkezi Kayıt Kuruluşu A.Ş (MKK)).

Shareholders that are not registered their shares with the MKK will be able to exercise their rights after their shares are registered inaccordance with the CMR temporary Article 6. The authorized brokerage houses given below for the registration process.

The shares which are registered after May 21st 2009 shall be able to receive their dividend for the period of 1 year from T.Garanti Bankası A.Ş. Ankara Investment Center, İzmir Investment Center and Head Quarter of Garanti Investment against 2008 share price coupon."
SkyEurope
It is not clear if SkyEurope's share price rise was in any way connected with its pending results announcement, or with the carrier's extension of its loan facilties.

The LCC last week announced a delay in issuing its FY08 results. The following statement was made: "SkyEurope Holding AG announces the further postponement of the publication of its annual financial statements for the financial year ended 30-Sep-08 as SkyEurope Holding AG's management continues to assess certain material estimates in connection with these annual financial statements."