British Airways, Iberia, Air France-KLM rise, Lufthansa drops back – Share Wrap
Shares in British Airways rose 3.5% yesterday, outperforming the 2.3% rise in the FTSE 100 Index. The carrier announced plans to launch non-stop daily service between Heathrow and Las Vegas McCarran International Airport in late Oct-2009, ostensibly to support the growing number of traders deserting the City in favour of the Strip in search of better returns.
BA gained as US and European airports lined up behind to support the carrier's proposed alliance with American Airlines. Eurofly (+16.8%) shares again surged as investors rushed to get a piece of the action (more below). Thomas Cook (+6.3%) and SAS (+5.1%) were also strong in optimistic European trading generally.
Off-and-on (presently off) BA merger, Iberia, had a solid day, rising 2%, while Air France-KLM rose 0.6%.
However, despite the overall market's upward momentum, European airline shares did not experience the same euphoric rises as their American counterparts.

Thomas Cook Group, which had delivered a dividend last week, issued a relatively bullish outlook (more below).

Finnair (-5.3%) lost ground as the Nordic markets undergo re-examination. Asian long haul markets are losing traction (see the Centre's report today on premium traffic in Mar-2009).
Lufthansa eased 0.5% as investors worry the Cologne-based giant has been drawn into a takeover (of bmi) that could prove to be a bridge too far.
Europe selected airlines daily share price movements (% change): 18-May-09
Eurofly
Undoubtedly the hit of the year with investors, Eurofly appears to be developing well into the Italian niche market between New York and the old country.
Eurofly share price growth: Jan-2009 to May-2009
Operating 6 times weekly service JFK-Rome Fiumicino during the summer, along with four times weekly to Palermo and twice weekly to Naples, the airline appears to have touched the right nerve, with its model.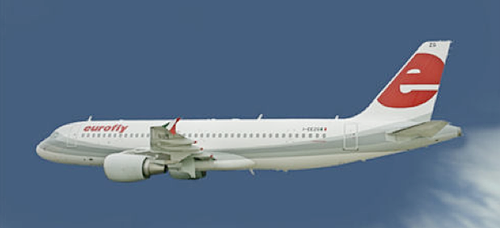 Eurofly's fleet age averages less than 4 years. The A330-200 used on intercontinental flights, is configured with 26 business class and 256 economy class seats. Eurofly offers fast-track check-in desks and VIP lounges for business class customers, who also get Sicma "made-to-measure" seats with satellite phone, personal screens with 8 channels, 10 audio channels and 12 video games. "Italian meals complete with top quality wines from the on-board wine cellar are also offered while crossing the Atlantic". Economy Class
includes "new Recaro seats" with a personal TV screen.
Pretax losses for the tour operator for the six months to 31-mar-09 grew to GBP280.4 million, against GBP233.2 million for the same period last year. Despite this, revenue was up 12.6%, to GBP3.48 billion (from GBP3.09 billion), as the UK currency fell against most others. The operating loss was an improved 15.6%, at GBP110.9m.
Despite the losses, and announcing a 5% cut in capacity (holiday unit sales) for summer, Thomas Cook Group plc CEO, Manny Fontenla-Novoa, believed: "We delivered a strong performance during the first half, which is the off-peak season in all our markets except Canada, with improvements in seasonal operating loss of 16T.
"Our focus on mainstream holidays, and in particular medium haul, combined with the flexibility in our business model and our ability to deal with changes in demand patterns has benefited us. These results demonstrate not only this, but also the strengths of our cost discipline, brands, products and people.
"We remain confident that we are on track to meet our full year expectations. Our confidence is underpinned by our proven ability to manage capacity and costs as well as driving synergy improvements and implementing contingency measures as appropriate. As a result, we are increasing our interim dividend by 15 percent."