British Airways, Air France-KLM, Lufthansa all lose as markets turn sour. Aer Lingus cuts back
Analysis
Most European bourses were down around 2-3% and if the airline sector's performance on Monday is any indication, airline shares could be in for a battering, if negative market sentiment persists more than a couple of days.
The falls were accompanied by a drop in oil prices (as the US dollar rose), but this did not compensate for the general malaise. Oil industry indications are that a USD70 minimum benchmark is considered necessary to encourage higher levels of production - even though stocks are already high.
For daily updates on American aviation stock prices and a complete wrap of the day's breaking news, sign up now for a complimentary subscription to America Airline Daily.
Europe selected airlines daily share price movements (% change): 15-Jun-09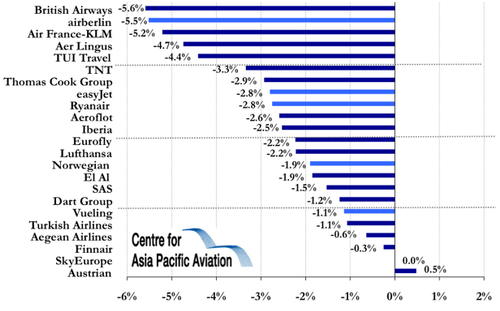 Aer Lingus cutbacks signal another round of change - but Gatwick to expand
The Irish flag carrier announced on Friday that it was to reduce long-haul capacity by 25% in the winter season, as well as cutting back on short haul, reducing its Dublin based fleet from 24 to 22 aircraft and making further staff adjustments, including unpaid leave for flight crew.
The low key announcement, from one of the industry's least media friendly airlines, appears to constitute a new overhaul of the airline, as, according to the statement, "We are looking at the whole operation of Aer Lingus and we are starting off with the winter schedule."
The decision comes as "yields have been declining in exceptionally poor market conditions,". In 1Q2009, Aer Lingus' yields on long-haul routes fell by 19%.

Reducing services, while clearly necessary to stem losses, will do little to garner popular support for the airline, as services to Shannon do much to support the tourist trade. Reducing US links will be unpopular, regardless of the economic justification.
And Ireland's largest union, the Services, Industrial, Professional and Technical Union (SIPTU), described the US route cutbacks as "madness" and Ryanair was also quick to comment, with media spokesman Stephen McNamara noting that "Ryanair regrets the cut backs at Aer Lingus as they represent a step backwards not forwards. Today's announcement highlights the mistake the board and the government made when they rejected Ryanair's January offer which promised to double the Aer Lingus fleet to over 60 aircraft, thereby creating 1,000 new jobs."
The Irish economy is leaking badly and Aer Lingus' announcement earlier last week that it was to expand its new Gatwick operation will not go down well at home. Gatwick was launched as the carrier's first international base outside Ireland in Apr-2009. Six new destinations, Bucharest, Eindhoven, Tenerife, Lanzarote, Warsaw and Vilnius will be added to the current schedule for the winter season, while Nice is being dropped.