Brazil's airlines wobble as the economy wobbles and infrastructure upgrades lag expected growth
Brazil's largest airlines have discreetly had little to say about the the FIFA World Cup, just weeks away now.
Instead, GOL and TAM have been busy attempting to adjust their businesses to falling demand in the Brazilian domestic market, driven by the country's slowing economy and a devaluation of its currency. GDP growth has fallen from emerging nation highs to below 3%.
Meanwhile, infrastructure goals have not yet been kicked and airport privatisation moves have generated considerable heat, without providing much light. Football's FIFA too has expressed concern that the dedicated sports facilities too are well behind schedule. For Brazil to showcase its newly found world status, things will have to move quickly from here on.
Capacity rationalisation by Brazil's two largest airlines has restored some financial stability in the market
Together TAM and GOL represent 75% of Brazil's domestic market share from Jan-2013 to Oct-2013. While financial stability is important, neither airline plans capacity additions during 2014 to accommodate the expected 600,000 foreign visitors to Brazil, and the estimated three million domestic passengers which will attend the various matches around the country.
Brazil's airport infrastructure remains under a cloud, with its readiness to handle the World Cup spectators still uncertain, as the Jun-2014 tournament start looms. The latest, controversial, round of airport privatisation awards for Rio de Janeiro Galeo and Belo Horizonte was completed in Nov-2013 and by late 2013 at least seven airports remained behind schedule in completing infrastructure improvements to support the projected increase in passenger travel.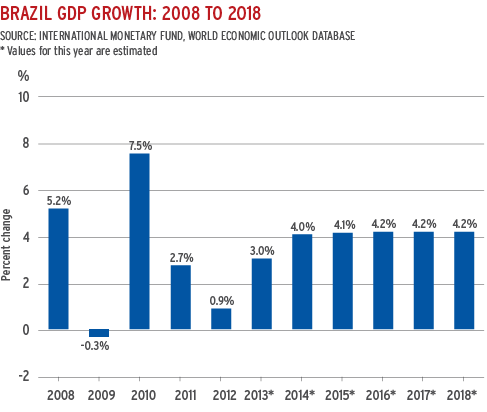 Brazil competed successfully to host the World Cup and Olympics during more heady times
But times change. The economic expansion euphoria that followed Brazil's victories in securing winning bids for the 2014 World Cup and the 2016 Olympics during 2009 occurred as the country recorded 5% GDP growth in 2008 and a 7.5% growth in 2010.
Traffic growth in the Brazilian domestic industry reflected the country's favourable economic stature as domestic RPK growth soared 23.5% year-on-year during 2010 and 15.9% in 2011. But as Brazil's economy began to soften in 2012, domestic traffic growth slowed to 6.8% in 2012. As economic conditions continued to deteriorate – Brazil's GDP only increased 0.9% during 2012 – carriers faced the unenviable situation of overcapacity and quickly had to adjust their supply to match weakening demand.
During 2012, Brazil's second largest carrier GOL cut its ASKs 5% year-on-year while still racking up a BRL1.5 billion (USD646 million) loss for the year.
Data from the country's civil aviation authority ANAC show that domestic capacity from Jan-2013 to Oct-2013 fell 4% while traffic increased just 0.37%. TAM, which is now part of LATAM Airlines Group, recorded an 8% drop in capacity and 0.32% traffic growth. But its 40% market share remained essentially the same year-on-year. TAM ushered in its more dramatic capacity reductions after GOL, which actually saw a slight rebound in its market share for the 10 months ending Oct-2013 from 34% to 35%. As it has worked to slash capacity during the past couple of years GOL has been willing to cede market share to stem mounting losses.
GOL's domestic capacity actually grew 4.5% during the 10 months ending Oct-2013 while its traffic increased roughly 4%, which suggests an overall rational supply-demand balance in the Brazilian domestic market.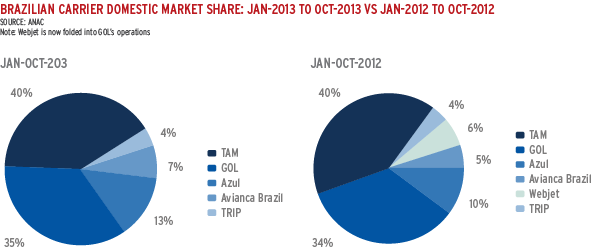 But Brazil's still relatively fast-growing carriers Avianca Brazil and Azul recorded double-digit capacity growth of 33% and 27%, respectively, during the first 10 months of 2013. Avianca Brazil's traffic grew by 39% while Azul recorded 29% traffic growth, indicating their increase in supply is largely being absorbed by the domestic market.
Those carriers appear to be seizing on opportunities created by pullbacks at TAM and GOL. Avianca Brazil has a unique position in that it is a full-service operator with a single-class offering, positioning itself between Brazil's only full-service network carrier TAM and lower-cost airlines Azul and TRIP, who are in the process of merging.
TRIP recorded a nearly 16% drop in capacity year-on-year from Jan-2013 to Oct-2013, and a roughly 6% decrease in traffic. Although Azul and TRIP began the process of operating under a single brand in late 2012, their capacity and traffic statistics are still broken out separately by ANAC. Some of the capacity and traffic declines at TRIP are likely a result of eliminating perhaps unprofitable or overlapping routes from the joint network as the carriers work towards rationalising their operations.
Brazil's domestic air capacity is not expected to expand significantly, despite the likely spike in demand

There is seemingly to be no huge spike in capacity in order to accommodate the increase in foreign and domestic travellers attending the World Cup matches. Schedules in OAG suggest that the number of seats in the Brazilian domestic marketplace will only increase about 2% from the beginning of Mar-2013 to the start of Jun-2013, when projected seats are approximately 2.5 million.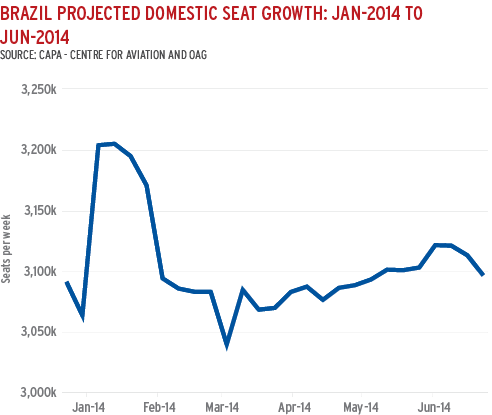 Even as Avianca Brazil and Azul expand, Brazil's two largest carriers are continuing to limit capacity as LATAM expects its capacity in the country's domestic market to shrink 7% to 9% year-on-year. GOL has recently outlined flat capacity growth during 2014 with a renewed focus on international growth. The LCC plans a 5% to 8% rise in international capacity in 2014, which is a re-orientation of its strategy. Before weak economic conditions forced the carrier to start reining in domestic capacity during 2012, GOL had outlined a strategy to focus on the local market.
Now GOL is signalling that it will launch new international service in 2014 following its resumption of flights to the US in Dec-2012 with service from Rio de Janeiro to Miami and Orlando through a stop-over in Santo Domingo.
LATAM recently concluded that its turnaround in the Brazilian domestic market is complete, reflected by the company's 19% year-on-year improvement during 3Q2013 in its Brazilian domestic unit revenues. During that time LATAM's domestic operations within Brazil represented 34% of the company's capacity, the largest of any region within the combined network of LAN and TAM.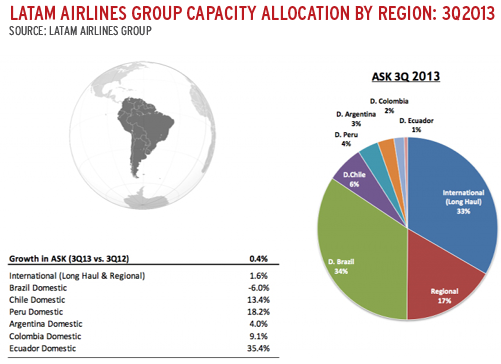 Given the recent rebound in the weak Brazilian domestic market, LATAM clearly does not plan to lose the revenue momentum it has regained in the Brazilian domestic market by introducing more capacity than can be absorbed.
In the course of outlining their respective strategies to weather softening demand in the Brazilian market during the past few months, neither GOL nor TAM has discussed – or predicted – any huge financial gains from the projected increase in air travel resulting from the World Cup. Perhaps the expected surge in domestic passengers might be tempered by some hesitancy among the country's citizens to spend on air travel even as Brazil's GDP growth is expected to climb back to 4% in 2014.
Despite privatisation moves, Brazil's airports face a time crunch in supporting World Cup traffic
Even if by chance the number of native Brazilians travelling to World Cup events falls below expectations, Brazil's airport infrastructure is already essentially bursting at the seams, and concerns are growing that various upgrades underway at airports serving cities hosting the events will not be completed in time.
As previously reported by CAPA, Brazilian airport operator Infrareo in Sep-2013 indicated that it had encountered delays at seven airports serving World Cup cities: Rio de Janeiro Galeao, Porto Alegre, Curitiba, Ciuaba, Fortaleza, Salvador and Belo Horizonte Tancredo Neves.
The country has completed two rounds of privatisation for five Brazilian airports in which the winning bidders have paid more than USD20 billion. Infrastructure and Investment Holdings SA, in which Airports Company South Africa is a partial owner, won the bid for Sao Paulo Guarulhos; Brazil Airports Consortium secured the right to operate Campinas Viracopos while InfrAmerican was awarded the concession for Brasilia.
In Nov-2013 the Government awarded the concession for Rio de Janeiro Galeao to Odebrecht TransPort, a consortium in which Changi Airports International is a member, after it bid USD8.3 billion. Aerobrasil Consortium, whose members include Zurich and Munich Airports, emerged with the winning USD788 million bid for Belo Horizonte.
In each case, the bids were substantially above the minimum asking price, with Brasilia fetching a 673% premium, followed by Guarulhos at 373%, Rio Galeao with 294% and Campinas at 160%. Investor willingness to pay a premium for the privatisation of Brazil's airports is certainly a positive sign for the long term; however Infrareo still holds 49% in the overall equity in each airport.
During Sep-2013, prior to the awarding of concessions for Galeao and Belo Horizonte, project upgrades at those airports were 34% and 31% complete, respectively. At that time construction at the previously privatised airports was at least 50% complete while the remaining airports solely operated by Infrareo had a lower level of completion.
That's not an encouraging sign for the remaining airports in the other host cities throughout Brazil, where some airports are declaring certain upgrades will not be completed by the tournament's start, including an ILS category three approach at Curitiba, even as June is typically one of the worst months for visibility at the fog-prone airport.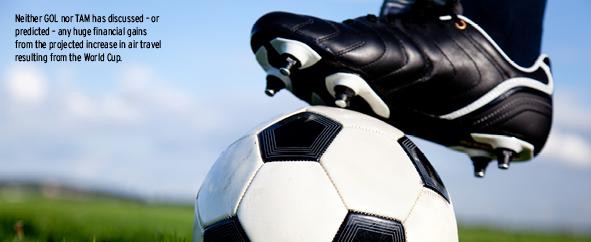 Brazil has a lot to prove - and not long to do it
Celebrations of the country's rising stature after conducting success campaigns to host the 2014 World Cup and 2016 summer Olympics were quickly tempered by a weakening economy and unrest and protests among Brazil's non-ruling class during mid-2013 over increases in bus and metro fares. There are also concerns that stadium renovations in some host cities will also miss targeted deadlines for completion. These are hardly unusual headlines for pre-event construction; indeed, they are almost predictable.
But the combination of uncertainties, coupled with still-lingering soft demand in the Brazilian domestic market, are casting a cloud over the excitement leading up to the start of the world's largest sporting event that occurs every four years.
The hope is airports, airlines and other crucial elements of the country's infrastructure can join together to meet the expectations of fans and passengers alike – but for now it seems doubt and uncertainty are the mainstays lingering over Brazil's preparations for the 2014 World Cup.
This report is a slightly modified version of one which appears in the current issue of Airline Leader journal