Brazil moves swiftly (at last) to award airport concessions
Analysis
With the 2014 World Cup looming, less than two and half years away, and the government having faced mounting criticism from many quarters as to its tardiness in resolving infrastructure issues, the National Civil Aviation Agency (ANAC) moved swiftly this week to conclude the concession auction for three major airports, two in Sao Paulo and one in Brasilia. Together they handle 30% of Brazil's passenger traffic and 57% of cargo. While some of the participants are not exactly household names outside Brazil it is interesting to note that one of them is ACSA, which helped host the previous tournament.
ANAC announced the conclusion of concessions to operate and upgrade Sao Paulo Guarulhos, Campinas Viracopos (located near Sao Paulo), and Brasilia International airports for a total of BRL24.5 billion (USD14.2 billion), which is almost five times the minimum value of BRL5.47 billion (USD3.2 billion) set by the Brazilian Government. The auction lasted three hours and was contested by 11 consortia formed by 28 companies, both domestic and foreign. Details of the winning bidders are as follows:
Infrastructure and Investment Holdings SA, a consortium of Airports Company South Africa (ACSA) (10%) and Invepar (90%), won the concession for Guarulhos. The consortium offered BRL16.21 billion (USD9.4 billion), which is 374% above the minimum price demanded. This bid was reported to have been 42.5% higher than the second-placed one;
Brazil Airports Consortium, which includes TPI Triunfo Participacoes e Investimentos SA, UTC Holdings SA and France's EGIS Airport Operation (10%), was awarded the concession for Campinas-Viracopos. The consortium offered USD3.8 billion (USD2.2 billion) for the project, which is 160% above the minimum price;
InfrAmérica, a consortium of Engevix Participacoes SA (50%) and Corporación America SA (50%), won the concession for Brasilia. The consortium offered USD4.51 billion (USD2.6 billion), which is 673% above the minimum price.
State bank BNDES will finance the deal.
Initial reactions were mainly of surprise at the very high value of these deals, allowing for some of the issues that face the participants. Brazil's airlines will almost certainly be concerned the high value of the deals will result in high user fees. IATA and Latin American airline association ALTA already voiced these concerns in 4Q2011 after the airport privatisation project was first outlined by the Brazilian Government.
See related article: Brazil airport privatisation plan comes under attack at ALTA forum
Contributing to the high value of the deals is Brazil's recently booming economy and a huge increase in air travel, irrespective of the forthcoming sporting events. Brazil's domestic market (RPKs) grew by 15.7% in 2011, following growth of 24% in 2010. Growth is expected to moderate slightly in 2012, having already moderated in 2H2011 after a 21% increase in 1H2011, but remain in the high single digits. Over the medium to long-term both the domestic and international markets will likely grow at annual average rates approaching 10%.
Brazil domestic monthly RPK growth (%): Jan-2009 to Dec-2011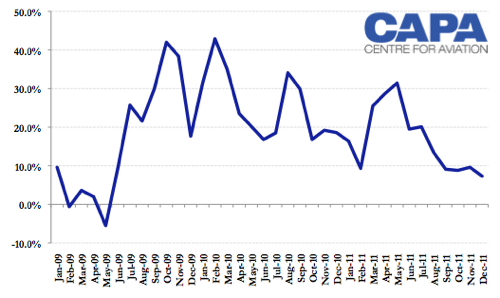 The winners won the contracts on the understanding that they will completely upgrade the gateways and overhaul their infrastructure ahead of the 2014 World Cup and 2016 Olympics. They will make annual payments, in accordance with the concession period of each airport, to the Fund for National Civil Aviation (FNAC).
'Competition guarantees the success of the auction': Bittencourt
Wagner Bittencourt, Chief Minister of the Civil Aviation Secretariat, welcomed the outcome of the auction. He noted that the premiums paid by the consortia depend on their strategies and business plans, and that competition between groups "guaranteed the success of the auction".
Bittencourt added that the funds raised for the FNAC will improve the quality not only of existing airports but also other airports, improving the development and integration of Brazil. Marcelo Guaranys, CEO of ANAC, emphasised "the role of regulatory surveillance that the agency will continue to play in the three airports".
The consortia will operate their respective airport in conjunction with state airports operator Infraero (on the basis 51% to Infraero's 49%) and are expected to provide the following amounts in investments to each airport, ahead of the 2014 FIFA World Cup and 2016 Olympic Games (which will take place in Rio de Janeiro:
Guarulhos: BRL4.6 billion (USD2.7 billion) including expanding the passenger terminal to handle 7 million passengers p/a;
Campinas: BRL8.7 billion (USD5.0 billion) including a new terminal that can handle at least 5.5 million passengers p/a and a parking area;
Brasilia: BRL2.8 billion (USD1.6 billion) including a new terminal that can handle 2 million passengers p/a and a parking area.
One third of the investment must be spent before the World Cup Finals commence as a 35% increase in traffic is expected for their duration.
The consortia will have to pay their respective sums in inflation-linked instalments over 20 years, and also give the government 10% of turnover.
Guarulhos is the largest airport in Brazil while Brasilia is the third largest. Guarulhos traffic grew 12%in 2011, reaching 30 million passengers while Brasilia traffic grew about 9%, reaching 15.4 million passengers.
Brazil's top 10 airports passenger traffic (millions) and year-over-year growth (%): 2011
Campinas is the 9th largest airportbut is growing fast, driven by rapid expansion at Campinas-based low-cost carrier Azul and Campinas-based regional carrier TRIP. Campinas traffic grew 50% in 2011, to 7.5 million passengers.
See related article: Azul plans more rapid expansion expects to capture 15% share of Brazilian market by end of 2012
As CAPA reported in November, Brasilia and Guarulhos are already highly congested airports while Campinas is expected to become congested over the next three years. A recent report by ALTA concluded 11 of Brazil's airports are already "congested" or "highly congested" and 14 airports will be congested or highly congested by 2014.
EGIS and Corporacion America will be known to readers of Airport Investor Monthly. Essentially concerned more with surface transport projects and toll road concessions, it is a 20% investor in Hermes Airports, which operates the Larnaca and Paphos airports in Cyprus, where new terminals have been constructed and put into operation. It was awarded a design and build contract for the new terminal at Algeria's Oran Es-Senia Airport. Other interests include Tahiti Faa'a Airport (30-year development, operation and maintenance concession) and five-year operational contracts for three other airports, all with Aeroport de Tahiti: Abidjan Airport (Ivory Coast); Brazzaville, Pointe-Noire and Ollombo airports in Congo; and Libreville, Gabon. It is involved with 11 airports in total, with around 13 million passengers and 200,000 tonnes of freight annually.
Corporacion America is the majority owner of Aeropuertos Argentina 2000, which operates 33 airports in Argentina since 1999. It has a 30-year concession to manage and develop Montevideo Carrasco International Airport (Uruguay), as part of the Puerta del Sur consortium (and where a state-of-the-art terminal opened in 2009), a 30-year concession to manage Yerevan Zvarnots International Airport (Armenia) and a 15-year concession on Guayaquil Simon Bolivar Airport (Ecuador). It operates terminals in Italy. It submitted a (solo) bid for the Luis Marin Munoz (Puerto Rico) airport operating concession in 2011. (That concession is still under consideration.)
Of the other companies where details are known, Invepar (Guarulhos) is a Rio-based infrastructure group active in highway concessions. It is understood its financial contribution is financed by the independently managed pension funds of state oil giant Petrobras and Banco do Brasil TPI Triunfo Participacoes e Investimentos (Campinas-Viracopos) is a leading Brazilian infrastructure company with interests in companies that operate highways, ports and power generation facilities.
Invepar expects a return of more than 8% on its investment. CEO Gustavo Rocha stated other streams of revenue such as retail, parking and real estate opportunities will contribute a "good portion" of its income.
Engevix (Brasilia) is a multi-sector construction company that claims already to have played a large role in the modernisation of the Brazilian Airport System, taking part in 15 projects "in the most important airports in the country".
President Pragmatic?
Regular readers of Airport Investor Monthly (AIM) and CAPA's online news and analysis will be aware that we have long been uncertain that Brazil would be able to bring its airports up to international standards in time for the sports events.
Brazil's IPEA coordinator of economic infrastructure Carlos Campos Neto recently stated that of the country's 20 largest airports, 17 are operating at full capacity. He added that 12 of the airports had an occupancy rate of 100% in 2011.
As we stated in the Dec-2011 edition of AIM, the newly discovered privatisation ideology needed to be matched by action and we were somewhat surprised to see new President Dilma Rousseff apparently reversing years of anti-privatisation left wing baggage despite continuing resistance from her Workers Party, having stated during her 2010 campaign that there would be no privatisation. The Centrist Party that preceded the Workers Party in the 1990s sold off energy, telecoms and mining firms but the Workers Party stopped all privatisation.
Clearly the truth has finally dawned and this looks like being the first push by a more pragmatic President than was her predecessor – former President Luiz Inácio Lula da Silva, who vigorously opposed previous efforts to grant airport concessions while in office – to tackle Brazil's lack of adequate infrastructure generally. There is still a long way to go. Apart from these concession arrangements where new or expanded terminal facilities are needed, there are also 13 separate airport improvement projects to be completed on time.
See related article: Time is running out on Brazil's bid to privatise its airports successfully
As far as these transactions are concerned ANAC, acting on behalf of President Rousseff, has clearly tried to appease opposition by at least keeping procedure 'in house' as far as possible. The majority of the participants are Brazilian companies and all but two (ACSA, EGIS) are Latin American. There is a new spirit of co-operation in bullish Latin America, one manifestation of which, in a different sphere altogether, is the co-operative attempt to isolate economically the Falkland Islands (Malvinas) while they remain in the possession of the UK, bringing together countries such as Argentina (which claims them), Brazil, Chile and Uruguay in an unusual alliance.
The result, perhaps surprisingly, is the omission of such notable and globally recognised companies as Fraport, with its worldwide airport management experience (including Lima in Peru), from the final cut. Fraport commented diplomatically, "We have submitted a competitive bid, but unfortunately not been successful". Neither was ASUR successful, the listed Mexican multi-airport operator that has ambitions to spread its tentacles globally.
Another prominent company that fell by the wayside was Zurich Airport (albeit with another Brazilian company), and which is probably the most active of all international operators/investors at the moment. India's GMR Infrastructure seemingly changed its mind at the last minute, having been close to finalising a USD2 billion loan from a consortium of banks led by Barclays PLC to finance its bid and having been in talks with at least three Brazilian companies as it sought to find a partner. GMR said it would consider joining a second round of bidding (presumably for other airports, not these) but declined to go ahead with a bid this time as "We need some more time to understand the country, the geography and the environment (but) we are committed to the Brazilian privatisation story and we would definitely like to participate in the second round, which is expected to come up in Jun-2011 or Jul-2011".
Ferrovial, together with AENA and OHL, was believed to be considering a last minute bid but if that information was correct it might simply have run out of time.
The two non-Latin American companies are interesting selections, quite apart from the amount their consortium offered. EGIS (Brazil Airports Consortium) is well known for its work in Third World countries, in Africa and Asia Pacific. Brazil, the B in BRIC, does not fall into such a category but French companies in general have a reputation for their ability to enhance existing airport infrastructure and service levels.
ACSA, as mentioned previously, was the airport authority that helped South Africa handle the 2010 Soccer World Cup and Airport Investor Monthly has for a long time been confident that it could, and would, make a successful punt to assist Brazil in some way or other as South Africa seeks to expand its own diplomatic and economic horizons.
ACSA surprised its critics
Many air transport industry observers were concerned that South Africa might not be able to handle the task in 2010 but it rose to the occasion through the frequently criticised ACSA, which made long awaited improvements to and expansion of the Johannesburg and Cape Town airports while building a new green field airport for Durban; all delivered on time (the King Shaka Airport at Durban was operational a month before the tournament began) and within a ZAR17 billion budget for the improvements to those airports and to the peripheral ones where only a few games were held.
The timing of the tournament coincidentally permitted ACSA to cater for the unconnected boom in low-cost airline services, an experience that will also be invaluable in Brazil. It was clear that Johannesburg's O R Tambo Airport, the primary international gateway, was going to be the key entry point, also that the so-called 'Golden Triangle' routes between Johannesburg, Cape Town and Durban would be the busiest throughout the tournament. But the much smaller Bloemfontein and Port Elizabeth airports were recognised as being particularly busy around match days and temporary terminals were built there, an option only now being considered in Brazil.
ACSA in particular gained useful experience in issues such as aviation fuel supply; airport staffing (there was an underlying threat of strike action, which did materialise at the stadia, but not at the airports, and Brazilian unions have already indicated their willingness to strike long and hard on the privatisation issue); transport to and from venues; and customer service. Special task teams were appointed to each of categories.
In all, 32,500 aircraft movements took place during the competition throughout the ACSA network. Overall, ACSA received praise for its organisation, the one blot on its copybook being congestion at King Shaka Airport, which caused six aircraft carrying supporters to the second semi-final match to be diverted, so that those supporters missed the game. In retrospect, one might argue that ACSA's preparation might have included keeping the old Durban airport open for just such unforeseen emergencies, and it was again an experience that will prepare it well for Brazil.
One notable peculiarity of the transactions is that they have varying concession periods (see Background Information, below), of 20, 25 and 30 years, the highest price being paid by Infrastructure and Investment Holdings SA, which also has to pay the highest annual percentage revenue contribution to FNAC. On the other hand, the total investment level of this consortium is the least of the three.
Completing work on new terminals before the World Cup begins is the main challenge for the three consortiums. They will be fined USD87 million plus USD875,000 for each day they are late after the tournament begins.
They face complexity in local, state and federal bureaucracy, which could create bottlenecks in forming master plans or instigating construction projects.
Consortia threatened by regulatory ANAChy
Of greater concern still to the participants must be their relationship with ANAC and what its CEO described as "the role of regulatory surveillance that the agency will continue to play in the three airports" and with the lurking Infraero. Ferrovial was warned about UK regulatory surveillance and its propensity to increase before it went massively into debt to acquire BAA and in retrospect might think it should have weighed the advice more carefully now that it has been forced to sell two big airports and a medium-sized one. Infraero will maintain a 49% stake in the airports and will hold the veto right on strategic decisions in the joint-ventures with the new private companies. Brazilian officials have bigged up the arrangement as a hybrid one that will allow for greater participation of private capital without formally being a privatisation – which would be heresy to many activists in President Rousseff's Workers' Party. But such halfway houses often run into difficulties unless the ground rules are absolutely defined right from the start and there is no concrete evidence yet that this is the case here.
On the other hand, there are potentially big rewards for the investors. Brazil's economy outweighs that of all other South American countries, and the country is expanding its presence in world markets. After record growth in 2007 and 2008, the onset of the global financial crisis hit Brazil in Sep-2008. It experienced two quarters of recession, as global demand for Brazil's commodity-based exports dwindled and external credit dried up. However, Brazil was one of the first emerging markets to begin a recovery. In 2010, consumer and investor confidence revived and GDP growth reached 7.5%, the highest growth rate in the past 25 years. Although it has since experienced an economic slowdown, driven primarily by a faltering industrial sector and Brazil's fast-rising currency, it is still an impressive beast, with a population now over 200 million.
Average air travel growth of 7% forecast
Brazil's airports have buckled under demand that tripled in the past decade.The potential for long-term growth and improvement has made the country one of the most attractive in the world for airport operators, aircraft manufacturers and other aviation businesses from that standpoint alone. In a recent report, Airbus predicted average growth of more than 7% for air travel in Brazil until 2030.
Passenger growth apart there is the opportunity to improve the retail experience at just about every airport in Brazil and the widely accepted fact of overstaffing at Infraero means there are considerable cost savings to be made, though unions have already voiced strong opposition to that.
This auction is not the first privatisation for Brazil's air system. In Aug-2011, the Government auctioned the rights to build and operate an airport in the nation's northeast near the city of Natal, which will host 2014 World Cup matches, and which was itself a 'first' in the sense that ANAC had no previous experience of this sort of BOT concession activity and was playing it by ear. The process is now well under way, but not before time.
STOP PRESS:
President Rousseff reportedly expressed concerns about the winners of the airports concessions auction, claiming some of the companies do not possess adequate airport managerial experience. The government will now consider new rules for the next round of airport auctions, which include:
The Government plans to use the BRL24.5 billion (USD14.2 billion) in funds from the sale of the airports to improve its network of regional airports, according toFinance Minister Guido Mantega.
Credit ratings agency Fitch stated it considers the level of interested bidders for the auction of the concessions of Brazilian airports and the effectiveness of the auction process as positives for the growth of these types of infrastructure projects.
Infraero is reportedly interested in expanding to international markets, particularly in Latin America. Infraero chairman Gustavo do Vale stated the end of the monopoly held by Infraero "will make us more creative so I'll have to find more markets, and go after those markets, either here or abroad".
Background information
The full transaction breakdown is as follows:
Guarulhos, São Paulo
Governador André Franco Montoro International Airport
Winner: Infrastructure and Investment Holdings SA
Final price: BRL16.213 billion (USD9.4 billion
Minimum price: BRL3.4 billion (US1.97 billion)
Premium: +373.51%
Concession period: 20 years
Investments until World Cup 2014: BRL1.38 billion (USD802 million)
Total investment: BRL4.6 billion (USD2.7 billion)
Annual contribution to FNAC: 10% of gross revenue
Brasilia, Federal District
Juscelino Kubistchek International Airport
Winner: Inframérica
Final price: BRL4.51 billion (USD2.2 billion)
Minimum price: BRL582 million (USD338 million)
Premium: +673.39%
Concession period: 25 years
Investments until World Cup 2014: BRL626.53 million (USD364.1 million)
Total investment: BRL2.8 billion (USD1.6 billion)
Annual contribution to FNAC: 2% of gross revenue
Campinas, Sao Paulo
Viracopos International Airport
Winner: Brazil Airports Consortium
Final price: BRL3.821 billion (USD2.6 billion)
Minimum price: BRL1.5 billion (USD871 million)
Premium: +159.75%
Concession period: 30 years
Investments until World Cup 2014: BRL873.05 million (USD507.35 million)
Total investment: BRL8.7 billion (USD5.05 billion)
Annual contribution to FNAC: 5% of gross revenue