Brazil domestic aviation: major airlines to weather pressures
Analysis
Rising fuel costs and currency fluctuations are looming challenges for Brazilian airlines, but two of the country's largest airlines feel reasonably confident that they can weather those difficulties – in part, due to stable demand in the country.

That demand and prudent capacity management should allow Brazilian airlines to drive revenue in order to offset some of the cost pressure from increased fuel cost and the currency fluctuations of the BRL.

Of the country's three largest airlines, Azul is planning the largest domestic capacity increase in 2018; however most of its network is uncontested, and the airline believes demand will hold steady in 2H2018.
Summary
Brazil's first and third largest airlines GOL and Azul post double digit gains in average fares in 1Q2018.
The country's three largest airlines appear to be plotting reasonable capacity growth in 2018, and GOL has slightly trimmed its forecast.
Pricing traction in Brazil is accompanied by steep rises in fuel costs
LATAM Airlines Brazil, GOL and Azul all posted gains in Brazilian domestic unit revenue in 1Q2018.
LATAM's unit revenues grew 6.7% denominated in the USD and 8.7% in the BRL. Azul's total unit revenues increased 5% year-on-year, and average fares grew 18.5%. Approximately 74% of Azul's ASKs are deployed into the domestic market.
Azul international vs domestic ASKs as of late May-2018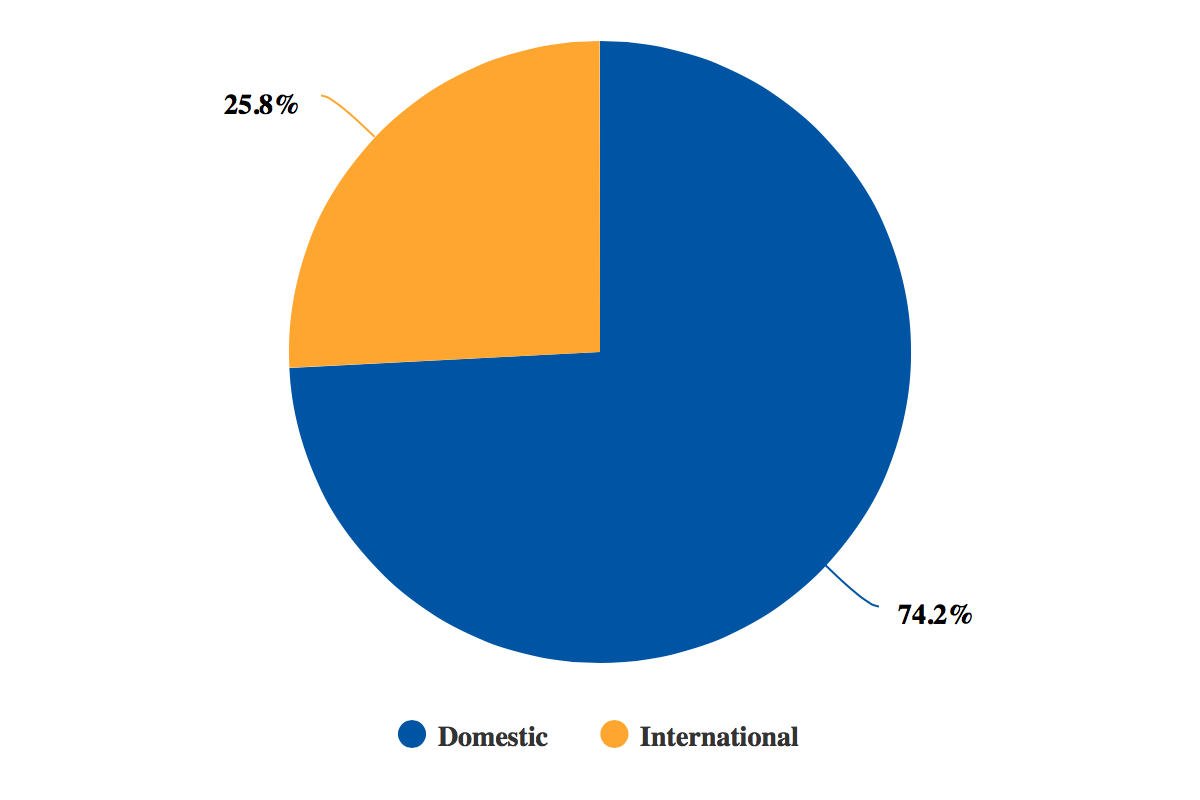 Brazil's largest airline GOL posted a 10.7% increase in total unit revenue during 1Q2018, and a 13% hike in average fares. Nearly 91% of GOL's ASKs are allotted to its domestic operations.
GOL international vs domestic ASKs as of late May-2018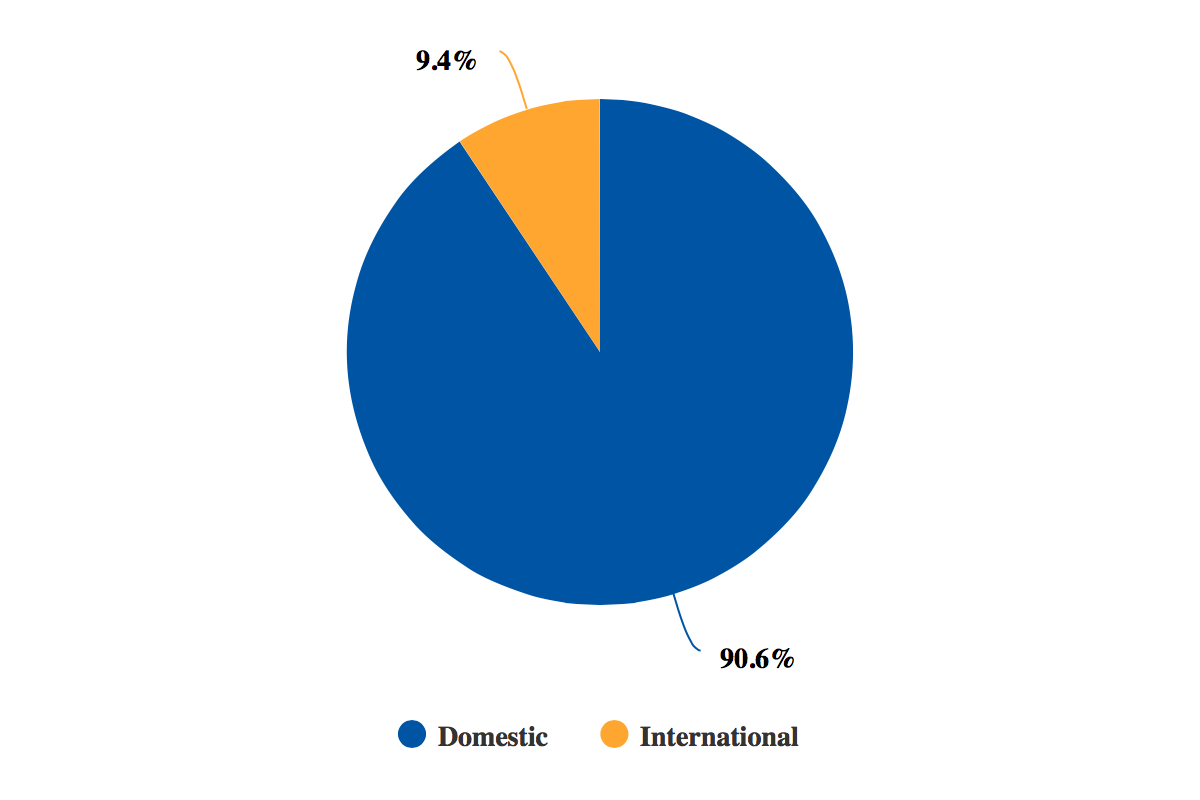 At the end of 1Q2018 Brazil's currency was trading at roughly BRL3.4 against the USD. At the same time, GOL's topline fuel costs had increased 20% year-on-year and Azul's fuel expense jumped nearly 24%.
Brazil's domestic capacity growth for 2018 seems fairly reasonable
Brazil's three largest airlines appear to be planning largely benign capacity growth in 2018. Azul's planned growth of 8% to 10% may seem high, but the airline stresses roughly 71% of its network is uncontested, and also stated it would examine its overall projected capacity growth for 2018 – 17% to 20%. The airline has already declared its growth for the year is likely to fall on the low end of that range.
Planned 2018 capacity growth by Brazil's three largest airlines
Azul has concluded that capacity discipline in the Brazilian domestic market has remained intact, and data from CAPA and OAG show a slight uptick in capacity within Brazil through early Nov-2018, compared with growth charted in 2015 before the country's recession.
Brazil weekly total domestic ASKs from 2015 through early Nov-2018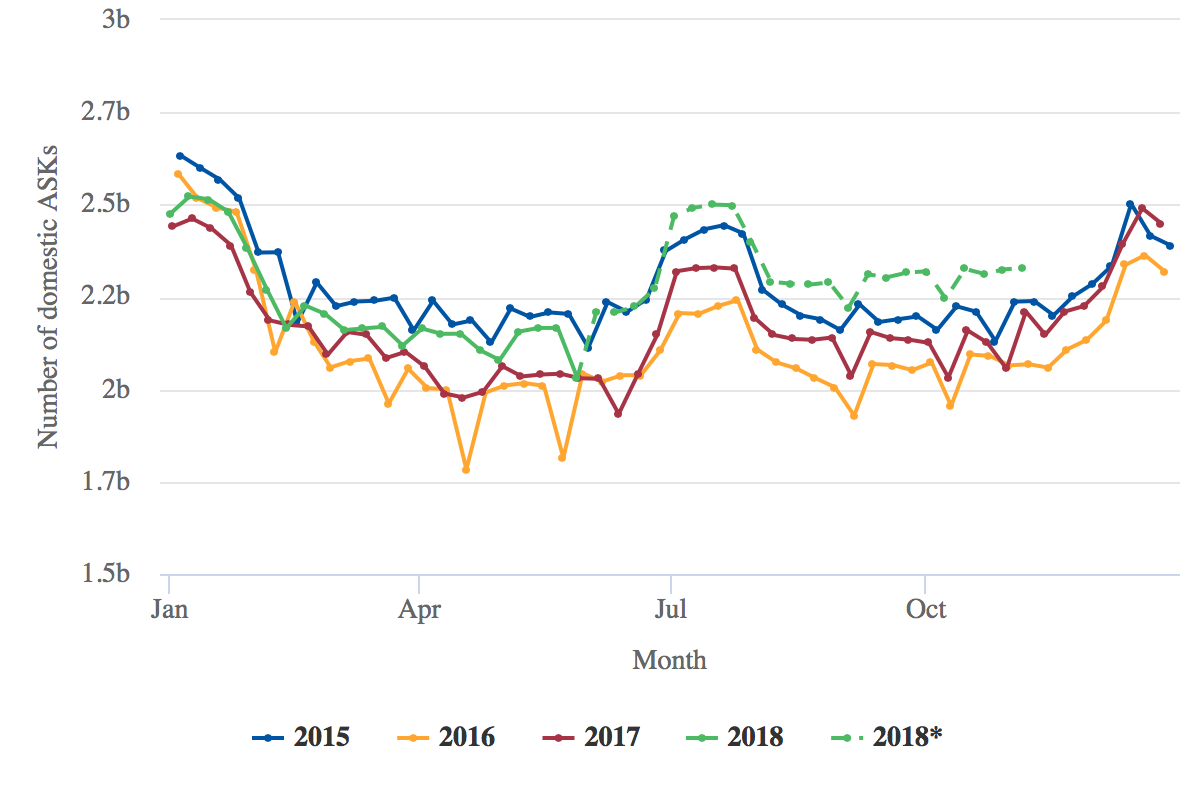 Azul offers a positive outlook, despite fuel and currency pressure
Brazil's airlines are managing the annual low season for the country during 2Q2018 for now, but the country's largest airlines feel reasonably comfortable about their ability to navigate rising oil cost and currency volatility.

Azul has noted that macro demand remains strong, and corporate demand also remains robust. The company believes the industry at large can recapture rising costs that are due to the run-up in fuel costs and currency fluctuations.

Additionally, Azul cited one of its unique advantages as being the fact that it has little competitive overlap in its network: "So we can react quicker than our competitors can, there is no need for us to wait for competitors to match our fares...the demand environment is good, and it is going to get better as we get into the second half of the year", the airline recently said.

Azul also highlighted that as a result of its balance sheet deleveraging there are opportunities for the company that were not available in the past, as a result of having a lower cost of capital.
GOL also believes strong conditions in Brazil are a shield against other challenges
Executives from GOL have acknowledged that it takes some time to recover from the type of run-up in fuel prices that occurred in Mar and Apr-2018. However, the company has said: "Brazil is in a mode now where you do have demand growing, let's say, almost at twice the rate of capacity increase on average, which gives us good pricing power".

Offering GOL's perspective on the ability to recapture revenue to offset fuel and currency pressure, airline executives have explained that assuming (for modelling purposes) a negative one correlation between WTI (West Texas Intermediate) and the BRL, the airline should achieve a recapture rate of 70%.

In light of the currency and fuel cost pressure, GOL has opted to end 2018 with one less aircraft than previously forecast, resulting in a year-end total of 117 jets. As a result, the airlines flat to 2% domestic capacity growth is 1ppt less than previous projections.

Brazil also has a presidential election scheduled for Oct-2018, and GOL has remarked that generally currency volatility occurs six months before an election. The latest round of volatility has also been affected by changes in the US interest rates, the company said.

GOL has also cautioned that while it would adjust its revenue management in the face of currency and fuel pressure, the company also needs to also ensure that some of its fares stimulate growth in the VFR (visiting friends and relatives) passenger segment. "We also want to make sure we have an inventory of seats that is available at demand-stimulating fares", the company stated.

Similarly to Azul, GOL has a favourable outlook for bookings in 2H2018, and its ability to adjust fares after the seasonally low demand period in 2Q2018.
Solid domestic demand is fuelling optimism among Brazil's airlines
A run-up in fuel costs and currency pressure are not new challenges for Brazil's airlines. They have faced these issues in the past, and have adopted the necessary business plan changes in order to weather those headwinds.

Most of the country's airlines seem poised to adjust their capacity if fuel and currency pressure continues to be an overhang. And, at least for now, demand in the country's domestic market is giving those airlines hope that there is an ample opportunity to offset the cost inflation.