Bombardier C Series: record orders in 2016 as both variants finally enter service
Analysis
The first commercial flight of the Bombardier CS300 on 14-Dec-2016, operated by airBaltic from Riga to Amsterdam, will be a major milestone for the Canadian manufacturer's new C Series aircraft programme. Three CS100 aircraft are already in service with SWISS, so the airBaltic flight will mean that both variants of the C Series are finally in commercial operation.
The programme is Bombardier's first wholly new aircraft development, aimed at the 100 to 150-seat market segment and offering advantages of fuel efficiency, cabin space, noise and emissions. Bombardier once targeted 2013 for entry into service, but has been dogged by problems and delays. In 2015, Bombardier seemed to have overstretched itself. The C Series received no new orders during the year and Bombardier was forced to seek investment from the Province of Québec to rescue the programme.
In 2016 the company has recovered to win a net 117 new orders, its highest annual total, bringing the programme total to 360. However, competition is cut-throat, with Airbus, Boeing and Embraer all having new developments of existing products in the same space as the C Series. Bombardier's breakthrough orders from Air Canada and Delta in 2016 required heavy price discounts.
After all the delays, three CS100s are now in service with SWISS; one CS300 is with airBaltic
There are now four C Series aircraft in service, all in Europe (as at 7-Dec-2016). Three of the smaller CS100 variants, which can take up to 133 seats, are in operation with the launch customer, SWISS.
Following first delivery of the type on 29-Jun-2016, the first ever C Series commercial flight was operated between Zurich and Paris on 15-Jul-2016. SWISS has outstanding orders for a further 12 CS100s and 15 CS300s.
The first CS300, which can take up to 160 seats, was delivered to airBaltic on 28-Nov-2016. It will make its first commercial flight on 14-Dec-2016 from Riga to Amsterdam. That airline has 19 more CS100s on order.
The C Series programme originally targeted making its first delivery in 2014, but suffered from a series of problems that led to a series of further delays to its schedule and that led to concerns in the market about its viability.
See related report: Bombardier Aerospace's CSeries - seemingly a fine aircraft but needs some luck on its side in 2015
More than 99% parts commonality between the two variants
According to Bombardier the CS100 and CS300 feature over 99% parts commonality, which the manufacturer says is the highest level in the industry. This led to the award by both Transport Canada and the European Aviation Safety Agency (EASA) of the Same Type Rating (STR) for the CS100 and CS300.
This provides operators that deploy both aircraft with cost-saving opportunities from the minimal training to transition pilots from one to the other, and from commonality in spare parts, maintenance and ground handling.
C Series net orders have reached 117 in 2016
The C Series programme has had its best-ever year in 2016 in terms of net orders received, with a total of 117 (up to 7-Dec-2016).
This figure is almost double that of the previous best year, 2014, when there were 61 orders. It followed a zero order year in 2015.
Bombardier CSeries annual net orders: 2009 to 2016*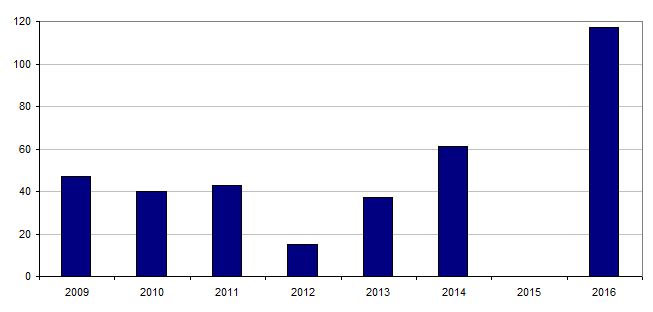 360 firm orders for the C Series in total
In addition to the four aircraft in service Bombardier has outstanding orders for a further 356, bringing the overall firm order total for the programme to 360. There are also a total of 232 options as at 7-Dec-2016.
The details of the orders and options by airline/lessor and aircraft variant are shown in the table below.
Bombardier CSeries: outstanding orders and options as at 7-Dec-2016
Firm Orders

Options

CS100

CS300

Total

CS100

CS300

Total

Delta Air

75

0

75

50

0

50

0

45

45

0

30

30

Republic Airlines
United States

0

40

40

0

40

40

Total North America

75

85

160

50

70

120

12*

15

27*

30

0

30

0

19**

19**

0

0

0

10

0

10

0

0

0

Malmo Aviation

5

5

10

10

0

10

5

0

5

5

0

5

Total Europe

32

39

71

45

0

45

0

16

16

0

10

10

10

0

10

6

0

6

0

5

5

0

11

11

0

2

2

0

0

0

Total Middle East

10

23

33

6

21

27

Asia

0

10

10

0

10

10

0

2

2

0

0

0

Lessors

3

17

20

0

20

20

0

20

20

0

0

0

0

40

40

0

10

10

Total lessors

3

77

80

0

30

30

Global total

120

236

356

101

131

232
Of the 356 outstanding orders, 276 are earmarked for a known operator, with the balance of 80 being for lessors with, as yet, unknown operators. The distribution of these orders by region is summarised in the chart below.
North America leads with 160 outstanding orders, followed by Europe with 71, and Middle East with 33. Asia has 10 orders (all for Korean Air) and Africa has two, following an order from Air Tanzania announced on 2-Dec-2016.
Bombardier CSeries orders by region as at 7-Dec-2016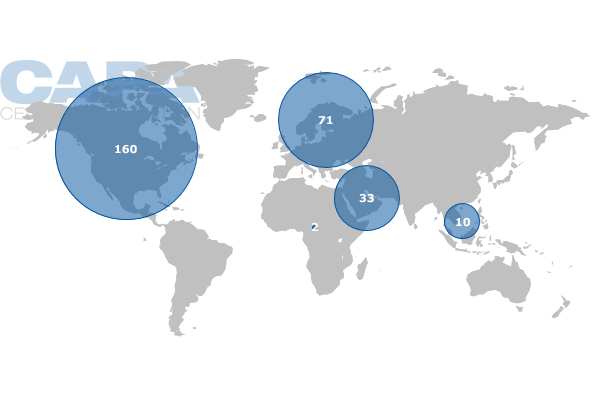 C Series targets the gap between 100 seats and 150 seats
According to Bombardier's own analysis, the C Series fills a gap between regional jets with up to 100 seats and the smaller 150 seat narrowbody jets. The principal manufacturers of regional jets of 100 seats or less are Bombardier itself and Embraer, but Mitsubishi, Comac, Antonov and Sukhoi all have in-production or in-development aircraft in the segment.
The only active manufacturers of narrowbody aircraft of 150 seats or more are Airbus and Boeing, although Russia and China are both attempting to challenge the duopoly through their large, state-owned aerospace conglomerates. China's Comac has already completed the formal roll-out of the first example of its 150-190 seat C919, with a test flight programme to begin in 2017. Russia's United Aircraft Corp is developing, through Irkut, the MC-21. This is planned as a three-aircraft family, with between 160 and 230 seats. Roll-out was also conducted this year, and the first test flight is due in 2017.
The C Series seat capacity partially overlaps with the Airbus A319, including the A319neo, and the Boeing 737-700 and its newer variant the 737 MAX 7. Moreover, Embraer's new E2 jet programme has two models under development that compete in approximately the same space, namely the E190-E2 and the E195-E2, in addition to the established E195.
Regional aircraft and narrow body jets: the competitive landscape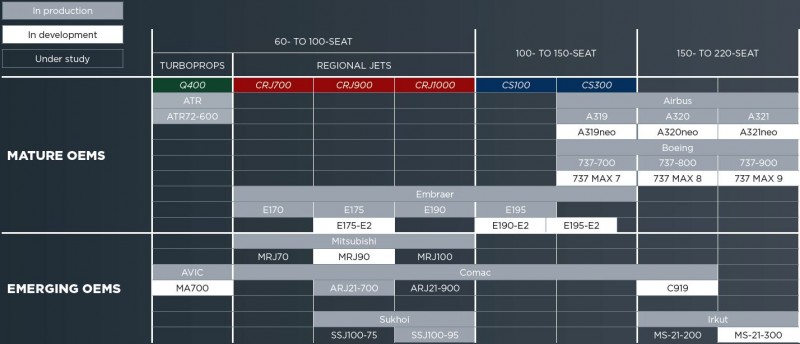 C Series has more orders than rival "new" programmes
The C Series' total of 360 aircraft on order/in service compares favourably with the orders received by the competing new aircraft programmes. According to the CAPA Fleet Database, there are 178 outstanding orders for the EJets E190-E2 & E195-E2 variants (278 if the smaller E175-E2 is included), 70 orders for the 737 MAX 7 and 56 orders for the A319neo.
However, the CSeries is the only aircraft programme in the 100- to 150-seat range that is an entirely new aircraft, rather than a development of existing programmes. It still has a very long way to go to catch up with the 1,509 aircraft produced or ordered in all variants of the A319 (including the neo), or the 1,310 in the Boeing 737-700/737 MAX 7.
CSeries, E190-E2/E195-E2, A319neo and 737 MAX 7: total firm orders received*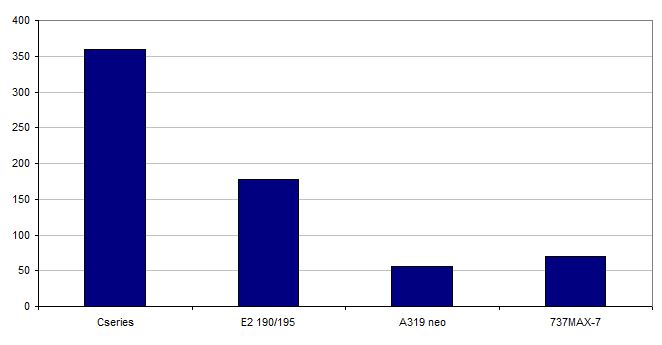 2016 deliveries cut from 15 to 7, but Bombardier "very confident in production ramp-up"
Three more deliveries are due in 2016, bringing the total to seven for the year. Engine delivery delays prompted Bombardier in Sep-2016 to cut planned C Series delivery numbers for 2016 from 15 to seven aircraft.
According to the CAPA Fleet Database, 57 deliveries are scheduled for 2017, although this seems to conflict with comments reported in the media by Bombardier Commercial Aircraft president Fred Cromer that the company's C Series delivery guidance is 30 to 35 aircraft for 2017 (Bloomberg, 29-Nov-2016).
According to Mr Cromer it will take most of 2017 to get deliveries "right back on track", but delays with the delivery of PW1500G engines are being overcome.
Bombardier said in Sep-2016, "We are very confident in our production ramp-up plan, including our ability to meet our production goal of 90 to 120 aircraft per year by 2020".
This planned production rate will require it to win some further orders. The CAPA Fleet Database indicates between 54 and 65 deliveries each year from 2017 to 2020. The delivery schedule then falls to 25 in 2021, 21 in 2022 and 10 or fewer in 2023 to 2025.
Bombardier CSeries: projected deliveries by year
The 2016 net orders total of 117 C Series aircraft is a relief for Bombardier after receiving not one order for its new aircraft in 2015. This 2016 figure was driven by an order for 75 CS100s from Delta Air Lines and an order for 45 CS300s from Air Canada, both booked in 2Q2016.
In addition to the Air Canada and Delta orders, airBaltic converted seven CS300 options into firm orders in 2Q2016 and Air Tanzania made an order for two CS300s in Dec-2016.
The 2016 gross order total of 129 was reduced to the net figure of 117 by a cut in the firm order by Ilyushin Finance Company from 32 to 20 CS300 aircraft. It also replaced its options for an additional 10 CS300 aircraft and one Q400 turboprop to options for five additional Q400 aircraft.
North American orders were crucial…
The two orders in 2016 from major North American network airlines were crucial for building the C Series' credibility in North America, which then overtook Europe as the biggest region for the aircraft's order book.
Bombardier's market forecast for 2014 to 2034 expects that North America will be the biggest market for deliveries of 100 to 150 seat commercial jets. This made it of great strategic importance to the CSeries programme to win some sizeable orders in the region.
Regional 20-year 100 to 150 seat delivery forecast (units) 2014-2034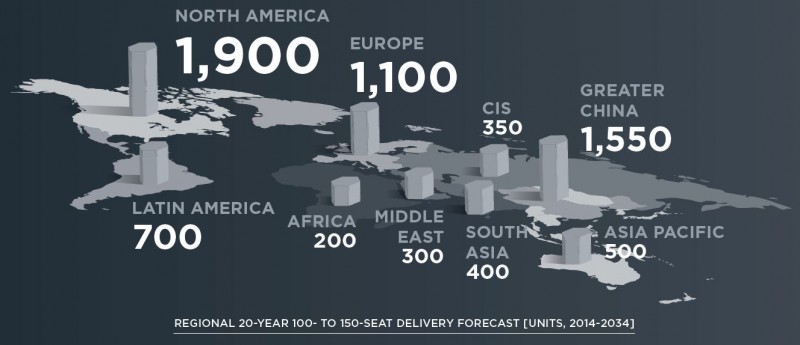 …and required heavy discounting
Bombardier booked a so-called "onerous contracts" provision of CAD492 million in connection with the firm orders received in 2Q2016. Mainly related to the Delta and Air Canada orders, this signalled that Bombardier had offered significant discounts to capture these customers.
There was some suggestion that Air Canada had been pressured by the Québec government to place a C Series order, although the airline hinted that the real clincher was the price offered. "Obviously, we had to get the right deal for it to make sense for Air Canada, and we did," said Air Canada President, Passenger Airlines, Ben Smith.
See related report: Air Canada attempts to steer investors to contemplate long term metrics as its valuation falls
The two North American orders came after United had placed an order for 40 Boeing 737-700s in Jan-2016 in preference to a possible C Series purchase. Not only were these competing Boeing aircraft already in full production and also familiar to United, but it is also understood that Boeing gave the airline a massive discount to undercut the CS300. In Nov-2016 United Airlines deferred 61 of the 737-700s scheduled for delivery in 2017, and is likely to convert those orders to 737 Max 8 or 9 aircraft.
In such a competitive marketplace Bombardier had little choice other than to discount its own product in order to win breakthrough North American orders.
Prior to receiving these two orders, its only firm North American order had been from Republic Airways, which placed 40 firm CS300 orders and took options for up to 40 more in 2010.
Republic filed for Chapter 11 bankruptcy protection in Feb-2016, raising some doubts over its order and raising the prospect at the time that the CSeries might not have any US customers. In Oct-2016, Republic and Bombardier agreed to defer deliveries and payments, but Republic is to keep its order.
A conditional C Series order from Porter Airlines, placed in 2013, fell through after the Canadian government denied the airline's plan to operate the aircraft from Billy Bishop Toronto Airport. Porter recently stated it has not canceled the conditional order for up to 30 C Series jets, but cautioned not to read too much into that scenario.
See related reports:
Porter Airlines' ambitions fade at Billy Bishop. Time is of the essence to deliver a new strategy
Canada's Porter Airlines' 10th anniversary is clouded by an uncertain future. Where to next...
Bombardier had a difficult 2015…
The 2016 order total is effectively two years' worth of orders, after prospective customers chose to sit on their hands and watch Bombardier's attempts to dig itself out of financial difficulties in 2015.
In addition to the development of the C Series, it also had the Global 7000, Global 8000 and Learjet 85 business jet programmes. It cancelled the Learjet 85 programme in 4Q2015 due to lack of sales.
At one stage, Bombardier discussed the possible sale of the C Series programme to Airbus. The group sold a 30% stake in its rail business to Caisse de dépôt et placement du Québec (CDPQ) to help to increase its liquidity.
In 3Q2015, Bombardier took an impairment charge of CAD3.2 billion in connection with the CSeries programme, reflecting its reduced value after an in-depth review.
…leading to investment in the C Series programme by Government of Québec in 2016
These difficulties led to an agreement in Oct-2015 with the Government of Québec that effectively allowed the Province to bail out the CSeries programme. Bombardier and the Government of Québec (through Investissement Québec) jointly created the C Series Aircraft Limited Partnership (CSALP) to take over the operation of the C Series programme.
The Government of Québec invested USD1.0 billion into CSALP in two installments of USD500 million on 30-Jun-2016 and 30-Sep-2016 in return for a 49.5% equity stake. Bombardier remains the majority shareholder of the C Series programme and consolidates CSALP's results into its own group results.
Investissement Québec also received warrants for 100,000,000 Class B Subordinate Voting Shares in Bombardier, exercisable for five years at an exercise price of USD1.72 (the equivalent of CAD2.21 at the date of the agreement).
Bombardier committed to use the proceeds of the investment entirely for cash flow purposes of the C Series programme. It will invest additional capital up to CAD1.0 billion in case of any liquidity shortfall in CSALP, thereby increasing its ownership interest in CSALP.
This somewhat innovative form of state aid secured the future of the CSeries programme and ensured that it remained in Canada's Québec Province. Bombardier is committed to keep CSALP at its facility in Mirabel, near Montreal, for 20 years.
C Series in 2016: from zero to hero
The weak sales and negative headlines about the C Series programme and Bombardier have given way to much better news in 2016.
A huge increase in C Series orders, particularly the North American orders; the first deliveries and commercial flights for both variants; the investment by Québec; headlines on these subjects are helping to raise interest in the aircraft.
Bombardier Commercial Aircraft president Fred Cromer has said that increasing numbers of airlines are now "seeking out opportunities" to talk to it about the C Series (Bloomberg, 29-Nov-2016). He will be pleased if this interest turns into orders without offering the same level of discount that Delta and Air Canada enjoyed.
Bombardier still needs more orders for its new aircraft. Nevertheless, as 2016 draws to a close, it may well be seen as the year in which the C Series programme started to make the transition from zero to hero.