Boeing's 747 aircraft fleet: the original jumbo, overtaken by the 777
Analysis
In Mar-2018 the Boeing 747 finally lost its crown as the world's most successful widebody aircraft by the number of deliveries, when it was overtaken by Boeing's 777.
The 747 made aviation history when it entered service with Pan Am in 1970 as the first ever twin aisle aircraft and the first commercial jet with two decks. The 747 was also the biggest commercial jet by seat capacity for 37 years from its entry into service until the Airbus A380 surpassed it in 2007.
It is testament to the 747's eminence that it is still in production 52 years after the first order in 1966, even if today's 747-8 variant shares little apart from outward appearance with its original 747-100 incarnation. It has outlasted many rival widebodies and production looks set to continue at least until 2022.
However, production is now focused mainly on the freighter version, and outstanding orders add up to only a fraction of the backlog for Boeing's 777 and 787 and Airbus' A350 and A330neo programmes. Jumbo the Elephant popularised the term 'jumbo' in the nineteenth century as a description of anything large. Today it is almost synonymous with the 747, underlining the iconic status of the only commercial jet with a popular nickname.
Summary
JOIN MORE THAN 13 AIRLINE CEOs at CAPA's Airline Leader Summit – 17/18 May 2018, Powerscourt, Dublin.
The 777 has overtaken the 747 as the world's leading widebody by number of deliveries
As of 23-Apr-2018, a total of 1,544 Boeing 747 aircraft have been delivered. Until Mar-2018, this made it the most successful widebody jet of all time, ranked by the cumulative number of aircraft delivered.
On 28-Mar-2018 the delivery of a Boeing 777-300ER to United Airlines took the 777 ahead of the 747 for the first time. As of 23-Apr-2018, a total of 1,547 Boeing 777s have now been delivered.
With the 777 having 485 outstanding orders (mainly for the newer generation 777-9 and 777-8), compared with 42 for the 747, the reign of Boeing's double-decker widebody is well and truly over.
The A330 is also closing in on the 747
Airbus has delivered 1,398 of its A330 widebodies and has 299 outstanding orders for the model as of 23-Apr-2018 (mainly for the newer generation A330neo).
This indicates that the 747 will be pushed down into third place behind both the 777 and the A330 in the next two to three years.
Both Boeing's 777 and Airbus' A330 are overtaking the 747: cumulative deliveries to 31-Mar-2018
fsThe first 747 order was 52 years ago! - in Apr-1966
The first 747 order was placed by Pan Am just over 52 years ago, on 13-Apr-1966, for 25 747-100s. The first aircraft was delivered to Pan Am on 12-Dec-1969, closely followed by a delivery to TWA in the same month.
The 747 was very soon operating under the colours of major airlines in all three of the world's big aviation regions.
Lufthansa was the first European operator, taking delivery on 9-Mar-1970, followed by Air France in the same month and British Airways the month after. JAL was the first Asian operator, in Apr-1970.
By the end of 1970, Northwest Airlines, United, Alitalia, National Airlines (United Arab Emirates), Delta, Iberia, Eastern Airlines, Sabena, American Airlines and Aer Lingus were also operating 747s.
The first 747-200 variant was delivered to KLM in Jan-1971 and the first -300 was delivered to the French airline UTA in Mar-1983. The last deliveries of the earlier variants, in freighter versions, were in 1991.
The most successful variant, the 747-400, began its operational life with Northwest Airlines in Jan-1989.
A total of 724 aircraft of this variant have been delivered, just over half of the total for all 747s to date.
The final -400 delivery, a freighter, was to Kuwait's LoadAir Cargo in Nov-2009 and the final few years of deliveries were dominated by freighter versions. The last 747-400 passenger delivery was to China Airlines in Apr-2005.
Boeing's newest variant, the 747-8, first entered service with Cargolux in Oct-2011, in the freighter version. Lufthansa was the first airline to operate the passenger version, in Apr-2012.
Boeing 747 deliveries by main variant 1969 to 2018*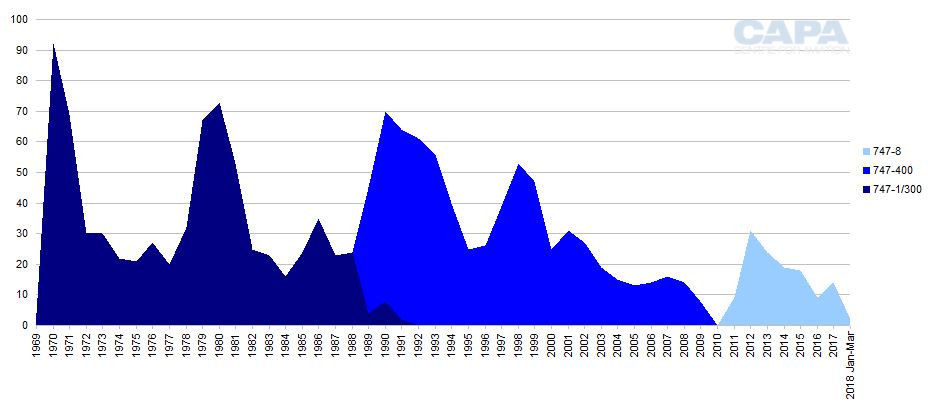 More than half of the 505 Boeing 747s in service are freighters
According to the CAPA Fleet Database, there are 505 Boeing 747s still currently in service as of 23-Apr-2018.
More than half of these, 282 of them (or 56%), are freighter versions, while 212 are passenger jets (including corporate/government and similar) and 11 are combi versions (passenger and freighter combinations).
This concentration of freighters among the currently active 747 fleet is much higher than the freighter share of 40% of all 747s that have ever been delivered, reflecting the trend for cargo aircraft to have longer economic lives.
Boeing 747 fleet in service by main role, 23-Apr-2018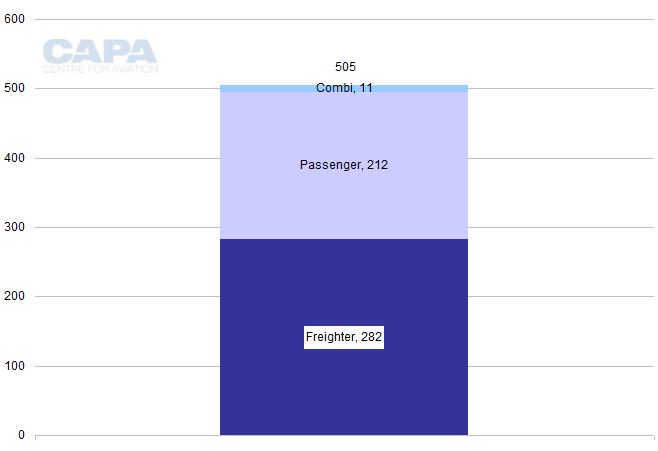 The 747-400 still dominates the active fleet
The most common variant series in the current 747 fleet is the 747-400, of which there are 356 in service (70% of the total), followed by the 747-8, of which there are 120.
The 747-400 fleet is divided into 197 freighter variants, 148 passenger aircraft and 11 combis. The 747-8s comprise 78 freighters and 42 passenger aircraft.
The active fleet also includes 14 747-200s, four 747-300s and 11 747SP aircraft (special purpose, including corporate, government and military use).
Boeing's 747 fleet in service by variant, 23-Apr-2018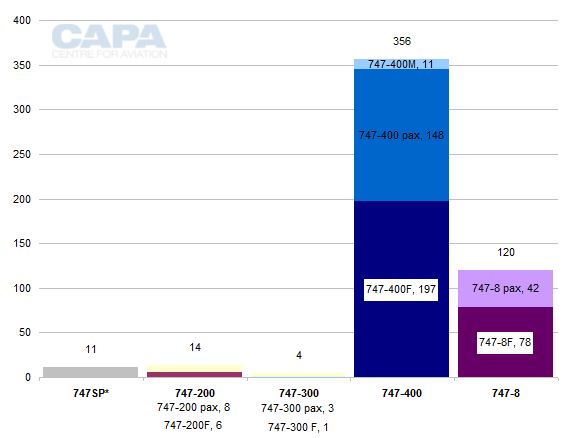 Europe is the biggest region for 747s in service
The biggest share of the 505 active 747s are in service with European operators, who deploy 201 of them (40%), while 156 (31%) are operated from Asia Pacific. North American operators have 107 aircraft (21%), the Middle East has 35, and Africa has six.
The biggest country for 747 operation is the US (105 aircraft), followed by the UK (47), South Korea (41), Germany (31) and Russia (29). The 747 remains active with the airlines of 39 countries.
Boeing 747 fleet in service by region, 23-Apr-2018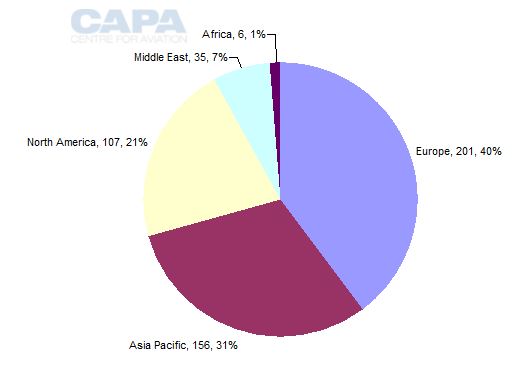 There are 79 operators of 747s
The CAPA Fleet Database lists 79 current operators of 747 aircraft in service, of which 19 have only one aircraft, 34 have just two and the remaining 42 have at least three aircraft.
There are 17 airlines with 10 or more 747s in service, collectively accounting for 333 of the 505 aircraft (a 66% share).
Operators of three or more Boeing 747s as at 23-Apr-2018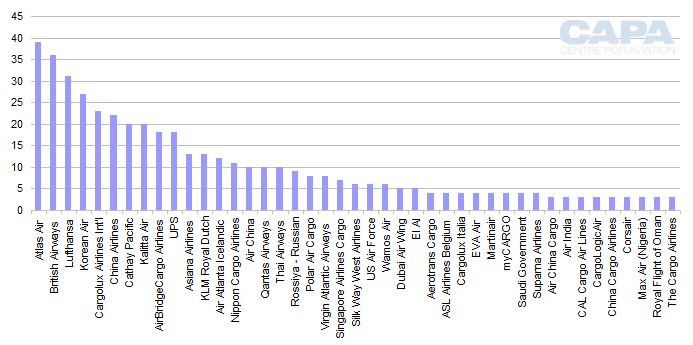 JOIN MORE THAN 13 AIRLINE CEOs at CAPA's Airline Leader Summit – 17/18 May 2018, Powerscourt, Dublin. Atlas Air, British Airways and Lufthansa are the leading 747 operators
The biggest single operator of 747s today is the US cargo airline Atlas Air, which has a total of 39. These comprise 26 747-400 freighter variants, nine 747-8Fs and four 747-400s for its passenger charter operation.
Number two behind Atlas Air is British Airways, which operates 36 747-400s, which is the world's largest all-passenger 747 fleet. Third is Lufthansa, with a 747 fleet of 31 aircraft (13 747-400s and 18 747-8s, which is the world's biggest 747-8 fleet).
Among the leading operators, fourth ranked Korean Air's fleet of 27 747s has the widest range of variants, with 10 747-8s, seven 747-8Fs, seven 747-400 freighters and three 747-400s.
Cargolux Airlines International operates 23 freighter variants (14 747-8s and nine 747-400 freighters). China Airlines, Cathay Pacific and the New York-based cargo operator Kalitta Air also have more than 20 747s.
The 17 airlines with 10 or more 747s are shown in the chart below.
Operators of 10 or more Boeing 747s as at 23-Apr-2018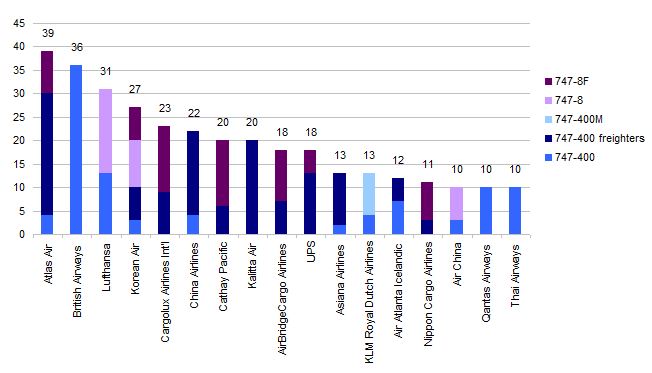 Among the airlines operating the 120 Boeing 747-8 aircraft that are in service at 23-Apr-2018, the leader is Lufthansa (18 aircraft), followed by Korean Air (17), Cargolux International and Cathay Pacific (14 each).
Operators of Boeing 747-8 aircraft as at 23-Apr-2018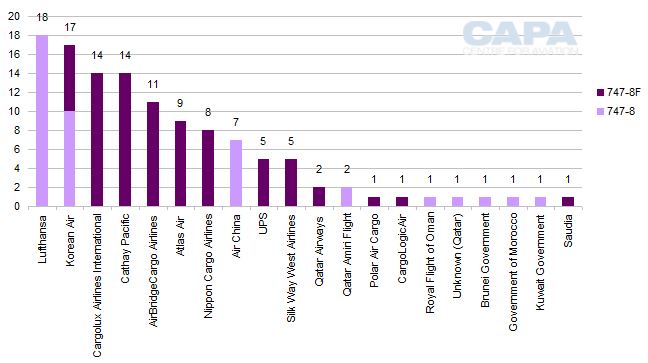 Orders for the 747 have slowed to a trickle and are dominated by freighters
The future of the Boeing 747, such as it is, lies with the 747-8. However, Boeing currently has only 42 outstanding orders, of which 16 are unconfirmed (source: CAPA Fleet Database as at 23-Apr-2018).
After 65 orders in the period 2005-2007 and then 16 in 2013 and 18 in 2016, orders have dried to a trickle. There were only six orders received in 2017, and just one in 2018 so far (from UPS – for a freighter).
The outstanding orders are dominated by freighters, making up 40 of the 42. These include 23 for UPS, 16 (unconfirmed) for Volga-Dnepr Airlines and one for an undisclosed operator. The two passenger versions are for undisclosed operators.
The Boeing 747's place in aviation history is assured
With Airbus also struggling to make a big splash with its A380 (107 on order, of which 60 for Emirates), the era of four-engined double-decker aircraft appears to be fading.
For both manufacturers the focus is on newer technology versions of existing single-decked twin engine jets (Boeing's 777-8 and 777-9, Airbus' A330neo) and their recently introduced new twin engine widebody models (the 787 and A350).
Jumbo the Elephant was sold by London Zoo to Barnum & Bailey Circus in 1882, before meeting an untimely death in Ontario in 1885 after being struck by a freight train. The later stages of the 747's life are also closely linked to freight transport, but the jumbo jet seems assured of a more dignified elephant's graveyard when its time eventually comes.
Its glory days may be over, but the Boeing 747's place in aviation history is assured.