Beijing Capital airport: 2017 record, but stays #2 to world busiest Atlanta as Beijing Daxing looms
Analysis
Such is the growth of the China market that accolades become normal. Beijing Capital International Airport announced its 2017 passenger traffic as a record, but Beijing Capital has set a new record every year since 2004.
The airport handled 95.8 million passengers in 2017, a year-on-year increase of 1.4 million, or 1.5% growth. Beijing Capital had double-digit percentage growth until 2011, and then had growth of 5% or so. While this is slowing, it is from a larger base, although the additional 1.4 million passenger figure of 2017 was the slowest in a decade.
Beijing Capital is the world's second largest airport. Atlanta Hartsfield-Jackson remains the largest, and the only airport to carry over 100 million passengers a year. Atlanta's traffic has declined by 0.3%, so while Beijing Capital has narrowed the gap with Atlanta, it appears unlikely that it will overtake Atlanta.
From 2019 some airlines at Beijing Capital will move to the new international airport, Beijing Daxing. Their existing Beijing Capital slots will only gradually be made available to other airlines. Beijing city's total passengers will increase, but across two airports.
Summary
Beijing Capital reaches 95.8 million passengers
Beijing Capital Airlines ended 2017 with passenger throughput of 95.8 million. This is 1.4 million additional passengers compared to 2016, representing growth of 1.5%.
Beijing Capital International Airport annual passenger traffic (left axis) and percentage growth (right axis): 2007-2017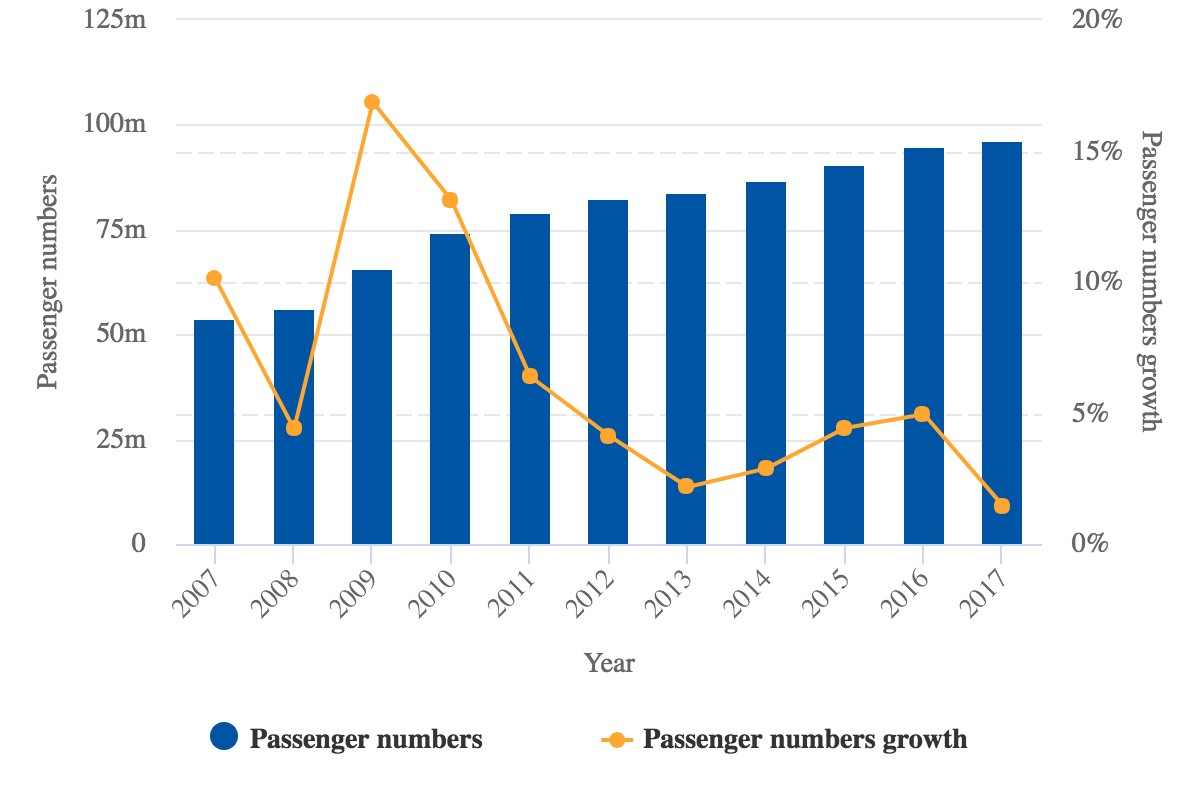 Beijing Capital's performance was impacted by two one-off events: runway repair works in Apr-2017, and then heavy rain in Aug-2017. As a result, passenger traffic declined significantly in both of those months compared to 2016.
If Beijing Capital had had the same passenger throughput in those two months as in 2016, the airport would have handled a further 1.1 million passengers, for a total of nearly 97 million passengers. More realistically, a normal Apr-2017 with growth (continuing the trend from early 2017) would have pushed Beijing Capital's figures up higher – possibly close to 98 million.
With the exception of Nov-2017, in the second half of the year there was slower growth, likely a combination of slot shortages, earlier growth being absorbed, and then traffic slowing in advance of the important Oct-2017 government meeting that has, in the past, resulted in a slowing of travel.
Beijing Capital International Airport monthly passenger traffic: 2016-2017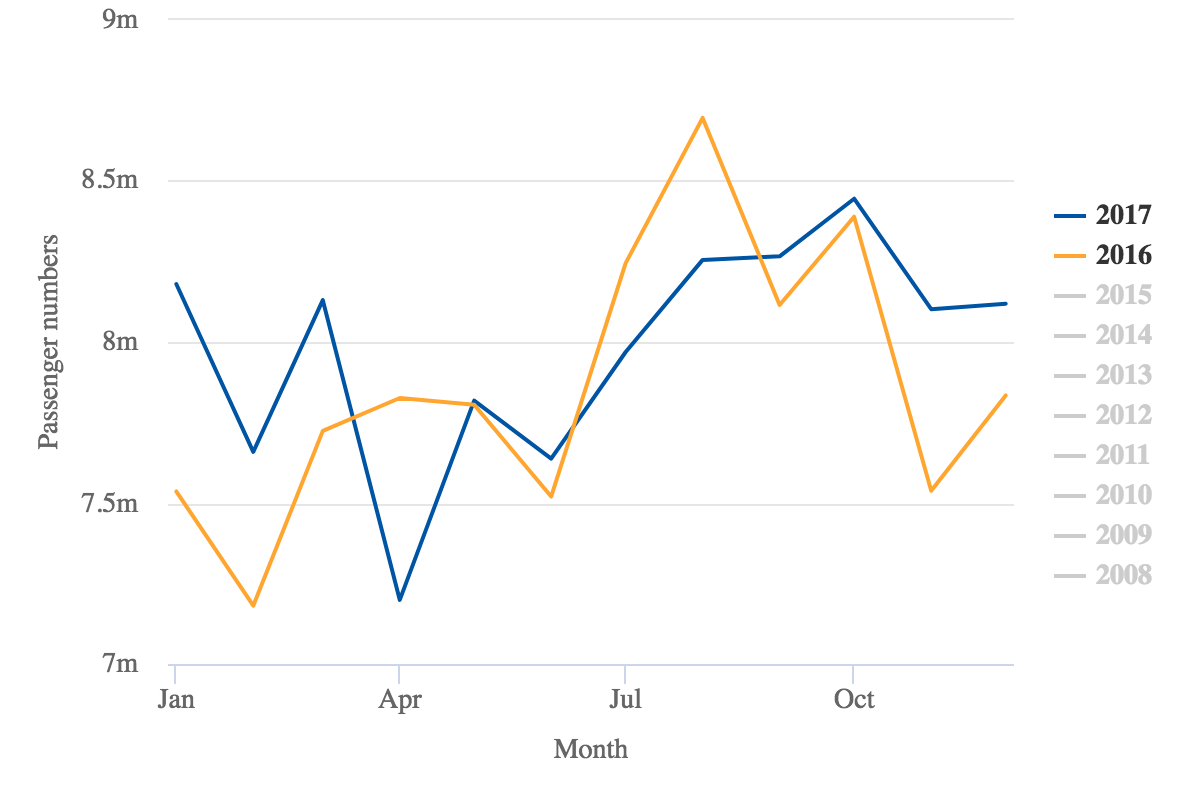 2017 was Beijing's slowest year of growth
In terms of net additional passengers and percentage growth, 2017 was Beijing's slowest in recent history. However, this was impacted by the one-off occurrences. Without them, growth would have been higher than in 2013 – the previous slowest year – although still well below the growth of earlier this decade and in the past decade.
This is not the result of a change in demand but rather, a shortage of infrastructure.
Beijing Capital International airport net additional passengers (left axis) and annual percentage growth (right axis): 2007-2017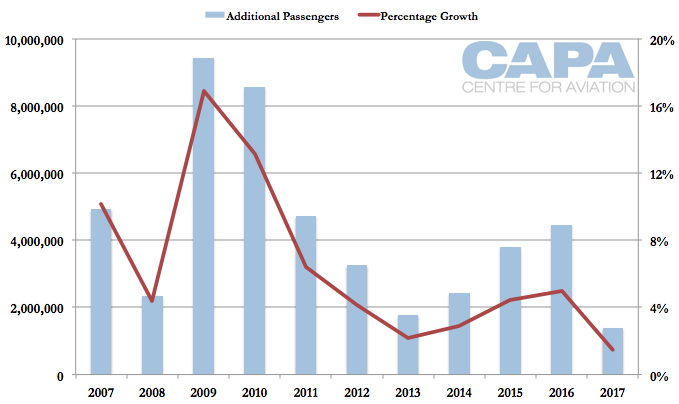 International share nudges up to 27% at Beijing Capital
International/regional passengers made up 24% of total throughput at Beijing Capital from 2007-2014. In 2015 this went up to 25%, to 26% in 2016, and then 27% in 2017. However, these gains seem small compared to China's "go out" policy for international expansion.
In comparison, 10-12% of passengers at Atlanta airport are international. A decade ago Beijing Capital had 45% more international/regional passengers than Atlanta, but in 2017 it had over 130% more international passengers than Atlanta.
Beijing Capital International airport passenger composition (left axis) and share of international/regional passengers (right axis): 2007-2017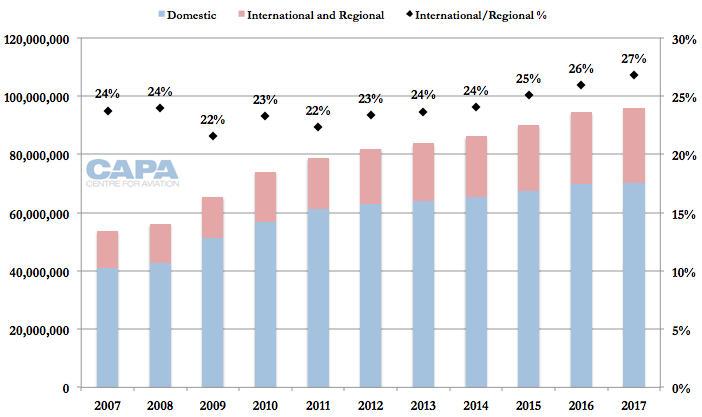 Atlanta traffic impacted by series of one-off events
Atlanta carried 103.9 million passengers in 2017, a drop of 0.3% from 2016's 104.1 million. Atlanta's performance was impacted by a series of one-off events that forced the cancellation of flights: Delta's Apr-2017 operational delays, a hurricane in Sep-2017, and then Atlanta airport's IT outage in Dec-2017.
In two months – Mar-2017 and Aug-2017 – there was strong traffic growth at Atlanta. Without the one-off events, Atlanta would have posted respectable overall growth and set a new record.
Atlanta Hartsfield-Jackson International Airport monthly passenger traffic: 2016-2017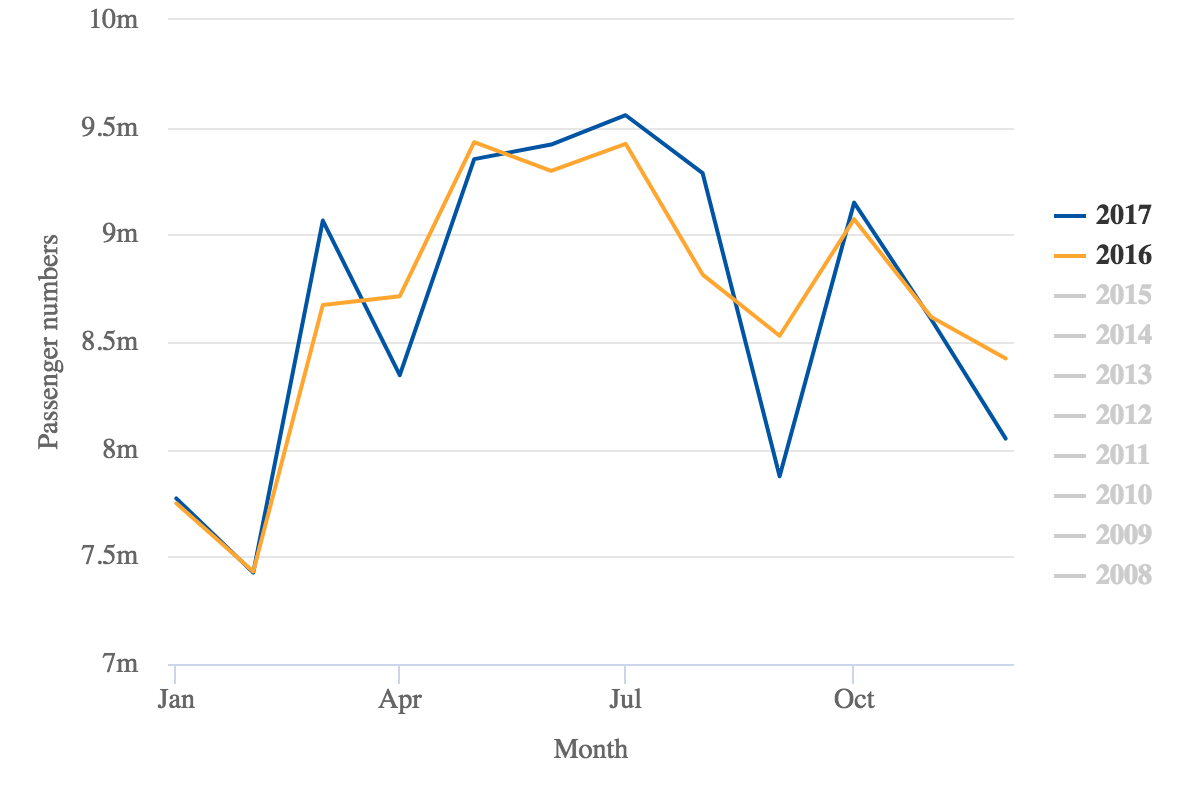 At the start of this decade it was expected that Beijing Capital would overtake Atlanta as the world's busiest airport. However, Atlanta accelerated growth, whereas Beijing Capital's growth was not as high as expected.
From 2007-2010, Atlanta airport handled close to 90 million passengers per annum. From 2011-2014, traffic jumped to 95 million. In 2015 Atlanta crossed the 100 million mark with 101.4 million passengers, which grew to 104.1 million in 2016. At Beijing Capital, the realities of slot and airspace constraints meant that growth slowed.
In 2015 the gap between Beijing Capital and Atlanta widened for the first time in recent history. In 2016 the gap narrowed, placing Beijing Capital as close to Atlanta as at any time before, with a difference of 9.9 million passengers. In 2017 the gap was further narrowed to 8.1 million passengers.
The remaining gap will not be closed in one year. Atlanta's traffic decline in 2017 was a one-off. This somewhat artificially low year will make 2018 an especially strong year, provided there are no setbacks. Beijing Capital will not be able to add enough traffic to make up the difference.
In 2009 and 2010 Beijing Capital added 9 million additional passengers per annum, but this was a one-off due to infrastructure expansion.
Comparison of annual passengers at Atlanta and Beijing Capital and annual difference in passenger numbers: 2007-2017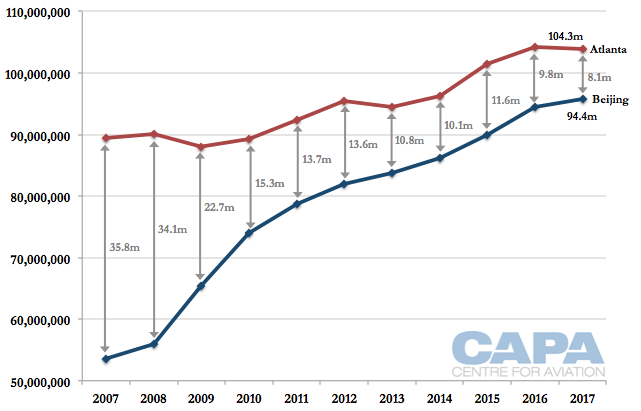 Beijing Capital's last year of passenger growth under the status quo is 2018. This year will not be one where Beijing Capital will overtake Atlanta. That eventuality could occur, but it will take until well into the 2020s.
From mid-2019, some airlines at Beijing Capital are expected to begin moving their operations to the new airport Beijing Daxing. This will reduce Beijing Capital's traffic figures. The slots made available from departing airlines will be reallocated, but not all at once. Beijing Capital wants to ensure steady growth over a number of years. (This is healthy and especially beneficial for Air China and its partners, which can have consistent growth rather than scrambling to grab slots.)
See related report: Beijing's second airport at Daxing: risk of unproductive competition, China Eastern the big winner
Beijing Capital will shift to an Air China/Star Alliance-led operation (but not exclusively). More importantly, Beijing Capital and its partners will look past pure volume growth to achieve smart growth: relevant destinations that enhance hub as well as ground practices to improve the experience and reduce minimum connection times.
Beijing Capital is the world's second largest airport. Its next task is to improve hub capability.