BAA's 'resilient' performance, but traffic continues to decline
Analysis
Announcing results for the nine months ended Sep-08, Colin Matthews, BAA Chief Executive, stated, "BAA has delivered a resilient performance with results in line with forecasts. With trading conditions expected to remain challenging in the coming months, we are maintaining our sharp focus on operational improvement and a substantial programme of capital investment, which will lead to better passenger service standards and lower costs."
The capital investment seems to mirror the British government's decision to 'spend its way' out of the recession, which is now official in the UK. But traffic continues to decline, most worryingly at the 'for sale' Gatwick.
BAA reports the following traffic highlights at London airports in Oct-08:
Passenger numbers, 12.4 m, -6%;

Cargo volume: 146,677 tonnes, -2.5%;

Aircraft movements: 108, 497, -4.2%;

It is notable that the only positive result is in cargo business at Heathrow, where several US carriers have switched service from Gatwick, which is reflected in Gatwick's big drop. Gatwick's passenger business has been more adversely affected than Heathrow's, owing to the location of failed airlines like Oasis Hong Kong, XL Airways and Zoom there. Gatwick typically hosts more airlines whose primary trade is in the leisure sector rather than business, although BA's business passengers have also been affected (see below) – a benchmark for other full service airlines.
The movement and passenger reduction at Stansted is at least partially explained by the decrease in Ryanair services, but these are yet to kick in fully, together with the failure of long haul all-business class airlines Eos and Maxjet. Stansted is the only one of the airports not to have seen at least a pick-up in passengers in the last month.
BAA passenger numbers growth: Nov-07 to Oct-08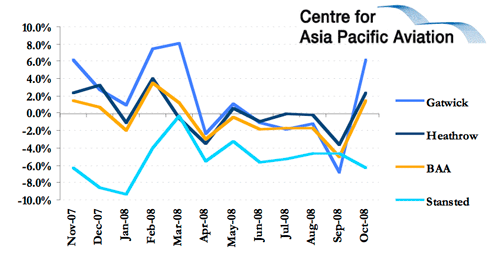 BAA also reports the following financial highlights for the nine months ended 30-Sep-08 for the regulated (London) airports (all figures GBP million/million):
Revenue: 1,721.2, +16%;


Aeronautical: 895, +26.5%;
Retail: 323, +3.2%;
Car parking: 127, +7.4%;
Ebitda (adjusted): 689, -0.6%;

Passenger numbers: 96, -1.3%;
Anticipates full year EBITDA within 5% of earlier forecast
In a statement, BAA said, "Traffic levels have softened in recent months as the global economic outlook has deteriorated".
But BAA is still seeking to focus attention on a recovery. It noted, "experience suggests that traffic will return to levels at or above recent figures, reflecting the major economic and demographic drivers of growth in the aviation industry". It added, "over the last 40 years, there have been four periods when annual rolling passenger traffic figures have declined. Negative growth has lasted no more than 12 months with renewed growth normally well established within 12 months of the trough in performance".
BAA continues to expect the Regulated Airports to deliver a Combined Adjusted EBITDA for the 12 months to 31-Mar-09 that is no more than 5% below the earlier forecast of GBP1,015 million.
BAA regulated airports EBITDA margin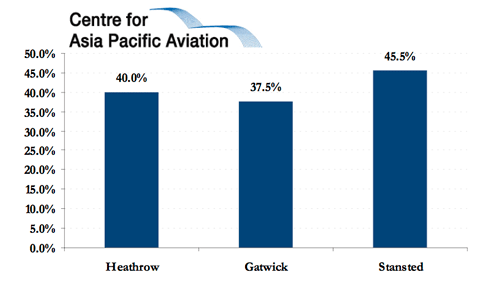 BAA regulated airports' revenue breakdown for the nine months ended 30-Sep-08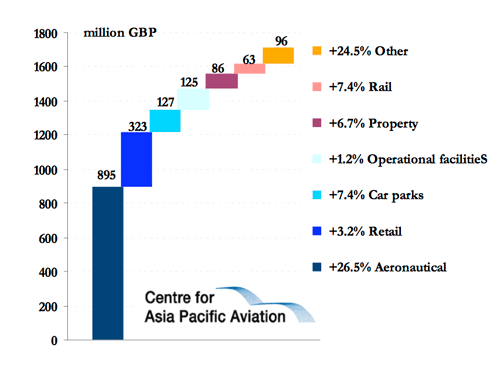 The number of passengers travelling through BAA's seven UK airports has been falling for over six months (and in seven of the first nine), reflecting the impact of weakening economic growth, as well as the collapse of airlines. And it seems to be getting worse. Passenger traffic at the London airports declined by 6% in October compared with a figure of 5% for all BAA airports in September and an overall reduction of 1.4% in the first nine months.
London Gatwick, which BAA recently put up for sale, has suffered in particular from the transfer of a large number of its US long-haul services to Heathrow as a result of the US/European Union Open Skies treaty, which opened Heathrow for the first time to full competition for all US and European carriers. American Airlines and Continental Airlines have closed their Gatwick bases, and British Airways has also transferred several US long-haul services from Gatwick to Heathrow.
Heathrow will also benefit from the relocation of bmi aircraft that were flying trans-Atlantic services from Manchester, to operate to the Middle East for subsidiary BMED. With its wide range of services and alliance hub credentials Heathrow seems best placed to weather the storm.
Biggest decline is in European charter traffic
The biggest decline has been in European charter traffic, which for all BAA airports has fallen by over 12% year on year, also reflecting the collapse of XL Leisure Group, which was the third largest UK tour operator.

Stansted too has lost long-haul traffic as a result of the failures of Eos Airlines and Maxjet Airways, while American Airlines has halted its service between Stansted and New York JFK, not the first time a US legacy carrier has decided that a transatlantic route is not viable from the Essex airport.

The worsening performance of the aviation sector is underlined by British Airways, which has reported a big drop in premium passenger traffic in both September and October, under pressure from the turmoil in financial markets and weakening economic growth. BA's forward bookings are being affected by "the increased anxiety in financial markets and by the uncertain economic outlook".

Keith Williams, BA chief financial officer, said recently the banking crisis would put "even more pressure on our income from sales to premium customers".
"Long haul premium traffic still mostly unaffected" - Walsh
This week, British Airways CEO, Willie Walsh, confirmed that the carrier's premium short-haul premium traffic had been affected by the current economic downturn, though long-haul premium remains mostly unaffected. BA revealed that banking represents about 30% of its corporate client base. The financial services industry is an important part of its corporate customer portfolio (as evidenced by the planned A318 service from London City Airport to New York next year) and the financial crisis has impacted on premium traffic.
However, it has not impacted as much on long-haul, where BA has been monitoring corporate travel polices. It has seen some clients extend the stage length for economy versus business. BA states that it is more that "people are just cutting back on travel, not trading down on the long-haul side."

Meanwhile, Walsh expects its trans-Atlantic subsidiary, OpenSkies, which absorbed the privately owned French airline L'Avion in Jul-08, to break even after its third year of operations. Coincidentally, Air France suspended its own 'open skies' Heathrow-Los Angeles flight from the end of October, another casualty of the economic downturn and one of the reasons behind BA's OpenSkies operation from Paris in the first place.

This decline in passenger traffic has come at a difficult time for BAA, as it seeks to find buyers for Gatwick. Ferrovial shares slumped 8.5% on 17-Nov amid broad market weakness and, in particular, concerns over the Gatwick Airport sale. In a further blow, easyJet (which now denies it is part of any consortium to take over Gatwick) has won a Judicial Review in the High Court of the regulatory process that led to higher airport charges at Gatwick earlier this year.