Aviation development in Brazil, Russia, India and China: What the BRICs are building
The stars of development and promise in the first decade of the 21st Century, Brazil, Russia, India and China (collectively known as the 'BRICs') are being closely watched by economists, sociologists and political observers, seen as key indicators of the new world economic and social order. They all have large populations, abundant resources, generally stable politics and a rising standard of living, each creating a new bloc of consumers.
As has been proven over and again, air transport networks are key to development, both internally and with relation to the rest of the globe. Therefore the growth and health of this industry can be one indicator of overall progress. Looking at the BRICs, we find vastly different levels of infrastructure available to the aviation sector.
BRIC airport infrastructure
Nation

Total Airports

Paved

Unpaved

Global
Rank

15,079

5,194

9,885

1

4,072

726

3,346

2

1,213

593

620

5

502

442

60

15

352

249

103

23
Though in some places aviation may play a greater role, like Alaska where aircraft perform functions normally accomplished by surface vehicles, most high functioning economies depend on more than just air transport for logistics. A majority of goods and people travel by surface transport making aviation but one part of the equation. So these other pieces of infrastructure are also closely allied with aviation in development.
Other transportation modes global rankings
| | Rail Rank | Road Rank | % Paved | Waterways |
| --- | --- | --- | --- | --- |
| | 3 | 2 | 80 | 1 |
| | 4 | 3 | n/a | 9 |
| | 2 | 7 | 79 | 2 |
| | 10 | 4 | 6 | 3 |
Using the US as a baseline, Brazil is number two in terms of available airports. It is a vast land with significant topographical challenges that make surface connections difficult between many of the nation's regions. Brazil has lots of roads but only 6% are paved and it has a much smaller rail infrastructure than its peers. While it ranks third in the number of waterways, the CIA Factbook adds a note that many are in remote areas of the country—far from population centres. Brazil is a nation for which air transport is a vital component for trade and unity.

See related Airline Leader report: Latin America's aviation industry becomes a world force
Russia too ranks high in terms of airport infrastructure but it also benefits from an extensive rail system as well as a developed network of waterways, with both having deep roots in historical growth and national development. St Petersburg has been famed for its water links since the time of the Tsars and these have been key to the national infrastructure. Russia lags (the data entry was qualified) in terms of roads, but those that it has are predominantly paved. In terms of air transport, the nation has long had an aviation sector but it has a poor reputation for safety, as witnessed by the forced retirement of all Soviet-era aircraft following a recent crash.
China's rush to develop its infrastructure is almost daily news. The development of aviation has come late to the Middle Kingdom, primarily due to political upheaval in the last century. But, as with most aspects of modern China, that lack is being addressed in short order. Ninety percent of its airports have paved runways—a higher number than in the US.
China already has an extensive railway system and is upgrading those lines to accommodate high-speed rail. Its centuries-old network of waterways still ranks number 1 globally and its aviation fleet is rapidly expanding.
Like Brazil, India has perhaps a greater need for air transport. It has a less extensive system of waterways and, while it has a large rail system, it is in need of considerable modernisation. And though it has a huge network of roads, an unknown percentage remain unpaved and there are but 200km of "expressway" type roads in the nation.
Unlike Brazil, that is struggling to get its primary airports modernised in time for the upcoming Olympics and World Cup, India has upgraded and added airports in an attempt to keep pace with air traffic growth and fleet expansion.
A booming aviation sector has come only recently to India and the airlines, both domestic and foreign, continue to operate in a complex and convoluted regulatory system.
Interconnection
Despite all the talk about their growing economic influence, there is only minimal air connectivity between them. Brazil, because of distance, is linked to none of its peers, with all passengers being routed over Europe, or increasingly, the Gulf.
Inter-BRIC air services: 10/31-11/6 2011
| | Destinations | Seats |
| --- | --- | --- |
| | 2 | 3,796 |
| | 6 | 15,055 |
| | 7 | 51,696 |
For the other three, with much closer proximity, the weekly seat offers are minimal. The 50,000+ seats between Russia and China are fewer than are operated domestically in China between Guangzhou and Hangzhou—a route that ranks 80th globally in terms of seats. This indicates that while the four nations are externally viewed as some sort of "group", their individual economies and populations are far less interlinked.
Richer, but far from affluent
Part of that probably stems from the fact that though all four are seeing increases in their citizens' personal wealth, most of their populations remain poor by first world standards and all still have a low propensity for travel as shown by the following chart from Airbus. All still rank shy of the world average; though Russia and Brazil are near to that benchmark.
Propensity to travel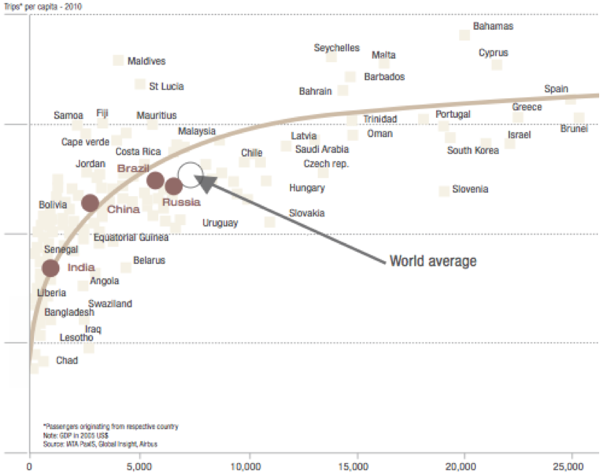 But, predictions continue to reinforce the idea that all four of these nations will play a much larger role in the global aviation network in the future. Airbus, looking 20 years out, reflects this view in their estimations of demand for aircraft.
New Aircraft demand 2010-2030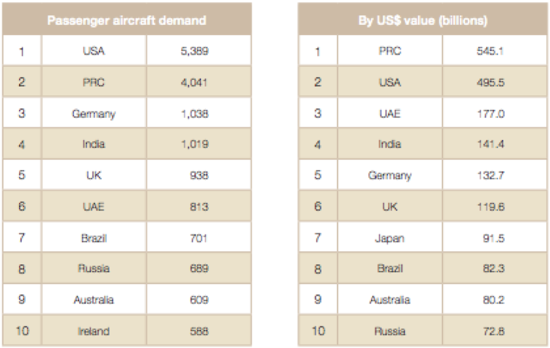 Current travel patterns
For the week in question (31-Oct to 06-Nov-2011), the top 100 international routes for each of the four nations—400 city pairs—were analysed, a cumulative total of 1,546,866 seats. In terms of each nation's contribution, the leader is China, while Brazil has the smallest share.
Percentage, by country of total BRIC seats (31 Oct-6 Nov, 2011)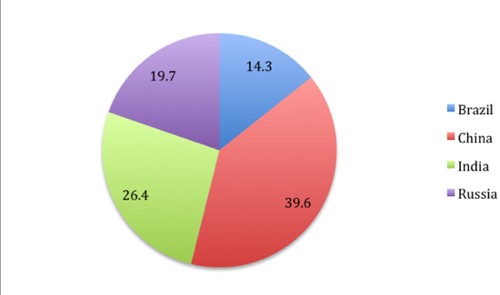 Global Rank?
The top 100 leading international routes for the week in question generated 3,837,485 seats. In the next chart we use that number as a point of comparison for each of the top 100 of the countries in the chart. Remember, these percentages are not of global traffic but rather how their top 100 compares to the global 100. Looking at the UK, its top 100 generated a seat total that is roughly 22% of the corresponding global total, making it a truly global aviation centre.
Percentage of global international seats (31 Oct-6 Nov, 2011)
By this measure, China especially does quite well with a 16% ranking, not far from the 19.5% generated from/to the US; though both trail the UK. In terms of the global aviation market, China is already a major player. India's share is roughly comparable to Malaysia's, and Brazil's is akin to that of Mexico.
Individually
Finally, we will look at the current travel patterns for each of the four BRICs, analysing the top 100 destinations for each, organising them by region according to data for the week of 31 Oct-6-Nov-2011 as found on CAPA's Rankings tool. For each example, there are two items, a comparative graph displaying regional distribution of service as well as a chart following each graph. This depicts at which position (1-100) each region emerges, the city pair that is at that ranking and the destination that appears most frequently within the 100—if applicable. In some cases the "most frequent" includes multiple airports (Buenos Aires includes EZE and AEP) and in a number of examples, it is simply an irrelevant measure (n/a).
In looking at the graphs, bear in mind the bars represent the number of destinations, not seats, though there is usually a close correlation.
Top 100 international routes from Russia by region (destinations)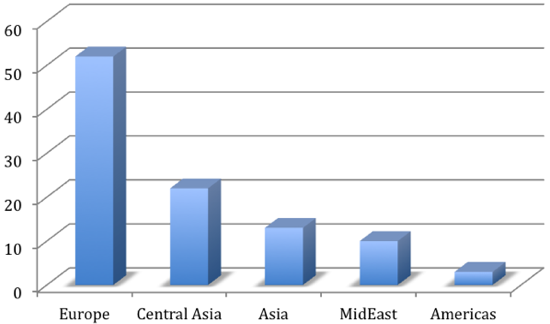 In the supplement charts, the numeric positions are associated with ranking of the seat offer between regional city pairs.
Russia specifics
| Region | | C. Asia | Asia | Mideast | Americas |
| --- | --- | --- | --- | --- | --- |
| 1st appearance | 1 | 12 | 8 | 4 | 21 |
| Route | MOW-PAR | MOW-EVN | MOW-PEK | MOW-TLV | MOW-JFK |
| Most Frequent | n/a | n/a | n/a | n/a | n/a |
Russia remains heavily linked to Europe, with more than half of its top routes to European points. While Central Asia (much of the CIS) ranks second in terms of points served, the region appearing next in terms of seat offer is the Middle East, represented first by Tel Aviv. Despite Asia's global rise, for Russia, it remains a relatively small group of destinations.
The robust Chinese list is heavily concentrated within the Asian region—3/4 of the top international destinations are Asian and they also demand the greatest percentage of available seats.
Top 100 international routes from China by region (destinations)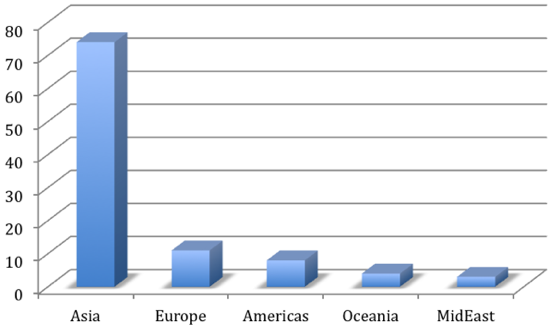 China specifics
| Region | Asia | | Americas | Mideast | Oceania |
| --- | --- | --- | --- | --- | --- |
| 1st appearance | 1 | 21 | 32 | 18 | 39 |
| Route | SHA-HKG | PEK-FRA | SHA-LAX | PEK-DXB | SHA-SYD |
| Most Frequent | na | PAR-3 | na | DXB-3 | na |
The 17 top destinations are all in Asia and only at number 18 does another region appear with Emirates making its mark. One fifth of the destinations are listed before a European point appears, Frankfurt, with the top route to the Americas, Shanghai-Los Angeles, even further down the list. It is this huge and growing Chinese network in Asia that is propelling the region as it surpasses Europe and America as the predominant global market.
Viewed from any perspective, international service to the sub-continent is dominated by hubs in the Gulf. Almost half of the 100 top nonstop routes from/to India originate or end in the Gulf region, many of those passengers simply in transit. Aside from the normally expected airports of Dubai, Abu Dhabi and Doha, traffic to India is also a major force at Sharjah, Muscat and multiple airports in Saudi Arabia. The unfortunate result is that indigenous Indian carriers may never, and certainly not in the foreseeable future, be able to regain control of routes to and from their home country.
Top 100 international routes from India by region (destinations)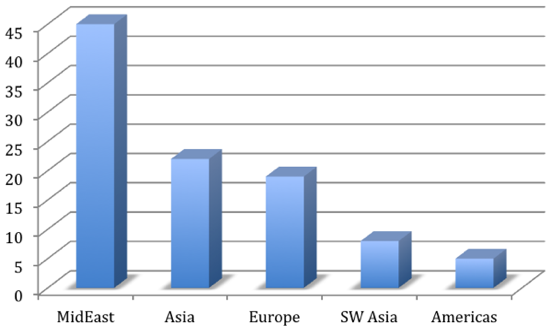 India specifics
| Region | Mideast | Asia | | S. Asia | Americas |
| --- | --- | --- | --- | --- | --- |
| 1st appearance | 1 | 3 | 4 | 6 | 29 |
| Route | BOM-DXB | DEL-BKK | DEL-LHR | DEL-KTM | DEL-CHI |
| Most Frequent | DXB-11 | KUL-6 | FRA-4 | CMB-4 | na |
Interestingly, despite the huge Indian diaspora across much of Asia, the number of Asian destinations served is only half that of the Gulf, indicating that some traffic from the East may also be transiting the Gulf. The fact that Delhi-Bangkok is in third seat-offer position suggests that Bangkok may be playing a similar "hub" role for many Asian travelers headed for India (Bangkok-Mumbai is in the 7th spot).
The first appearance of JFK on the India list is at #59. Kennedy has multiple Gulf departures indicating that when offered a connection via the Gulf, choice of direct Indian service may be diluted, especially when the traveler is destined to another Indian city. The two that precede it are Chicago, 29th and Newark-Mumbai at 32. Newark has no Gulf links and Chicago has a single Etihad flight, perhaps making the nonstop more appealing.
Brazil has no direct nonstop links to Asia and has well over half of its top destinations located on a North-South axis. Even the service to Europe is concentrated on the far Western part of the continent, Madrid and Portugal.
Top 100 international routes from Brazil by region (destinations)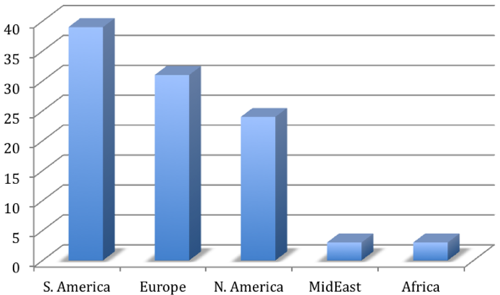 Brazil specifics
| Region | S. America | | N. America | Mideast | |
| --- | --- | --- | --- | --- | --- |
| 1st appearance | 1 | 6 | 4 | 26 | 19 |
| Route | SAO-BUE | SAO-MAD | SAO-MIA | SAO-DXB | SAO-JNB |
| Most Frequent | BUE-7 | LIS-10 | MIA-6 | na | LAD-2 |
Brazil is the only country with multiple flights to Africa in its data and while the Mideast ranks at number relatively high at 26, there is only one daily service to the region. The fact that a single daily B777-300's capacity gives the route such a high ranking shows that much of the regional network is operated with smaller, single-aisle equipment.
Once again we see the huge draw of Miami for Brazilian traffic and, despite the fact that the first European route to appear is to Madrid, TAP still operates the most seats to the most destinations.
Emerging economies creating big opportunities

As was displayed by the Airbus demand chart, much of the growth in these emerging economies is yet to occur, with many more aircraft due in the coming decades. However, also on that list of high rollers are the Gulf carriers, which are continuing to expand and have a huge portion of those anticipated aircraft that are able to span enormous distances. Even with the likes of the B787, better suited to long, thin routes, the ability of the Gulf carriers to link many distant cities with a single stop may prove to be an unbeatable business model.
Despite the fact that Sao Paulo is host to one of the largest expatriate Japanese communities anywhere and Varig operated direct service, TAM has no intent to attempt a direct flight and JAL's previous service via JFK has been terminated. At 11,500 miles, a nonstop is not currently possible and the visa restrictions imposed for travel via the US have made routes across the Pacific impractical. A major O&D market is given over to connecting service.
With the back-to-back crushes of the Olympics and World Cup facing Brazil, we may see clearly the ability of the aviation infrastructure to grow and adapt according to need, an ability that has not yet been demonstrated.
The Chinese have adopted a controlled and measured approach to aviation with the government actively involved in creating both the carriers and the infrastructure. There is every indication that for them the model is working and that the boom and bust cycles that exist elsewhere are anticipated and possibly moderated by Chinese planning. The parallel construction of high-speed rail shows that the government intends to provide a wide spectrum of choices for travelers to and within China.
The Indian carriers offering international service continue to struggle for viability and the regulatory framework as established only makes the goal of profitability more remote. There is little to indicate that the current predominance of the Gulf carriers will be diminished any time soon.
Finally, Russia, whose industry grew at more than 12% so far this year, must get its safety and regulatory standards under control. While newer Western aircraft will soon be the norm, problems extend beyond equipment alone. There is much work to be done to make all of Russia's airlines "world class".
Most agree that the BRICs do indeed lead a new wave of economic development and a shift in the global order. And there is ample evidence that domestic service in each of these markets is growing steadily. However, except for China, whether their aviation sectors will gain a similar prominence in the international market is yet to be seen.