Aviation changes in China: an airline and airport review Part 2
Analysis
The good news for foreign airlines is that Chinese carriers, independently and with guidance from regulator CAAC, will want to expand partnerships and seek closer ties in existing arrangements.
The downside is the typical difficulty in aligning with the Chinese airline nuances: their inexperience with open markets; ambiguity about larger political events that could influence alliances; deeper mistrust if a partner's partner is a competitor, no matter to what degree; and service on the ground and in the air that is improving, but still lags significantly.
This extract is Part 2 of a detailed review of China's aviation outlook contained in the October-November issue of Airline Leader, CAPA's journal for aviation CEOs. To receive your personalised e-copy of Airline Leader, sign up by clicking the panel on this page.
Free market caution will limit China's international aviation expansion
Inexperience with free markets will hamper China's willingness to undertake further liberalisation. China Southern has suggested that US carriers – it has an extensive codeshare with fellow SkyTeam member Delta – should participate in joint ventures (including anti-trust immunity) with Chinese carriers. Full JVs would, however, require China to implement an open skies agreement as a precondition to gaining US anti-trust immunity. This is going to become a more pressing issue as China watches Japan's and Korea's airlines leverage anti-trust immunity to develop deep and more powerful relationships with their US partners.
In China, the de facto consolidation these JVs deliver means an open skies arrangement should not pose the perceived terrors to local carriers, especially if it meant their marketing strength and international market share were improved in the process.
The policy evaluation process in the US is reversed: open skies must be in place before ATI to ensure consolidation is not anti-competitive. Otherwise any carrier could enter with unlimited capacity. Europe's and other regions' varying approaches to granting anti-trust immunity have for example allowed All Nippon Airways (ANA) to form a Japan-Europe joint venture with Lufthansa group carriers – increasing the dilemma for China.
The wave of JVs that started across the North Atlantic progressed to Asia and landed mainly in Japan, which has wholly revamped its protectionist policy to become the sub-region's leading open skies proponent, chasing liberalisation to combat a weakening economy. Other JVs include Japan Airlines-British Airways, JAL-American Airlines and ANA-United Airlines. Next door, Korean Air and Delta are discussing a deep partnership of their own.
Japanese and Korean airline JVs will come into the reckoning when China wants a larger presence in the JV party – as it surely must, if it is not to fall further behind internationally. Meanwhile China Southern has non-immunised partnerships with KLM between Amsterdam and Beijing, and with Air France between Guangzhou and Paris.
Japan's JVs with European carriers focus more specifically on traffic to Japan, but more significantly for China, the North American ventures eye larger Asia. United sells seats on ANA's Japan-China services – but only with ANA codes; China is still restrictive about third-country codesharing – while American and JAL hoped to cooperate on US-China routes. With their extensive ATI, even interlining can still be a valuable competitive weapon for these partnerships, even where codes are not permitted.
A Delta-Korean partnership would undoubtedly be heavy on Chinese traffic; a major component of Korean's strategy is carrying sixth freedom traffic from China to its expansive North American network.
The North Asian competitive long-haul scene is highly dynamic. Clashes will abound: US carriers are making moves to secure a virtual footing in China through JVs, while European carriers considering deep partnerships with Chinese carriers will have to work around JVs in Japan, a market Chinese carriers are targeting for their own sixth freedom traffic. Such conflicts are not unusual in JVs, but they are convoluted in China and not helped by Chinese carriers' risk aversion towards any level of competition; ring fencing will still seed resentment. Turkish Airlines' application for a seventh weekly Hong Kong service was scrutinised by Hainan Airlines, which pondered if its Hong Kong Airlines subsidiary should object to the increase owing to Hainan's 49% stake in Istanbul-based cargo carrier ACT Airlines.
Partnerships will inevitably play a part in the medium term
Foreign carriers looking to partner with Chinese carriers will want a degree of certainty in the local regulatory environment, and for now China cannot readily provide this. Too often in the past, China's carriers have tended to see their American partners as their greatest competitors too. This uneasy foundation is likely to persist as Chinese airlines (and Chinese businesses generally) become more confident of their global roles in international trade. The tendency is still to see foreign partnerships as stepping stones to a stronger independent role – in reality not such an unreasonable proposition when viewed from a stance in Beijing.
While Japan can closely guard precious Tokyo Haneda slots, there is greater transparency than in China, as the recent launch of American Airlines' Chicago-Beijing service shows. AA initially sold the service with the "placeholder" afternoon slots it was given the impression it could secure (although Beijing maintained American was being presumptuous). Hours before the inaugural service, AA had failed to secure slots better than at midnight hours in Beijing, which would have seen the service depart and arrive back in Chicago in the middle of the night. AA cancelled the inaugural, and made a second postponement, until finally securing more viable slots and launching a costly two months late.
Western European passenger routes to China, excluding Beijing and Shanghai: 20-Aug-2012 to 26-Aug-2012
Route authorisations can be perplexing. New Singapore LCC, Scoot, applied to operate a triangular Singapore-Shenyang-Qingdao-Singapore route twice a week in one direction and once a week in the other but the CAAC only authorised the routing in one direction. This is not just a problem for foreign airlines; Chinese carriers often apply for far more routes than they intend to serve or are capable of launching since they do not know what the CAAC will approve. This shortsightedness towards the impact of its commercial shortcomings is one more reason that a more liberal CAAC would be a positive move for industry and consumers alike.
Once structural and regulatory practices are refreshed, the next big issue is service standards. It is only 25 years since CAAC, effectively a government department airline, was dispersed into six airlines, eventually this century being consolidated into three. Now, against a background of a world industry that is undergoing unprecedented upheaval, and without a generic customer service culture, the Chinese carriers are being forced to accelerate their evolution to achieve networks and standards that other carriers took decades to achieve, and that in conditions of calm and protectionism.
Each new aircraft delivery in China is better than the last, with China Southern's A380 a great improvement over its 777-200 (and by some accounts a globally competitive product), while Air China's 777-300ERs are superior to its outgoing 747-400s. But a number of older aircraft remain, customer service can be poor and the ground experience lacking, from no information on what to do in Beijing when a flight is cancelled, to a single and hidden drinking fountain in Guangzhou's international pier that only dispenses hot water.
These are not in principle difficult areas to overcome, and the world has witnessed China's achievements when it sets its mind to a task. Despite international involvement – SkyTeam is working with China Eastern and China Southern in their respective hubs while Air China staff shadow peers at Cathay Pacific – there is a way to go. The Chinese carriers are surprisingly candid about it, a positive sign that suggests solutions are coming. This component of a convoluted and large Chinese market will, however, almost singularly form the impression of foreign passengers who today have more mediums than ever to share their experiences.
Domestically, cross ownership is a feature of the industry
While China readies for more mainstream partnerships, it has a number of initiatives under way for secondary forms of partnership, which are almost unique to China. The domestic market has been closed to new entrants since last decade's expansion that saw arrivals such as Juneyao and Spring Airlines. The exception for start-ups is where an existing domestic carrier forms a JV.
The most recent is Hainan Airlines working with the Fuzhou Government to establish Fuzhou Airlines.
New carriers have been created with Air China: Tibet Airlines in 2011 and a pending carrier for Inner Mongolia. China Eastern and China Southern have previously established subsidiaries, but Air China's growth is largely choked due to its hub at Beijing Capital reaching capacity. Being the country's flagship, Beijing may prefer Air China to lead the expansion charge. With plans to build airports in 70 new cities over the next five years, in addition to expansions or re-building of existing airports, only a fraction of those will see a new accompanying carrier unless airline innovations are forthcoming.
Internationally, Hainan Airlines parent HNA almost exclusively leads the partnership effort, which is still new. Outside greater China (Hong Kong Airlines is an HNA subsidiary), HNA first obtained a stake in the Turkish cargo carrier ACT in Jul-2011 but has moved at a quicker pace in 2012, taking an equity stake in Ghanaian start-up Africa World Airlines and bidding for a domestic operation in Saudi Arabia as part of the country's aviation reforms (it was short-listed and a decision was due in Oct-2012 but appears to have been delayed to an unspecified period). Local reports indicate HNA is closer to taking a stake in France's Aigle Azur and having the carrier launch flights from France to China.
HNA is a tourism and real estate conglomerate with deep pockets but a lack of focus, which has resulted in the scattered investments (now-defunct Malev was considered too). Aigle Azur presents the clearest rationale in that Hainan would be blocked from opening a Paris route from Beijing, Guangzhou or Shanghai since Chinese carriers there already have links to Paris.
Any carrier that manages to launch in China must enjoy close ties with the Government, but some are much closer than others and benefit from greater privileges. The impression from China's leading private airlines – HNA and LCC Spring – is that international growth is more welcomed, and doing so as a foreign operation is especially safe.
Spring is forming a Japanese subsidiary that will primarily fly between Japan and China. While Spring serves a number of points in Japan from its Shanghai base, they are alternative airports. The LCC does like lower-cost airports, but has spoken of entering mainstream airports such as Tokyo Narita. A Japanese subsidiary, in which Spring could only have a minority stake (although with more or less passive financial investors), has a much wider spectrum of routes open to it.
China and Japan have an (almost) open skies agreement, but it remains to be seen how the CAAC will look at a carrier effectively circumnavigating China's one route, one airline policy. That does not apply to Hong Kong, but nonetheless Hong Kong Airlines has shown no indications of regulatory setbacks in the mainland, operating in the profitable Hong Kong-Beijing and Shanghai markets.
The larger question for private carriers such as Hainan and Spring is how much favour they will find in the new government. Hainan, with its opaque cross-ownerships and subsidiaries, is perhaps the most exposed since it is partially owned by the Hainan Government. If the Hainan Government loses influence with the next leadership, that would affect not only routes but access capital too. That said, no significant change in the status quo is expected.
China is fast approaching an international strategy crossroad.
It will be unable to realise international growth projections without significantly expanding its bilateral agreements, a process that must be gradual as Beijing's priority remains to ensure its carriers can hold a balanced market share. In China's rare open skies agreement with Japan, Chinese carriers are advantaged, accounting for approximately 60% of the market. China also has a restricted open skies agreement with South Korea, limited to China's tourism hotspot of nearby Shandong province.
China has also signed up as an external party to the ASEAN open skies agreement, but only covering third and fourth freedom traffic. Malaysia, Singapore, Thailand and Vietnam were early to ratify but other countries like Indonesia are prevaricating, relying on the numerous available exceptions to continue to protect their flag carriers. China's experience with ASEAN may prove to be a bellwether for liberalisation.
Chinese carriers are under-represented to Southeast Asia: Malaysian carriers account for 80% of China-Malaysia traffic, but China deemed it critical to subscribe to the ASEAN air transport agreement to support its broader trade agreements with the regional body. If China sees favourable economic benefits and its airlines are not disadvantaged, it may be willing to move faster on liberalisation.
Then again, Southeast Asia, unlike intercontinental markets, has few prestigious routes China wants to plant itself on to raise its profile. And it may anyway already be too late: at certain times of the year, routes in Southeast Asia are unprofitable due to heavy and cost-efficient competition from the fast growing LCCs.
Foreign carriers typically dominate long-haul markets, with exceptions in end-of-line destinations such as Australia and New Zealand, which have opened up their markets to Chinese carriers. Australia is now used to liberalisation at the expense of local dominance, but a recent China-New Zealand expansion in favour of China saw some quiet grumblings from the New Zealand side, where the flag carrier is still majority government owned.
There are compelling reasons why liberalisation can be very much in China's best interests
Far louder complaints are slowly emanating from carriers who are seeing once-staple sixth freedom traffic bypass their hubs for Chinese alternatives. Even the Gulf carriers have been heard to say that their biggest long-term fears relate to China's airline capability. China Southern is most aggressively pursuing a hub strategy, and from its Guangzhou base can tap into Australia and New Zealand.
China's geography overall offers tremendous potential to re-distribute traffic throughout the country.
It will be a significant threat to traditional sixth freedom hubs in Asia and the Middle East, and already the complaints against it have a familiar ring to those currently aired against Middle East carriers.
A Singapore Airlines manager recently told an Australian conference, as reported by Travel Today, that China Southern as a "profit neutral" carrier was undermining its own profitability and "is just one airline of many who view the Australian market, somewhat unrealistically, as an abundant utopia of low-hanging fruit to the detriment of profit orientated legacy carriers." Whether or not this low-hanging fruit line was merely sour grapes, the statement was an unconscious throwback to the challenges thrown at SIA in not so distant times.
The recent fervour – in words and liberalisation stagnation – against Middle East carriers may pale against what competitors will say about Chinese carriers once they gain further scale and impact. Like the Middle East, China has genuine advantages: cost base, geography and a government that supports air transport, although some details require refining. China is open about the fact that its airports are typically unprofitable (but holistically they fuel regional growth) and its airlines are frank that fares are low while service lags – neither of which satisfies those who call for level playing fields.
The political side will also be impacted by China's territorial disputes. Affected countries are small in number – primarily Japan, the Philippines, South Korea and Taiwan – but large in significance: three excluding the Philippines, are China's largest sources of international seats. China-Japan tension flared in Sep-2012 over the Diaoyu/Senkaku islands, with Chinese passengers boycotting visits to Japan, while Japanese passengers wanted to avoid the anti-Japanese sentiment in China. JAL for one cut China capacity by an initial 22% over a few weeks but gradually extended the reductions.
China domestic and international growth rates
Some political commentators discount the flare-up's significance, saying it was used by China – in a rare instance, protests were tolerated – to stir nationalist feelings ahead of its leadership change. But a territorial dispute between China and the Philippines shows the impact that can still be wrought on air transport even when the average citizen is not aware, much less possibly being used for political purposes. China and the Philippines' naval standoff near the Scarborough Shoal saw China issue a May-2012 travel warning to the Philippines, which effectively stopped Chinese travellers en masse. Traffic levels are down 15% as a direct result.
Mainland China and Taiwan have territorial disputes too, but also disagree over the much larger existential issue of which side can claim to be "China". This has been put aside in recent years as they each realise economic benefits from cooperation, including direct air services, which are some of the most profitable for each side with great scope for expansion. The more volatile side is Taiwan, although a Jan-2012 re-election of the Chinese Nationalist Party (KMT), which maintains a warmer position towards the mainland than the Democratic Progressive Party, will ensure stability for the short-term at least. Mainland Choutlook is not expected to change from its current position.
China's infrastructure is straining to meet the rapid growth at home
Air traffic control remains a major problem. A priority for China is to tackle the notorious congestion in its airspace, but this remains squarely outside the CAAC's control and in the military's hands.
Regardless of moves to expand bilateral relations and establish goodwill amongst neighbours, full benefits cannot be realised while the chronic and unpredictable airspace control conditions can result in a major airport such as Beijing Capital effectively closed for business without notice.
Air traffic management is not as sophisticated as peers', where the military can peremptorily – and regularly – close large swathes of airspace for training purposes without reference to any commercial needs. While delays can snowball, many half-jokingly advise to take flights in the early morning – before the military wakes up and finishes breakfast. Official state figures put ATM as the source of about a quarter of delays, the single largest cause.
Domestic delays of an hour or two are increasingly typical but there is little consumer tolerance: in a few incidents of long delays, passengers have protested by entering the tarmac and active taxiways. In news reports, state-run media ensure to mention the need for maintaining law and order, but airspace congestion is well understood and the tone is increasingly sympathetic towards passengers experiencing infrastructure challenges elsewhere in the country, as the Government struggles to plan and keep up with growth.
Airways preference is typically given to international flights, which sees aircraft with altitude-hungry engines – sufficiently profitable elsewhere in the world – become a challenge to operate economically in China.
IATA is helping to promote changes, and improvements are being made; but they are piecemeal and often remedy last decade's congestion, not plan for the next decade. Then there are the airspace reforms the country's nascent business jet and general aviation operators want too. Parallel runways are common but parallel operations less so. China's northeast corridor saw expansion in 2012, yet gains are relative; it was only in 2007 China reduced the minimum cruise separation from 2000 vertical feet to 1000. Jetstar, quickly expanding its operations into China, views air traffic congestion as a bigger challenge to air transport than any infrastructure issue on the ground in China.
Flight times are increasing as a result. Between 2002 and 2012, the average scheduled time of Hong Kong-Beijing flights increased 7%, or about 14 minutes, according to OAG. Hong Kong-Shanghai increased 2%, or three minutes, while Beijing-Shanghai increased 14%, or 16 minutes. In some instances padding is being added to schedules, but there is no doubt considerable profitability gains could be achieved if Chinese carriers made no changes while ATM was over-hauled.
Chinese airlines cannot stand still. The Big 3 remain woefully inefficient
Their operating costs may be comparatively low, but there is room to unlock significant synergies – and they need to before the inevitable flood of LCC entrants, as well as to bolster themselves against efficient and encroaching foreign competitors. China's legacy carriers are saddled with inefficiencies from mergers early last decade, primarily Air China with China Southwest; China Eastern with China Yunnan; China Northwest and Shanghai Airlines; and China Southern with China Northern.
The carriers (via their corporate bodies) report to the state-owned Assets Supervision and Administration Commission, which manages the country's large state-owned enterprises and has recently put the Big 3 under greater pressure to be profitable. Nonetheless there is often still an air of complacency that graces most state-owned carriers, let alone China's sprawling SOEs.
China's privately owned carriers (or as privately owned as possible) are typically more lean, do business faster and ambitious, knowing passengers do not as automatically flow to them and that there is no soft cushion to fall back on. Xiamen Airlines in 2010 and 2011 reported a margin over 10% on its predominantly domestic operations – double the Big 3's – and is regarded as one of the world's most consistently profitable airlines.
China Southern in Aug-2012 acknowledged a "huge gap" between itself and Xiamen Airlines, in which it owns a stake. China Southern is studying Xiamen's model to make itself more efficient, but there is a learning curve. China Southern, surprised at higher wages at Xiamen, sought cuts, but learned Xiamen's staff displayed far higher productivity. Fears of the inefficient mega carrier taking over and jeopardising an efficient smaller carrier have left smaller players with degrees of independence even though they are owned by one of the Big 3.
Cost-cutting measures at the Big 3 represent significant undertakings. Europe's major airlines have or are struggling to make a deep turn-around. Air China rivals Air France measured on capacity; China Eastern and China Southern surpass it, but fall just under Lufthansa, the largest of Europe's legacy carriers.
Unlike in Europe, Chinese carriers remain profitable – but they also do not yet have to contend with rampant low-cost carriers. That will change.
LCCs must surely take their place in China's market soon. But the models may well have a local twist
Pitting the inefficient Big 3 overnight against an open market with LCCs would have more damaging outcomes than they have had in any region – so China is understandably anxious to manage the progression.
The CAAC's interest in LCCs is consistently thorough. It is using meetings with foreign LCCs on regulatory matters to understand their model. China Eastern is learning by taking a stake in Jetstar Hong Kong; Air China has expressed interest in learning from the Singapore Airlines Group about its LCCs, Scoot and Tiger Airways (Air China equity partner Cathay Pacific is a rare major airline to have no experience in the area), and has previously drafted plans to formulate an LCC model.
CAAC passenger numbers and growth forecast: 2003 to 2030F
It would not be surprising if, once given the opportunity, the Chinese market throws up some new variations of the LCC model. After all, it would be coming late to the LCC movement, at a time when most low-cost operators are already hybridising. Two-class service, airport lounges, connectivity and other overlays are being introduced to attract higher yielding travellers as well. And, as largely new air travel consumers, the Chinese traveller has different expectations from those who have grown up flying full-service operators. This can mean many things; Scoot CEO Campbell Wilson has, for example, noted of the carrier's China operations a lower tolerance for back-of-the-clock operations.
For now, the domestic Chinese market is the richest potential LCC end game in Asia. The likes of AirAsia, Jetstar and Tiger would love to gain JV access. The CAAC would first favour their establishing LCC subsidiaries with existing domestic carriers – or ideally have the domestic airlines set up their own, independent operations.
China Eastern could use experience from Jetstar Hong Kong to launch an LCC not only without Jetstar, but even in a competing market. The scenario is not confined to China: ANA in Japan is considering that if Japan shrinks enough it will need new markets, potentially to be served by its Peach LCC or a new carrier – which would gain from its LCC experience, including with AirAsia Japan.
Spring Airlines CFO Johnny Lau, at CAPA's LCCs & New Age Airlines in North Asia Summit in Macau in Sep-2012, asked Jetstar CCO David Koczkar how Jetstar protects its IP and avoids having partners use gains against it.
Mr Koczkar said Jetstar's partnerships "are structured with people we believe are there for the long-term". But as the wave of current partnership re-alignment shows, long-standing relationships are not necessarily forever.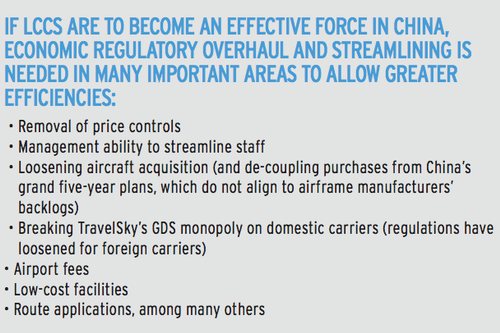 China's domestic market has undergone phenomenal growth over the past decade, defying most of the doubters. This, despite still preventing the full operation of low-cost airlines on domestic sectors. Meanwhile, international service by Chinese carriers is still in its infancy. Beijing continues to practice a defensive bilateral strategy designed to protect the Big 3 until they develop the necessary market skills and power. Independent airlines like the HNA group are taking some initiatives, as is China Southern, but generally international routes are the domain of foreign airlines, full-service and LCC.
Now, a combination of sustained economic downturn and dramatic shifts in the international alliance patterns will throw each of those policy shortcomings into doubt. Even China's ballooning domestic operations will not escape the impact of a slowing external environment. That is probably however only a temporary setback.
Fundamental change in the global industry means that China must accelerate its move towards a greater international role
The drama of recent international developments is of greater concern, shifting the fulcrum of global aviation, as the powerful Gulf carriers cut across multilateral alliance divisions to combine with the leaders of those alliances. The effect is greatly to strengthen the clout of these combinations, while Chinese airlines risk being sidelined. Limited by self-imposed bilateral market access constraints and less willing to commit fully to alliances with foreigners, China's majors remain unable to exert individual muscle.
Given this scenario it is timely that highly significant changes at the head of the CAAC are probably under way. That is not to imply that sweeping changes would be implemented immediately; that would be too destabilising for an ultimately conservative governing body. Yet it would open the door to a more comprehensive response to the fast pace of disruption of global markets, both full-service and short-haul.
For China this is to be – yet another – vital period of evolution which must prepare its airlines for an eventual major future role in international aviation. For China watchers it is likely to be an intriguing process. Ultimately, Chinese carriers are expected to dominate world aviation, something that today's powerful entities must prepare for and therefore cannot ignore in the short-term.
What will happen between China's "now" and its "ultimately" is hard to decipher. But it will be defining for world markets. So, while foreign airlines are currently preoccupied with their own partnering, attention will quickly turn to embracing Chinese interests as well.
All of these signals point to an acceleration of activity in Beijing. It is in China's interests that this happens. Whether it can be anything more than reactive will be a function of the ingenuity and risk appetite of the CAAC.