02-Mar-2009 11:28 AM
Austrian Airlines one small step closer to Lufthansa union - share wrap
Austrian Airlines shares surged 10.7% on Friday after Lufthansa submitted its highly conditional offer for the Vienna-based carrier. The EUR4.49 per share offer for OeIAG's 41.6% stake in Austrian is conditional on European Commission approval of a EUR500 million debt aid package by the Austrian Government.
In Dec-2008, Lufthansa signed agreements to acquire the loss-making Austrian carrier for up to EUR377 million. The transaction has already raised eyebrows within the EC over pricing and transparency.

Time is short for Austrian. The carrier last week revealed its operating losses for 2008 and January have exceeded half of the carrier's EUR264 million share capital.
Lufthansa CEO, Wolfgang Mayrhuber, has stated the deal would collapse if the EC vetoed the USD500 million in debt aid. Airport investors dumped Vienna Airport in favour of Zurich on Friday.
European selected airlines daily share price movements (% change): 27-Feb-09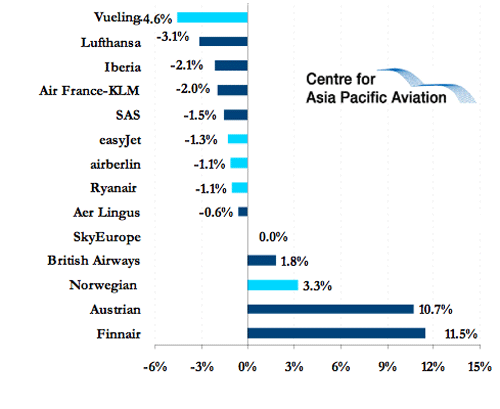 Meanwhile Vueling's shares eased 4.6% on Friday, but are still considerably higher than at the start of 2009.
Vueling share price: 02-Jan-09 to 27-Feb-09