Australian discount domestic air fares fall further, but rising retail sales gives hope to airlines
Analysis
Best Discount domestic fares in Australia are now around half the level they were in Jul-2003 and have fallen approximately 15% year-on-year. Fares in this category reached their lowest point in Jan-2011, when the index dropped to 48.1 (Jul-2003 =100).
Retail sales in Australia rose nearly 1% in Feb-2011, according to the latest spending data from the Commonwealth Bank. It was the third gain in four months and the fastest trend growth rate since Aug-2009. There were 11 consecutive monthly falls in retail sales starting in Dec-2009, which corresponds to the start of the most recent slide in discounted domestic air fares.
Best Discount domestic fares and moving average: Mar-06 to Mar-2011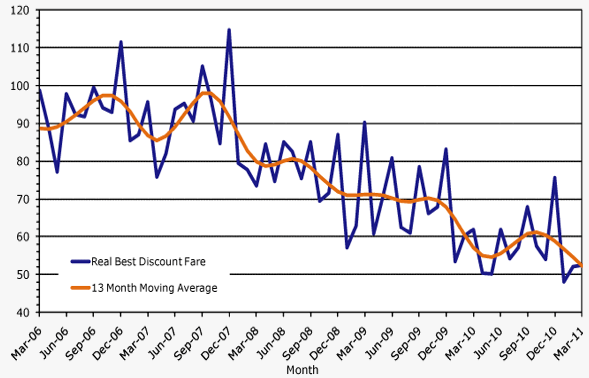 Airlines will draw some encouragement that retail spending appears to be improving once again. There is also the possibility that travellers will choose to holiday closer to home amid the string of global crises, which could boost domestic travel in coming months, raise load factors and reduce the availability of the most heavily discounted fares.
Business fares have risen year-on-year, as have the more restricted economy fares.
Australian domestic fare index (Jul-2003=100)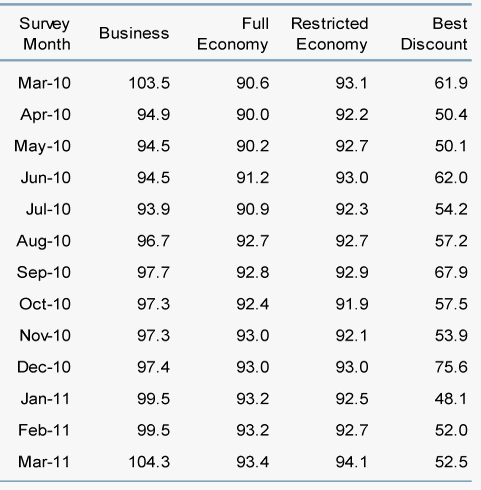 Competitive tension in key markets
Figures available on the CAPA website for an array of Australian airports shows that fares remain under pressure in many key city pairs, for example Sydney-Melbourne Tullamarine and Melbourne-Brisbane. Easter, which falls in late April this year, is however providing some upward momentum in forward ticket prices.
Click here for more Sydney Airport fares data.
Return economy fares travelling from Sydney to Melbourne Tullamarine: Oct-2010 to Apr-2011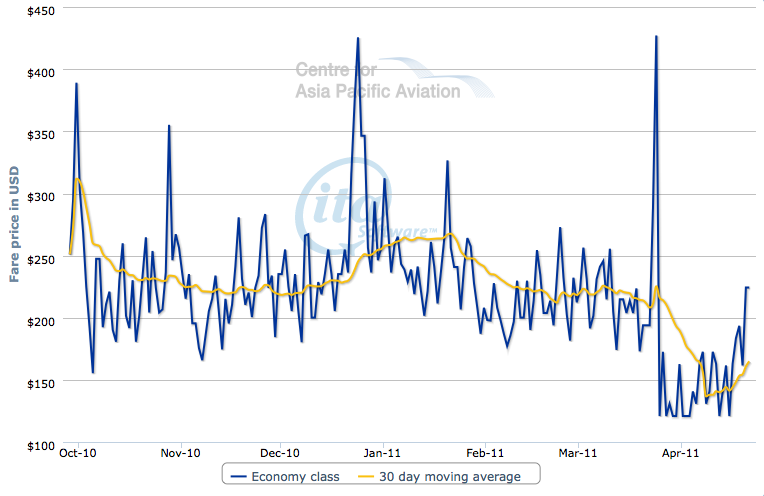 Click here for more Melbourne Tullamarine Airport fares data.
Return economy fares travelling from Melbourne Tullamarine to Brisbane: Oct-2010 to Apr-2011