At Australia's Regional Express challenges abound for the last man standing
Analysis
Australian regional airline, Regional Express (Rex) was muted in the presentation of its FY2014 loss as cracks begin to appear in the façade of Australia's only profitable airline.
Rex recorded an AUD10.7 million EBIT profit, down 44% from FY2013's AUD19.2 million EBIT profit – in itself down 45% on the year prior.
Rex's Achilles heel is an uninterrupted downward slide in passenger numbers – falling almost 20% since FY2009 – alongside a challenging domestic market, lacklustre economy and changing regional passenger flows.
Rex has not experienced passenger growth since 2009. The airline flew 38,000 fewer passengers in FY2014 which took the largest chunk of Rex's reduced revenues at AUD5.5 million. Management believe the worst is over and have flagged a stabilising load factor into FY2015, but without an underlying strategy it is unclear how this will be achieved.
Rex pointed to the disproportionate loss of 30,000 passengers in 1HFY2014 compared to 8,000 in 2HFY2014 as proof the market was flattening, but this in itself is not certain. The repeal of the carbon tax in FY2014 has been a boon for Rex, who were among its most vocal critics, but this drew AUD2.5 million from the airline's bottom line in FY2014, up very slightly from AUD2.4 million in FY2013, and comprises a small proportion of Rex's costs.
Rex has exercised prudent financial management but that does not preclude a strategy
Never one to shy from rhetoric, Rex noted it would be understatement to say that Australian aviation is in crisis. While not far from the truth – Rex is one of few independent regional airlines still operating in Australia and by far the largest – the airline has beaten this drum for a long time, while posting results much better than this one.
Regional Express Holdings revenue down 2% - financial highlights for 12 months ended 30-Jun-2014:
Total revenue: AUD253.3 million (USD232.4 million), -1.9% year-on-year;
Total costs: AUD244.1 million (USD224.0 million), +0.5%;

Labour: AUD95.8 million (USD87.9 million), +1.8%;
Fuel: AUD40.3 million (USD37.0 million), +4.5%;
Profit before tax: AUD10.7 million (USD9.8 million), -44.4%;
Net profit: AUD7.7 million (USD7.1 million), -44.9%;
Passenger numbers: 1.1 million, -3.4%;
Load factor: 54.3%, -1.3 ppt;
Average fare: AUD192.1 (USD 176.3), +0.8%;
Revenue per ASK: AUD 29.0 cents (USD 26.6 cents), -1.7%;
Cost per ASK: AUD 29.2 cents (USD 26.8 cents), +3.4%;
Cost per ASK excl fuel: AUD 23.9 cents (USD 21.9 cents), +2.4%;
Total assets: AUD289.2 million (USD265.4 million);
Cash and cash equivalents: AUD22.0 million (USD20.2 million);
Total liabilities: AUD100.1 million (USD91.9 million).
*Based on the average conversion rate at USD1 = AUD1.0899
Since FY2010, Rex's profit margin has fallen 71.7% to a low of 3.0%, itself down from 5.4% in FY2013.
Rex didn't fare much better elsewhere. While fares are at historical highs, load factors and passengers continue to decline. Looking as far back as FY2009 – the peak of the GFC – there are very few standouts in Rex's results.
Rex financial results FY2009-2014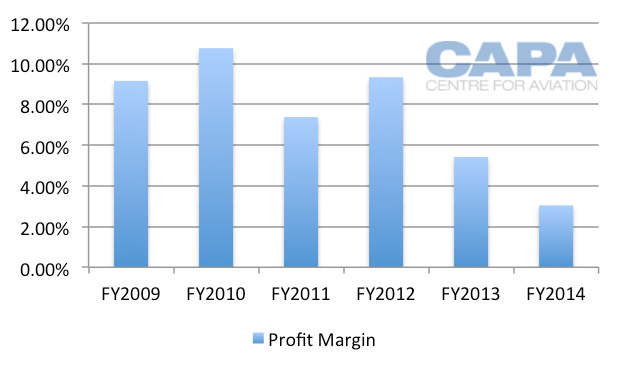 But Rex is not one to sit idly by – the carrier has a firm footing heading into FY2015 with cost control having always been the carrier's strong point. CASK has declined by almost 12% since FY2009 and fuel per ASK has remained steady, reflective of the very marginal changes Rex makes to its network year-to-year.'
Rex's CASK has reduced each year until 2014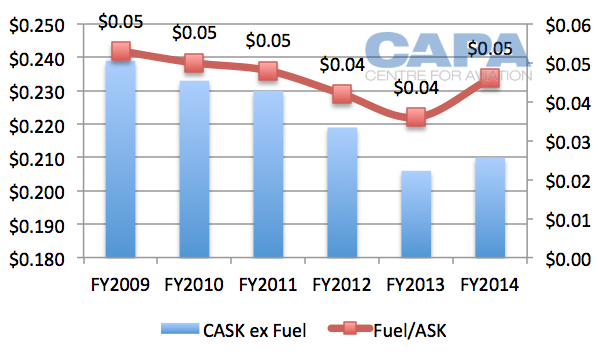 FY2014 is an exception with significant capital outlay
Rex has weathered storms before and it is unlikely to cede now. The airline recorded AUD56 million in capital expenditure during the financial year; a significant increase on what is usually a highly prudent operation.
This also marks one of the few occasions Rex has deviated from funding acquisitions from operating cash flows – obtaining a three-year AUD22.7 million loan facility.
The acquisitions are prudent; Rex is one of the largest single operators of Saab 340 aircraft in the world with 47 aircraft and plans to keep them in service for at least another 15 years.
Rex's fleet already posts an average age of 20.7 years and shoring up spares inventories will provide significant certainty in MRO costs. The construction of a simulator centre will also bolster the airline's existing cadet scheme and allow cadets to transfer seamlessly into the airline's ranks.
Operationally sound but disproportionately exposed to local challenges
Rex has little debt and a strong balance sheet, while its operations are diversified across corporate, freight and charter services with its Pel-Air and Air Link subsidiaries. The carrier's net assets rose by AUD8.2 million to AUD189 million during FY2014 and it maintains a cash balance of AUD22 million.
But Rex flies at the whim of the land – country areas of Queensland, South Australia and New South Wales have experienced rainfall in some areas at the lowest 10% to 5% ever recorded. This causes disproportionate impacts on regional areas and Rex's bread and butter business passengers.
On the other hand, Rex is largely isolated from competition – it is the sole operator on 27 of its 36 routes and has the advantage of relatively inelastic pricing over those who depend on its services, although this is a double-edged sword. Rex's fares have increased 22.6% since FY2009 corresponding to a 19.1% fall in passengers.
Rex's fares have risen as passenger numbers fell
Rex is often accused as price gouging in many of its markets – not in itself an uncommon criticism of regional operators, especially those operating in or near markets with LCC competition. But almost 60% of Rex's services are less than one hour in length and over 85% are less than 1h:30, and regional residents are not disinclined to a few extra hours of driving if it works out cheaper. There is in other words a contested market for this regional travel.
This was explored regularly during a New South Wales regional aviation inquiry; with multiple councils noting a three to five hour drive (the average time to drive what would be a 0:50-1:20 air service) into Sydney does not sufficiently frustrate residents into paying for a premium air service, such as Rex's.
Most of Rex's stage lengths are less than one hour
This traveller indifference is especially evident in markets where a low-cost alternative is nearby and an extra hour in the car can result in fares significantly lower than Rex can offer. This is a key challenge at airports such as Lismore, Ballina, Taree and Grafton where LCC alternatives are present or an airport with LCC service exists nearby.
Clarence Valley Council crunches the numbers… It's not good
The operator of Grafton Airport, Clarence Valley Council (CVC), found approximately 80,000 passengers p/a commute to alternative airports for nonstop services, estimating the split to be 50/50 between Coffs Harbour and Ballina Airport. This is considerable given Grafton Airport reported only 13,400 passenger movements during 2013.
While this exact scenario is not applicable network wide, CVC is one of the few councils to have actively evaluated the impact – itself presiding over a slow drip of passengers, despite a decline in air fares and increase in population over the same period – and is indicative of one of several external challenge to Rex's passenger numbers beyond the typical whipping boy of 'uncertain economic conditions'.
Grafton Airport Passenger Numbers
ASKs are steady but load factors and passenger numbers are some of the worst recorded
Rex's operations have remained relatively static even through the GFC aftermath. The airline has limited opportunities to diversify its markets and apart from a seasonal dip over the Christmas/New Year period (illustrating its strong business travel component), Rex maintains a relatively steady schedule to the majority of its destinations.
Regional Express seats per week, one way, 19-Sep-2011 to 1-Mar-2015
The airline has varied its ASKs by an average of +/- 3% since FY2009 while load factors in the same period have declined 11.8% from 66.1% in FY2009 to 54.3% last financial year.
Passenger numbers have fallen 19.1% and this period recorded some of the lowest passenger numbers and load factors since the airline's inception.
Rex passenger numbers and load factors FY2009-FY2014
Rex heads into FY2015 with muted optimism dusted with a lot of uncertainty
Rex is facing an uncomfortable future with many unknowns. But that is hardly a new scenario for Rex. While forecasting flat or slightly improved profit growth into FY2015, the airline has failed to address how it intends to arrest the downward trend in passenger numbers. Only Sydney-Taree-Grafton and Sydney-Lismore have been flagged for evaluation in recent months, although several other markets must undoubtedly be struggling.
Rex has a lot in its favour – a relatively debt-free operation, relentless focus on efficiency and management who have grown an airline from the ashes of the Ansett collapse into a powerhouse regional operator. Small gains from the repeal of the carbon tax and a flattening in the domestic economy should drive an improved operating environment, as should an assistance package for drought-affected regions; but these gains would only delay an inevitable trend and a network-wide evaluation may be in order.
One of the first stops could be a consolidation of operations where it is strongest – in the country.