ASKY Airlines eyes expansion to Southern Africa and Europe as it celebrates its third birthday
Analysis
ASKY Airlines has transported more than one million passengers in little over three years since launching operations in West Africa in Jan-2010. In that time the full service carrier, 40% owned by Ethiopian Airlines, has established an enviable market position, operating to 22 destinations with Bissau to be added from Jul-2013.
With the carrier now making a profit, management is turning its attention to expanding south in search of more lucrative routes to Angola and South Africa, while more ambitious services to Europe could reportedly be launched by 2015.
ASKY was launched to provide a West Africa hub for Ethiopian
ASKY was founded as a private airline, based in Lome, Togo, through a partnership with Ethiopian Airlines in 2008 to pave the way for the development of a West and Central African hub for the Ethiopian flag carrier. The partnership covers marketing, operations, maintenance, training and management.
Other private investors include the ECOBANK Group, the two main development banks of the sub-region, ECOWAS Bank for Investment and Development, the West African Bank as well as South African and West African investors.
ASKY had its genesis following the bankruptcy of Air Afrique in 2002, which significantly impacted on the movement of people and goods in West and Central Africa. In some cases air travel between countries in the region required passengers to transit via a European point.
In Jan-2004 the Conference of Heads of State and Government of the Economic Community of West African States (ECOWAS) and the West African economic and monetary union (UEMOA) decided to create a private carrier capable of offering a cost effective and safe air travel for the region. ASKY was eventually created in Nov 2007 and commenced services in Jan-2010 with Ethiopian as the technical and strategic partner under a management contract for the first five years of operation.
Ethiopian plans to apply the ASKY model to establish other regional hubs in Central Africa reportedly at either Brazzaville or Kinshasa and in Southern Africa where Lusaka or Lilongwe are proposed. ASKY already operates to both Brazzaville and Kinshasa.
Today ASKY operates more than 200 flights per week to 22 destinations, making it the region's second largest carrier, albeit about half the size of Nigeria's Arik Air.
ASKY route network as at 31-May-2013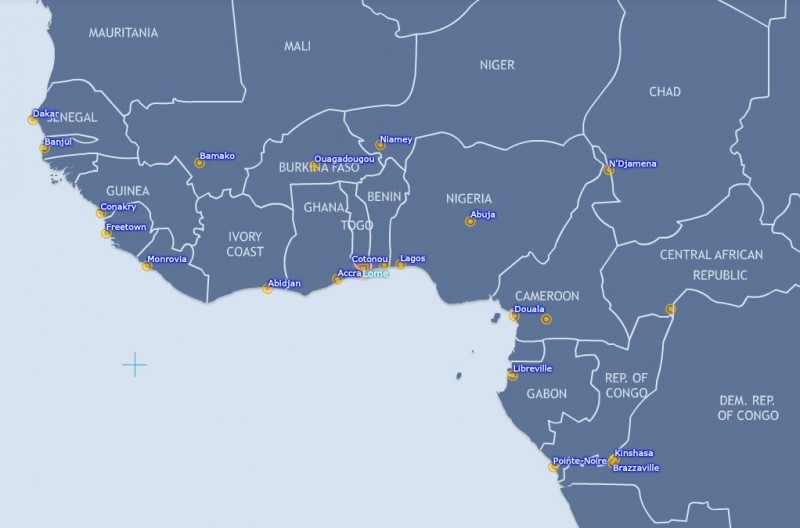 ASKY plans to launch services to Bissau in Jul-2013
ASKY will further strengthen its regional hold when it adds Bissau to its network on 15-Jul-2013. Bissau will initially be served twice weekly via two routes, Lome-Abidjan-Conakry-Bissau and Lome-Bamako-Dakar-Bissau services, Boeing 737 aircraft. Overall frequencies between Lome and Bissau are expected to increase to five times weekly by Jan-2014. ASKY faces no competition on the Conakry-Bissau leg, but will compete with TACV Cabo Verde Airlines between Dakar and Bissau.
Services to Dakar were increased in Apr-2013 via Ouagadougou with overall frequencies increasing from three time to six times weekly. ASKY operates three times weekly Lome-Bamako-Dakar and three times weekly Lome-Ouagadougou–Dakar services.
Lome is not currently connected to Southern Africa while neighbouring hub Accra offers services to Windhoek and Johannesburg. Lagos in Nigeria has connections to Johannesburg and Luanda.
ASKY considering intercontinental services to Europe in 2014 or 2015
ASKY CEO Busera Awel has reportedly stated that services to Europe could commence in 2014 or 2015. This would most likely initially be to Paris in light of to the country's historic ties to France.
It will have stiff competition from Air France, the only French carrier to operate to Lome offering 1100 one-way seats across four services per week from Paris CDG. The only other European link is a twice weekly service from Brussels operated by Brussels Airlines.
Long haul services to unspecified destinations were previously mooted for ASKY in Jun-2011 with Ethiopian suggesting the carrier could acquire a Boeing 767 to operate them, but these plans have not eventuated.
Ethiopian Airlines handed over operations of key Lome routes to ASKY
ASKY owes much of its growth to Ethiopian which handed over several West African regional routes in 2011, including Lome to Lagos, Abidjan, Accra all of which feature in the ASKY's top 10 destinations.
ASKY top 10 routes (seats): 27-May-2013 to 2-Jun-2013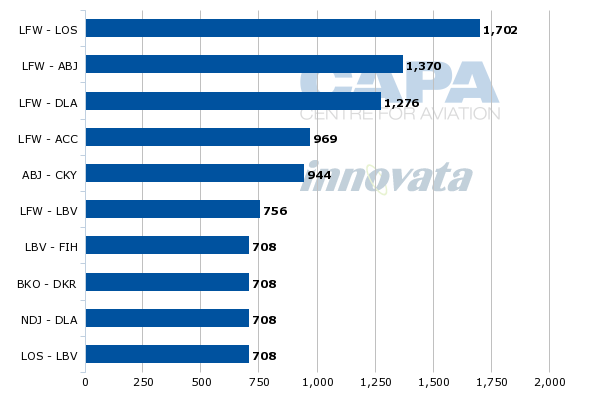 The carrier enjoys a monopoly on seven of its top ten routes, the exceptions being Lome-Abidjan where it competes with Air Cote d'Ivoire, Ndjamena-Douala competing with Karinou Airlines and its most competitive route Bamako-Dakar which is also served by Kenya Airways, Ethiopian and Senegal Airlines.
ASKY and Ethiopian have expanded their code share on Addis Ababa routes
ASKY and Ethiopian also expanded their codeshare agreement in Jan-2013 to include Ethiopian's services between Addis Ababa and Abuja, Addis Ababa-Bamako-Dakar, Addis Ababa-Cotonou-Abidjan, Addis Ababa-Douala-Malabo-Addis Ababa, Addis Ababa-Lome and Addis Ababa-Ouagadougou-Abidjan. Ethiopian Airlines is the sole operator on all those services from Addis Ababa, according to Innovata.
ASKY will also codeshare on Ethiopian Airline's service to Brazil
The codeshare arrangement between ASKY and Ethiopian will be extended to Ethiopian's three times weekly Addis Ababa-Lome-Rio De Janeiro-Sao Paulo-Lome-Addis Ababa service, now planned to commence 01-Jul-2013, after being delayed by a month. Ethiopian will use a 787-8 on the route rather than the 767-300ER originally planned, connecting with its Addis Ababa-Guangzhou service within three hours.
The stopover at ASKY's Lome hub provides Ethiopian with the opportunity to serve Western Africa without the need for lengthy back-tracking from Addis Ababa and should provide ASKY with valuable international feeder traffic.
See related report: Ethiopian Airlines expands its global footprint to link the world's high growth regions
ASKY operates the first dual class Q400NG fleet, a growing part of Ethiopian's regional strategy
ASKY operates a two class fleet of three Boeing 737-700s and three Q400NG turboprops. ASKY's 67-seat Q400s are owned and supplied by Ethiopian and were the first of their type to be fitted with a business class cabin. The 2-1 seat business class configuration is also used by Ethiopian on its Q400NGs. ASKY expects to receive a fourth Q400 in the near future, according to the airline's website.
ASKY schedule by class of seat (one way weekly): 27-May-2013 to 2-Jun-2013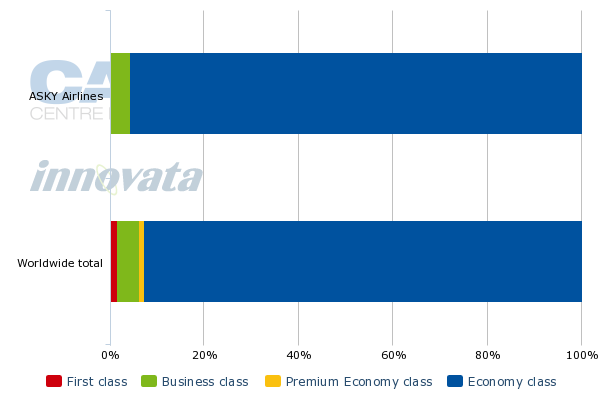 Ethiopian is working to receive authorisation for full airframe maintenance on Q400 aircraft. Ethiopian CEO Tewolde Gebremariam stated in Mar-2013: "In line with our Vision 2025 strategic roadmap, we will need more regional aircraft, not just to cater for our own fast-growing domestic and regional network, but also to realise our multi-hub strategy in Africa. Already, we have a strong regional partner in West Africa ASKY, which is also using the Q400 aircraft. We plan to build similar strong regional hubs in Southern and Central Africa."
Lome Airport is undergoing a USD150 million redevelopment project
Togo's Lome Airport is undergoing an USD150 million modernisation and expansion project to cope with growing demand. Capacity will increased nearly 20% over the next six months, according to Innovata. The redevelopment includes the construction of a 21,000 sqm terminal, installation of three aerobridges, construction of taxiways and expanding the airport's cargo capacity from 10,000 to 50,000 tonnes per annum. This project will be followed by strengthening of the runway.
Lome is geographically strategically well placed for a pan-West and Central Africa network, but with a population of about 7.2 million Togo's market is a fraction the size of neighbouring Nigeria and about a quarter the size of Ghana. Togo also lacks the lucrative natural resources of its bigger neighbours. Togo is however, one of the world's largest producers of phosphate and the country is seeking to develop its carbonate phosphate reserves.
See related report: Nigeria's government talks of rebuilding a failing airline industry in 2013. But the path is unclear
Lome Airport route map as at 31-May-2013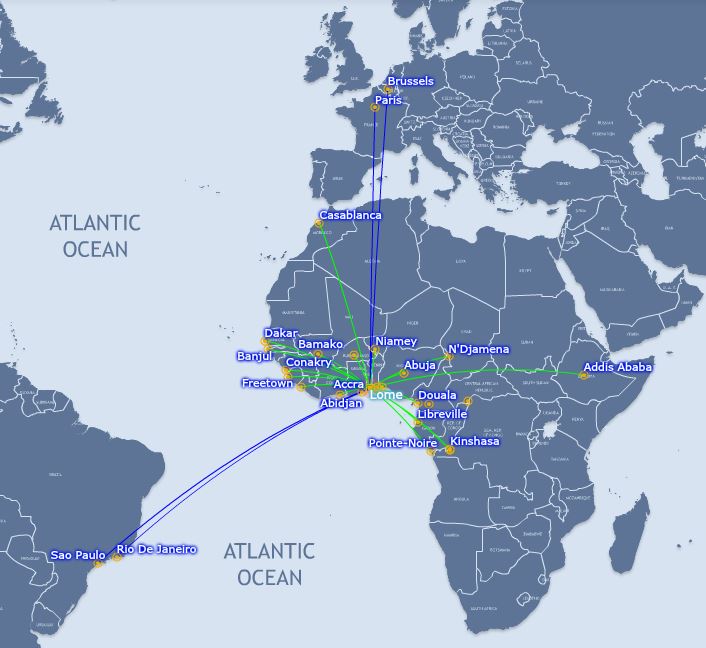 ASKY accounts for about 63% of Lome's traffic, but its biggest route is to Paris CDG operated by Air France.
Lome Airport capacity (seats per week) by carrier: 27-May-2013 to 2-Jun-2013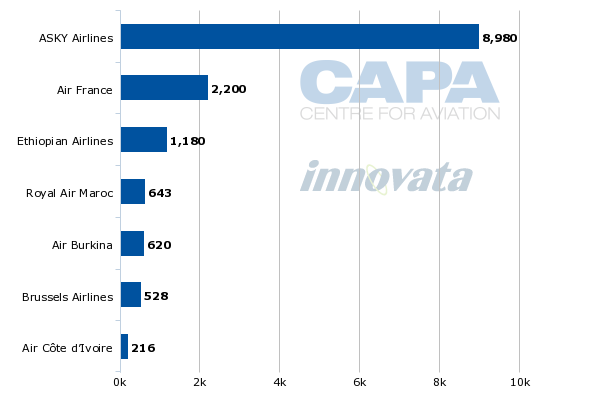 Lome top 10 international routes (seats): 27-May-2013 to 2-Jun-2013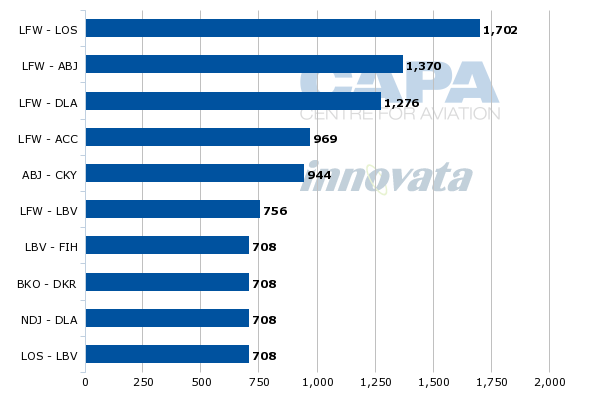 ASKY, a survivor supported by Ethiopian, has brave goals - but they won't be easily achieved
ASKY has survived the difficult first three years in business, with the help of its strategic partner Ethiopian, including difficulty in securing traffic rights on some destinations, fierce competition and operating costs that are among the highest in the world.
Many of the challenges show no sign of going away and ASKY faces increasing competition from regional heavyweight Arik. The privately owned Nigerian operator is seeking to build its regional presence by forging relationships with other carriers including Air Cote d'Ivoire, which also operates intercontinental services to Europe and the United States, but lacks ASKY's regional connectivity.
Others are also manoeuvring to create a regional networks including Starbow, Antrak, Fly540 and Africa World Airlines, with varying degrees of success.
See related reports:
Arik Air has the funding and opportunity to grow in 2013, but faces further government interference
African airline start-ups hold the key to unlocking the continent's riches
West Africa movers and shakers: Air Nigeria shuts down; EgyptAir and South African look to expand