Asian air freight figures point to dramatic economic slowdown
Asian air freight traffic continues to decline sharply in what is usually a pre-holiday peak period for shippers. It points to weak holiday retail sales, which would put further pressure on the global economy.
The Association of Asia Pacific Airlines (AAPA) reports an 11.0% decline in cargo traffic (FTKs) in Oct-08 year-on-year. Despite a 7.5% reduction in cargo capacity, the average international cargo load factor for the month fell 2.6 percentage points to 65.4%. AAPA international air cargo traffic has registered a 2.9% decline in FTK terms for the first ten months of the year.
Asia Pacific international freight traffic growth and freight capacity growth: Nov-07 to Oct-08
AAPA Director General, Andrew Herdman, stated airlines around the world are facing "extremely difficult market conditions, with expectations of even tougher times ahead in 2009".

AAPA members' international passenger numbers for the month were down 4.1% to 11.6 million, while passenger traffic measured in RPK terms fell by 5.2%.
Asia Pacific international passenger traffic growth and passenger capacity growth: Nov-07 to Oct-08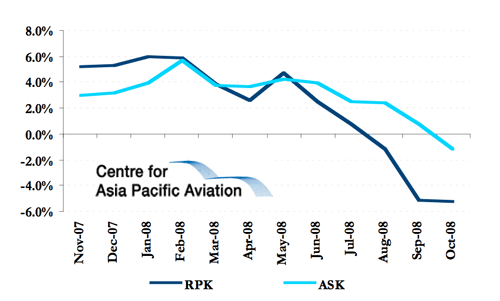 The average international passenger load factor for October fell 3.1 percentage points to 73.1%, as a 1.2% reduction in capacity failed to match the reduction in demand.
Asia Pacific international passenger numbers growth and passenger load factor: Nov-07 to Oct-08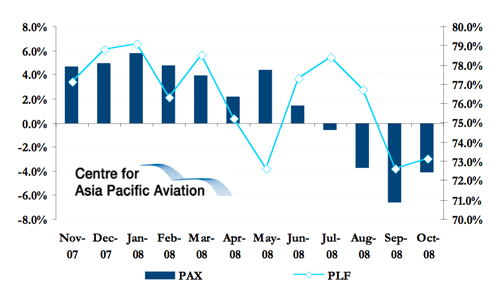 Mr Herdman stated Asia Pacific airlines are "moving quickly to adjust capacity in line with expected demand, and re-doubling efforts to reduce costs throughout the business". He added, "in these difficult times, more so than ever, we strongly urge governments, airports and other aviation service providers to refrain from imposing further unjustified taxes and charges on the aviation industry".