As Royal Jordanian grows revenue and passengers but lags in profit, CEO Hussein Dabbas to depart
Analysis
Royal Jordanian Airlines CEO Hussein Dabbas is on his way out of the Jordanian carrier after two and a half years in its top position. Mr Dabbas has led the Jordanian airline since Aug-2009 after spending more than 30 years at the carrier in various positions. He will leave Royal Jordanian at the end of Jun-2012, making way for "new ideas to develop the company", the carrier said.
He will move to IATA as the industry body's Middle East and North Africa representative. Mr Dabbas takes over from Dr Majdi Sabri, who will retire from IATA after the leading the association in the Middle East and North Africa region since 2001.
Abdul Rahman Al-Khatib will be the interim CEO while the company seeks a permanent replacement for Mr Dabbas.
Stepping down at the end of a difficult period
Mr Dabbas' retirement comes at the end of what has been a particularly difficult period for the Jordanian national carrier.
During late 2010 and into early 2011, Royal Jordanian suffered heavily from the downturn in regional traffic due to the Arab Spring. While Jordan remained comparatively unaffected, travel into several of the carrier's key markets, including Libya, Egypt, Syria, Yemen, Bahrain, fell off dramatically.
Over 2011, the airline cancelled nearly 1400 flights due to the regional disruptions. Tourism traffic also fell, notably from Europe, with numbers down approximately 125,000. Asia-Pacific tourist visitor numbers also declined, although not as precipitously. Combined with higher than expected fuel costs, Royal Jordanian in 2011 posted a record loss of JOD57 million (USD80.5 million), more than wiping out the two previous years of profit combined.
Despite the regional unrest, passenger numbers in 2011 grew 6.2% year-on-year to 3.155 million and revenue grew 7.5% to JOD683 million (USD963 million). Mr Dabbas commented that the carrier had performed "very well despite the circumstances" according to a Reuters report.
However, operating costs for the year rose by 19.4%, even though flying hours were up by only 3% during the year. Fuel costs alone rose by 44%, but the carrier managed to keep a lid on operational expenditures.
See related article: Largest ever loss puts damper on Royal Jordanian's continued traffic growth
2012 for Royal Jordanian looks more promising but still difficult
So far, 2012 has not been much easier for the carrier. The first three months of the year saw another 500 flight cancellations due to regional disruptions.
There are some promising indicators. The airline reported a monthly record level of traffic in Jan-2012. Overall, 1Q2012 traffic was 26% higher than in 1Q2010 (ignoring the severe disruptions in 2011), with the airline handling 774,000 passengers. Load factors were at 71%, 6 ppt better than in 2010.
During Mar-2012, Royal Jordanian made a number of route cuts and capacity reductions, focusing on improving profitability by concentrating on more lucrative routes and reducing costs by cutting back flying hours. Services to Brussels, Munich and Al Ain were suspended, while Rome, Vienna, Zurich, Geneva, Amsterdam, Colombo and Khartoum frequencies were reduced. At the time, Mr Dabbas said the carrier was "consolidating" rather than "shrinking".
In addition to the reduced operations, Royal Jordanian has taken other steps to cut its costs. Royal Jordanian chairman Nasser Lozi announced this month that the airline is running a capital expenditure containment policy and has frozen recruitment while concentrating on increasing employee productivity.
In mid-Apr-2012, Mr Dabbas announced progressive growth in forward bookings and is expected to reach "high levels" during the summer peak travel period. The increase in passenger numbers has also had a "positive impact" on other key performance indicators, Mr Dabbas said. There are still worries with Jan-2012 fuel costs up 30% year-on-year and overall operating costs up 17%.
The carrier's share price hit a record low of JOD0.55 (USD0.78) earlier this year, although it has since recovered marginally to above JOD0.63 (USD.089) per share. The carrier's Dec-2007 IPO saw it floated at JOD3.08 (USD4.34). The carrier is 71% publicly owned, with the remainder held by the Jordanian state.
Royal Jordanian share price: 28-Apr-2012 to 27-Apr-2012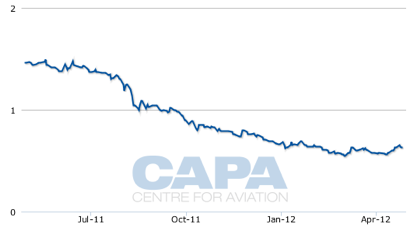 Mr Dabbas has implied that a merger may be necessary if the airline hoped to compete with larger carriers. Royal Jordanian is the dominant airline in the Levant region, but its competitive environment is increasingly affected by the Middle East network carriers as well as the ambitious Turkish Airlines.
Mr Dabbas told CAPA's Airlines in Transition CEO Summit last month that the carrier is looking at strategic alliances with other carriers which would involve selling a 49% stake. Such a transaction would be purely financial and allow Royal Jordanian to continue operating independently under its current brand, which is one of the strongest brands in Jordan. He says it would be valuable for an airline like Royal Jordanian to be in partnership with two or three airlines as it could benefit from access to multiple hubs and increased buying power.
Mr Dabbas stresses that a tie-up with another airline is only be possible with a multi-brand model. Moving away from the national carrier brand would be "very difficult" and Mr Dabbas believes that "it would be a major blow to Jordan, to its economic activity" if Royal Jordanian "disappears". Consolidation is a "must" according to the outgoing CEO.
To the merger table Royal Jordanian brings a significant network of 60 destinations and a recently modernised and youthful fleet. It also has an extensive virtual network, having joined oneworld in 2007 (becoming the first Middle Eastern carrier to join a global grouping).
Speaking at CAPA's Airlines in Transition CEO Summit, Mr Dabbas says Royal Jordanian has benefitted significantly from its membership in oneworld and joining the alliance was "a great decision" given the carrier's small size. "With the alliance we were able to access a huge number of markets and city pairs we wouldn't be able to do alone," he explains.
Mr Dabbas adds that Royal Jordanian also benefitted because joining the alliance required the carrier to upgrade service levels and IT systems to oneworld standards. But he also acknowledges that Royal Jordanian has not yet fully exploited the potential benefits because it only works with three or four other oneworld carriers. Royal Jordanian's new CEO could make more partnerships a priority. Attracting more oneworld carriers to Amman would particularly help further build up Royal Jordanian's hub, which focuses primarily on connections in the Levant region.
Royal Jordanian international capacity share by region (% of seats): 30-Apr-2012 to 6-May-2012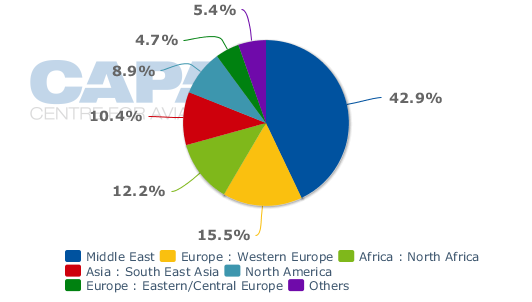 In recent years Royal Jordanian has been focusing primarily on short-haul to short-haul and to a lesser extent short-haul to long-haul connections. Membership in oneworld and the rise of the three major Gulf carriers has made pursuing long-haul to long-haul connections unnecessary. But there are opportunities to build up Royal Jordanian's medium-haul network, in particular to emerging markets in Africa and Central Asia, where oneworld has a relatively weak presence.
Even with alliance membership, Royal Jordanian is increasingly trapped between the European carriers to the east and the Gulf carriers to the west. Royal Jordanian is one of the better off of the Middle East's second tier of national carriers. However, it has neither the scale nor the funding to compete with the larger carriers that surround it, so consolidation is becoming an increasingly attractive option. It will be up to the carrier's next CEO to decide whether the "new ideas" could see it merge with a larger airline or, taking a page from Gulf Air, become a predominately regional carrier.