Ancillary revenues: Airlines to earn USD58 billion in 2010; CAPA to review Asia Pacific prospects
Analysis
The LCC sector has triggered an ancillary revenue (merchandising) revolution, with airlines worldwide expected to generate USD58 billion in ancillaries this year. Baggage fees are one of the fast growing items in a portfolio developed largely by LCCs that also includes seat allocation, inflight services and products, related travel products (including insurance, car hire and accommodation), inflight advertising, airport lounges access and increasingly diverse opportunities including concert tickets, mobile phone credits and more.
CAPA, in partnership with Travelport, has launched a landmark study of Asia Pacific airline preparedness for, and participation in, the ancillary revenue revolution. To participate in this landmark survey, please click here:
- If you are working for an airline, click here
- If you do NOT work for an airline, click here

A sizeable figure, USD58 billion however represents just 12% of total airline revenues, suggesting we are just at the start of the movement to monetise services and products passengers used to receive as part of the ticket price.
Air fares around the world, particularly in the US, have fallen sharply since the onset of the recession, making baggage fees (and other ancillary revenue items) an increasing lifeline for the airline sector. US airlines alone are expected to smash through the USD4 billion-barrier in 2010 in terms of baggage revenue generation.
But such charges, particularly in the US as network carriers adopt these strategies, have quickly become a flashpoint for airline differentiation and a catalyst for marketing innovation.
The movement is spreading to Europe, with British Airways, under considerable financial strain, one of the earlier movers after its US counterparts. Asia Pacific adoption of ancillary revenue strategies, outside the LCC sector, has been much more cautious.
LCCs leading the way, others catching on
Several LCCs outside the US are, unlike Southwest and JetBlue, charging for checked baggage, with the fees accounting for significant proportions of their profits.
Ancillary revenues already account for greater than 15% of total revenue at leading LCCs, including Allegiant, Ryanair and easyJet.
Allegiant was the largest ancillary revenue generator (as a percentage of total revenue) in 2008, followed by Ryanair, easyJet, Jet2.com and Vueling, according to CAPA research. In 2Q2009, the leading LCCs had made further gains in their ancillary revenue drives.
Select carriers' ancillary revenue as a portion of total revenues: 2Q2009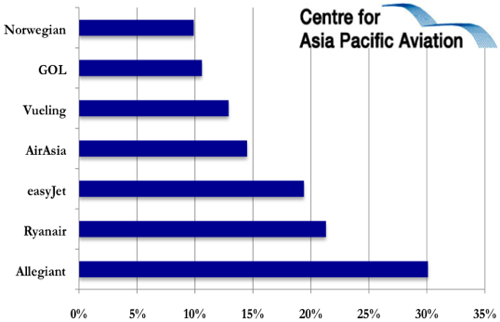 Airline "merchandising", when done thoughtfully and supported through each of the airline sales channels can be good for carriers and their customers. It diversifies the choices available for travellers, while creating additional profit opportunities for airlines as they target their services to the travelers that value them.
To be successful with these brand strategies, airlines need to ensure that the entire sales channel is aligned and supported by technology that enables product comparisons based not only on price, but on product features and services. By doing so, they will be able to merchandise their offerings to compete effectively with those that are purely seeking a cost and price advantage.
Full service airline revenues crumbling
IATA estimates that USD80 billion in revenues will vanish from member airline industry coffers this year, falling to USD456 billion, or 15% lower than 2008 levels. But a little reported feature in IATA's forecast is the expectation that "other revenue" (ie non passenger/cargo) would grow by almost 6% this year to around USD56 billion worldwide.
'Other revenues' of the IATA members (which are largely non-LCC airlines) will reach USD58 billion next year – double the level achieved in 2001. As such, non-ticket/cargo revenues are becoming a hedge for airlines against falling tickets sales and yields and rising costs.
Today, full service airlines are trying to re-build and differentiate their brands in order to compete strategically with the LCCs, while still providing the quality service expected from their loyal customers. The number of ways to accomplish this is as different as the number of operating airlines.
For the LCCs segment, the issue is one of adding unbundled services and charging for them. The distinction may be too subtle for most consumers. In the US, it has not taken long for the "full service" airlines to become almost as unbundled as their low cost competitors – with a negative branding impact for their customers.
IATA 'other' (ie ancillary) revenue (USD billion): 2001 to 2010F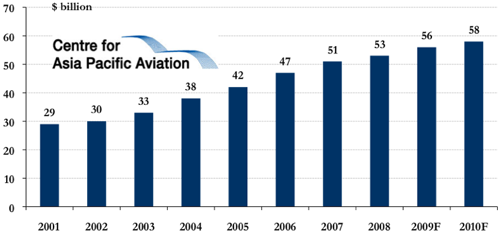 12% of total global revenue – and rising
"Other revenues" will account for over 12% of total worldwide airline revenues this year and next for the first time, according to IATA, mainly as a result of weakness in passenger ticket and cargo revenues and the growth in ancillaries.
IATA other revenue share: 2001 to 2010F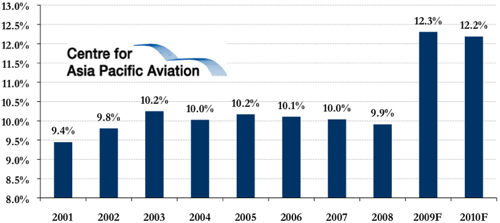 IATA does not provide a definitional breakdown of this "other revenue" category, and its inclusions are likely to be broad, although it does exclude cargo revenues.
A more scientific approach to ancillary revenues has recently been published by IdeaWorks. It defines ancillary revenue as "revenue beyond the sale of tickets that is generated by direct sales to passengers, or indirectly as a part of the travel experience". According to IdeaWorks' definition, worldwide ancillary revenues were in excess of EUR7.68 billion in its latest assessment, a 346% year-on-year increase from the EUR1.72 billion reported in the 2008 guide.
Ancillary revenues are expected to continue to rise as a proportion of total revenue as airlines become increasingly sophisticated about these new revenue streams.
But Asia may be different?
IATA does not provide a regional breakdown of the 'other revenues'. But so far in the Asia Pacific region, full service airlines have only dabbled in adding ancillary charges to date.
It is only the region's LCCs have exploited ancillary products. Jetstar CEO, Bruce Buchanan, recently stated the airline's profitability comes from ancillaries, with ticket revenue predominantly used to cover the airline's cost base.
AirAsia CEO, Tony Fernandes, recently noted that ancillary revenues support high profit margins and stable profits, as they are not seasonally sensitive. Mr Fernandes added that ancillary revenue generation was a "very good buffer for the oil price", adding that if the airline reached its targeted ancillary income per passenger and oil prices rose to USD100 per barrel, "I can keep my prices where they are".
Mr Fernandes stated, "ancillary businesses is really monetising the data base that we have and looking at assets in totality and seeing what businesses we can extract from our assets. So it's selling more insurance, it's selling more goods, its maybe selling duty-free online to our guests".
US airlines to earn USD4 billion in baggage fees in 2010
The US airline industry collected over USD700 million in baggage fees alone in 3Q2009 – a doubling from the previous corresponding period, according to Bureau of Transportation Statistics (BTS). CAPA estimates full year 2009 baggage revenues will be close to USD2.8 billion, rising to around USD4 billion in 2010, on current trends.
US airlines' passenger baggage fee revenue collection: 1Q2005 to 3Q2009 (USD, '000)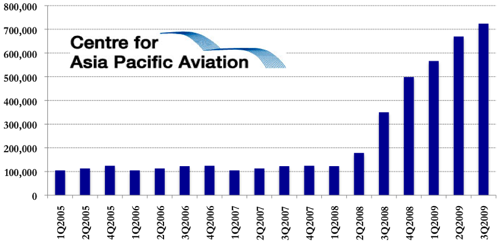 These revenue sources are increasingly important as passenger revenue declines. In 3Q2009, revenue from seat sales declined a precipitous 22% year-on-year to USD23.6 billion), due to the global economic crisis.
Delta and American the biggest collectors
Delta has surged past American, collecting USD129 million in baggage charges in 3Q2009, against American's USD119 million, while US Airways is in third place with USD111 million.
US airlines' passenger baggage fee revenue collection: 3Q2008 to 3Q2009 (USD, '000)

The US LCCs, AirTran, Spirit, Frontier and JetBlue ranked seventh to tenth by revenue collected, respectively, behind the six majors, although this has more to do with their size than their baggage fee policies.
As a proportion of total passenger revenue, however, baggage revenues were much more significant for Spirit Airlines (9%), AirTran Airways (6.7%) and Frontier (4.9%) than the network carriers.
US airlines' baggage fees as a percentage of passenger transport revenues: 1Q2006 to 2Q2009 (USD, '000)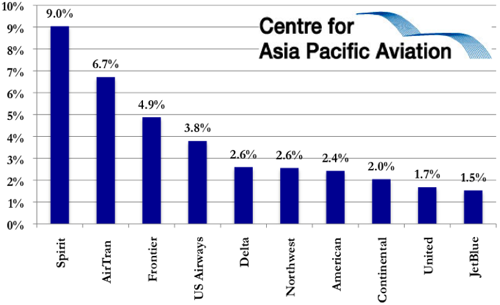 Tougher booking conditions also boost revenues
Revenue from fees imposed for cancelling or rebooking flights by all US airlines, meanwhile, rose 52% in 2Q2009, while revenue from miscellaneous fees (including assigning seats, flying pets and fees paid to the airlines for collecting airport passenger facility charges) totalled USD673 million in the quarter, up 19% year-on-year. Combined, baggage fees and additional charges increased 65% year-on-year, to USD3.6 billion in the quarter.
Cancelling and rebooking fees have increased significantly in Asia, along with booking classes that do not accrue mileage. There is also upselling from one class to a higher one. For example, Cathay Pacific is already offering this option on its website.
Outlook: Rich pickings ahead?
As the US airlines rack up around USD4 billion in revenue from baggage fees alone this year, full service airlines around the world are looking on with interest, and many are likely to attempt to follow the US lead shortly.
Asian carriers are already picking up on some of the "other revenues" opportunities from charging change fees more often, service charges for frequent flyer tickets, seat selection, lounge passes and more.
There is clearly more innovation to come in the world of ancillary revenue generation.
To help understand the opportunities better, CAPA, in partnership with Travelport, has launched a landmark study of Asia Pacific airline preparedness for, and participation in, the ancillary revenue revolution. Airlines across the region will be surveyed this month regarding their strategies and targets for ancillary revenues, which will form the basis of a report later to be published later in the year.
If you have not yet completed this landmark survey, please click here:
If you are working for an airline, click here
If you do NOT work for an airline, click here