ANA to receive first 'game changing' B787 in Aug-2011 or Sep-2011
All Nippon Airways (ANA) stated it would take delivery of its first and much-delayed B787 from Boeing in Aug-2011 or Sep-2011. ANA, which has labelled the B787 "a game-changing aircraft", is expected to commence operations with the B787s a month after delivery with ANA Senior VP Americas Satoshi Fujiki noting that the carrier is "eager to begin with the B787s". "This is a new horizon for aviation and our company" he added.
ANA expects to receive 14 B787s by Mar-2012, to be followed by 10 B787s in the following year. The routes the aircraft will fly will be announced at a later stage although the B787 will make a maiden flight to Tokyo Haneda on 03-Jul-2011. ANA, the launch customer for the B787, has ordered 55 B787s for deployment on domestic and international routes.
B787 a cornerstone for ANA's international growth from Haneda
The B787 is a cornerstone of ANA's plans for international growth from Tokyo Haneda. The carrier has stated Haneda, where ANA is the dominant airline, is the carrier's "biggest source of revenue". ANA VP Shuichi Fujimura stated the B787 fleet would be used to expand the carrier's network for its existing 76 destinations. "We have a target to expand our route network, and the 787 will play a significant role in that plan," Mr Fujimura added.
Tokyo Haneda Airport capacity (seats per week, to/from) by carrier (20-Jun-2011 to 26-Jun-2011)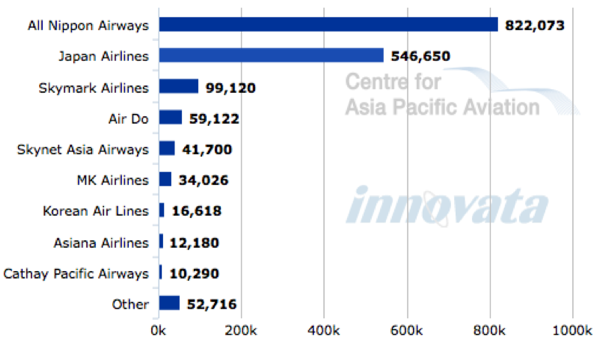 ANA plans to expand in Asia and service new destinations in Europe in the future. Mr Fujimura said "specific routes have not yet been decided" and the B787 will not replace B777 equipment on routes such as Tokyo Narita-London. However, he stated it was "possible" to eventually multiply services on these routes using B787s, or open up new destinations. "If we had new destinations, we can think of Duesseldorf, Brussels, Barcelona, those destinations which are not covered by non-stop flights currently," he said. Mr Fujiki meanwhile has stated that the B787 will "most likely" replace B777 equipment on daily Tokyo Narita-Los Angeles and daily Tokyo Haneda-Los Angeles service.
ANA operates a fleet of 228 aircraft at present serving a network of 164 routes with 1000 daily services. ANA is the eighth largest airline in the world by revenues and the largest in Japan by passenger numbers.
Unveils two-class B787 cabin design
ANA also unveiled the cabin design for its B787 fleet to be used on international routes. The cabin layout, shown for the first time at the Paris Air Show, shows that the ANA cabin would consist of two classes – business and economy – on both long-haul and short-haul routes. ANA Senior VP Americas Satoshi Fujiki stated the carrier "wants passengers to see the difference of quality and comfort as soon as they board the aircraft". "Being the launch customer is prestigious. It's important to impress," he added.
Seating features include:
Seating - international long-haul: On long-haul international flights, business class will be outfitted with ANA's business staggered seating, with full flat beds, 17-inch touch panel LCD screens and aisle access from every seat. The seats will also have a universal PC power source, a USB port and an iPod jack.;
Seating - short long-haul: On short-haul international flights will feature the ANA Business Cradle products, with a 12.1 inch touch panel LCD screen, universal PC power source and a USB port;
Seating - Economy class, long-haul and short-haul international flights: A fixed-back shell type seat will be installed for both long-haul and short-haul flights. Seats will have a touch panel monitors, a universal PC power source and a USB port. On long haul flights, seats are also equipped with an iPod jack.
Business Class seat for long haul flights (approximate image)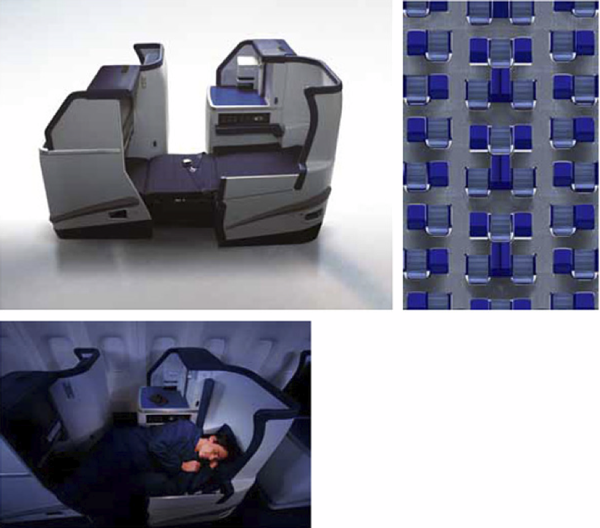 Business Class seat for short haul flights (approximate image)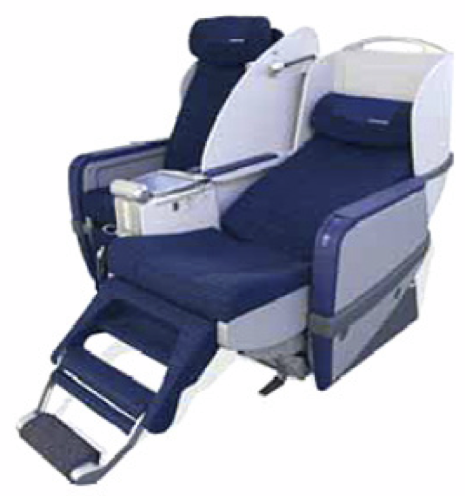 Economy Class seat (approximate image)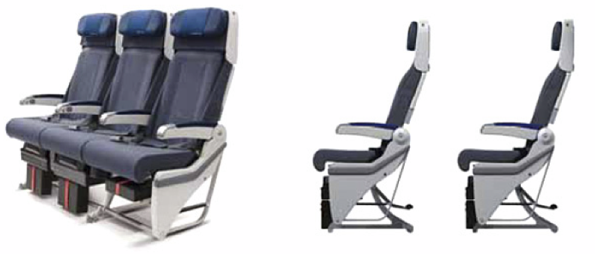 The carrier also unveiled specially designed livery for the first two B787 aircraft to enter its fleet. Only the first two aircraft will be painted in the special livery. The remainder of the fleet will feature the standard ANA livery.
Aircraft carrying the special ANA livery: First two B787s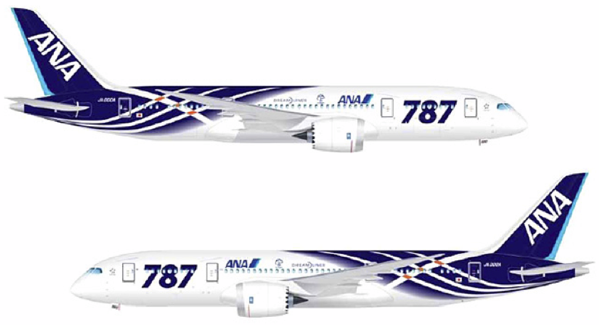 Aircraft carrying the standard ANA livery: From the third aircraft onwards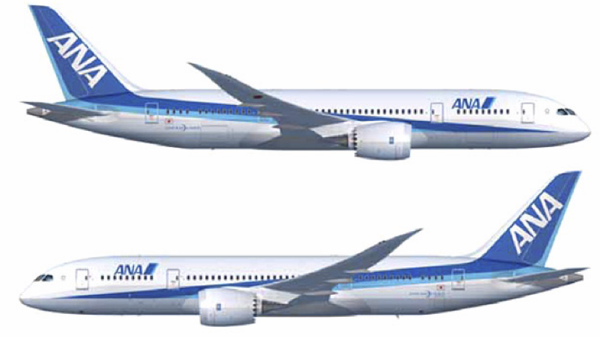 ANA will conduct ready operational validations services of the B787 in Japan in the week of 04-Jul-2011. Anticipated city pairs include trips between Tokyo Haneda and Seattle, Osaka Itami and Kansai, Okayama and Hiroshima, subject to government approval.
The carrier and Boeing also completed pilot training in Seattle on 07-Jun-2011 for the first airline crews who will fly the B787. Ten ANA pilots concluded their training after each pilot performed flights in the first B787 flight test aircraft over Washington state. The initial crews to go through training are ANA's senior training pilots and check airmen and will conduct both simulator and aircraft line training for ANA in Japan.