American rises on warm updraft. US Airways, United and WestJet up, while Air Canada loses.
At the other end of the scale, Air Canada (-3.6%), to whom the threat of bankruptcy still looms large, is seeking to fight back against the aggressive intentions of its arch rival, WestJet. The new lowest fare guarantee (see below) will however also guarantee lower yields for the airline - which is hoping that it will however make up for that in passenger numbers.
For daily updates on American aviation stock prices and a complete wrap of the day's breaking news, sign up now for a complimentary subscription to America Airline Daily.
North & South America selected airlines daily share price movements (% change): 01-May-09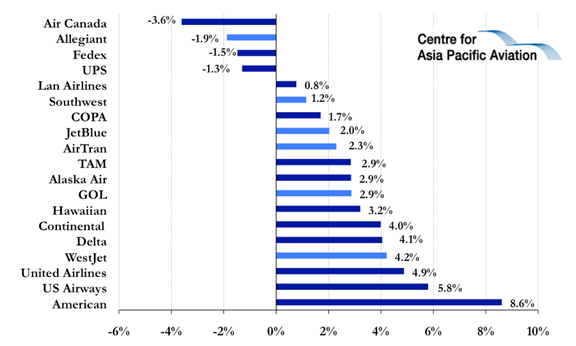 American's shares have not fared well this year, hitting a low in early Mar-2009, although they have since doubled in value as the share market has moved upwards. But they are still below half the value where they began the year.
American's performance against the much smaller, but specialist, low cost model of Allegiant would not give investors much to smile about.
American Airlines and Allegiant share price index growth: Jan-09 to Apr-09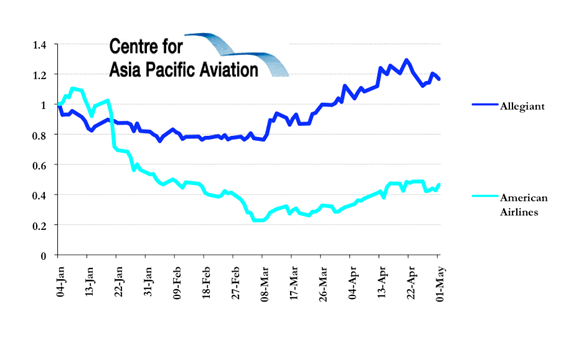 However, American, the US' only major airline not to have used Chapter 11 to restructure, is in expansive mode, despite the recession. The Madrid route decision was made last year as a prelude to the hoped-for alliance approval from DoT, which would allow an operational merger between American, Spain's Iberia and British Airways.
The carrier's new daily Madrid operation will use a Boeing 767-300 aircraft configured in a two classes, with 225 seats, operating into the same terminal at Barajas International Airport as British Airways and Iberia.
American has commenced service on the new route "because of the belief that American's Joint Business Agreement and antitrust immunity application with British Airways and Iberia will be approved later this year."
This ups the ante on DoT and any opposition (for example from Rep Oberstar, who is challenging the role of alliances), as DFW and Texas will be likely to support the American alliance application.
However, there is no talk of any codeshare on the service at this stage.
American also serves Spain with two other daily nonstops - to Madrid from Miami and to Barcelona from New York's JFK.
DFW International Airport was pleased with the new route: "We applaud American Airlines for adding this important international destination to the DFW portfolio," said Jeff Fegan, the airport's CEO. "This new flight will add more than $130 million to the North Texas economy every year and provide our passengers hundreds of new connections through Madrid's Barajas International Airport." This was somewhat more than the Texas Department of Transportation's USD100 million, but the effects will be welcome.
Mr Fegan expects 40,000 Spanish passengers annually to use the DFW gateway to access US points.
Air Canada's "Lowest Fare Guarantee"
On Saturday, 2-May-09, Air Canada announced a new stage in its battle for supremacy (and survival) with WestJet, by introducing its new guaranteed lowest fare regime. The CAD50 credit guarantee only applies to domestic and trans-border where Air Canada generally competes with WestJet.
As Ben Smith, Executive Vice-President and Chief Commercial Officer announced: "Air Canada wants to give customers confidence that they are getting the best deal of the day when they book a flight with us.
"That is why we are introducing our Lowest Fare Guarantee, a unique initiative in the Canadian marketplace that not only ensures customers get the lowest price available but also provides a $50 travel credit for their next trip should they find a lower fare in the same fare brand and on the same flight within 24 hours of their purchase. This easy to understand and transparent program is a first in the Canadian airline industry that will make Air Canada the first and last stop for anyone seeking the best possible airfare."