American Airlines' schedules and fares return to Expedia
After a four-month-long battle, American Airlines reached agreement yesterday restoring its fares and schedules to the online travel agency website which will use American's direct connection link.
The two signed a memorandum of understanding (MOU) resuming business for search and ticketing on Expedia and Hotwire via global distribution technology, American announced.
Expedia said it plans to access American's fares, schedules, and customised travel products and services via American's direct connect link by using aggregation technology provided by a GDS. Expedia said it is committed to working with airlines, GDS and other technology partners to ensure continued innovation within the Expedia marketplace. Additional terms were not disclosed.
Selected American carriers' share price movements: 04-Apr-2011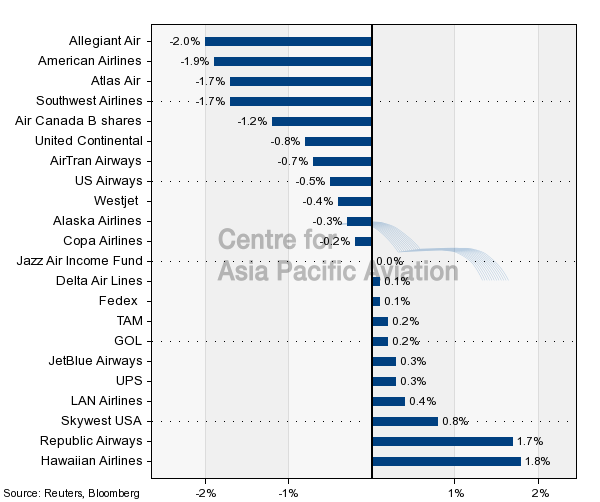 Expedia's shares meanwhile advanced 0.8%.
Changes at Sabre, Travelocity
Meanwhile, Sabre Holdings has appointed Hugh Jones, current President and CEO of Travelocity, as President of Sabre Airline Solutions. He will be replaced by Carl Sparks, current president of Gilt Groupe and a former online travel executive, who will assume the role of Travelocity President and CEO. The changes take effect on 25-Apr-2011.
Selected aviation suppliers' share price movements: 04-Apr-2011