American Airlines holds a bullish view despite supply overhang in some specific geographies
Analysis
American Airlines continues to maintain a positive outlook on global demand despite capacity creep in certain geographical regions, which is creating revenue pressure during 3Q2014.

American has initiated its own capacity cuts in the trans-Atlantic and Latin America, but other airlines are backfilling some of its supply pull-down on the Atlantic, which is causing concern for the airline.

As it works to attain a rational supply-demand balance in some of its regional entities, American is also offering explanations of how it intends to use its relatively high cash balances in the short term.
That could include keeping a higher than average liquidity balance until some of the toughest tasks of its merger integration are complete.
| | |
| --- | --- |
| | CAPA's first America Aviation Summit will he held at the Hilton Lake Las Vegas Resort & Spa on 27/28 April 2015, to experience CAPA's unique aviation conference format and to meet the movers and shakers in the Americas and worldwide with 20+ airline CEOs, click here: CAPA Americas Aviation Summit |
American Airlines reiterates its belief that excess capacity exists in the trans-Atlantic
The trans-Atlantic market is dominated by the three major metal neutral JVs, one from each global alliance. But their market strength and the effects of other smaller participants is apparently causing concern for the larger incumbents.
By mid-2014 American and others considered there to be excess capacity in the trans-Atlantic market, and both American and Delta acknowledged some oversupply on those routes and adjusted their capacity projections for CY2014. At the end of 2Q2014 American stated it would cut capacity in the trans-Atlantic by 3% for the remainder of the year, which would result in overall capacity growth of 2% compared with a previously planned 3% increase.
Delta and its SkyTeam partners have halved their capacity increase in the trans-Atlantic market during the winter 2015 timeframe to 1% to 3%.

See related report: American Airlines' strong 2Q2014 results despite revenue headwinds from Venezuela suspensions

Previously American has stated its unit revenues in the Atlantic would fall slightly in 3Q2014 as industry capacity in those markets is up roughly 10% year-on-year. Recently American president Scott Kirby indicated that passenger unit revenues were approximately flat in the trans-Atlantic, noting that the capacity increases were exceeding GDP growth by a wide margin, pressuring unit revenues despite a healthy demand environment.

Data from CAPA and OAG show that combined American and US Airways have an approximate 14% seat share from the US to Western Europe for the week of 21-Sep-2014 to 28-Sep-2014. Delta holds a 14% share, United has a 14% share, British Airways represents a 12% share and Lufthansa has a 10% share.
USA to Western Europe: seats per week, one way, 19-Sep-2011 to 29-Mar-2015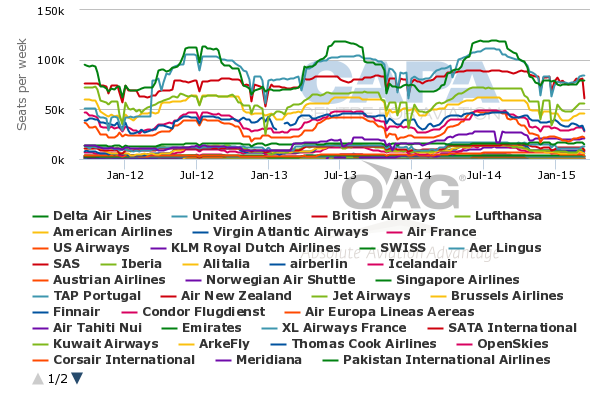 Overall seat capacity for the week of 21-Sep-2014 to 27-Sep-2014 from the US to Western Europe is up nearly 7% year-on-year, with American's seat capacity falling 2% and US Airways seats on offer growing nearly 6%. Delta's seat share has risen 9.7% year-on-year, British Airways by nearly 6%, and Lufthansa by 5% while United's seats on offer have remained flat year-on-year.

Mr Kirby remarked that American has some slight concern that capacity is rising in the trans-Atlantic, noting American and its oneworld joint venture partners British Airways, Iberia and Finnair have aligned their capacity; but other airlines seem to be backfilling those cuts. He cited Virgin Atlantic in particular, highlighting the airline was adding capacity in some of American's markets.
As part of a network adjustment Virgin Atlantic is adding services to the hubs of its joint venture partner and partial owner Delta including Detroit, Atlanta and New York JFK. It is also bolstering service to Los Angeles. In late Sep-2014 American and British Airways combined accounted for roughly 62% of the seats on offer between JFK and London Heathrow.
Venezuela cuts into American's unit revenues in 2H2014
With roughly VEF791 million tied up in Venezuela, American has cut capacity to Venezuela (48 weekly flights to 10) to reduce its exposure to the country's volatile economy.
The airline has warned the service reductions would pressure its overall unit revenues in 3Q2014 by about 1.5ppt, and now expects a 2ppt reduction in passenger unit revenues from the run-on effects in Venezuela during 4Q2014.
Impact of Venezuela reductions on American Airlines' 3Q2014 and 4Q2014 passenger unit revenues

Previously, American had forecast passenger unit revenue growth of 1% to 3% in 3Q2014, and a 2% to 4% increase absent the effects of the Venezuela cuts. But recently the airline issued refined passenger unit revenue guidance from flat to up 2%.

American has also cited some overcapacity in the Brazilian market, where it is the largest airline from the US by wide margin. For the week of 21-Sep-2014 to 27-Sep-2014 it has a 36% seat share compared with 15% for both Delta and United and 28% for its oneworld partner TAM. Overall, seat capacity between the US and Brazil is up 3.6% year-on-year, with Delta recording a 17% increase and American a 12% rise.
USA to Brazil: seats per week, one way, 19-Sep-2011 to 29-Mar-2015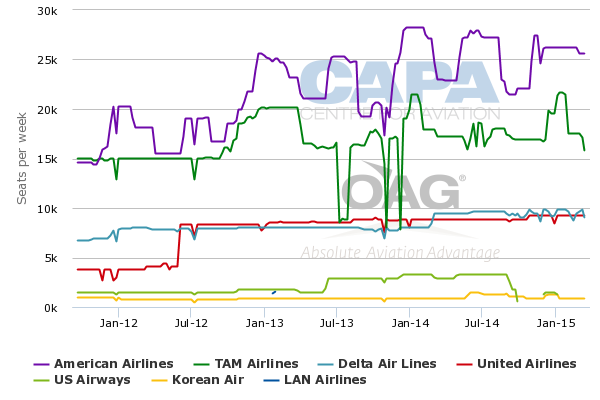 Mr Kirby considered that Brazil was "doing okay", although he concluded he does not believe that capacity is keeping up with demand. American is also cutting capacity to Latin America in 2H2014 to ensure a rational supply-demand balance. A significant portion stems from the reductions in Venezuela, where American's seat supply is down 77% year-on-year for the week of 21-Sep-2014 to 27-Sep-2014.
Overall seat capacity from the US to Venezuela has dropped 45%. United's seat supply has fallen 56%, Delta's has fallen 88% and American's oneworld partner LAN has reduced its seats 50% year-on-year.
American continues to rapidly expand capacity to Asia to remain competitive
American is planning more than 20% capacity growth in its Pacific markets during 4Q2014; Mr Kirby noted that the airline's unit revenues are up slightly, driven in part by solid revenue performance in the airline's premium cabins. He stated that American has some catching up to do with respect to matching service levels offered by its US peers to Asia, and that its relatively strong performance in the region is attributable to its build-up in the region.
The airline recently sought approval to launch new service from Dallas to Beijing in summer 2015. That service would join American's existing flights from Dallas to Hong Kong, Seoul, Shanghai and Tokyo. American also serves Beijing from its Chicago hub.

Presently (21-Sep-2014 to 27-Sep-2014) American holds a 6% share of the seats deployed from the US to Northeast Asia, compared with 17% for United and 15% for Delta.
American cites strong US domestic demand, and does not see huge effects from Wright repeal
American still sees strong domestic demand, Mr Kirby stated. The airline recorded 8% unit revenue growth in domestic markets during 2Q2014 and a 7.6% rise in yields.

One unique competitive change American faces starting in Oct-2014 is the lifting of all flight restrictions at Southwest's headquarters Dallas Love Field, which means Southwest can fly directly to destinations previously limited to one-stop service.

American concludes it could see some effects from the change; but believes the overall impact should be minimal. Airline CFO Derek Kerr recently said he believed some point to point passengers may opt to travel on Southwest, but that American could backfill those travellers with connecting passengers. At the moment American has not seen any significant changes in booking patterns, Mr Kerr concluded.

New direct flights Southwest plans to begin operating once the restrictions are lifted include BWI, Denver, Chicago Midway, Las Vegas, Orlando, Atlanta, Fort Lauderdale, Los Angeles, Nashville, LaGuardia, Orange County, San Diego, Tampa and Washington National.

See related report: Southwest Airlines wins Love – but also new competitive forces with the repeal of the Wright Amendment
American may opt to keep cash balances higher until tough integration tasks are complete
American ended 2Q2014 with roughly USD10.3 billion in cash, which has triggered questions from investors over its intentions for cash deployment. The airline has outlined a USD1 billion share buy back scheduled for completion by YE2015 and paid a USD0.10 dividend to shareholders in Aug-2014.

See related report: US airlines create a consistent framework for shareholder returns as investor grow more vocal

Mr Kerr noted American may opt to keep its cash balances a bit higher at least through 2015 as the toughest integration tasks lie ahead, including the complex cutover of the new American's passenger reservation system. The airline also continues to de-lever, with Mr Kerr concluding that the current cost of American's debt was 6% to 6.5%, and it has been working to pay down any debt with rates higher than those levels.
American's total liquidity as a portion of trailing 12M revenues is 27%, and Mr Kerr noted that the airline would be comfortable at levels similar to Delta and Untied once American moves passed some of the larger integration tasks.
American Airlines' liquidity as a % of 12M revenue compared to its industry peers: Sep-2014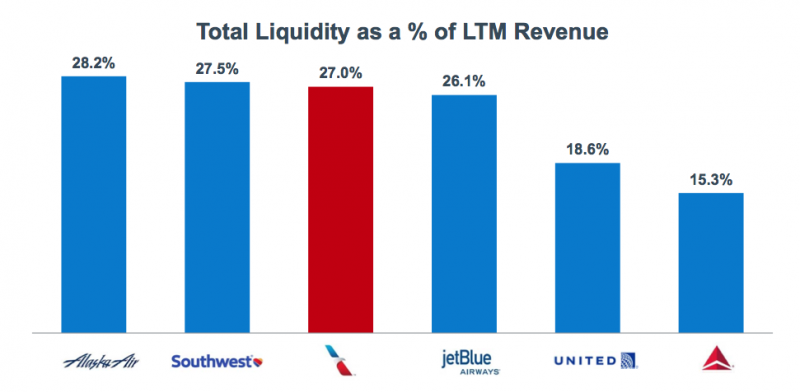 American should quickly work through short-term revenue headwinds
American has a relatively strong foundation to withstand some of the revenue pressure created by oversupply in some of its geographies even as some airlines opt to backfill some of American's capacity cuts in the trans-Atlantic market.
By mid-2015 the capacity it has redeployed from Venezuela to other markets should start to produce a positive system contribution.

The airline continues to take a demure approach in outlining its merger integration, citing steady progress, but also cautioning the most difficult tasks still lie ahead. It seems entirely logical to keep a cash cushion as it works to attain a single operating certification and complete the reservations cutover in 2015.
That should keep shareholders satisfied for the next year; but American's owners are no doubt looking for additional rewards in 2016 and beyond.