Allegiant continues to reap the benefits of US consolidation despite its costs inching upwards
Allegiant Air Group believes it can reap some of the benefits created by US consolidation by entering larger markets that would normally fall outside the carrier's spectrum, evidenced by its recent expansion from Cincinnati, a Delta hub with waning influence in the major carriers' networks.
New service from Cincinnati is part of a raft of new markets Allegiant is launching during 2Q2014 as it attempts to shake off the effects of 1Q2014 when a host of unusual items created cost pressure for the carrier. These appear likely to extend their effects throughout 2014 as Allegiant predicts an uptick in its unit cost for the full year.
As Allegiant makes a push from Cincinnati, Los Angeles and Myrtle Beach during 2014, the carrier is shelving plans to start transborder service to Mexico, instead apparently considering expansion to Canada - which is interesting given the country's typically higher operating costs.
Cincinnati becomes more attractive to Allegiant due to US consolidation
Allegiant is in the midst of a busy 2Q2014 as 12 new routes are scheduled to come online during the quarter. Between May-2014 and Jun-2014 Allegiant plans to introduce service from Myrtle Beach to Columbus and Cincinnati, Ohio; Lexington, Kentucky; and Syracuse, New York. The company is also adding new service from Los Angeles to Kalispell, and Great Falls, Montana; McAllen, Texas; and Cedar Rapids, Iowa. Other market additions include Phoenix Mesa to Colorado Springs, Colorado and Stockton, California, West Palm Beach to Asheville, NC and Cincinnati to St Petersburg, Florida.
Service from Cincinnati to Myrtle Beach and St Petersburg join Allegiant's existing flights between Cincinnati and Orlando Sanford and Punta Gorda, Florida, which debuted in early 2014. Recently outlining the rationale for entering Cincinnati, Allegiant president Andrew Levy remarked that as Allegiant grows in scale, it can consider some markets that are a bit larger than the carrier would have predicted entering a few years ago.
Cincinnati is one of those markets, said Mr Levy, explaining that it is not a substantially large US market, but "larger than the average market we enter into".
But having increased its scale, Mr Levy concludes that Allegiant can tap some of those markets it previously considered too large in a cost effective way. By YE2014, a fleet of 70 MD-80s, Boeing 757s and Airbus A319 and A320 narrowbodies.
In some ways Cincinnati is the poster child of US consolidation. It was a hub for pre-merger Delta and its importance in the merged Delta-Northwest network has been steadily diminishing. Annual passenger numbers at the airport fell nearly 25% from 2010 to 2013 from 8 million to 5.7 million. While Allegiant's low-frequency, leisure market model certainly won't backfill some of Delta's cuts, the major carrier's pull-down does make Cincinnati a more viable option for Allegiant.
Cincinnati/Northern Kentucky International Airport annual passenger numbers: 2010 to 2013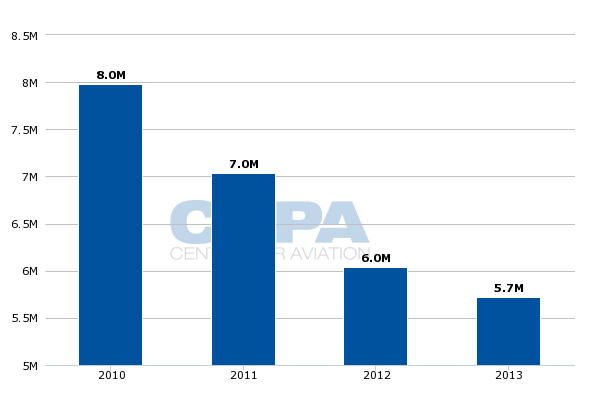 See related report: Allegiant faces pivotal year as it seized on AirTran cuts and works toward Hawaii launch
While Los Angeles may seem like an unusual market for Allegiant, the carrier opted to build a base at the airport in 2009.
Los Angeles in and of itself is a destination market for many customers travelling from Allegiant's small city markets such as Eugene, Oregon or Missoula, Montana. Even if most of those markets are served on a more frequent basis by large network carriers through their regional partners from Los Angeles, there is obviously enough demand for Allegiant's lower-fare service that is not offered on a daily basis. During 1Q2014 Allegiant's average ticket cost was USD99.52, well below the average US domestic fare of USD381 for 4Q2013.
Allegiant is establishing a seasonal base in Myrtle Beach beginning in May-2014, when it will base two aircraft at the airport. The carrier has served Myrtle Beach for a number of years, but now believes it can add more capacity to more markets by leveraging the airport as a base for the busy US summer travel season.

Mr Levy made some comparisons between Myrtle Beach and Los Angeles, noting that previously most routes from Los Angeles were served year-round. But Allegiant realised many markets were better optimised on a seasonal basis in the peak summer period. "We're doing the same thing in Myrtle Beach this summer," he concluded. Allegiant expects the US mid-western markets it is targeting from Myrtle Beach for the summer period to perform well as the carrier masters the supply-demand balance on a seasonal basis.

Allegiant's zeroing in on maximising seasonal demand is reflected in Myrtle Beach's absence from the carrier's top bases for the week of 5-May 2015 to 11-May 2015. For the week of 9-Jun-2015 to 15-Jun-2015 Myrtle Beach is Allegiant's ninth largest base.
Allegiant Air global top 10 hubs/bases/stations by seats: 5-May-2014 to 11-May-2014
Allegiant Air global top 10 hubs/bases/stations by seats: 9-Jun-2014 to 15-Jun-2014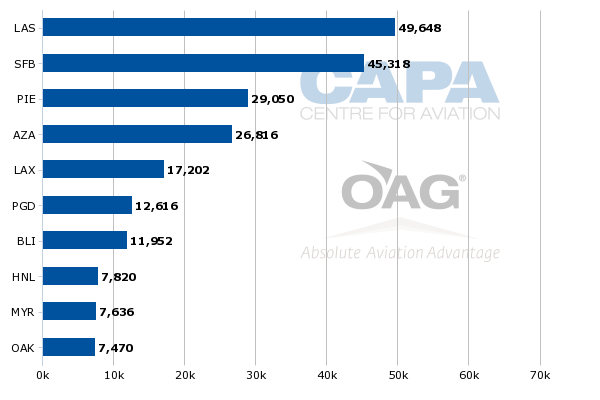 Allegiant opts to tame its ambitions for service to Mexico
Allegiant has opted to shelve plans to launch service to Mexico during 2014 and push back the debut of flights to 2015. The carrier had eyed service to Hermosillo, but now believes an "attractive opportunity will be there [in Mexico] in 2015", said Mr Levy.
He explained the issue is a matter of prioritising IT resources, and said for now Allegiant is focussing on its automation projects that are taking a higher priority.

Allegiant may also be opting to put Mexico on the back burner until more significant signs emerge that the country's tenuous economy is on a rebound. Two of Mexico's largest carriers Aeromexico and Volaris battled weak yields for much of 2013, trading in loads for pricing traction. Perhaps Allegiant believes it is better to set its sights on Mexico at a later date when, presumably, market conditions will improve.

See related reports:
Allegiant takes a conservative approach to Mexico as it still works learn nuances of Hawaii
Aeromexico and Volaris continue to face weak yields in a sluggish Mexican economy
As service to Mexico diminishes in importance, Allegiant has made some remarks in the media about possible service to Canada. Its evaluations of the Canadian market are interesting given that airport cost have prohibited carriers such as JetBlue from entering the Canadian market. Virgin America had short-lived service Toronto that ended in 2011. The carrier cited demand not ramping up as quickly as it would have liked.
Generally airport costs are a bit higher in Canada, so it does not seem like a natural fit for Allegiant, which offers low base fares on a premise of low costs.
Allegiant faces impending cost creep as it focuses on US domestic strength
But like most US carriers, Allegiant now finds itself facing rising unit costs. During 1Q2014 Allegiant's unit cost excluding fuel grew 10% year-on-year to USD5.72 cents. The carrier faced a lot of unusual items during the first three months of 2014 including non-recurring expenses of USD12 million driven by training and crew availability delays. Salaries and benefits increase nearly 13% year-on-year and maintenance expense grew nearly 14% due to a larger fleet and an increase in heavy maintenance events.
Allegiant unit revenue and cost performance: 1Q2014 vs 1Q2013

Allegiant's unit costs for 2Q2014 and CY2014 are also rising between 5% to 7% and 4% to 7%, respectively. So it appears Allegiant will be working through some cost challenges throughout 2014.
Despite the unit cost spike in 1Q2014 Allegiant grew top-line profits by 7% to USD34 million and operating income by 9% to USD57 million. Given Allegiant's string of 45 consecutive quarters of profitability, it seems the carrier is equipped to handle the cost headwinds it faces in 2014.
Allegiant unit cost, unit revenue and capacity guidance: 2Q2014 and CY2014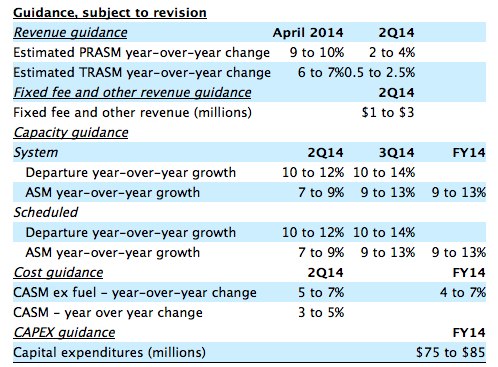 Allegiant financial performance: 1Q2014 vs 1Q2013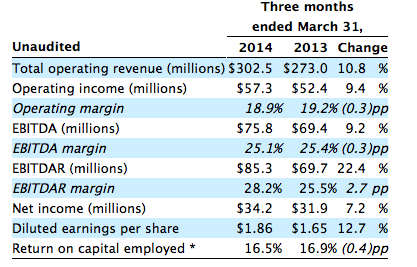 Costs could also be the driver in Allegiant's decision to forgo untested waters in Mexico for more reliable US domestic service that spools to profitability more quickly than international routes.
The airline's foray into Hawaii met only mixed fortunes at best and this has perhaps prompted Allegiant to assume a lower profile in its international ambitions.