All Nippon Airways (ANA) to take delivery of first Boeing 787 in February 2010
Analysis
All Nippon Airways (ANA) has disclosed it will take delivery of the world's first Boeing 787 in February 2010, and speed up the rate of introduction of the new aircraft type into its fleet, with around 20 expected to be in service by the end of its fiscal year 2011 (ending 30-Mar-2011). That rate will see deliveries average 1.4 aircraft per month.
Separately, Boeing has updated on progress of the B787, stating the programme is back on track, with test flights scheduled in 2Q09.
ANA needs the B787 to make best use of the once-in-a-generation expansion of airport capacity in Tokyo next year. The airline stated, "using the 2010 airport capacity expansion in Tokyo as a springboard, ANA will resume a path of growth, working towards its vision of being one of Asia's leading airlines".
Slashing capacity as demand slumps
But in the near term, ANA is contracting in response to harsh economic conditions. The carrier recently announced plans to suspend services at Kansai and Narita airports due to weak demand. The airline carried 9.8% fewer passengers domestically last month - the biggest drop since Jan-04. International passenger numbers fell close to 15%.
ANA passenger numbers growth (% change year-on-year): Jan-08 to Dec-08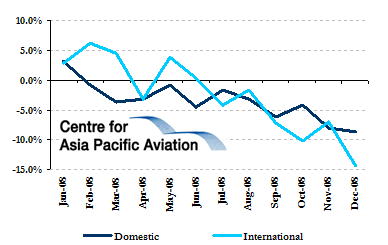 Third quarter loss
ANA swung into a net loss for the October-December quarter of JPY12.6 billion, compared with a profit of JPY12.5 billion in the corresponding period a year earlier. Revenue fell 6%, while it suffered an operating loss of JPY9.5 billion, compared to a JPY26.9 billion profit a year earlier.
ANA Group financial performance: 1Q08 to 3Q/08 vs 3Q08 (financial year ended 31-Mar)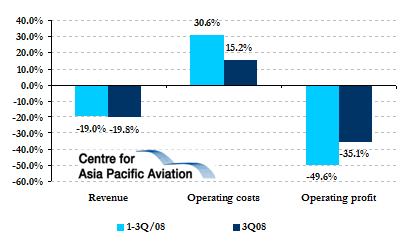 ANA Group operating profit margin and net profit margin: 1Q08 to 3Q08 vs 3Q08 (financial year ended 31-Mar)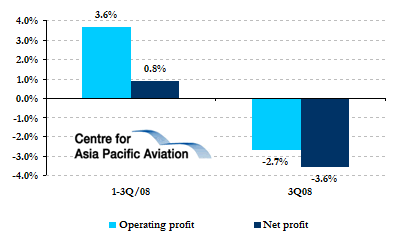 Difficult economic conditions will contribute to ANA falling into the red for the first time in six years this financial year (ending 31-Mar-09). ANA now expects a group net loss of JPY9 billion yen (USD100.4 million), instead of a previously projected profit of JPY17 billion. ANA also slashed its group operating profit forecast from JPY55 billion to JPY8 billion.
FY2009 is clearly shaping as the toughest in many years for ANA, after solid margin growth in recent years.
ANA Group net profit and net profit margin (%): FY05 to 1-3Q/FY08 (financial year ended 31-Mar)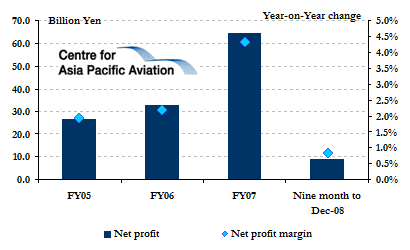 ANA Group net profit and net profit margin: FY05 vs FY08 [forecast] (financial year ended 31-Mar)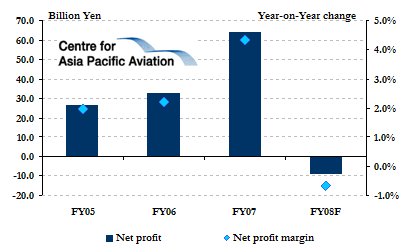 Executive VP of Finance, Tomohiro Hidema, stated, "given the likelihood of the situation worsening in the foreseeable future, we are faced with an operating environment vastly different from the recent past, one that offers challenges of a much harsher nature".
But the aviation world will change from February next year when ANA gets its long-awaited B787s ahead of Japan's 'big bang' evolution with the addition of new runway capacity at Haneda and Narita airports. After a strong recovery earlier this decade, ANA is well placed to take maximum advantage of these two major events.