Alaska Airlines touts successful network evolution as 2015 growth estimates in high single digits
Analysis
Alaska Air Group has no trepidation over growing capacity during 2015 by roughly 8% as its top line revenue and margins have continued to expand during a raft of new market introductions during the last four years.

Most of the expansion has been margin accretive; but at the same time Alaska Airlines is not backing away from exiting underperforming markets, and plans to cut several markets in early 2015 along with reducing capacity on other routes.

Obviously part of its strategy during the short term is managing increased competition from Delta Air Lines at its largest hub in Seattle. But with seven quarters of the competitive pressure under its belt, Alaska's overall financial health remains robust, evidenced by its pledge to grow shareholder returns year-over-year in 2015.
Alaska Airlines has a track record of growing revenue with high single digit capacity increases
Alaska's confidence in its growth targets rests on its top-line revenue performance during the last 11 years, which has more than doubled to USD5.3 billion during that time with a compounded annual growth rate of 7.2%.
Alaska Air Group compounded annual growth rate and top-line revenue growth: CY2003 to CY2014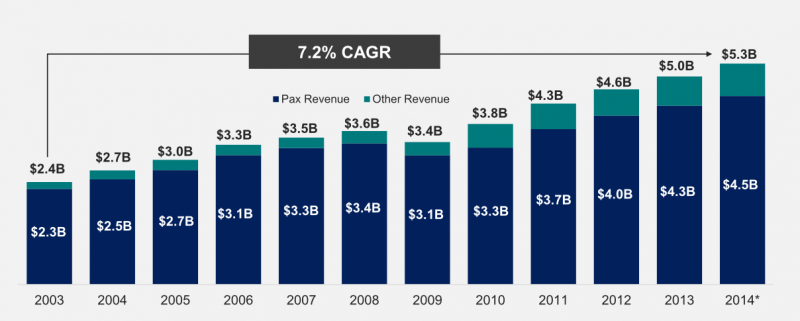 Over the past four years since 2010, Alaska has added 63 markets, with the bulk of the expansion occurring during the last three years. The airline added 19 new markets in 2012, 13 in 2013 and 16 in 2014.
Alaska Air Group route expansion: CY2010 to CY2014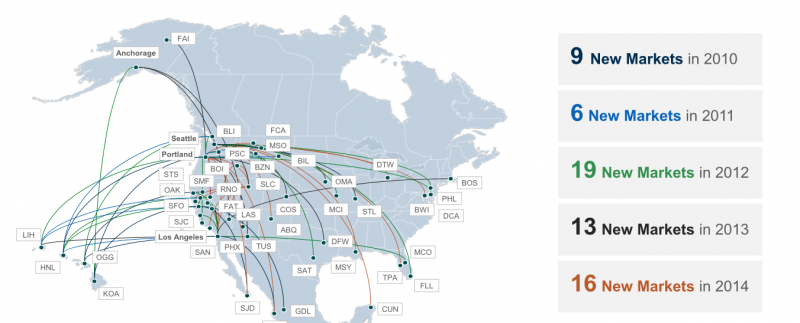 During a recent investor presentation Alaska Airlines SVP of planning and revenue management Andrew Harrison explained that the growth is working, noting that excluding markets that are 12 months old or younger, the route additions are generating a pre-tax margin of greater than 10%.

Much of Alaska's growth from Seattle during CY2014 has been in markets where it has no competitive overlap including Baltimore, Tampa, New Orleans and Cancun. It is competing with Southwest on new service from Seattle to Albuquerque and with Delta on flights from Seattle to Detroit. Delta has also opted to add service from Seattle to Los Cabos and Puerto Vallarta, two new markets that Alaska announced earlier in 2014.
Alaska is recording margin growth despite the increased competition from Delta
As the hype of Delta's rapid build-up and heightened competition with Alaska in Seattle has quietened down, Alaska has adopted a philosophy that it is using the competition to "be the very best company we can be" said CEO Brad Tilden. "Seven quarters into this [the added competition], the company is performing well."

Alaska estimates that as of 4-Dec-2014 competitive capacity in its markets (most of which stems from Delta's expansion in Seattle) is up 8 points year-on-year, but its margins year-to-date has increased 4.5%.
Alaska margin growth and competitive capacity increases by quarter: CY2014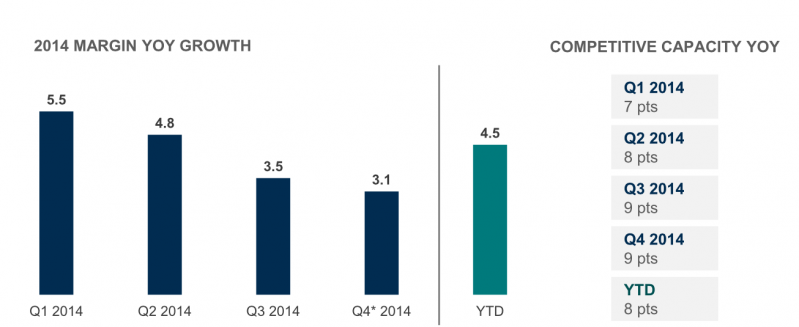 The company has received some scrutiny for its underperformance versus the US industry in unit revenue growth during the last 20 months. For the 9M ending Sep-2014 its passenger unit revenues notched up just 1%. Previously Alaska has warned of unit revenue headwinds stemming from competitive capacity additions in Seattle. But Mr Harrison also remarked that some of the pressure is also driven by Alaska's own increase in aircraft gauge and trip length. He believes that the unit revenue underperformance needs to be viewed in tandem with Alaska's continued margin expansion.

It is not clear when Alaska's unit revenue growth will begin to trend more in line with the industry. Competition with Delta in Seattle is set to grow more intense as Alaska has stated that its competitive overlap with Delta should reach 50% during the summer of 2015.

During the last year Alaska has increased its advertising spend in the Seattle market eight fold, and company executives concluded the jump in spending make sense in light of the competitive environment. The airline is seeing some positive momentum from the increased spend, noting that its brand consideration is up 16% and that it has recorded a 10% increase in its mileage plan membership.

See related report: Alaska Air Group vs Delta in Seattle: Alaska defends a capacity challenge in 1Q2015
Alaska plans to make a capacity push in core markets while exiting some underperformers
The bulk of Alaska's planned capacity expansion in 2015 stems from additions in its so-called core markets. Mr Harrison concluded that Alaska was a bit too slow in adding capacity to those routes once the economy began to recover after the economic downturn in the 2007-2008 time period. Noting the strong demand on those routes, he concluded they were "screaming" for more seats.
Alaska Air Group capacity growth by category: CY2015

There are, however, other markets that are not performing as well, and during 1Q2015 Alaska plans to cut six routes from its network: Los Angeles-San Jose; Anchorage-Denver; Long Beach-Portland; Atlanta-Portland; Palm Springs-Sacramento; and Long Beach-Seattle.
Alaska Air Group market exits and planned capacity reductions for 2015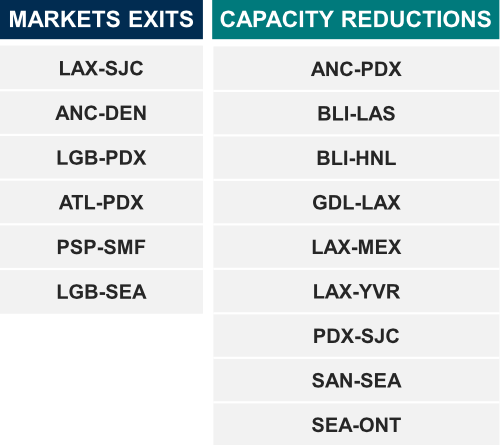 Los Angeles-San Jose is a crowded market with six other airlines operating on the route in addition to Alaska – American, Delta, Southwest, United, Virgin America and US Airways.

Competitive dynamics on the other routes Alaska is exiting are a mixed bag. It is the only operator between Palm Spring and Sacramento and competes with JetBlue on service from Long Beach to Portland and Seattle. Delta operates from Portland to Atlanta and United offers service from its Denver hub to Anchorage.

Alaska is also cutting capacity in nine additional markets in 2015, but only two from its Seattle hub - Ontario California and San Diego.
Alaska decides to experiment with Embraer 175s on long, thin routes
Alaska is leveraging its partnership with regional operator SkyWest Airlines during 2015 to fill what it deems as a gap in its fleet through the introduction of two class 76-seat Embraer E175s. SkyWest has acquired seven of the aircraft to operate on behalf of Alaska starting in the summer of 2015 as three of the jets come online during that timeframe. The remaining four aircraft are scheduled for delivery in 1Q2016.

Mr Harrison concluded the Embraer 175s fill a gap between its regional aircraft comprised of Bombardier Q400s and CRJ700s. The 644km range of the Q400 is the "sweet spot" for customer comfort and economics, said Mr Harrison, but Alaska generally does not operate the aircraft at their full range. The CRJ has a range of 1448km, so the 2735km range of the Embraer 175 allows Alaska to add flights to some longer, thin markets not suitable for its mainline Boeing narrowbodies.

Alaska plans to place the Embraer jets on flights from Seattle to Milwaukee and Oklahoma City and from Portland to St Louis. Alaska has a competitor in a single market, Southwest on service to Milwaukee. Frontier previously operated the Portland-St Louis route, but has dropped the market, perhaps creating an opportunity for Alaska with a smaller aircraft. Frontier operates a single fleet of Airbus narrowbodies.

In addition to allowing Alaska to enter some longer thin routes that are not viable for its own narrowbodies, the Embraer jets also allow Alaska to add frequencies to some of its mid-continental mainline markets, said Mr Harrison.

Alaska's decision to experiment with the Embraer aircraft is fairly low risk given that SkyWest bears the burden for acquiring and maintaining the jets. It is not clear how long Alaska has been evaluating the Embraer aircraft, or if its study was accelerated by Delta's growth in Seattle.

See related report: Alaska and Delta's relationship unravels. Deciding when a partnership is over is a big call
Alaska Airlines pledges to grow its shareholder return in 2015
Despite unit revenue pressure, Alaska still has one of the most enviable financial positions in the US industry. Its free cash flow as a percent of revenue for the 12M ending Sep-2014 was 6.1% compared with 6.3% for industrial transport companies. Its position in that metric is far better than US network airlines and low-cost airlines.
Alaska Air Group's free cash flow as a percentage revenue for the 12M ending Sep-2014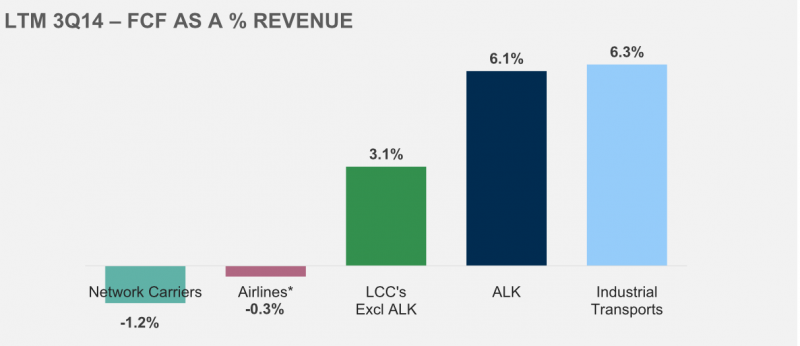 Alaska is one of two US airlines to achieve investment grade, and it has ratcheted up its investor returns during the last couple of years, with the promise to expand its shareholder rewards in 2015.
Alaska Air Group shareholder returns: 2007 to 2015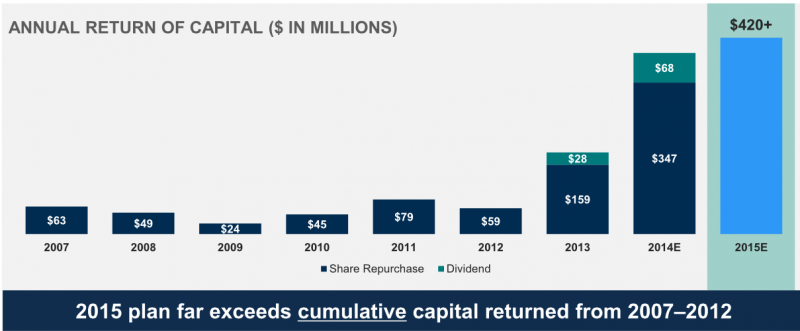 The company is beating previous estimates of USD350 million of shareholder returns for 2014, and now estimates total returns of USD410 million. Its current estimate for 2015 is USD420 million.
Alaska Airlines appears poised to turn a solid performance in 2015
During the time that Delta has increased competitive pressure with Alaska Air Group in its Seattle hub, Alaska has managed to increase margins, revenue and its return to shareholders. It has endured some unit revenue and cost pressure, but its unit costs during 2015 with a new flight attendant agreement (if ratified) will fall 0.5% as other major US airlines are forecasting increases in the 2% range. Alaska's cost estimates exclude fuel but include employee profit sharing.

Even with growth targets that seem higher than the industry average, Alaska seems prepared to execute its growth profitably, and has a proven track record of revenue expansion with similar growth levels.
Armed with a strong financial foundation and a growth plan that seems logical, for now Alaska should be able to deliver results consistent with its past performance, even with the new dynamics in Seattle that have become a mainstay in the market.