Alaska Air on uptrend; TAM and GOL falter; Delta and Continental increase baggage fees
Analysis
The majority of North and South American carriers' stocks were down with the wider market on Tuesday (12-Jan-2010), as aluminium producer, Alcoa, reported disappointing results for 4Q2009, raising concerns of the strength of the economic recovery. Also affecting the market was news the Chinese central bank increased the proportion of deposits banks are required to set aside, in a move to "cool" the economy.
As a result, the Dow ended trading down 0.3%, while the AMEX Airline Index was down 1.8%. The drop in airline stocks was despite another fall in oil prices, down 2.1%, to USD79.30.
Delta and Continental increase baggage fees to up ancillary revenues
Delta Air Lines (-2.0%) and Continental Airlines (-1.4%) were down at the end of trading, as news broke that both carriers this week increased their check baggage fees. Delta now charges passengers USD23 for a first checked item of baggage and USD32 for a second, while Continental meanwhile now charges USD25 and USD35, respectively, for services from between the US, Virgin Islands, Canada and Puero Rico. Continental stated it increased the fees on 08-Jan-2009, in response to Delta's increase last week.
Delta CEO, Richard Anderson, stated the carrier currently has a "real focus" on its ancillary revenues, "to act as a temper against the volatility of the business" and estimated it will earn ancillary revenues of over USD4 billion in 2010.
ExpressJet down on FY2009 traffic results
ExpressJet (-4.2%) was meanwhile also down on the release of its FY2009 and Dec-2009 traffic results after trading the day prior. The carrier reported a 0.1% year-on-year decline in passenger traffic (RPMs) for FY2009, while load factor rose only 0.2 ppts, to 77.4%. More positively, for Dec-2009, traffic rose 11%, while load factor was up 1.8 ppts, to 79.3%
Alaska Air (+2.2%) meanwhile returned to gains on Tuesday. According to SmarTrend, the carrier has gained 21.8% in the past two months, and is currently sitting at USD36.11. The analysts stated Alaska Air is currently above both its 50-day moving average of USD31.47 and 200 day moving average of USD23.85.
Air Canada (+3.9%) was also up.
Alaska Air shares: 08-Oct-2009 to 12-Jan-2010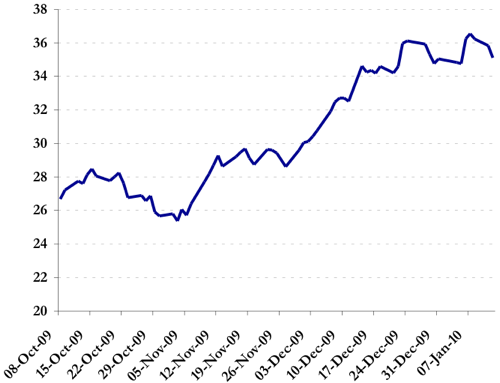 TAM and GOL drop with the Bovespa
The Bovespa (-0.5%) meanwhile made its largest fall since 21-Dec-2009, following concerns slowing demand for Brazil's raw-material exports will effect the current pace of the economic recovery in the country, as well as Alcoa's financial results. TAM (-3.4%) and GOL (-2.5%) were down as a result.
North & South America selected airlines daily share price movements (% change): 12-Jan-2010