Alaska Air Group continues network diversification as its financial foundation remains rock solid
Analysis
Alaska Air Group continues to round out its network with new transcontinental fights in late 2015, continuing its strategy of eastward expansion as its network in the Pacific Northwest continues to reach a certain level of maturity.

The company is also adding new international service from Los Angeles to Costa Rica and transborder flights from Orange County to Mexican leisure destinations. Alaska's expansion is part of its estimated 10% capacity growth in 2015; however, the company is indicating it could trim some marginal capacity later in the year after the high demand season.

Similar to its US peers, Alaska continues to see unit revenue pressure, but believes some of it should ease later in 2015 after competitive capacity additions begin to decrease in some of its markets. Despite all the moving parts affecting its capacity and passenger unit revenue performance, Alaska continues to deliver strong top-line results.
Alaska fleshes out its transcon network with new markets from Seattle
Alaska's plans a small push from its Seattle hub in late 2015 with new service to Nashville, Raleigh-Durham and Charleston, SC. All three markets are uncontested, and according to Alaska, prime routes for its customers. Boeing has a manufacturing facility near Charleston, and the city is also a large tourist destination, as is Nashville. Alaska stated that Nashville is the largest market from Seattle not served by airline. The rationale of adding Raleigh-Durham is to link two biotechnology hubs.

Schedules from CAPA and OAG show that for the week of 11-May-2015 to 17-May-2015 no airline is operating from Seattle to any of those markets, which is a boost for Alaska as it works to round out it transcontinental network. Even as Seattle is a major hub for Alaska, and a growing hub for Delta, the airport still has ample O&D traffic.

The push by Alaska into those markets rounds out some of its US east coast service. Alaska has undertaken network diversification during the last few years with a partial focus on building up mid-con and transcontinental markets. It now serves many major east coast airports including Boston, New York Newark, Washington, DC (Reagan and Dulles), Atlanta, Orlando, Fort Lauderdale and Tampa. There are certainly other markets that could be attractive to Alaska including Charlotte, which is hub for its codeshare partner American (a legacy US Airways hub).

During 2015 Alaska is adding flights from Seattle to New York JFK and Washington Dulles, rounding out its service footprint int the New York and Washington, DC metro areas. Alaska now serves all three Washington airports – Reagan National, Dulles and Baltimore/Washington.
Alaska opts to add Baltimore and Costa Rica from its base in Los Angeles
Alaska during 2015 is also planning to make push from its fourth largest base measured by ASMs, Los Angeles. New service includes flights to Baltimore and San Jose and Liberia in Costa Rica.
Alaska Airlines global top 10 hubs/bases/stations by ASMs: 11-May-2015 to 17-May-2015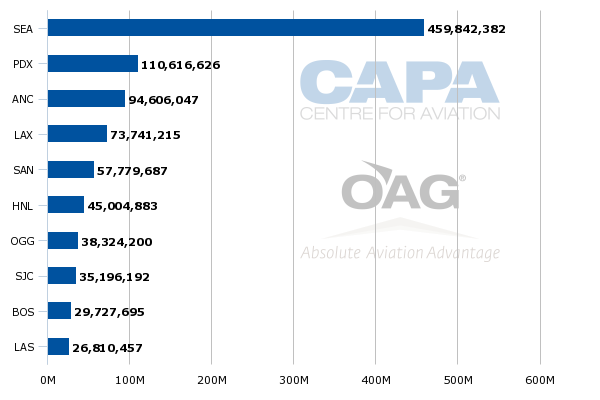 The daily flight to Baltimore joins Alaska's existing service to Washington National from Los Angees, and is likely a way for the airline to expand service in the Washington metro area given the slot constraints at National. Alaska is competing with Southwest and United on the new service to Baltimore. Although Los Angeles is highly fragmented, Alaska has some solid brand awareness in the market. It has estimated that its passenger share from its hub in Seattle to Los Angeles was 53% and 58% from Los Angeles to its Portland hub. It obviously has less passenger share to east coast markets, but adding Baltimore is a logical step. Many US airlines serve all three Washington area airports in order to ensure proper coverage in the metro area.

On its four weekly flights each from Los Angeles to San Jose and Liberia beginning in 4Q2015, Alaska is competing with Delta Air Lines (which serves Liberia seasonally). There is likely enough demand for two airlines serving those routes given that Costa Rica is is a popular tourist destinations from the United States. Local news outlet The Tico Times reported that 39% of Costa Rica's tourist in 2013 travelled from the US. TACA, which is now part of the rebranded Avianca Group, dropped flights between San Jose and Los Angeles in 2013, so Delta and Alaska are backfilling some of that capacity.
Alaska opts to add new transborder flights from Orange County
Alaska is also adding new international flights from John Wayne Airport in Orange County to Los Cabos and Puerto Vallarta in late 2015, competing with Southwest on those routes, which Alaska plans to serve with three weekly flights in each market. Alaska already serves those destinations from Los Angeles and San Diego, so Orange County is not a stretch for those route additions. John Wayne is roughly 55km from Los Angeles International, which means there is likely enough demand for passengers not found of making the drive to another airport.

Presently, (11-May-2015 to 17-May-2015) Alaska represents roughly 9% of the seats deployed from John Wayne Airport and about 10.5% of its ASMs. It presently serves its hubs in Seattle and Portland from the airport, so the new service to Mexico is Alaska's first international foray from Orange County.
John Wayne Airport capacity by airline (% of seats): 11-May-2015 to 17-May-2015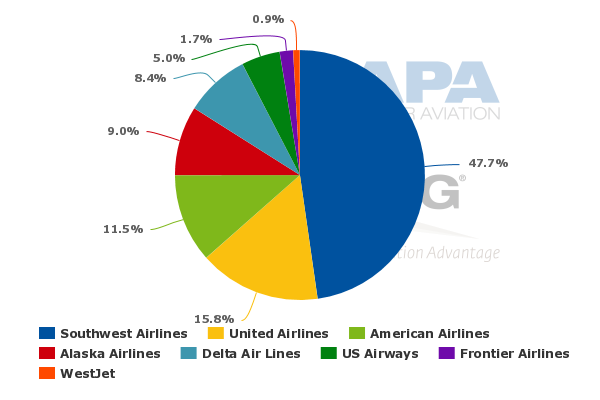 John Wayne Airport capacity by airline (% of ASMs): 11-May-2015 to 17-May-2015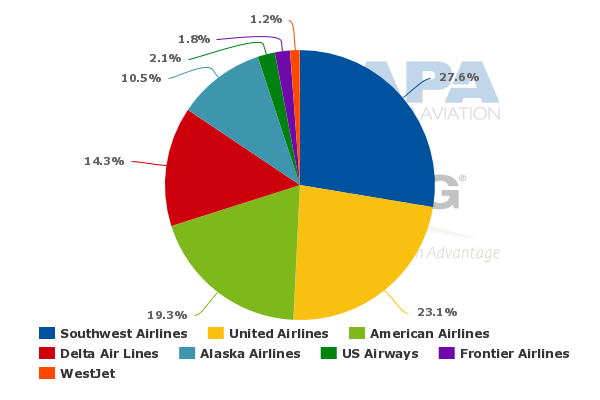 Alaska continues to drive strong top-line results even as prasm remains under pressure
Alaska recently estimated that it has added 19 new markets during the last 12 months and 73 new markets during the last five years. Approximately 40% of its revenue and profits during the last year has stemmed from markets that it did not serve in 2000.

Although Alaska's passenger unit revenues have come under pressure due to competitive capacity increases it has faced during the least year (1Q2015 was no different, when passenger unit revenues declined 4.5% year-on-year), it continues to deliver strong top-line financial results, posting a 67% jump in 1Q2015 net profits (excluding special items) of USD149 million.

Its return on invested capital was 20.1% for the 12M ending 31-Mar-2015 while unit costs excluding fuel were flat. Top-line expenses fell 5% to USD1 billion and revenues increased 4% to USD1.3 billion, which drove a 69% rise in operating income to USD238 million.

The airline estimates that total competitive capacity increases in its markets will build 12 points year-on-year in 2Q2015 and seven points in 3Q2015. Excluding Alaska's growth, the increases result in a six point increase in 2Q20115 and a four point increase in 3Q2015.

Moving into the softer demand period that starts in Sep-2014, Alaska plans to make some slight capacity adjustments in certain markets. But obviously the changes are not affecting new market debuts, which are an interesting mix of leisure and business destinations.
Alaska's challenge for recognition from Wall Street continues
Throughout all the outsized competitive pressure Alaska has faced during the last couple of years it has delivered strong top-line financial results; yet its years-long favourable financial performance continues to be ignored by Wall Street as its multiples lag behind its industry peers, even as the airline is just one of three carriers that has achieved investment grade status.

As the hype over Delta's build-up in Seattle seems largely to have subsided, Alaska's greatest perpetual challenges is gaining the recognition it deserves from the investment community for its favourable financial performance during recent years. For now, it seems Alaska's uphill climb for proper attention for its strong financial foundation continues.