AirTran posts record revenues; Allegiants sees 30th quarter of profitability in 2Q2010
Shares in AirTran Airways slipped 3.1%, as the carrier posted an 84% reduction in net profit to USD12.4 million net profit in the three months ended Jun-2010 (2Q2010). The result was despite all-time record quarterly revenue (of USD701 million, a 16% year-on-year increase) and a 13% increase in passenger unit revenues.
The carrier also set quarterly records for revenue passenger miles flown, load factor (for the first time in the LCC's history, load factors topped 83% in the second quarter) and enplaned passengers (at 6.3 million, a 5.3% year-on-year increase). The carrier added that it made "significant improvements" to its financial position during the quarter. Looking forward, the carrier expects double-digit improvements in PRASM and RASM (of 14.4% to 16.5% and 12.5% to 14.5%, respectively).
See related article: AirTran posts all time record quarterly revenue, USD12.4 million profit
Allegiants sees 30th quarter of profitability in 2Q2010 but net profit drops
Also reporting yesterday was Allegiant, with the carrier's shares slipping 5.6% upon the release. The carrier's net profit of USD17.6 million dropped 26.4% during the second quarter, despite a 13.8% revenue increase to USD168.4 million. The LCC's industry-leading operating margin – 25.5% in the year-ago quarter – however tumbled 8.8 ppts to 16.7% as fuel prices rose.
The carrier's second quarter results represents its 30th consecutive profitable quarter and seventh in a row with double digit operating and pre-tax margins. The LCC has announced it is pulling back capacity in order to get back to its 20% operating margin goal.
The carrier added that its growing third party ancillary revenue segment is "truly a unique part of our business", with ancillary revenues contributing 30% of total profits in the quarter and increasing 14% year-on-year. During the quarter, the LCC's third party ancillary revenue per passenger increased to USD4.87, up 24.5% and the highest it has been in any quarter since 4Q2008.
See related article: Allegiant reports declining net profit at USD17.6 million on fuel rise
Ancillary revenues remain important for LCCs
This importance of ancillary revenue streams for the LCC was confirmed by an IdeaWorks/Amadeus ancillary revenue study, also released on 21-Jul-2010. According to the Ancillary Guide, "early results from an analysis of 2009 financial filings made by 96 airlines indicate ancillary revenue increased EUR3.32 billion from 2008 to a total of EUR11 billion (USD13.5 billion) for 2009. These estimates include revenue from a la carte features such as baggage fees and food sold onboard aircraft, commissions from the sale of hotel accommodations, car rentals, and travel insurance at airline websites, and partner revenue generated by frequent flyer programmes".
See CAPA's dedicated page to Ancillary Revenues
Allegiant reported the highest ancillary revenues as a percentage of total revenues in the year, at 29.2% of the total, up from 22.7% in 2008. Following Allegiant was Spirit (23.9%), Ryanair (22.2%), easyJet (19.4%) and Tiger Airways (19.4%). The carrier also had the highest ancillary revenue per passenger spend.
Top 10 Airlines – Ancillary Revenue as a % of Total Revenue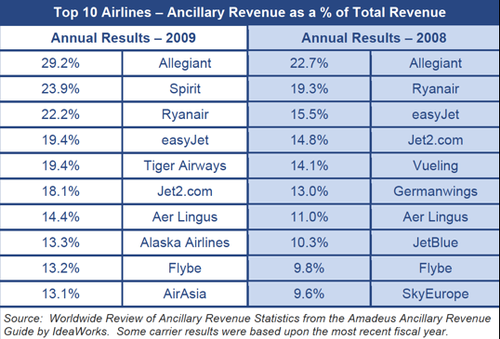 Top 10 Airlines – Ancillary Revenue per Passenger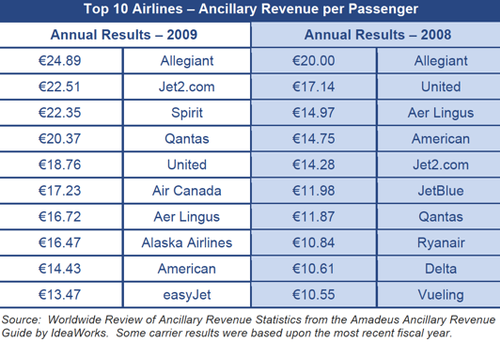 Selected LCCs daily share price movements (% change): 21-Jul-2010