Airports of Thailand continues strong run, Fraport gains while Chinese airports drop
Analysis
Chinese airport share price gains from earlier in the week were lost on Friday (07-Aug-2009) despite strong traffic reports. Beijing Capital International Airport's shares slumped 5.7% despite reporting a 22.5% year-on-year increase in passenger numbers in Jul-2009. Shares in Shanghai Airport and Shenzhen Airport slumped 5.5% and 5.0%, respectively, as the typhoon season intensified.
Elsewhere in the region, Macquarie Airports' shares fell 2.5% on Friday as the group announced a reduction in its foreign ownership from 35.7% to 35.2% (see below). Auckland Airport's shares were suspended, as it completed a NZD25 million private bond placement (see below).
In Europe, airport shares were generally higher, with Fraport gaining 0.4%, while Aeroports de Paris' shares went against the trend, closing down 1.5%.
Mexican airport operator, Grupo Aeroportuario Centro Norte (OMA), ended the week on a high, surging 6.8% as its competitors, ASUR and GAP, gained 1.7% and 0.9%, respectively.
Selected airports daily share price movements (% change): 07-Aug-09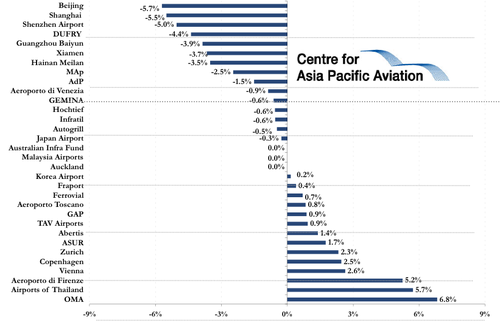 Auckland Airport private bond placement – edited press release
Auckland International Airport Limited stated it has completed a NZD25 million bond issue by private placement under its existing bond programme. The seven-year bonds mature on 10-Aug-2016, and carry an interest rate of 8.0% p/a.
Auckland Airport CEO, Simon Robertson, stated "we are pleased that investor interest in quality long-term debt with Auckland Airport continues."
Macquarie Airports foreign ownership changes- edited press release
Macquarie Airports announced its foreign ownership level rose to 35.7% from 35.2%. Note that the beneficial impact of TICkETS, which are predominantly Australian-owned, continues to be incorporated into the calculation of the foreign ownership level.
If this impact were to be excluded, MAp's foreign ownership level would be 42.3%. MAp notes that the market has been advised that TICkETS will be redeemed as at 01-Jan-2010. MAp is not a "Foreign Person" under the Airports Act 1996 for so long as foreign ownership of MAp remains below 40%. As such, MAp is not currently a Foreign Person. The MAp constitution sets out the process for disposal of securities to prevent MAp from becoming a Foreign Person or to cure the situation where MAp becomes a Foreign Person (Foreign Ownership Situation).
Where a Foreign Ownership Situation occurs or is likely to occur, MAp can require a foreign security holder (on a last in first out basis) to dispose of MAp stapled securities. MAp has the power to commence procedures to divest foreign security holders once the foreign ownership of MAp reaches 39.5% under the Foreign Ownership Divestment Rules that it has adopted. If the foreign security holder fails to dispose of its MAp stapled securities, MAp may sell those securities at the best price reasonably obtainable at the time. Click here to view the full document.